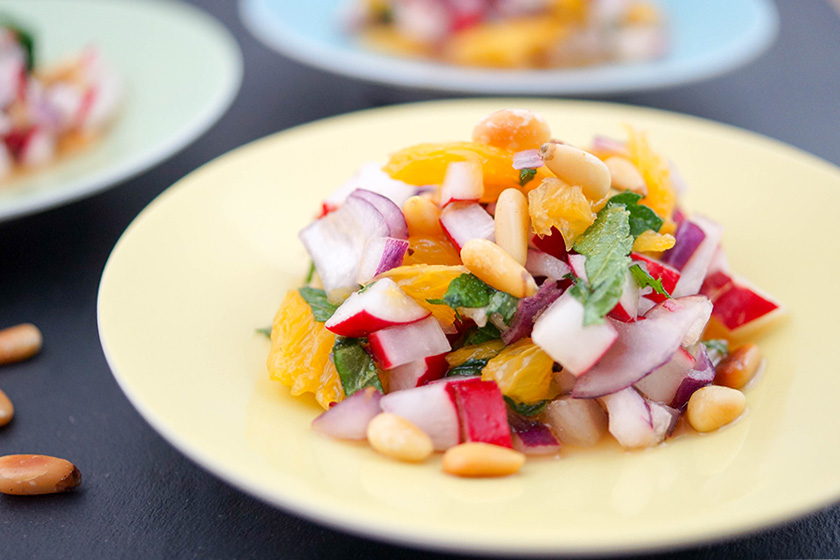 With the abundance of fresh local spring radishes picked at their height of freshness and flavor, I've been trying to think of other ways to use then rather than just have them play second fiddle as a mere garnish in a green salad. Why? Because I love these little root vegetables. Fresh and crunchy, they are a real treat. Especially in this spring radish salad where tasty sweet citrus and honey offset radishes cooling heat.
Beyond the satisfying crunch they provide, radishes have a high water content making them extremely refreshing as well as nutritious. But just in case you're not convinced here are a few more reasons to "eat your radishes!"
Radishes are super healthy!
1 SOOTH SORE THROATS
Their natural spiciness is an anti congestive and can help eliminate excess mucus in the body , which is especially helpful when you are fighting a cold. Plus they can help clear the sinuses and relieve soothe sore throats.
2 AID DIGESTION
Rich in fiber, radishes are a soothing natural cleansing agent for the digestive system. They help break down and eliminate toxins built up over time and help relieve bloating and indigestion.
3 HIGH IN VITAMIN C
Just a 1/2-cup serving contains 14 percent of the recommended daily intake of Vitamin C! Because of their high vitamin C content (along with many other important vitamins and minerals), regular consumption can help prevent viral infections, plus it works in the body to rebuild tissues, blood vessels and maintain healthy skin, bones and teeth.
4 ARE A DIETERS FRIEND
Radishes are low in calories and high in nutrients. A 1/2-cup serving of radish slices contains only 9 calories and 2 grams of carbs, meaning they are a great way to add nutrients, fiber and lots of flavor to your meals. Their high fiber and water content also make them filling, thus satisfying hunger.
5 KEEPS YOU HYDRATED
With their high water content (95%) radishes help keep the body cool and hydrated, which not only is that good for your tissues and digestive tract, but it also results in radiant and fresh looking, well-hydrated skin. Plus lots of vitamin C as well as phosphorus and zinc, radishes are a nourishing food for the tissues and can help keep your body hydrated and your skin looking fresh and healthy all summer long!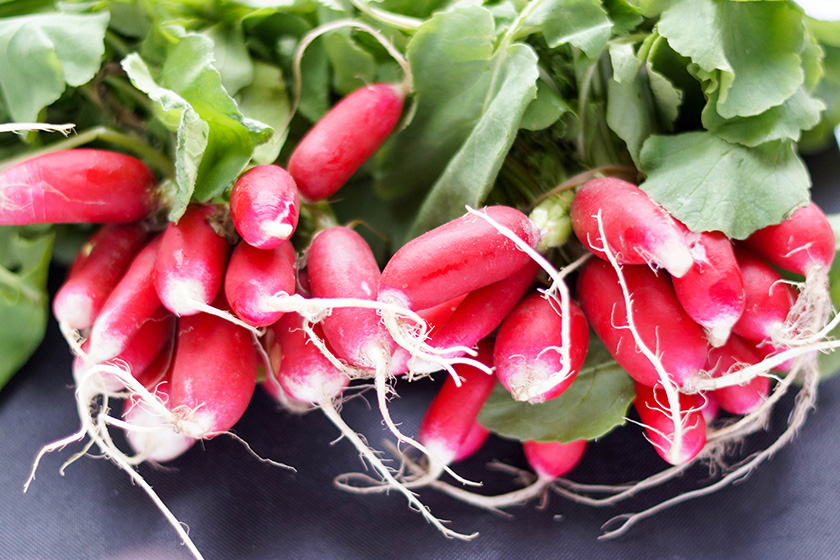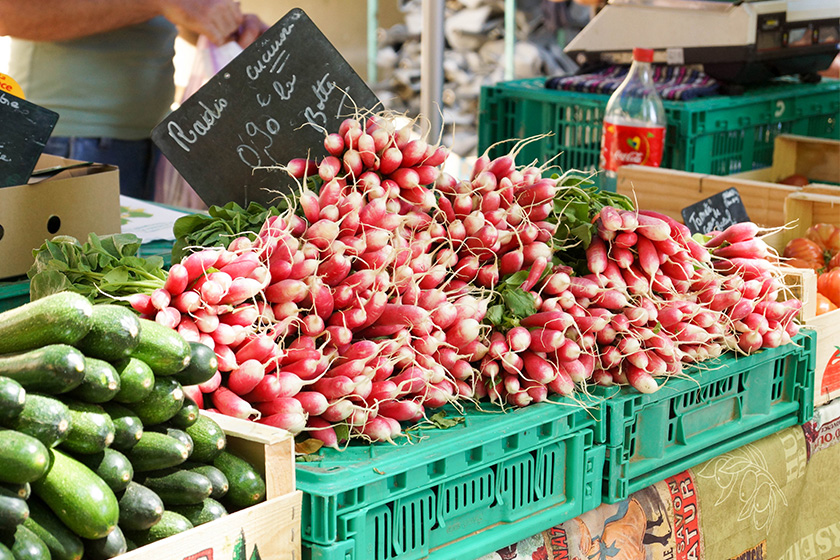 For this radish salad recipe I used French Breakfast radishes, which are a little milder than the common supermarket variety –Cherry Belle radishes are the bright red-skinned round "table radishes" and French Breakfast radishes are the elongated red-skinned radishes with a white splash at the root end.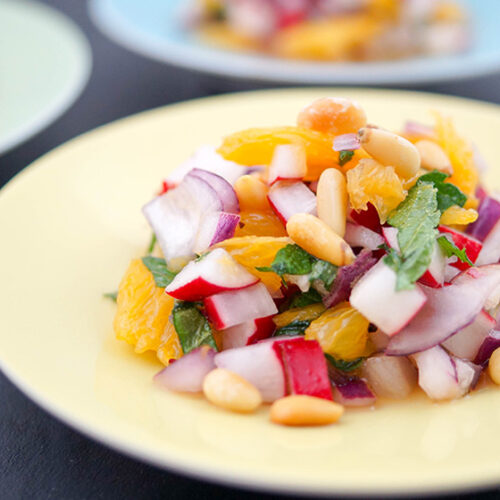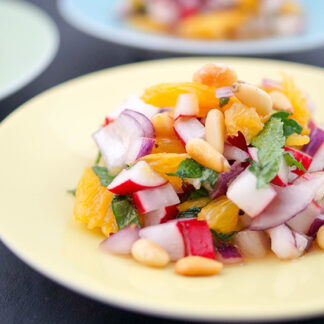 Spring Radish Salad with Mint, Orange & Pine Nuts
Fresh and crunchy, French Breakfast and Cherry Belle radishes are a real treat. Especially in this spring radish salad where tasty sweet citrus and honey offset radishes cooling heat. Serves 4, as a small side
Ingredients
1

bunch radishes,

use the variety you like best, trimmed and finely chopped

2

small sweet oranges,

sectioned and diced

1/2

a small red onion,

minced

1

tablespoon

mint,

finely chopped (I think fresh tarragon would work well too)

1 1/2

tablespoons

extra-virgin olive oil

1 1/2

tablespoons

good-quality white wine vinegar

1/2

tablespoon

honey

sea salt and freshly ground black pepper,

to taste

handful toasted pine nuts
Method
In a medium-sized serving bowl, mix together the radishes, orange, red onion and mint.

In a small bowl, whisk together the olive oil, vinegar, and honey until combined. Season with salt and pepper. Toss to coat the salad ingredients.

Garnish with toasted pine nuts and serve. Enjoy!
Did you try this recipe?
Then tag @ellerepublic on Instagram and hashtag it #ellerepublic
How did you like it?
Please let me know how this Spring Radish Salad with Orange, Mint & Pine Nuts recipe turned out for you! I would love to hear how you liked it. Simply rate it with the stars above ⭐or leave me a comment and rate it below.
Did you make any changes to this recipe?
If you have tips for other readers, let me know! It helps me and other readers so much. Sharing is Caring :-).