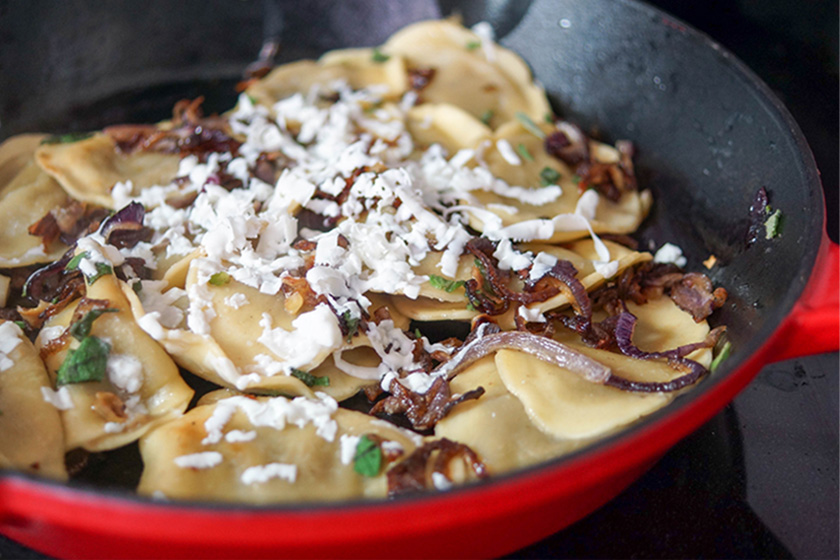 Caramelizing onions may sound like a lot of effort but really it's not. It gives you a chance to get some other things done. Like in my case, hop in the shower after my Pilates class, knowing I have a full 15 minutes before I need to do something in the kitchen again. Plus when you get out, it smells amazing! The trick to getting sweet, sticky shreds of caramelized onion is all in the "not touching". The rest is simple. Just peel and slice the onions, heat some butter or oil in a heavy-bottomed skillet, add the onions and don't touch them, then continue to not touch them some more — for a full 15 minutes! Then flip and do the same all the while focussing on the not touching until they are caramelized. Voila!
A simple dish packed flavor thanks to caramelized onions
Super simple and super tasty, this pasta dish is perfect for two. Or if you are famished and have a big appetite, likely for one. The combination of sweet caramelized onions, fresh oregano and salty feta are absolutely magical together. You'll love it!

The inspiration for this dish came from a recent trip to the island of Rhodes in Greece. There was one particular Greek restaurant we spent a lot of time at. Mostly eating baked giganti beans and grilled octopus, but from time to time we enjoyed a big plate of spaghetti. In the case, a dish called Spaghetti Koulouria. It was soooo delicious, I just had to write down those three simple ingredients so I'd never forget them: caramelized onions, oregano and feta. Since Koulouria is actually the name for ancient Greek Easter biscuits, I can only expect that the chef named this creation after the village he came from. So I salute this tiny village and its 54 residents. Yia mas!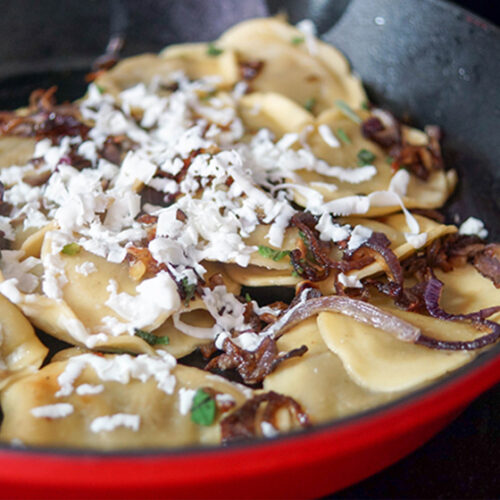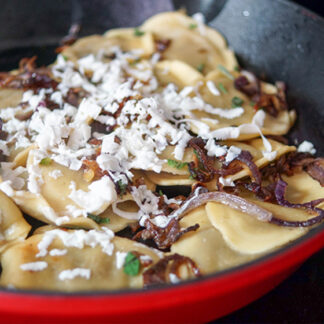 Koulouria Ravioli with Caramelized Onions, Oregano and Feta
Pasta with caramelized onions, fresh oregano and salty feta are absolutely magical together. A dish called Spaghetti Koulouria in Rhodes, Greece inspired this recipe.
Ingredients
3

medium sweet onions,

of one variety (red, Vidalia, Spanish, etc.), cut into thin rings or slices

3

tablespoons

olive oil or butter

200-250

g

fresh porcini ravioli

(store-bought)

2

teaspoons

chopped fresh oregano

50

g

feta cheese

(about 1/4 cup)

freshly ground black pepper,

to taste
Method
Heat a large, heavy-bottomed skillet (enameled cast-iron works wonders) over medium-high heat, then add the oil or butter.

When hot, add onions, stir briefly to coat, lower heat to medium and allow to cook for 15 minutes without touching.

After 15 minutes, using a wide spatula, flip the bottom layer to the top. Cook for another 15 minutes without touching.

At this point, most of the onions should be a deep golden-brown. Stir mixture together, lower heat to lowest setting and continue to cook, stirring occasionally, until all onions are completely caramelized, about 10 minutes.

Meanwhile, fill the large pot with cold water and a pinch of salt. Bring to a boil over high heat and add pasta. Cook according to packet instructions. Fresh pasta takes only a few minutes.

Gently toss the ravioli with the caramelized onions and oregano. Transfer to two plates and grate the feta cheese over the pasta, season with pepper and serve immediately.
Did you try this recipe?
Then tag @ellerepublic on Instagram and hashtag it #ellerepublic
How did you like it?
Please let me know how this Koulouria Ravioli with Caramelized Onions, Oregano and Feta recipe turned out for you! I would love to hear how you liked it. Simply rate it with the stars above ⭐or leave me a comment and rate it below.
Did you make any changes to this recipe?
If you have tips for other readers, let me know! It helps me and other readers so much. Sharing is Caring :-).