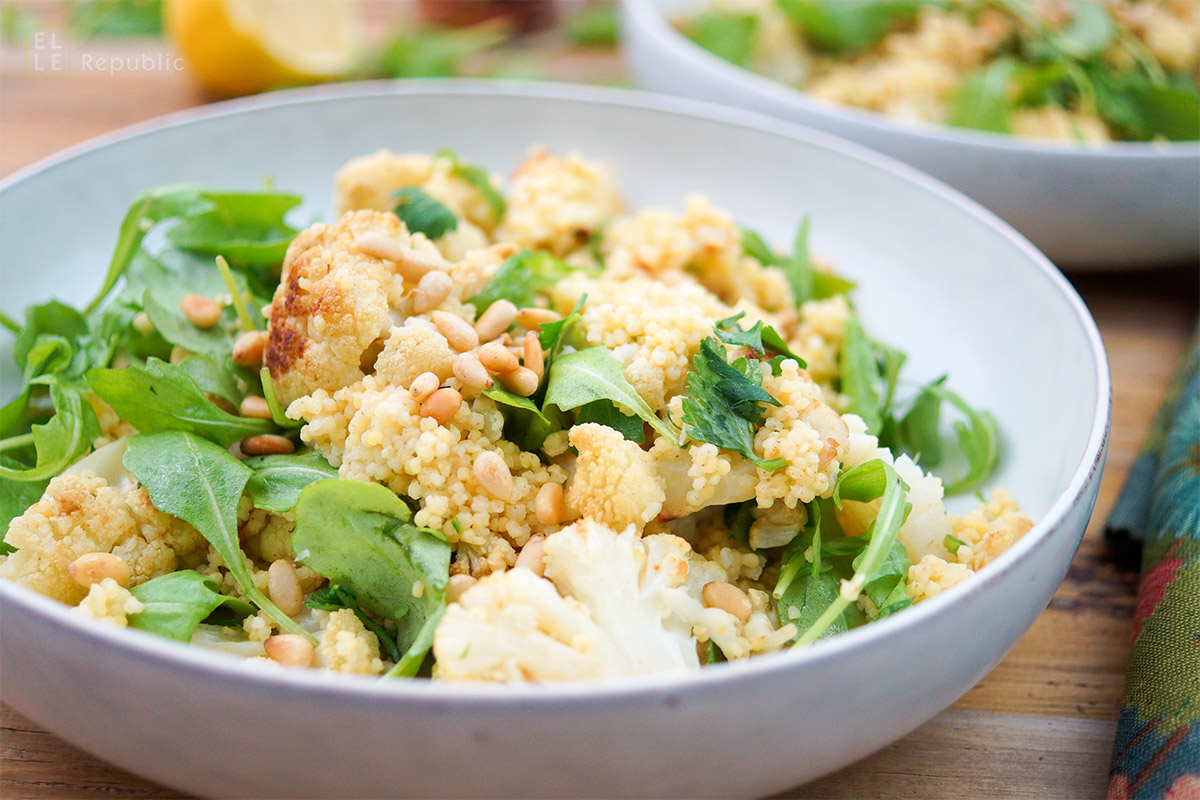 Roasted cauliflower. Yep, I'm becoming ultra-hip. So here it is, I finally found a way to make cauliflower taste great. A year ago with all the cauliflower hype I would never have believed it. But it's true. Cauliflower, as unloved as it has been in my eyes, can truly taste great. I gave it a try last winter and wasn't totally convinced, so a full spring, summer, and fall later, I decided to give it a second chance. Truly love it!
I think it is only because I have been eating at a falafel place that serves their "Mesa Platte" with roasted cauliflower. Okay, that's a fib, it's actually deep-fried and tastes amazing. Which sparked me to give what is my probably least favorite vegetable a second chance. You see, I grew up in a family with English heritage (plus some Icelandic, French, Scottish in the mix… long story) AND the English having some influence on my mother's cooking skills (I'm talking two generations ago, so in those days there wasn't any Jamie Oliver and Yotam Ottolenghi taking London by storm) that meant Sunday dinners with rare roast beef, which my mother then let "rest" on a plate to drain only so she could dip her bread in all the blood — as a child I was traumatized. And to top things off there were overcooked vegetables, yes I know, it's so cliché. "British Cuisine"… an oxymoron. Nonetheless, it meant that also in the midst of cauliflower season, it too suffered, from a very long boil.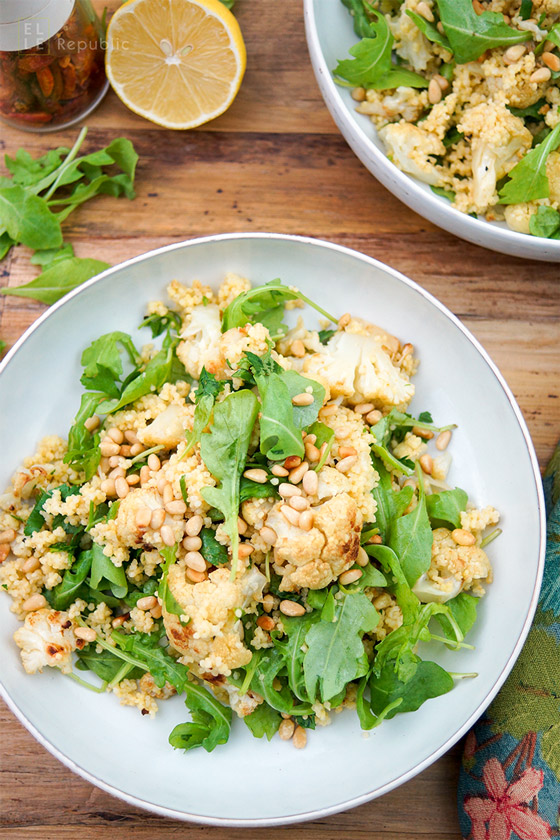 So since life is life and we don't necessarily have to repeat our parents and grandparents "mistakes", sometimes it is great to simply break the mold and find new ways of turning past experiences into something fantastic. And that's exactly what I did with this roasted cumin cauliflower.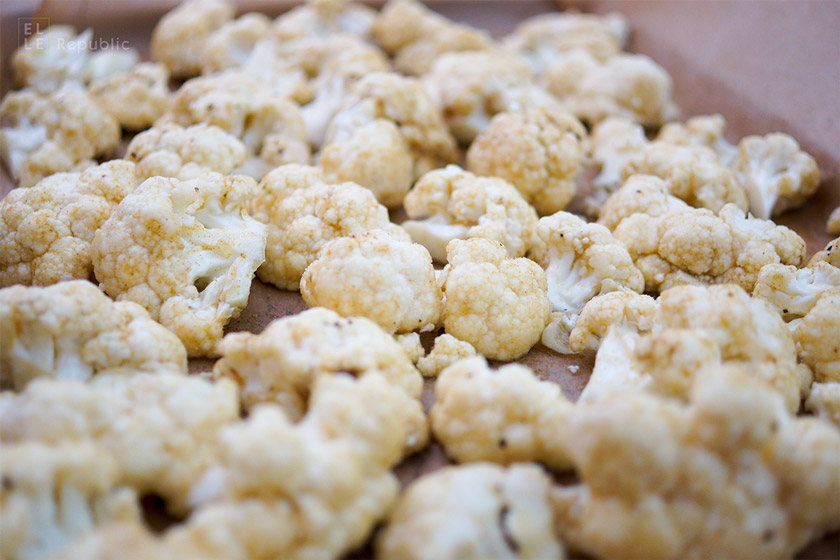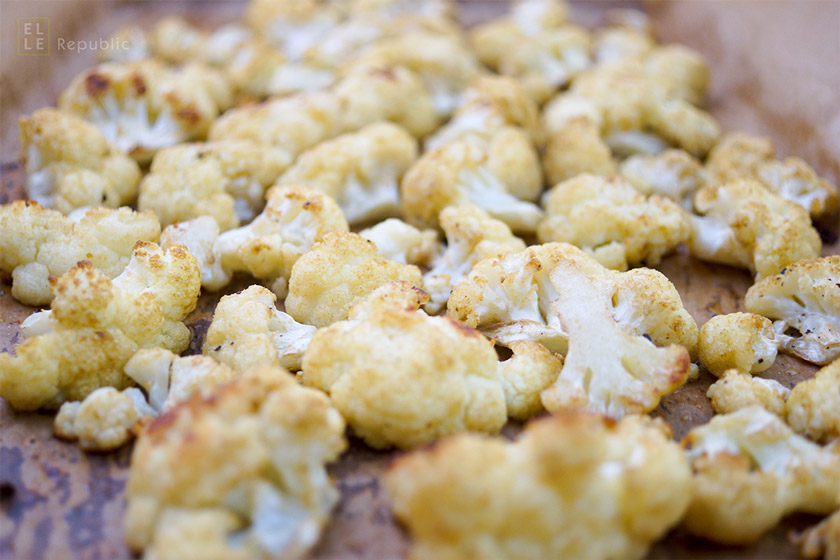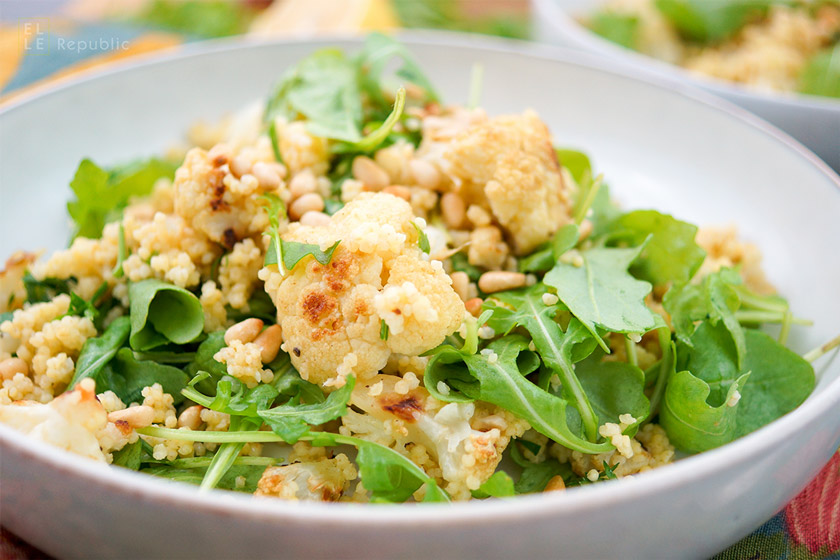 Needless to say, I think this simple and healthy recipe for roasted cumin cauliflower and millet salad is truly fantastic. And beyond deliciously delicious. Millet is a perfect flavor partner with roasted cumin cauliflower (and doubles up as being gluten-free), as is fresh parsley, peppery baby arugula, chili and most definitely and not to be forgotten… lemon. I think a little spice is essential to this recipe and prefer freshly ground dried bird's-eye chili over chili flakes, but both are good. Personally, I can't live without my grinder full with chili peppers and it's something I would recommend it to anyone who loves a little spice in their life. 🙂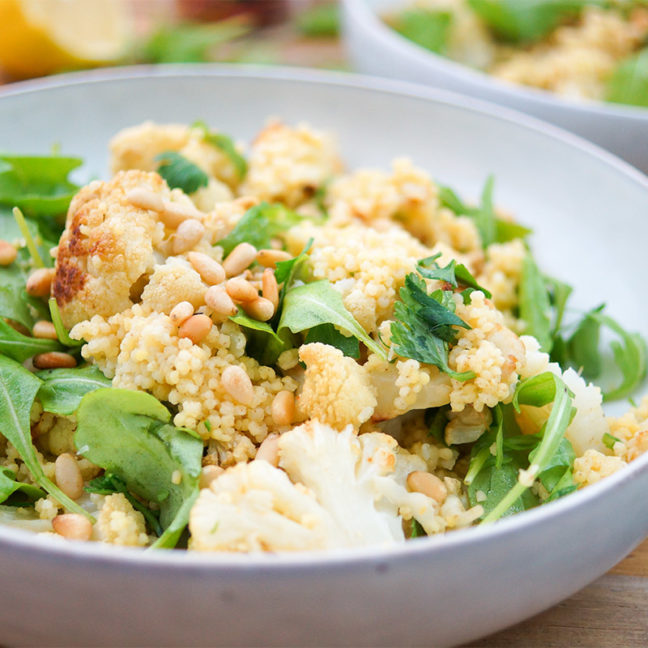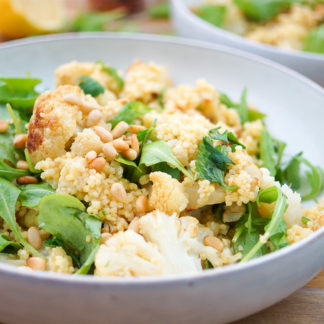 Roasted Cumin Cauliflower and Millet Salad
A fantastically simple and delicious recipe for roasted cumin cauliflower served with millet, fresh parsley, baby arugula and pine nuts. Naturally gluten-free. Makes for perfect leftovers or a make ahead lunch.
Ingredients
4

tablespoons

extra-virgin olive oil

1

tablespoon

ground cumin

sea salt and freshly ground pepper,

to taste

1

large head cauliflower,

trimmed, cut into florets

1/2

cup

uncooked millet,

rinsed (100 g)

juice of 1 large lemon,

about 4 tablespoons

chili flakes,

to taste

3

tablespoons

fresh chopped flat-leaf parsley

2

generous handfuls baby arugula

1/4

cup

pine nuts,

lightly toasted (25 g) (alternatively use shaved almonds)
Method
Preheat the oven to 425°F / 220°C and line a baking sheet with parchment paper.

Combine olive oil and cumin in a large bowl. Add the cauliflower florets and toss to combine. Transfer to the baking sheet; placed flat side down. Season with a few good pinches of salt and pepper, to taste. Place in the preheated oven and roast for about 20-25 minutes, or until tender and lightly browned, depending on size of the florets. Turn the pan and toss the cauliflower halfway through for even cooking.

Meanwhile cook the millet according to package instructions (in total about 20 minutes). Fluff the millet with a fork and transfer to a large serving bowl to cool slightly while the cauliflower finishes cooking.

Add the cauliflower to the bowl with the millet. Drizzle with lemon juice and sprinkle with chili flakes; toss to combine. Add the remaining ingredients and toss again.

Serve warm or at room temperature. Enjoy!
Did you try this recipe?
Then tag @ellerepublic on Instagram and hashtag it #ellerepublic
How did you like it?
Please let me know how this Roasted Cauliflower Millet Salad recipe turned out for you! I would love to hear how you liked it. Simply rate it with the stars above ⭐or leave me a comment and rate it below.
Did you make any changes to this recipe?
If you have tips for other readers, let me know! It helps me and other readers so much. Sharing is Caring :-).
This post contains affiliate links. If you decide to make a purchase through my link, Amazon will pay me a commission for it. This doesn't cost you anything additional and the price remains the same. More about advertisements on Elle Republic.