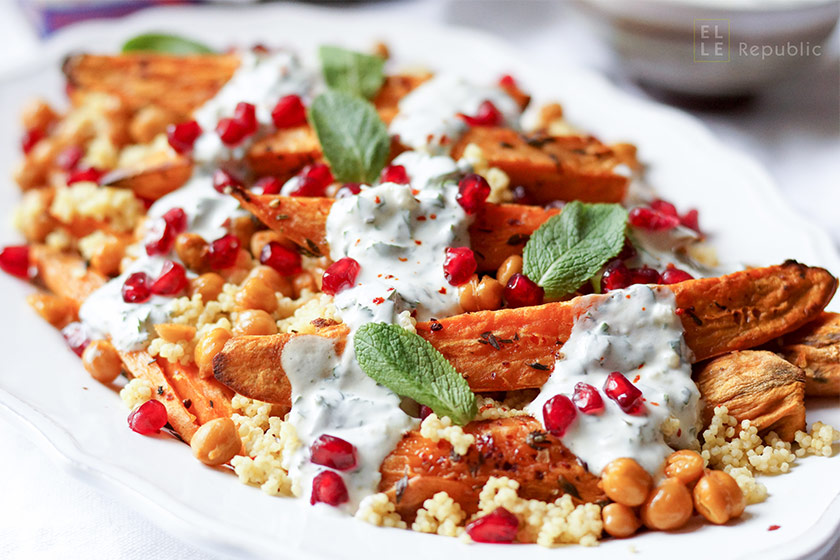 I have a confession: I have an absolute obsession with sweet potatoes and sadly this obsession of mine isn't shared with open arms at home. But slowly, one dish at a time, I am building up a gradual win for sweet potatoes. They may never get as far as hearing the "L" word or "oh yes, I'm having a craving, let's have something with sweet potatoes tonight" let alone roasted sweet potatoes and chickpeas, but at least there won't be any more murmurs of disappoint or grunts of dissatisfaction either. Sweet potatoes are so much more than my mother's simple version baked in the oven and served with butter. I absolutely L O V E this dish!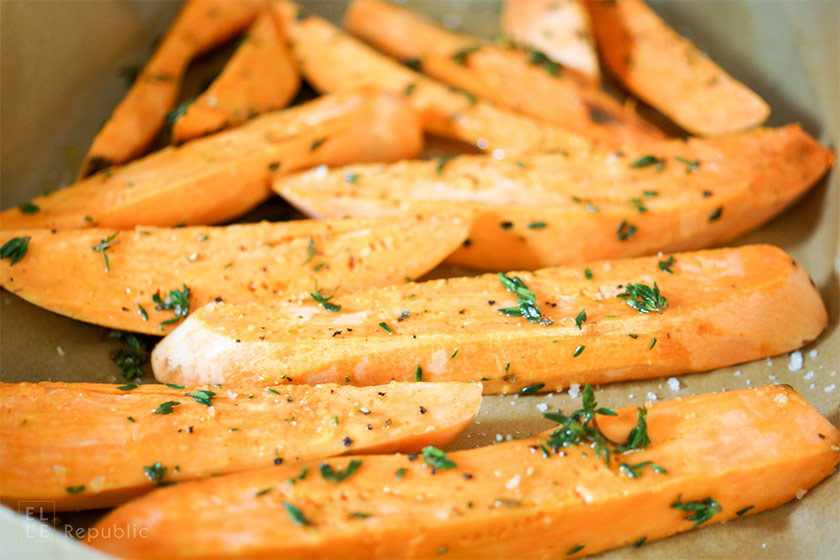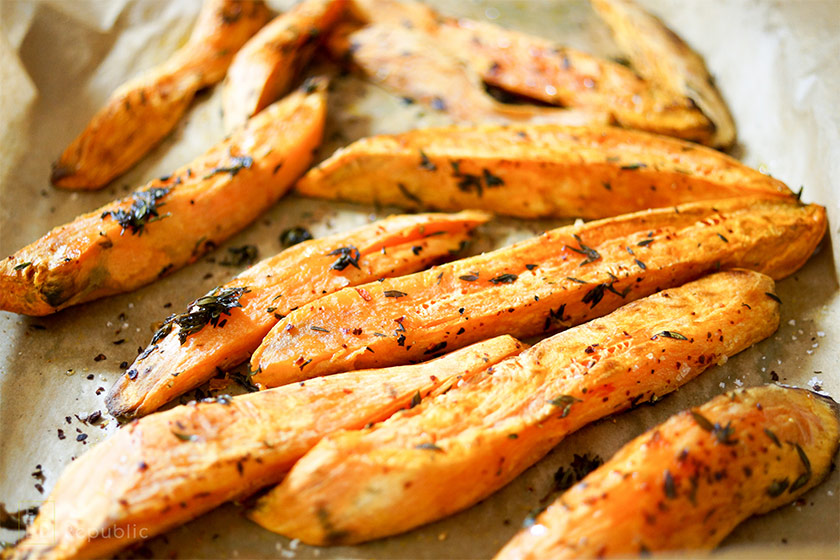 Roasted sweet potatoes and chickpeas – what a combo!
You may have never have guessed it, but roasted sweet potato and millet are a dream together. Together with roasted chickpeas it's a fabulous flavor combination. And all this glorious goodness is served with a Mediterranean inspired yogurt sauce made with lemon and lots of my favorite herbs — fresh cilantro, mint and parsley. This is a ridiculously tasty vegetarian dish that is healthy and satisfying — one that proves vegetarian recipes don't have to be boring. All that is needed are high quality ingredients with great flavors and textures, and the right mix of herbs and spices.
Millet is perfect for anyone following a gluten-free diet
If you aren't familiar with millet, it's an ancient seed that has a lovely and light texture when cooked, as well as a mildly sweet and nutty flavor. It is incredibly versatile and works are the prefect replacement for couscous – one that is naturally gluten-free. Since it is so small in size, it is relatively quick cooking, similar to couscous. Since it triples in volume after cooking, you'll only need 1/3 cup dry millet for this recipe.
It's loaded with iron, B vitamins and calcium-rich millet, protein-rich chickpeas and delicious vitamin A rich roasted sweet potatoes. If you don't have sweet potatoes on hand, I am willing to bet that roasted beets, parsnip or carrots (even butternut squash) would be just as delicious here too.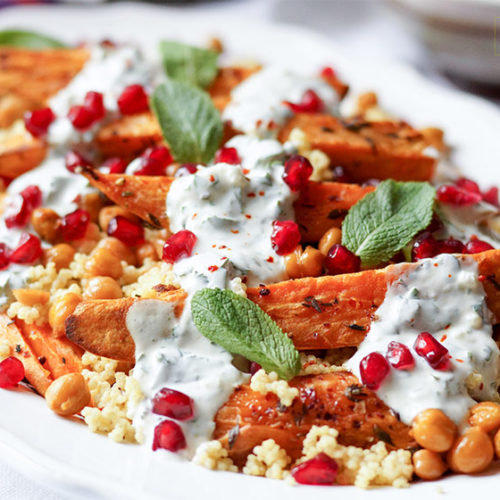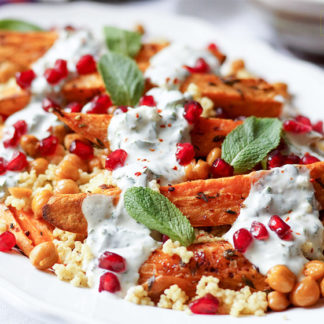 Roasted Sweet Potatoes and Chickpeas, Millet and Herbed Yogurt
A healthy vegetarian recipe for roasted sweet potatoes, chickpeas and millet in a Mediterranean yogurt sauce with lemon, fresh cilantro, mint and parsley.
Ingredients
2

large sweet potatoes,

preferably organic, peeled and cut into 8 lengthwise wedges

2

tablespoons

extra-virgin olive olive oil

1

tablespoon

fresh thyme leaves

1/2

teaspoon

crushed red-pepper flakes,

plus more to garnish

1

x 400 g can

organic chickpeas,

rinsed and drained

1/4

teaspoon

smoked paprika

sea salt and freshly ground black pepper,

to taste

1/3

cup

uncooked millet

(70 g)
For the yogurt sauce:
1

x 170 g container

Greek yogurt

1

tablespoon

extra-virgin olive oil

1

clove

garlic,

minced

4

tablespoons

freshly squeezed lemon juice

2

tablespoons

freshly chopped coriander

1

tablespoon

freshly chopped mint

1

tablespoon

freshly chopped parsley

sea salt and freshly ground pepper,

to taste
Method
Heat oven to 425°F / 220°C and line two baking sheets with parchment paper.

In a medium bowl, toss the sweet potatoes with 1 tablespoon olive oil, the thyme leaves and red pepper flakes.

In a second bowl, toss the chickpeas with 1 tablespoon olive oil, the smoked paprika and sea salt, to taste.

Spread the sweet potatoes, in one layer, on the lined baking sheet. Season with salt and pepper. Roast in the top third of the oven for 30 minutes. Turn the wedges over and roast for 5 to 10 more minutes, until soft and lightly charred at the edges.

Meanwhile, spread chickpeas on second baking sheet. Once the sweet potatoes have cooked for 20 minutes, transfer the chickpeas to the oven. Roast for 20 minutes, shaking the pan once or twice so that they cook evenly, until lightly browned. Remove both baking trays from the oven and set aside.

Prepare the millet according to package instructions. After 10-15 minutes all the water should be absorbed and the millet cooked.

Note: I serve this dish at room temperature, but if you want to serve this dish warm, then prepare the millet as soon as you put the chickpeas in the oven.

Meanwhile, in a small bowl, whisk together the dressing ingredients and season with salt and pepper to taste.

Arrange the roasted sweet potatoes and chickpeas, along with the millet on a platter (I do a layer with half the sweet potatoes, half the chickpeas, half the millet, and repeat with the remains). Drizzle some of the yogurt over top. Garnish with a little more red pepper flakes.

Serve with the remaining yogurt on the side. This dish can be served warm or at room temperature. Enjoy!
Did you try this recipe?
Then tag @ellerepublic on Instagram and hashtag it #ellerepublic
How did you like it?
Please let me know how this Roasted Sweet Potatoes and Chickpeas with Millet and Herbed Yogurt recipe turned out for you! I would love to hear how you liked it. Simply rate it with the stars above ⭐or leave me a comment and rate it below.
Did you make any changes to this recipe?
If you have tips for other readers, let me know! It helps me and other readers so much. Sharing is Caring :-).