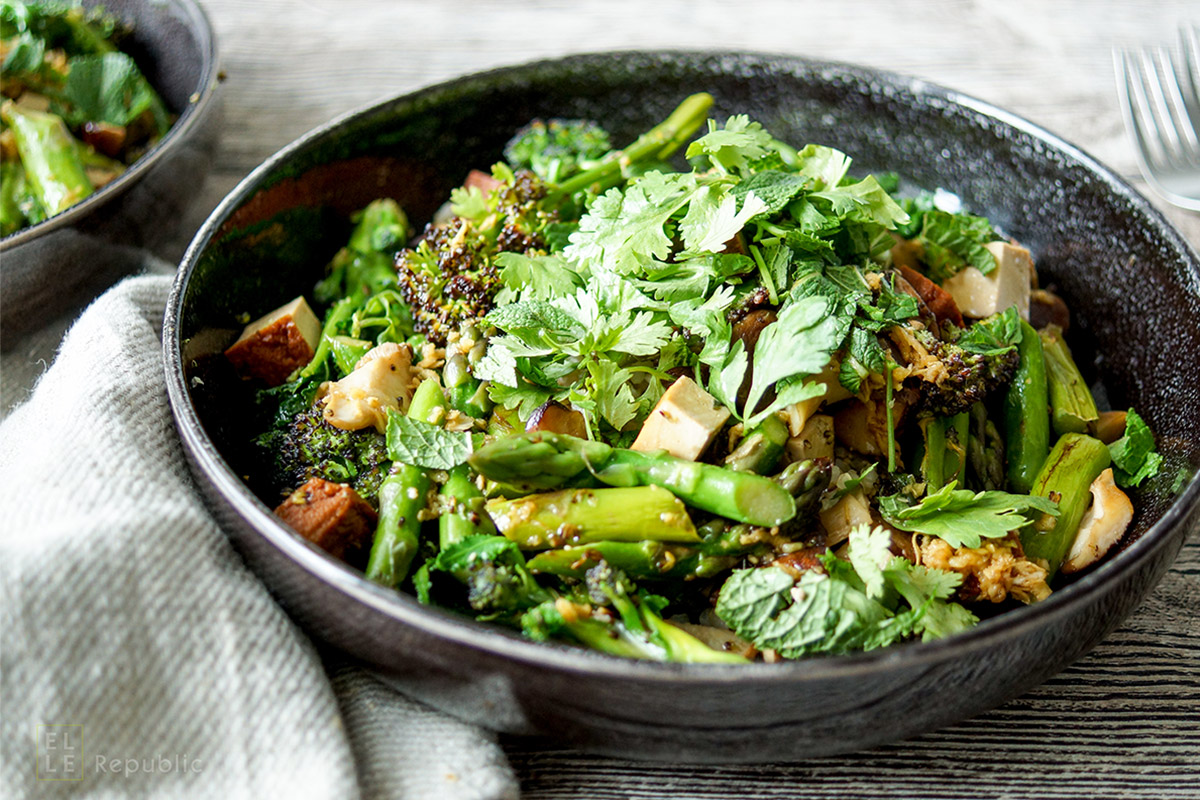 Stir-fry is one of those things I grew up on. Okay, maybe not a smoked tofu stir-fry loaded up with spring vegetables and tasty things like garlic, ginger, Japanese rice vinegar, soy sauce, and toasted sesame oil. Yes, a necessary handful of ingredients with Asian flavors that just taste awesome. My mother's version was more the standard "beef and broccoli" type which would be considered very-far-from-the-real-thing American-style (in my case Canadian-style) made with sauce from a glass jar and a splash of soy sauce (bravo!) and it more often than not, had carrots and bean sprouts. I loved it. Mostly because of the broccoli. Yeah, I was one of those kids that loved their green vegetables. Spinach, broccoli, peas, and anything else that was green. The greener the better. And this stir-fry even with smoked tofu and mushrooms is definitely green.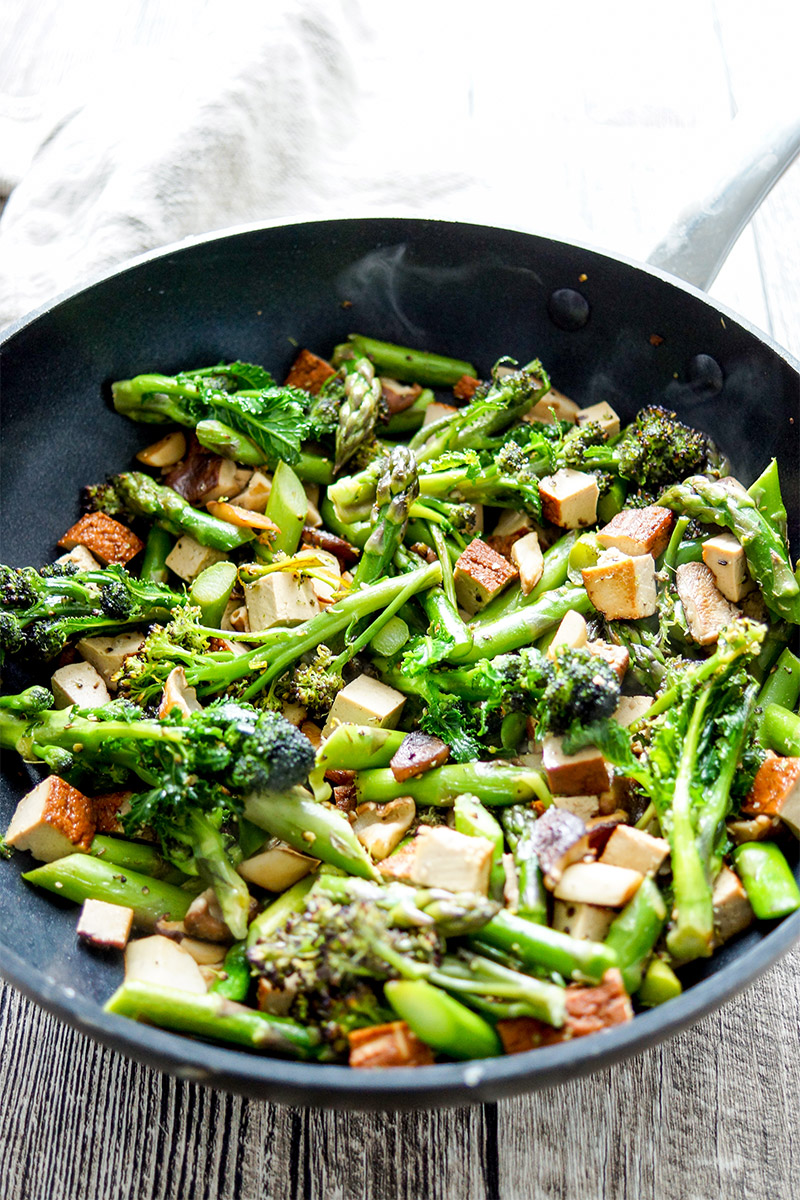 A smoked tofu stir-fry pepped up with fresh spring vegetables
The one thing I love about spring is the arrival of spring greens. Wild garlic leaves (Bärlauch), asparagus and a lesser known favorite — sprouting broccoli (known as spargelkohl in Germany, which translates to asparagus cabbage). With it's small dark greeny-purple florets, sprouting broccoli sort of resembles broccoli but is darker and leafier. The taste is similar, and its related to the cabbage family… and I guess you could say it has asparagus-like stems? Nonetheless, it's delicious — love those greens! — and in stir-fries, you only need to cook it for a couple of minutes, which makes it the perfect partner with green asparagus. Where can you find it? Well, I've never seen it at my local Rewe, so try your local farmer's market.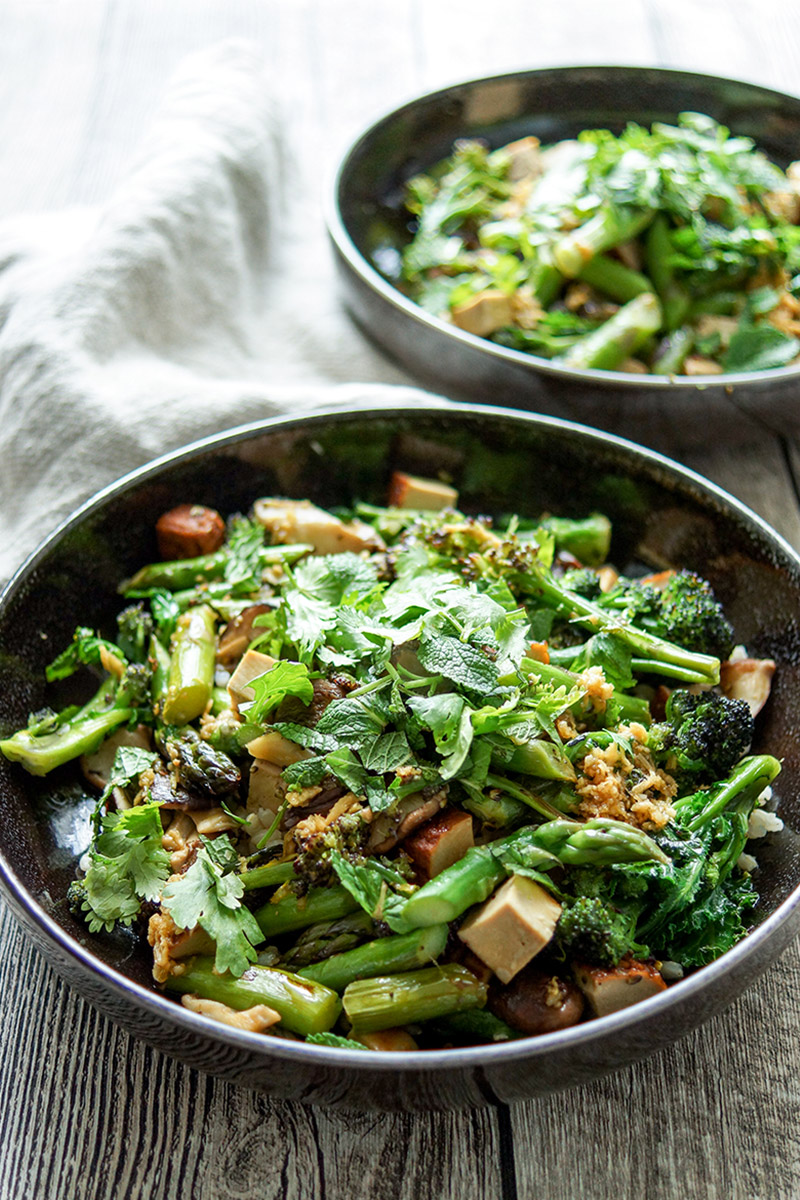 The best thing about stir-fries is that they are quick, easy and healthy
Quick and easy is exactly what motivated me to make this smoked tofu stir-fry with spring vegetables. YES…quick and easy is exactly what I need these days. Okay, so like recovering from major surgery wasn't enough, on top I broke a tooth (on homemade popcorn — for the second time in my life! I know — DOOF! — small pleasures with high risk) and so two root canals later on this poor sad tooth, plus a very pretty and very expensive ceramic NEW crown, the tooth is still infected. So basically my patience for anything that involves "effort" has whittled away to nothing. The joy of eating has been lost to me these past weeks. So health comes first, speed… absolutely necessary.
But the best part is simple, quick meals can also taste awesome. Even when I can only chew with my right side. 🙂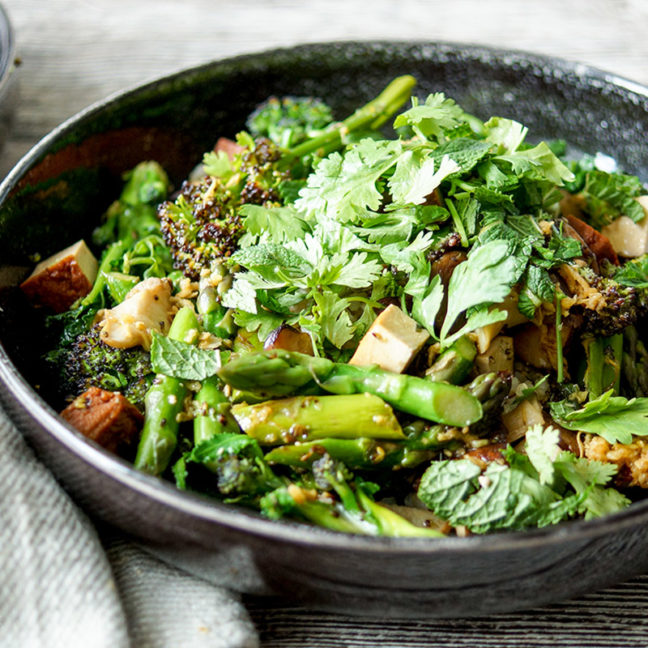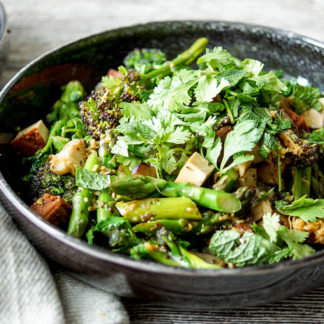 Smoked Tofu Stir-Fry with Asparagus
A delicious, quick and easy dish for vegan smoked tofu stir-fry with spring asparagus, sprouting broccoli and mushrooms. The smokey flavors of the tofu together with an asian-inspired dressing make for a really tasty meal that is brought together in no time at all. Enough for 2 large portions or for serving 4 with a light appetite.
Ingredients
For the stir-fry:
1

tablespoon

virgin coconut oil

150

g

mixed mushrooms

(I used a mix of king trumpet and shiitake)

500

g

green asparagus,

trimmed and cut on a very sharp angle (on the bias) into pieces

1

small bunch sprouting broccoli,

spargelkohl, bottoms trimmed (alternatively use broccoli florets)

splash of water

(ca. 1-2 tablespoons)

200

g

organic smoked tofu,

cut into small cubes

handful fresh cilantro leaves,

chopped

handful mint leaves,

chopped

lemon or lime wedge,

for serving
For the sauce:
2

cloves

garlic,

minced

1 1/2

tablespoons

ginger,

minced

1 1/2

tablespoons

extra-virgin olive oil

1 1/2

tablespoons

unseasoned rice vinegar

(Japanese)

1 1/2

tablespoon

soy sauce

3

tablespoons

toasted sesame oil
For serving:
short grain brown rice or rice noodles

(see notes)
Method
Mix together the dressing ingredients in a small bowl and set aside.

To make the stir-fried vegetables: Heat a large, deep skillet or wok over medium-high. Add the coconut oil and mushrooms. Sauté for about 2 minutes, stirring, until slightly browned. Then add the asparagus and broccoli rabe. Cook without stirring for 1 minute, add a splash of water, cover, and steam for 3 to 5 minutes, tossing once or twice, until tender. I like my vegetables a little al dente.

Add smoked tofu. Continue to cook until warm, about 1 minute.

Drizzle with dressing and toss to combine. Garnish with the fresh cilantro and mint leaves. Serve over rice (or noodles), along with a lemon or lime wedge and enjoy!
Notes
I like to serve this stir-fry with short grain brown rice (Rundkorn Naturreis).
If cooking for two, 3/4 cup (150 g) is sufficient. The rice should be cooked in double the amount of water, for about 40-45 minutes, so plan ahead. The stir-fry itself only takes about 20 minutes, including preparation, so once the rice is almost cooked start preparing the rest of the dish. If time is of the essence, than serve with quick-cooking rice noodles.
Did you try this recipe?
Then tag @ellerepublic on Instagram and hashtag it #ellerepublic
How did you like it?
Please let me know how this buckwheat bread recipe turned out for you! I would love to hear how you liked it. Simply rate it with the stars above ⭐or leave me a comment and rate it below.
Did you make any changes to this recipe?
If you have tips for other readers, let me know! It helps me and other readers so much. Sharing is Caring :-).