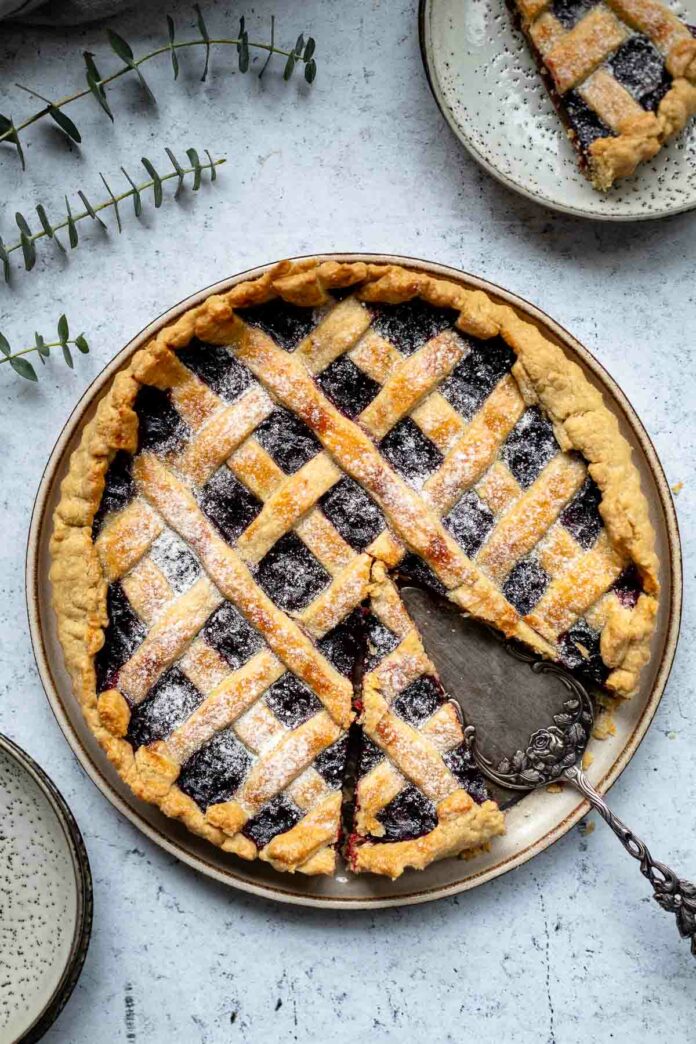 This easy to make jam tart recipe (Linzer Torte) is actually inspired by Crostata di Marmellata — a traditional Italian jam tart. My version is low sugar, is made with spelt and oat flour and omits the eggs, which are typically part of the sweet pastry dough. And if you compare it to a traditional Austrian Linzer Torte, this simplified version also contains no nuts or cinnamon. And in all its simplicity, it's incredibly delicious.
All you need are basic pantry ingredients
This simple jam tart recipe is made with ingredients that you most likely already have own hand:
Flour
Sugar
Butter
Salt
Marmelade
Choice of flour
You can use your choice of flour for this nut-free Linzer Torte recipe, but I like to use a mix. In this case, white spelt flour and oat flour. Oat flour adds a mildly nutty taste without relying on nuts, and as a whole grain it has extra nutritional value. And it can easily be made from oats.
Sugar
I like to use powdered sugar for this recipe, as it has a silky texture. And I very much limit the amount (just 1 tablespoon) as the marmalade, although I choose one with 70% fruit, adds plenty of sweetness.
Butter
Real butter. And depending on the brand, the consistency of the crust can vary slightly as some butter stay spreadable when chilled versus others which are very firm. Both work fine. I choose a very firm butter, as I find it easier to work into the flour, without softening too much.
Salt
Fine grain sea salt is the salt of choice here.
Marmelade
I like to choose a red currant jam with 70% fruit content. You'll get lots of berry flavor without it being overly sweet. I use the same brand for this recipe, as I do for my Jam Crumble Cake recipe.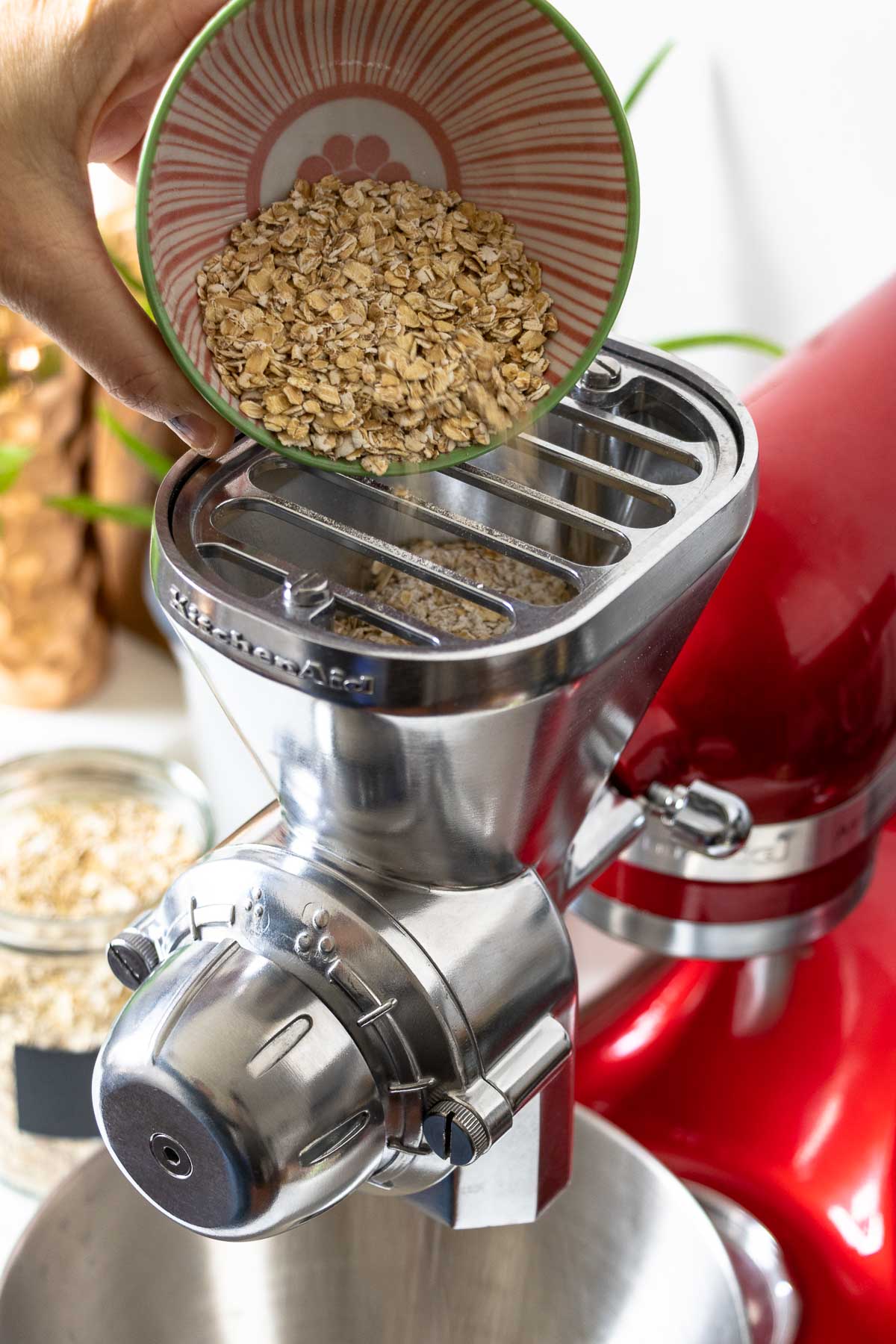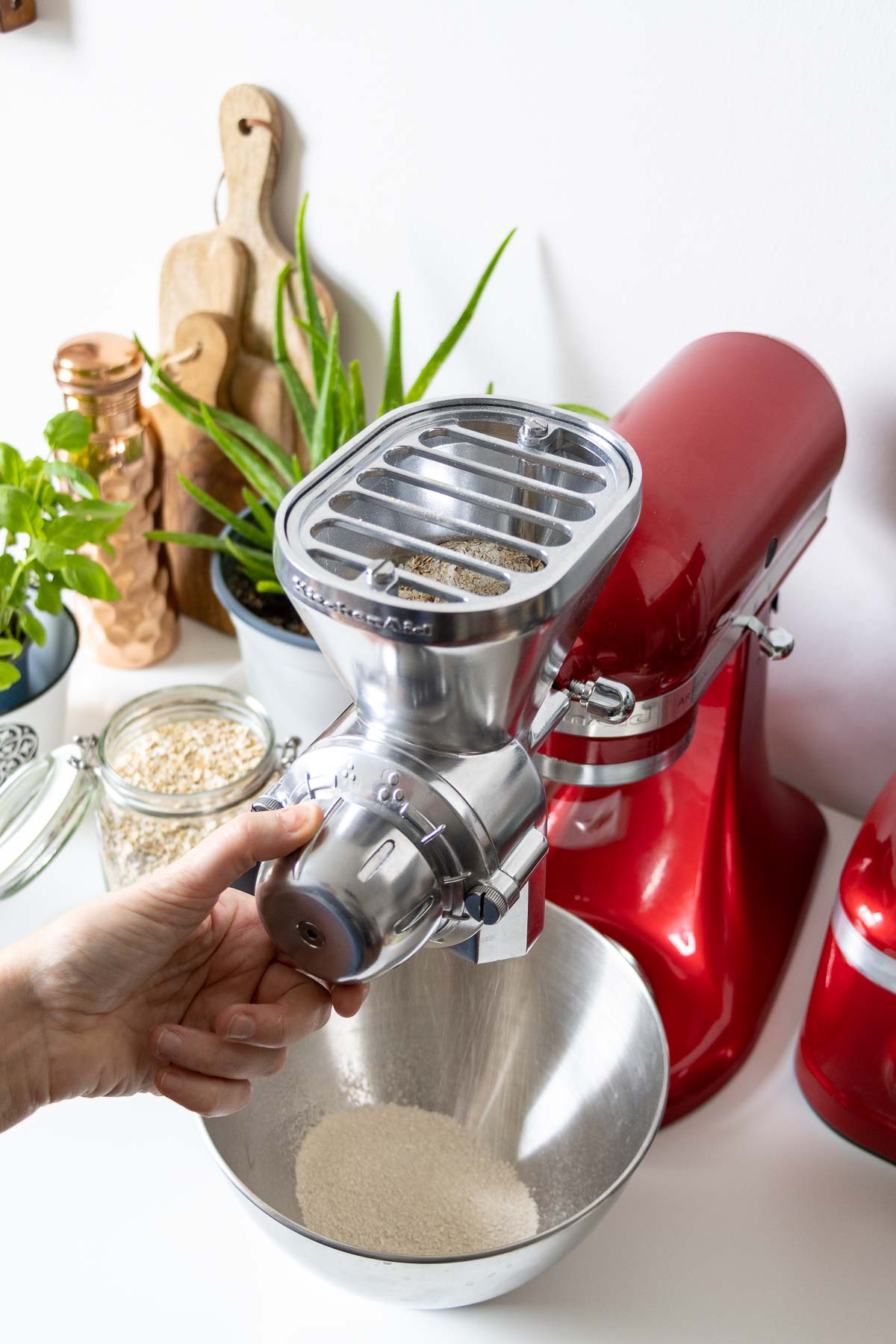 How to make oat flour
It's incredibly easy to make. If you have the right kind of high-powered blender you can blend the oats (either hulled oats or rolled oats) until the resemble a fine flour, or if you already have a Kitchenaid you can use simply use the grain mill attachment. The benefit is that fresh milled flour retains much more flavor, complexity and nuttiness from the grain as store-bought flour. And if you are buying certified gluten-free oats, you can use this pantry staple to make your own gluten-free flour, just as I have done for my gluten-free Almond-Oat Crescent Cookies recipe. Alternatively, some well-stocked organic food stores carry oat flour in their gluten-free section. Though this is relatively new, since oat flour has something I had been searching for years, before starting to make my own.
Why oat flour?
I like to use oat flour since it is a whole grain that is rich in vitamins, minerals, fibre and protein. And it makes a good substitute for almond flour in recipes since it is light, fluffy and has a subtle nutty flavour. And there is the added bonus that although it is higher in carbs, it is lower in fat and calories, than a flour or meal made from nuts.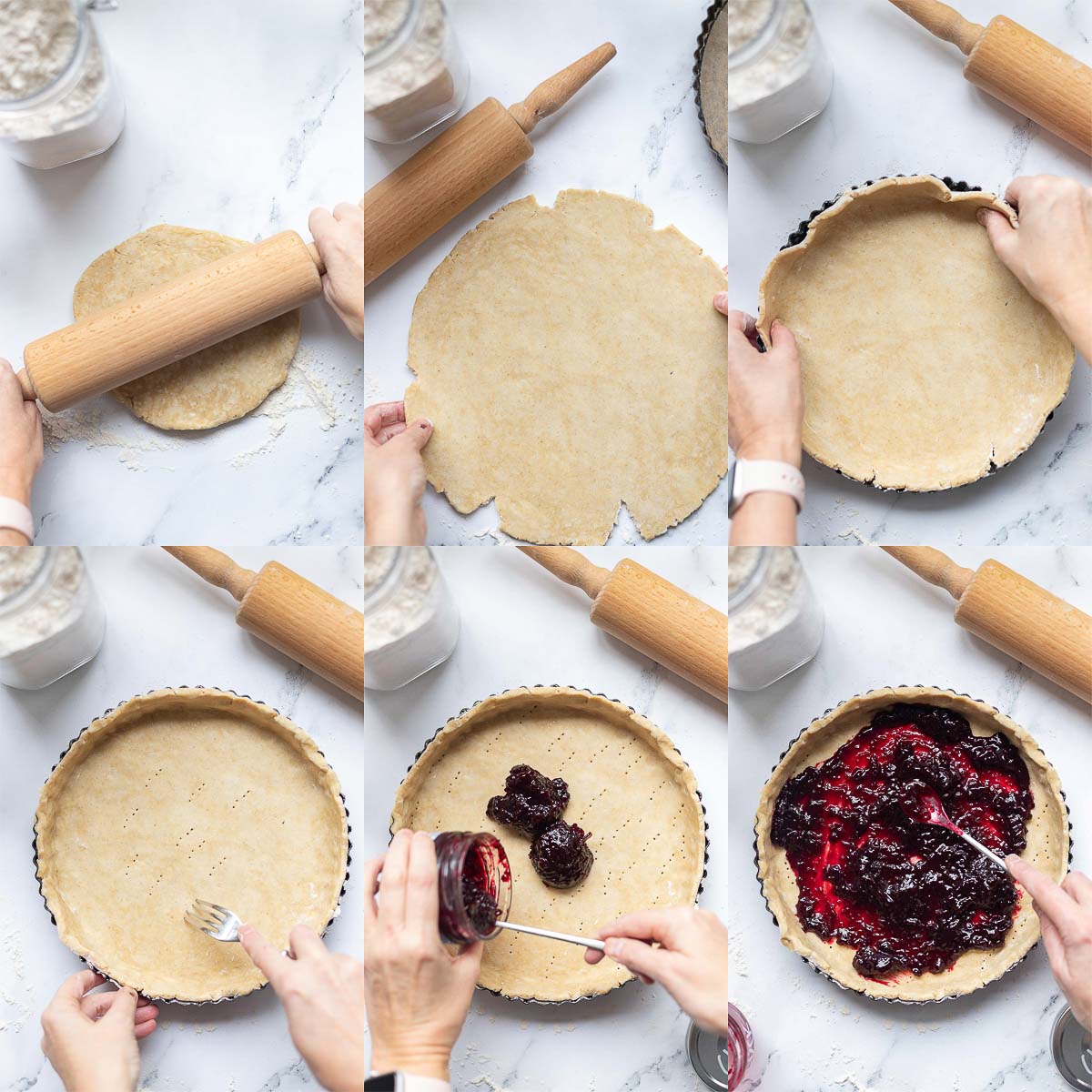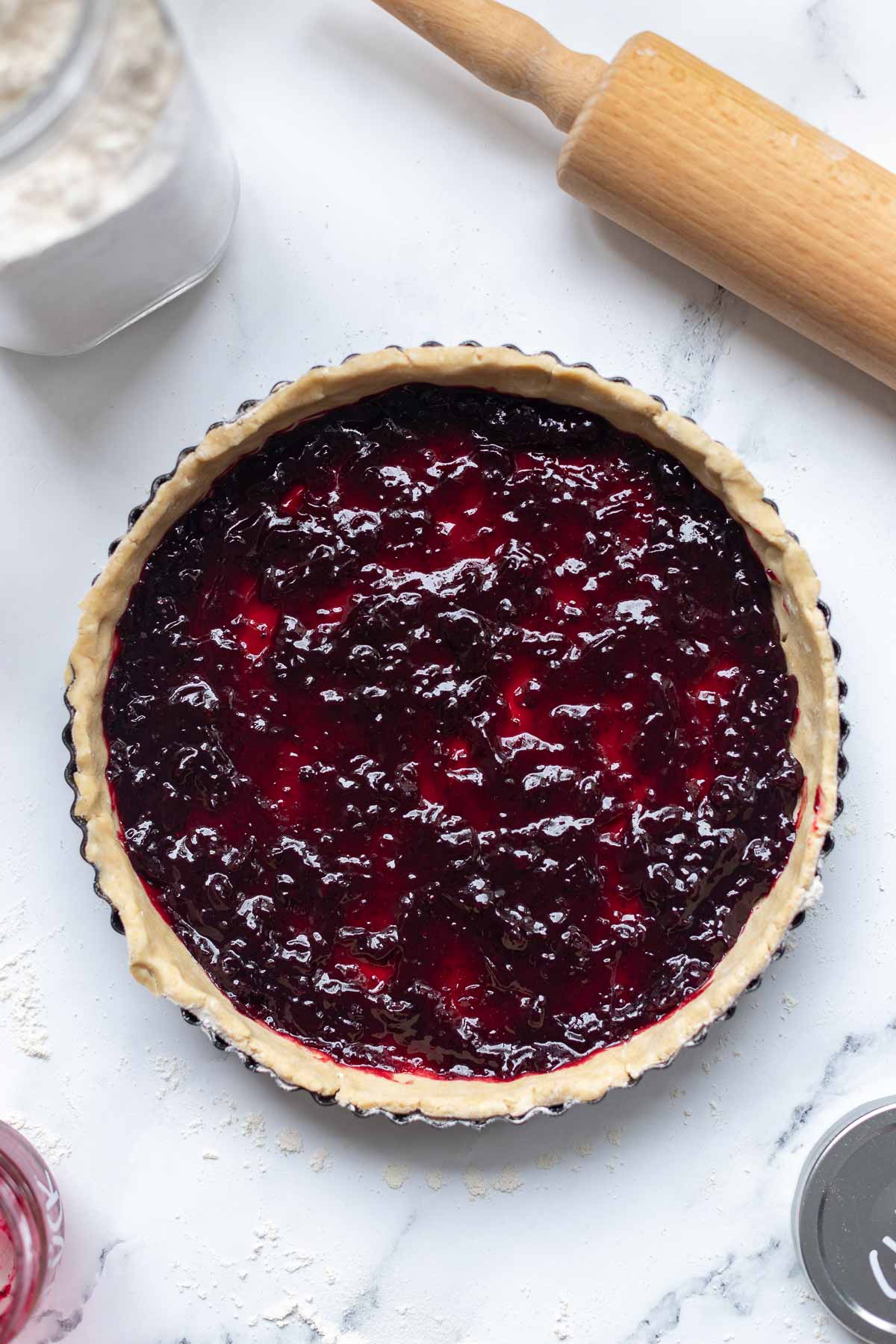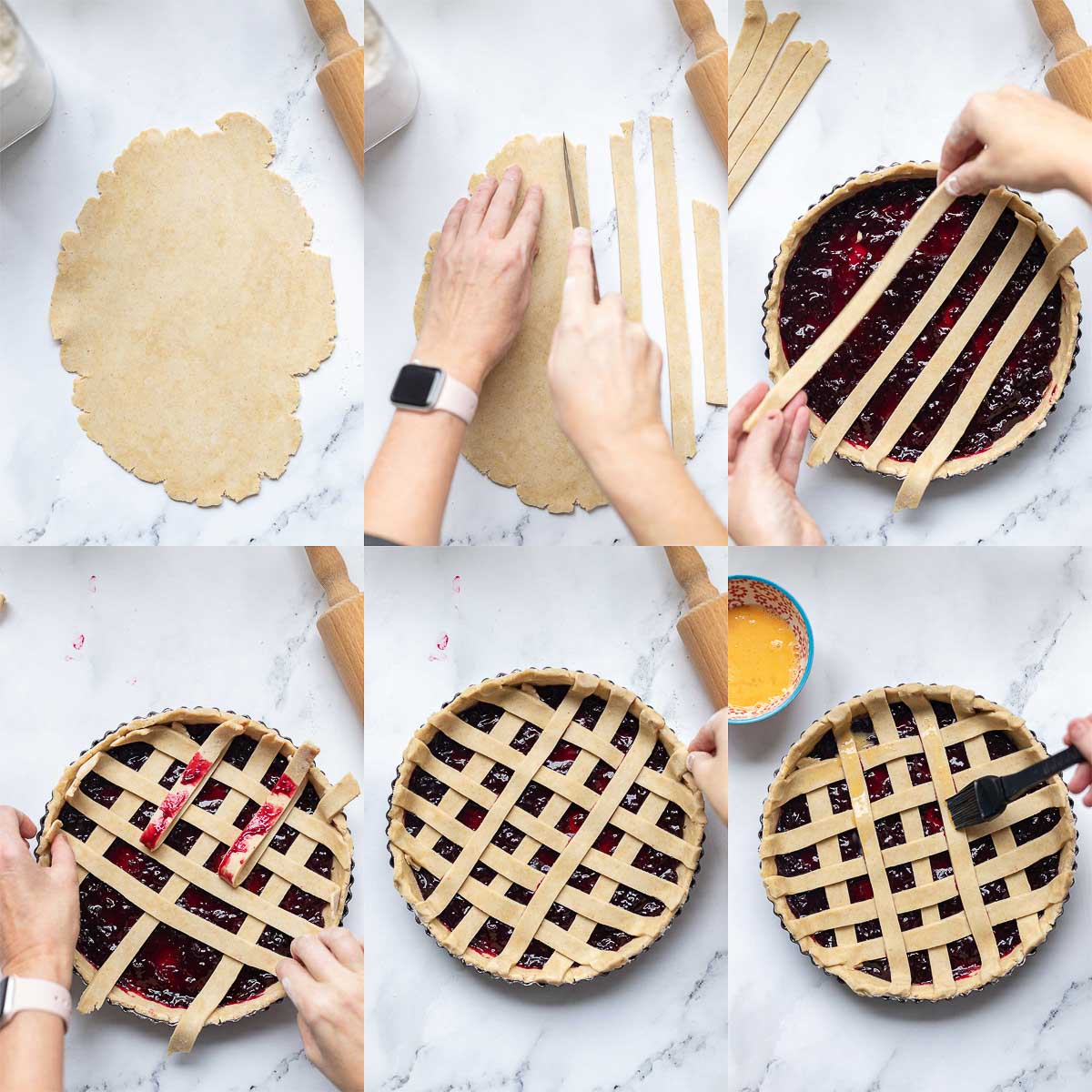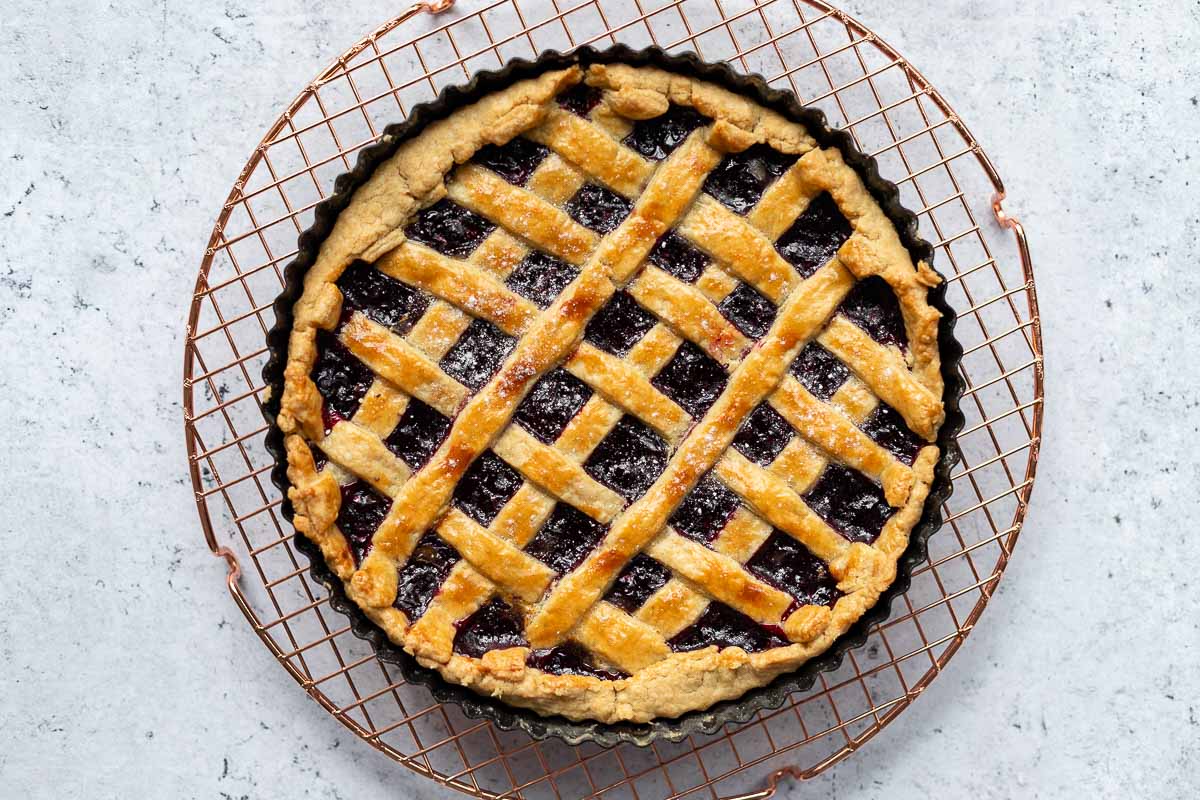 Tips for preparing the dough
1. One of the most important steps of preparing a tart good crust is to keep the ingredients as cool as possible. If the pastry mix becomes to warm, the result will be a heavy pastry crust.
2. Do not overwork the dough and use a LIGHTLY floured surface. Too much flour and handling will result in a tough dough.
3. Work quickly. This relates to the first tip. If you work quickly, the result will be a lighter, crisper pastry.
4. Be sure to chill the dough thoroughly — for at least 1 hour — after preparing it (overnight is also fine). Resting the dough in the fridge also allows time for the gluten (proteins) in the spelt flour to relax, which help reduce shrinkage when it is baked.
5. The oven must be fully preheated before placing it in the oven. And a final tip that I often forget about is to bake the tart placed on a baking sheet that has also preheated in the oven (rather than on the grates). This helps ensure a crispy bottom.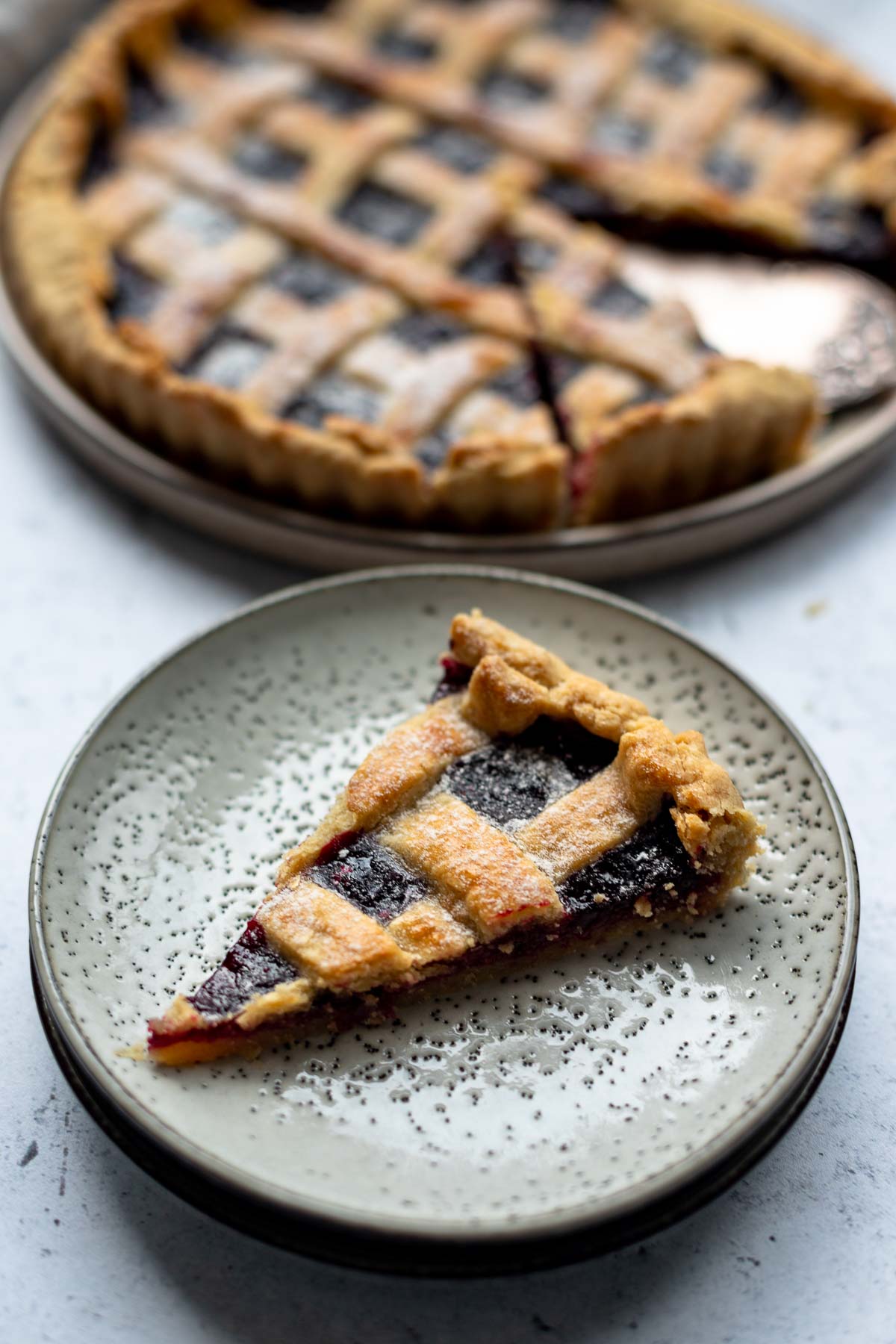 If you like this recipe, then you'll also like these recipe ideas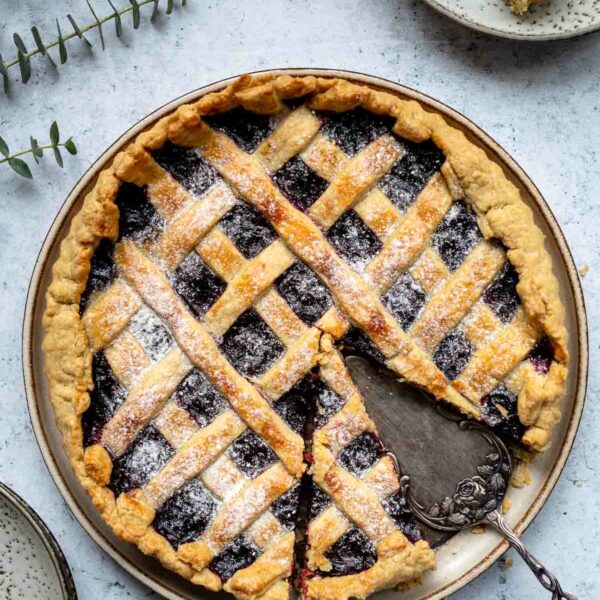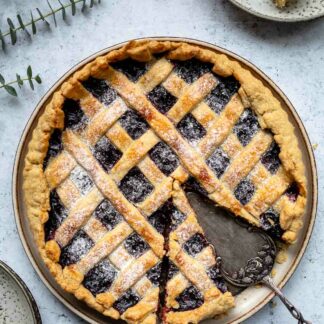 Simple Jam Tart (Linzer Torte)
Simple jam tart (Linzer Torte) made with spelt and oat flour instead of nuts. Low in sugar and easy to make tart with armelade that's big on flavor!
Prep Time
2
hours
20
minutes
Total Time
2
hours
45
minutes
Ingredients
180

g

white spelt flour

120

g

oat flour

(finely ground rolled oats)

1

teaspoon

fine sea salt

1

tablespoon

powdered sugar,

sifted

220

g

unsalted butter,

cold and diced

5-6

tablespoons

ice cold water

1

x 230 g jar

red currant jam

1

egg,

lightly beaten (or milk), for brushing

powdered sugar,

to decorate
Method
In a medium bowl, mix together flours, salt, and sugar until well combined.

Add the cold diced butter and cut it into the flour, using a pastry blender or your fingers, until the dough resembles a very coarse crumb (some bigger pieces of butter are fine, as this ensures a flaky crust).

Add the ice water and mix together with your hands until you can form the dough into a ball, adding more water if needed (and if you add too much water, just add a little more flour).

Divide the dough into a 2/3 ball of dough and the remaining 1/3 dough into another ball. Flatten each ball of dough into a disk and wrap separately in plastic wrap. Chill in the refrigerator for 2 hours (or overnight).

Meanwhile, grease a 24cm tart pan with removable bottom well with butter.

Remove the larger piece of dough from the fridge and on a lightly floured surface, roll to 3mm thick and large enough to line the tart pan.

Tip: Remove the dough from fridge 5-10 minutes before rolling so that it is easier to work with.

Drape the dough over the tart pan and press it into place. If needed, trim any excess around the edges and crimp or tuck the edges in to fit the dish.

Prick the dough with a fork all over the bottom of the tart pan. Spread the jam onto the base in an even layer.

Remove the second piece of dough from the fridge and roll out and cut into strips. Lay the strips of pastry over the tart in a criss-cross pattern. Place in the refrigerator to chill while you preheat the oven (re-chilling for 10-15 minutes before baking reduce the amount the shrinkage when baking).

Tip: You can make the jam tart the day before, keep it in the fridge overnight and bake it the next day.

Preheat the oven to 375°F / 180°C (160°C air-forced).

When ready to bake, brush the dough with lightly beaten egg yolk or milk (this will give it a crisp and shiny crust) and bake for 35 minutes, or until golden brown and the filling is bubbling. Serve warm or cold.

Enjoy!
Notes
You can also leave the prepared dough in the fridge for a few days, if you want to make the dough in advance.
See above for more tips!
For a relaxing atmosphere in the kitchen I recommend my personal Elle Republic: Chilled Out Kitchen Tunes or Lounge Kitchen Tunes Playlist on Spotify.