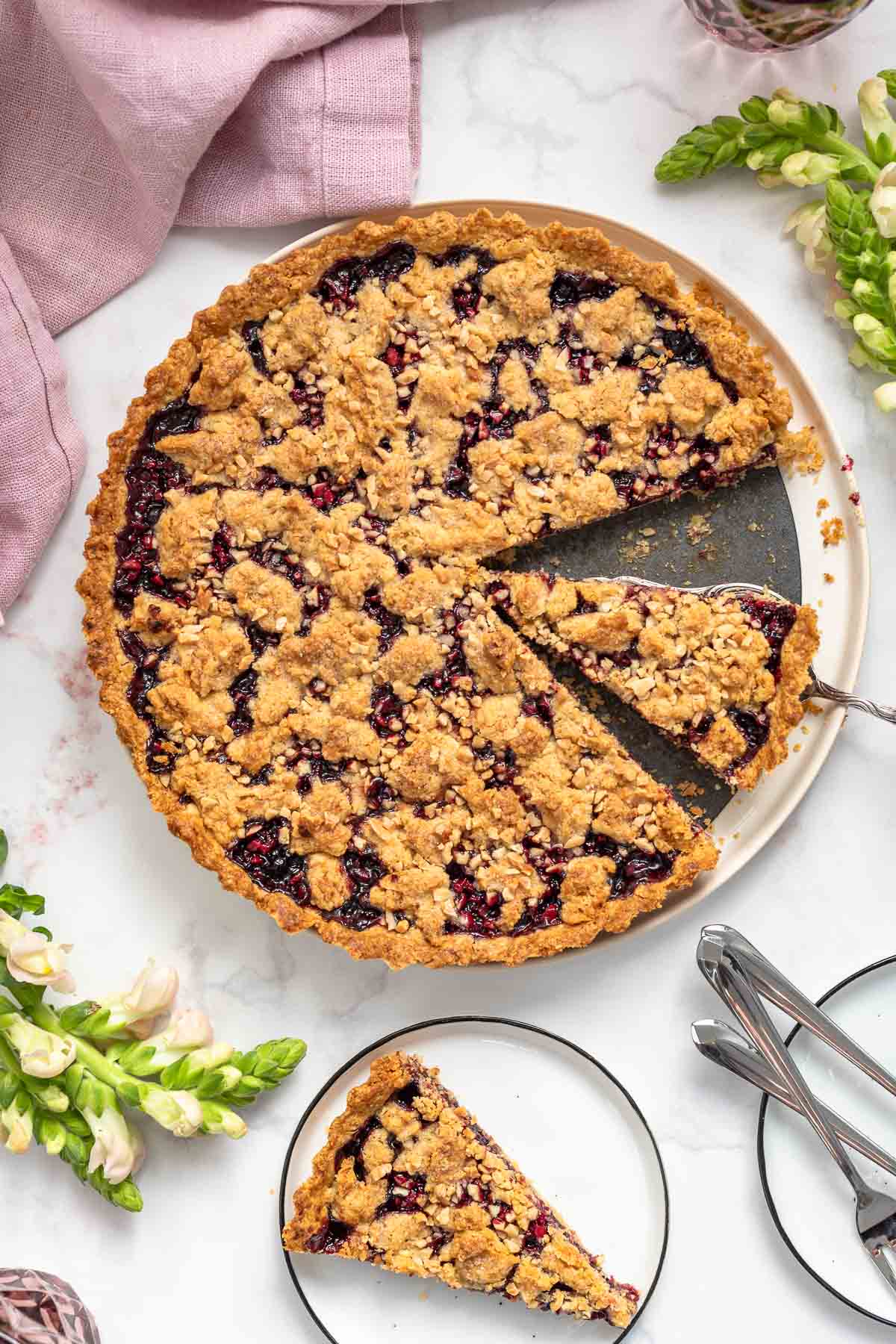 Jam Crumble Cake! Crumble fans rejoice! This recipe takes my love for red currants into new territory. You don't have to wait to summer is in full spring to enjoy these sweet-tart berries. This delicious crumble cake recipe is made with sweet, fruity red currant jam (with 70% fruit!) and encapsulated in a spelt and almond crumble. It's just lightly sweet which makes it the perfect morning cake that can be served with brunch.
With Mother's Day just around the corner, it's time to start thinking about how you can pamper and spoil the most important woman in your life. Whether they are actual mom's, step mom's, dog mums, cat mums, budgie mums or any other kind of mum. It's an occasion where we can plan a special breakfast or brunch.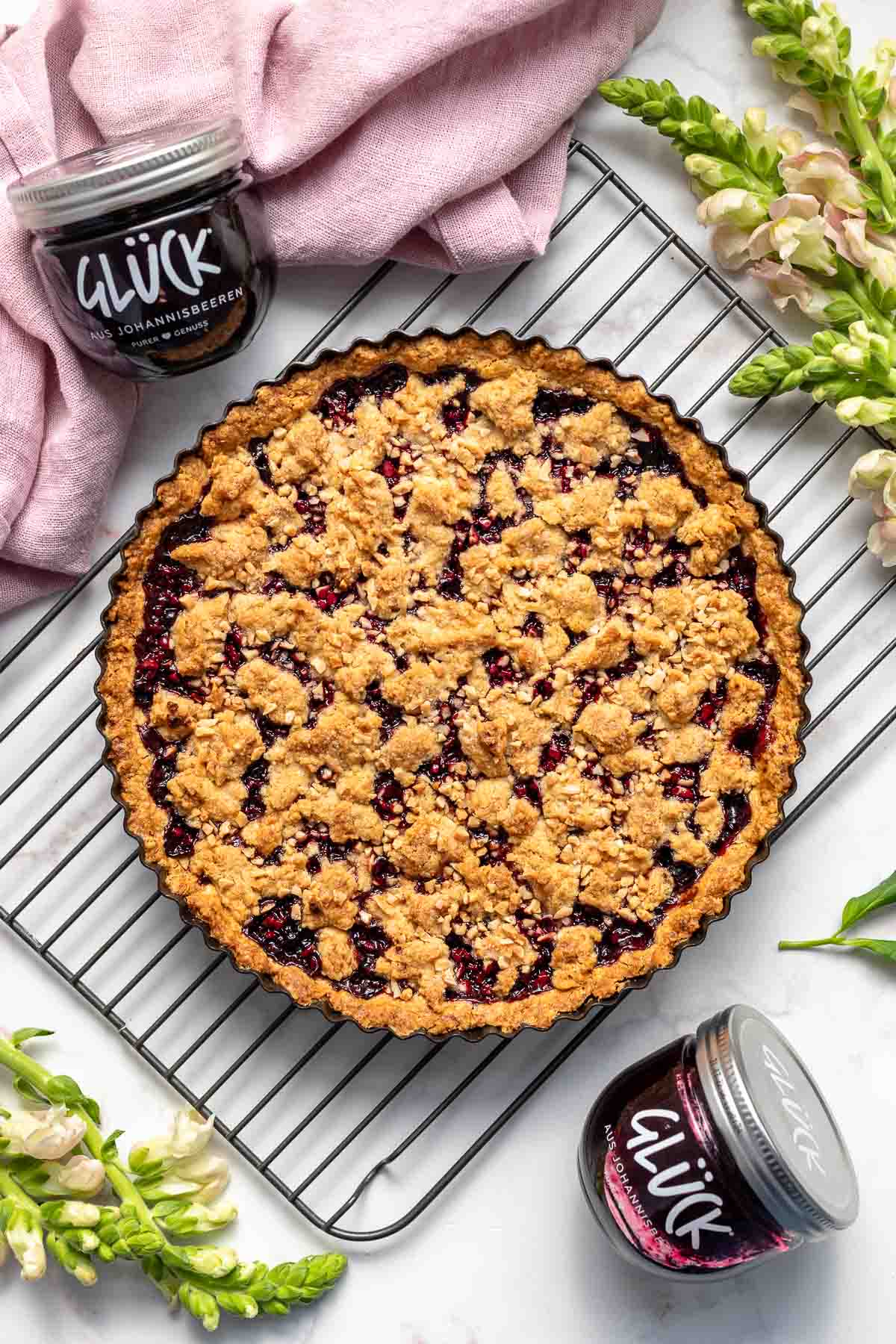 And today at my side is delicious GLÜCK jam from the private jam producer Friedrich Göbber. A jam that can happily say is made with primarily fresh fruit. Something that gives it that delicious homemade taste. This is exactly what I always look for when choosing a jam. With a fruit content of 70% you know that sugar content is kept to a minimum, which results in a 100% better taste. Making GLÜCK jam a great choice for anything from a simple pancake or waffle topping, spread for scones, filling for cookies, to the ultimate grilled cheese.
An added bonus is that with these particular jam, is that that GLÜCK jars so pretty, you simply cannot avoid wanting to upcycle them.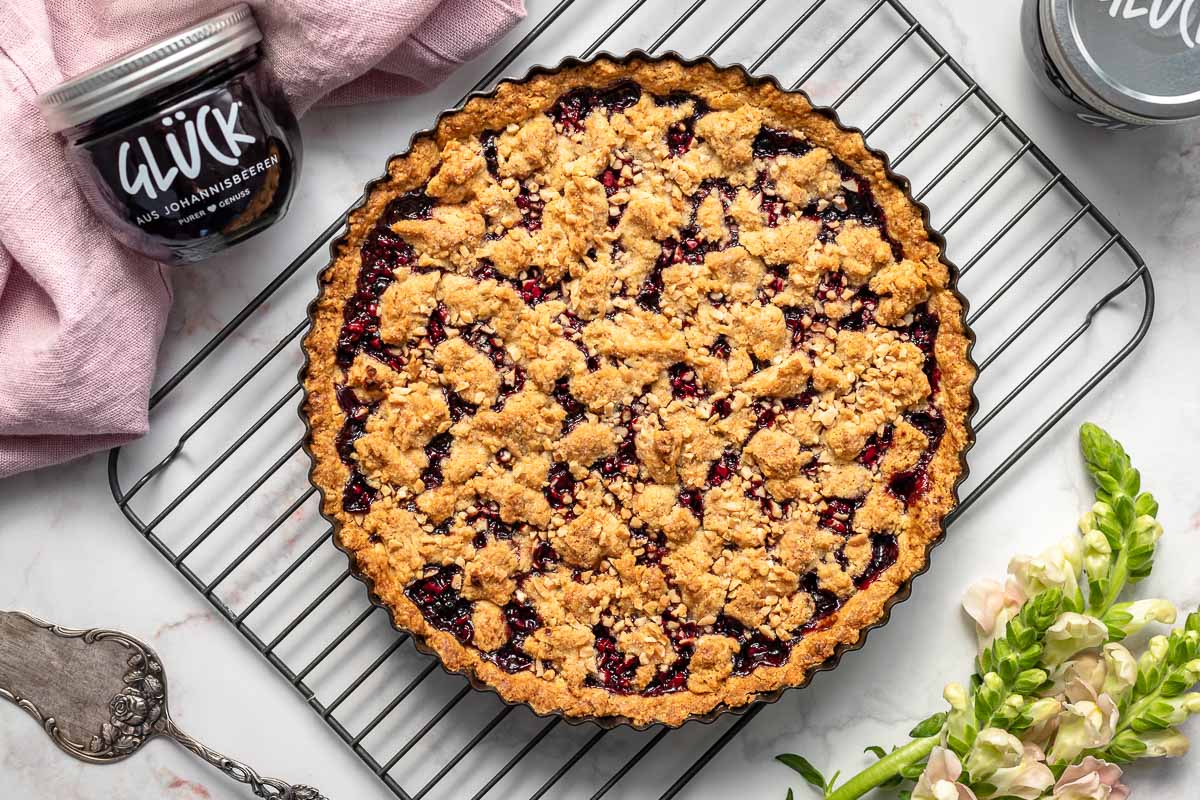 Tips to making the best ever jam crumble cake:
Use a quality jam: This goes without saying. With jam being the only ingredient in the filling, it's important to use a high quality, great-tasting jam. My absolute favourite is GLÜCK red currant, especially since there are actual whole berries in it. But I am also a big fan of apricot and rhubarb jam.
Chill your dough: The dough for the crust and crumble need to be chilled before preparing the tart base AND before baking. Yes, twice. Fat softens as it is incorporated into the almonds and flour, so it needs to be chilled to let the butter firm up and prevent the pastry from becoming greasy, and so that the crust hold up and the crumble topping doesn't spread too much. Also, chilling relaxes the gluten in the flour which makes for a better overall texture.
Let your tart set: This is probably the hardest part! But it's also an essential step when baking with jam. The cake needs time to rest so that the jam can properly set. This takes at least 30 minutes.
Then, all that's left is to serve and dig in!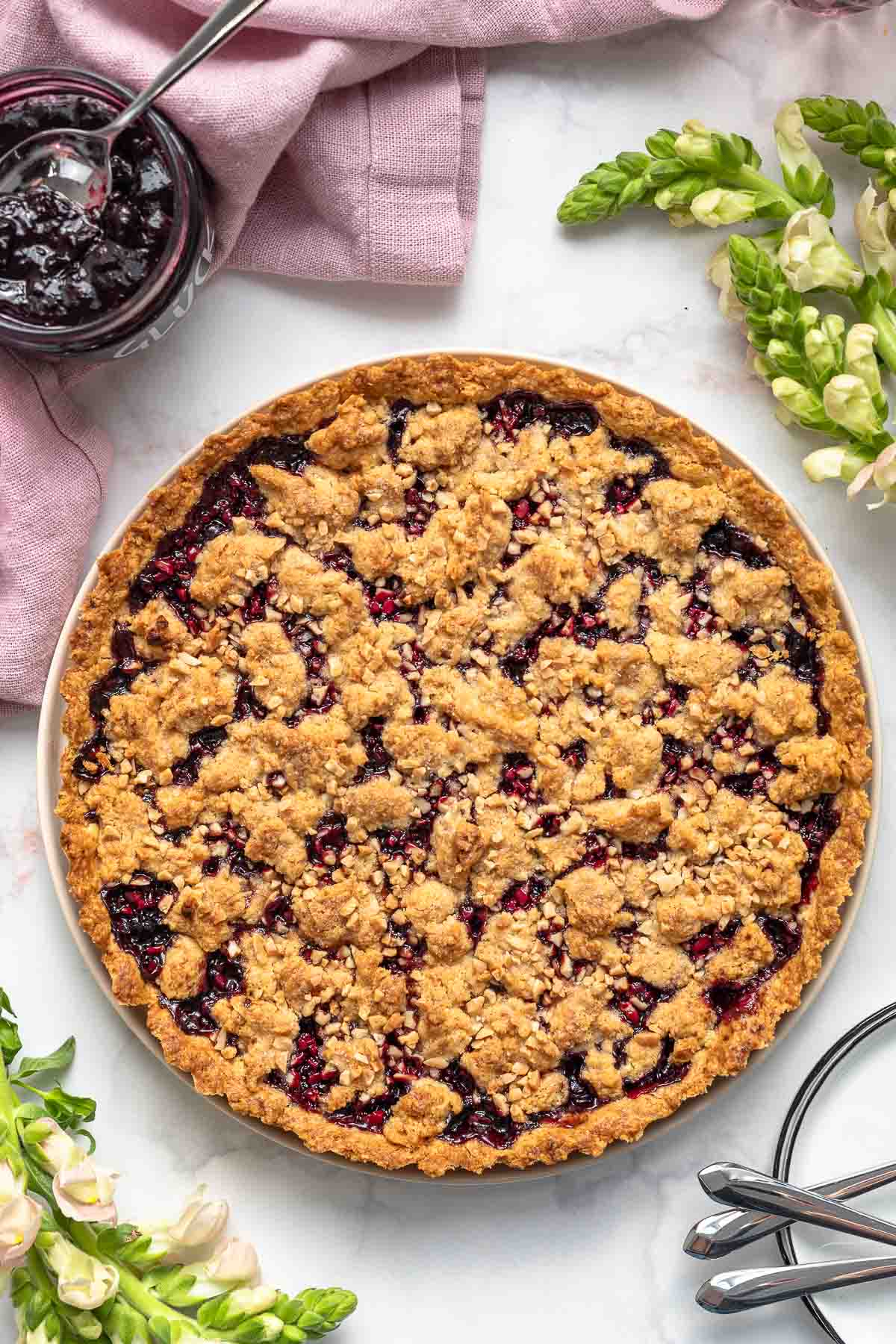 Cake for brunch, what could be more perfect! I hope you all LOVE this recipe! It's:
Packed with fruit flavor
Lightly sweet
Slightly Tart
Nutty
Easily prepared ahead of time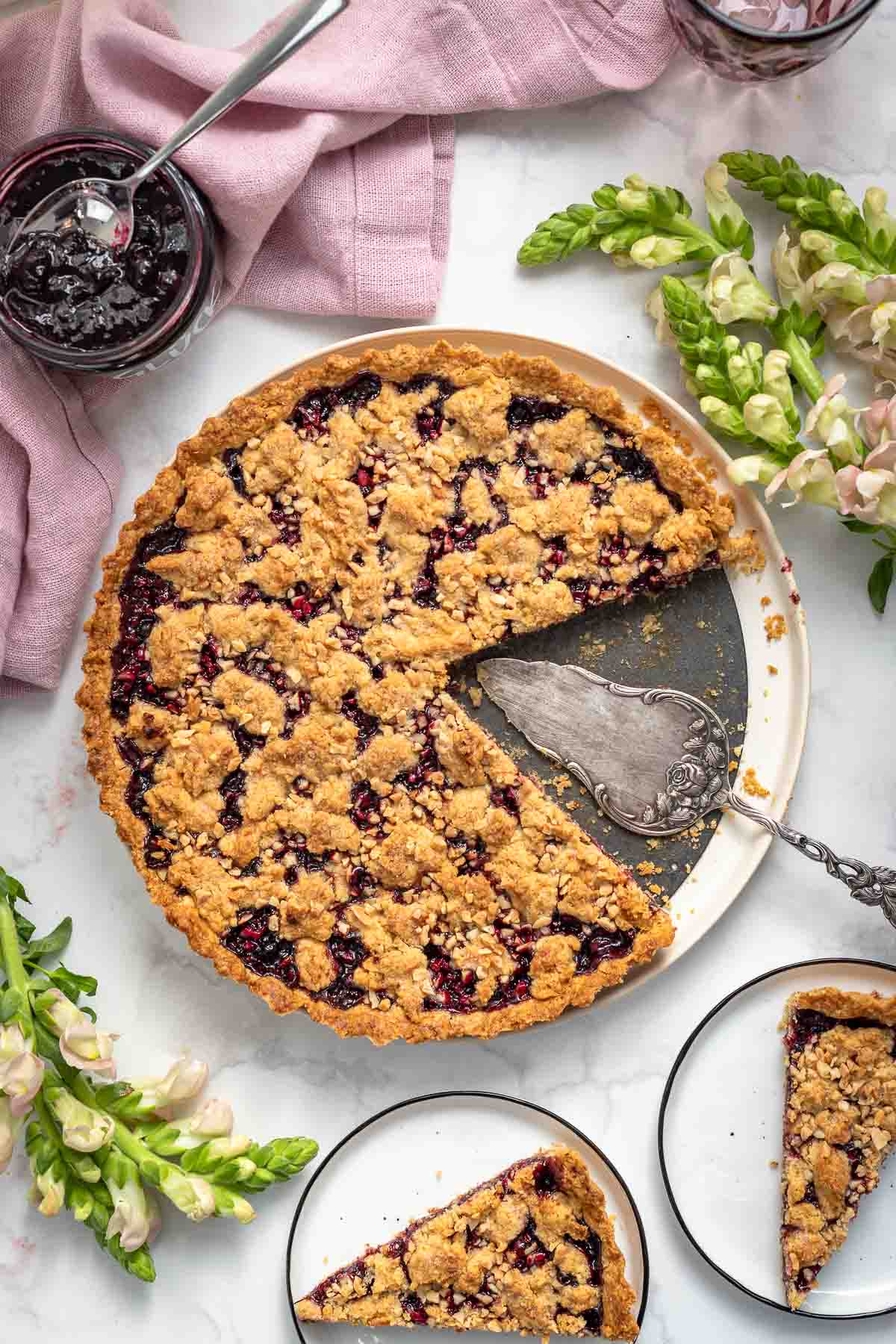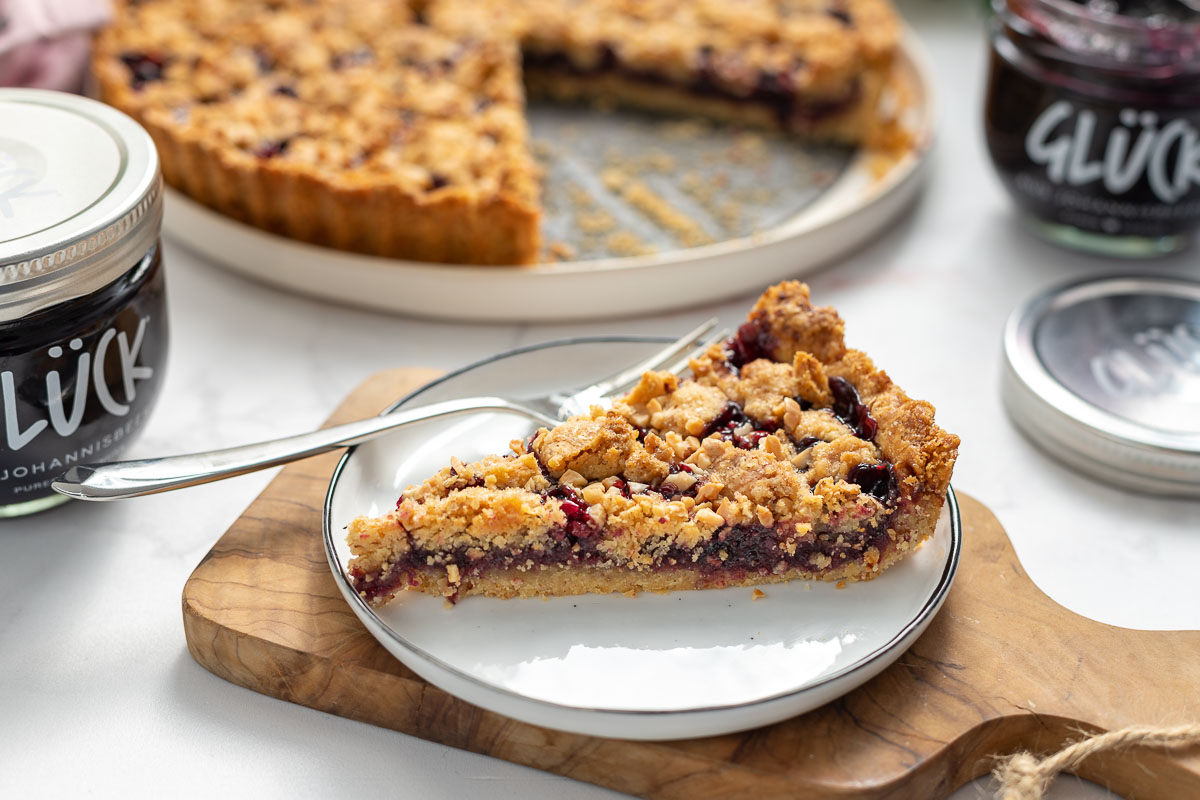 It's also customizable. If you don't have almond meal, sub hazelnuts or try a mix of both. And you can choose your favourite fruit jam flavor for the filling.
This Jam Crumble Cake makes the perfect dessert to serve at Mother's Day or Easter brunch, or as a delicious treat for afternoon tea or dinner parties. It's delicious on its own, but it would pair perfectly with some vanilla ice cream.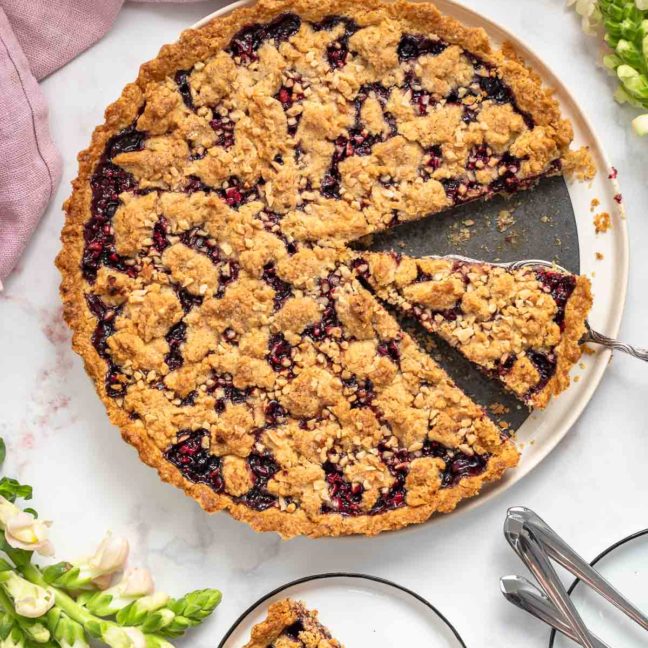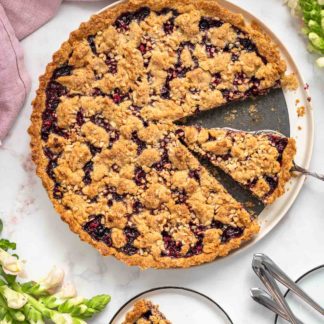 Jam Tart with Almond Crust
This jam crumble cake recipe is made with red currant jam, spelt flour and almonds. With 70% fruit jam it's lightly sweet and 100% delicious. Perfect for brunch or an after dinner treat.
Total Time
2
hours
45
minutes
Ingredients
100

g

almond meal

(or hazelnut meal, or a mix of both)

1

teaspoon

coarse sea salt

45

g

raw cane sugar,

plus more

225

g

spelt flour

(Type 630)

1

teaspoon

finely grated lemon zest

(rom an organic lemon)

225

g

chilled unsalted butter,

cut into pieces

2

large egg yolks

1

tablespoon

milk

(I use unsweetened plant-based milk)

1

x 230 g jar

red currant jam

25

g

chopped almonds
Method
Add the almond meal, salt, sugar, flour and lemon zest to a food processor and pulse to combine.

Add butter and pulse until mixture is the texture of coarse meal with a few crumbly bits of butter remaining.

Transfer mixture to a large bowl and make a well in the centre. Add the egg yolks and milk and use a fork to combine. Mix into the dry mixture until just incorporated and liquid absorbed (do not over mix).

Using your fingertips bring the dough together and divide into 2 pieces, with 1 piece about twice the size of the other. Flatten into disks and wrap separately in plastic wrap.

Chill both in the refrigerator until very firm, about 45 minutes.

Grease a 24cm tart pan with removable bottom well with butter. Using your fingers, firmly press the larger piece of dough across the bottom and up the sides of tart pan.

Spoon jam into centre of crust and spread to the edges using a spoon. Using your fingertips, crumble remaining disk of dough over the jam; sprinkle with the chopped almond and additional sugar (about 1/2 tablespoon).

Transfer the tart to the fridge to chill until the pastry is cold and firm, about 30 minutes.

Meanwhile, preheat oven to 350°F / 175°C.

Transfer the chilled tart to the centre rack in the oven and place a parchment-lined baking sheet on the bottom rack (in case some of the jam bubbles over while baking).

Bake until the jam is bubbling and the tart is a deep golden-brown colour, about 45 minutes.

Transfer to a wire rack and let tart cool in pan 30 minutes. Remove the mould and let cool completely. Serve and enjoy!
Notes
Almond meal can be made at home by grounding whole almonds in a food processor until it reaches a fine consistency.
If you don't have a 24cm tart form, a springform pan can also be used, just press the dough about 2cm high on the sides.
This jam crumble cake can easily prepared ahead of time and chilled in the fridge before it goes in the oven or baked the night before.
For a relaxing atmosphere in the kitchen I recommend my personal Elle Republic: Chilled Out Kitchen Tunes Playlist on Spotify.
Did you try this recipe?
Then tag @ellerepublic on Instagram and hashtag it #ellerepublic
How did you like it?
Please let me know how this Jam Crumble Cake recipe turned out for you! I would love to hear how you liked it. Simply rate it with the stars above ⭐ or leave me a comment and rate it below.
Did you make any changes to this recipe?
If you have tips for other readers, let me know! It helps me and other readers so much. Sharing is Caring :-).
This post contains affiliate links. If you decide to make a purchase through my link, Amazon will pay me a commission for it. This doesn't cost you anything additional and the price remains the same. More about advertisements on Elle Republic.
Many thanks to Friedrich Göbber GmbH  for sponsoring this Jam Crumble Cake recipe.