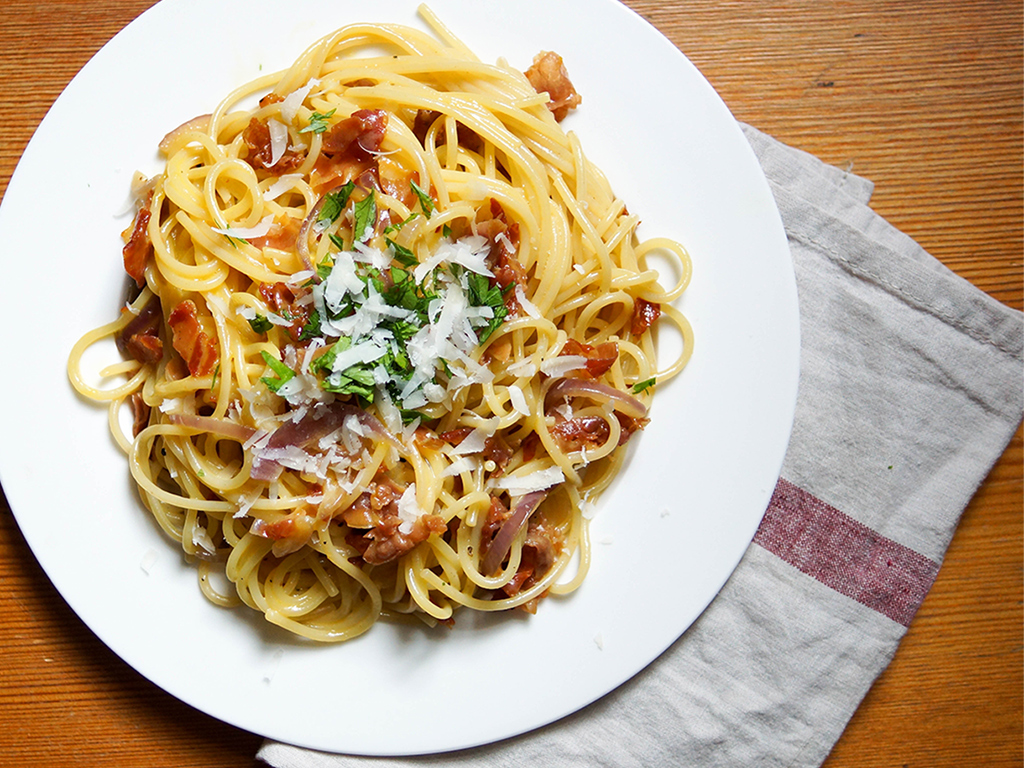 Quality ingredients play a very important role in the success of a good Spaghetti Carbonara.
Foremost the eggs: use farm fresh eggs from free range grass-fed chickens. These eggs will give you fatty orange yolks with an amazing depth of flavor needed for an incredible tasting carbonara.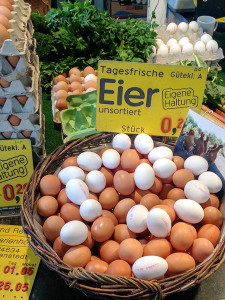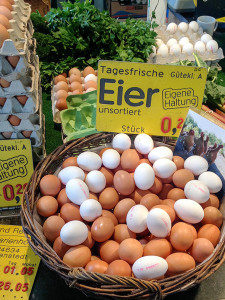 More tips for a perfect Spaghetti Carbonara
For the pasta to keep its creaminess the egg should be added immediately after the pasta has been taken out of the boiling water and the pan removed from the burner. A little of the cooking water can be reserved and also be stirred in with the pasta and the egg. The important thing is that the egg doesn't get cooked at too hot of a temperature otherwise it will coagulate and who really wants scrambled eggs with their noodles?
Instead I of guanciale (huh?) or bacon, I use italian pancetta and prosciutto. Pancetta is pork belly bacon that is air cured with salt, fennel, nutmeg and pepper for three months. It has a nice streaky fat and a much better flavor than bacon. Prosciutto is also salt cured – only with salt, for about 16 months and it's leaner, as only the posterior legs of the hog are used. Actually, a lot of care and vigilance goes into prosciutto. There are stringent regulations relating to the way the animals are raised and fed since it affects the quality of the end product. A fabulous end product!
I always use Parmigiano Reggiano. It's produced from the milk of cows fed only on hay and grass and is aged for 22-24 months. As a mature, hard italian cheese, it offers a lot of depth of flavor.
Never substitute margarine for butter.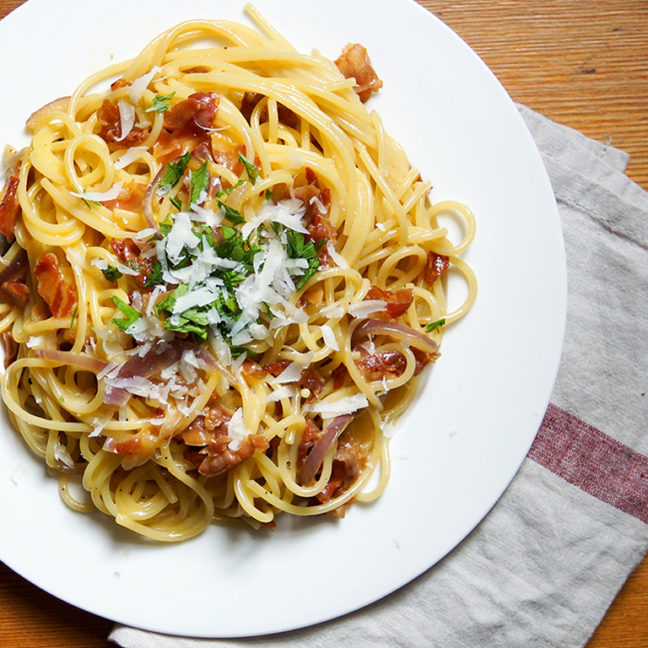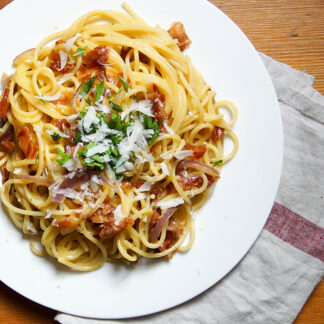 Spaghetti Carbonara with Pancetta & Prosciutto
Quality ingredients play a very important role in the success of a good Spaghetti Carbonara. Foremost the eggs: use farm fresh eggs from free range grass-fed chickens.
Ingredients
500

g

spaghetti

50

g

pancetta,

sliced in strips

75

g

prosciutto di Parma,

sliced in strips

1

red onion,

thinly sliced

1/4

cup

vegetable or chicken stock

(60 ml)

2

tablespoons

butter

4

egg yolks,

lightly beaten

1/2

cup

grated parmesan

(50 g)

sea salt & freshly ground pepper,

to taste

finely chopped fresh parsley,

as garnish
Method
Fill a large pot of water with water and a pinch of salt. Bring to a boil over high heat. Add pasta and cook according to package instructions, until al dente.

Meanwhile, in a large skillet, heat pancetta and prosciutto over medium-high heat.

Cook until pancetta and prosciutto is crisp, 8–10 minutes. Transfer to paper towels to drain fat.

Add onion to pan; cook, stirring occasionally, until soft, 4–6 minutes. Add stock and butter; bring to a boil.

Drain pasta and add to pan; toss with sauce. Remove from heat; stir in pancetta and prosciutto, egg yolks, half the parmesan, salt and pepper.

TIP: toss the pasta constantly as you add the egg, this will keep it from clumping. You can also reserve a little of the cooking liquid if you want a "saucier" Carbonara, just add a tablespoon at a time until you reach the desired consistency. In my opinion, it's perfect as it is, so I don't do this. The egg and butter create a silky carbonara on their own.

Garnish with parsley and serve the remaining parmesan on the side. Enjoy!
Did you try this recipe?
Then tag @ellerepublic on Instagram and hashtag it #ellerepublic
How did you like it?
Please let me know how this Spaghetti Carbonara recipe turned out for you! I would love to hear how you liked it. Simply rate it with the stars above ⭐ or leave me a comment and rate it below.
Did you make any changes to this recipe?
If you have tips for other readers, let me know! It helps me and other readers so much. Sharing is Caring :-).