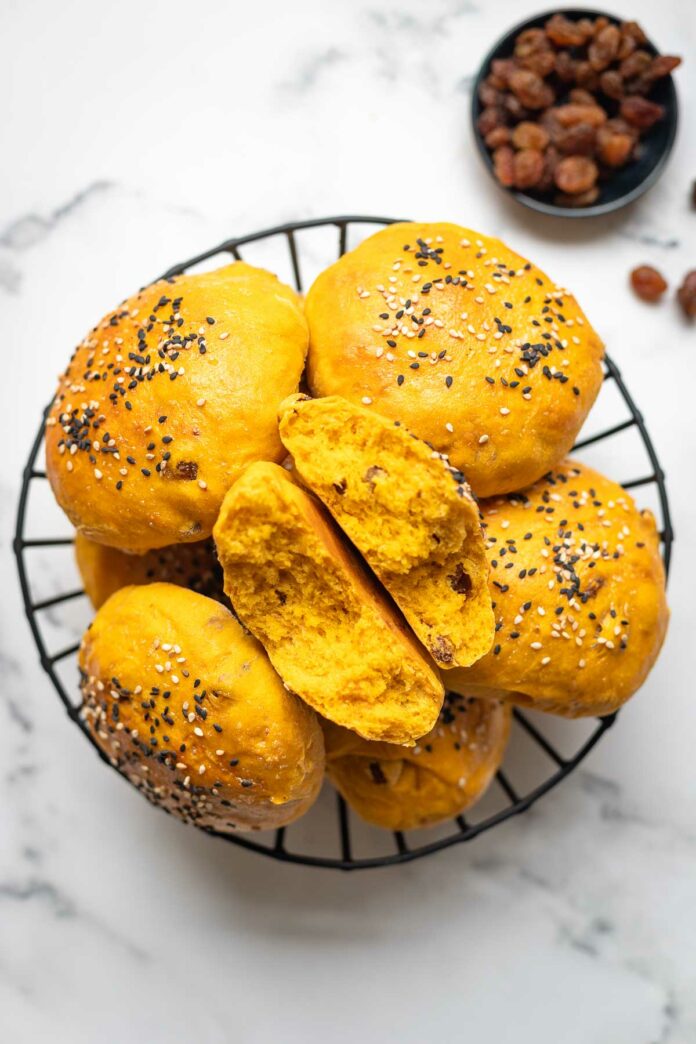 Fans of traditional raisin buns are going to love this healthier take on the classic. This simple sweet potato raisin bun recipe is made with oven-baked, mashed sweet potato and sultans for a lightly sweet, delicious and nutritious snack. It's a great way to use up leftover baked sweet potatoes or as a new way to introduce this delicious tuber into your diet.
Do you taste the sweet potato in these rolls?
I would say no. Sweet potatoes add some natural sweetness and act as an additional binder for these raisin buns. Aside from sweet potatoes, these rolls are naturally sweetened with only one teaspoon of honey and deliciously sweet, juicy and tender golden raisins (sultanas, which are made from white grapes). My favourite Schwabe swears that these sweet potato raisin buns taste just like the original German version. I can't say, as I haven't tried these myself, but do agree with him that they are delicious. Especially served while still warm.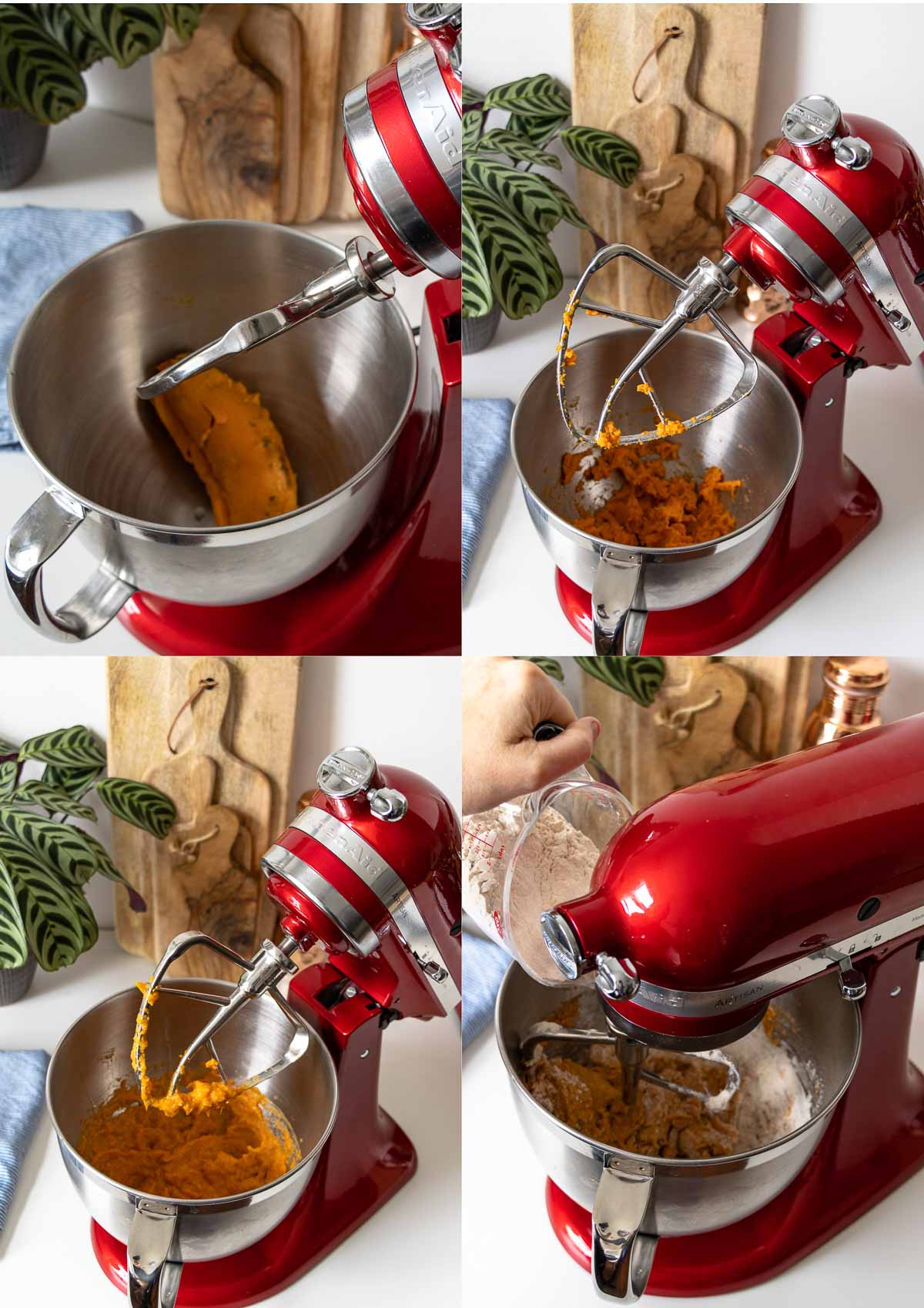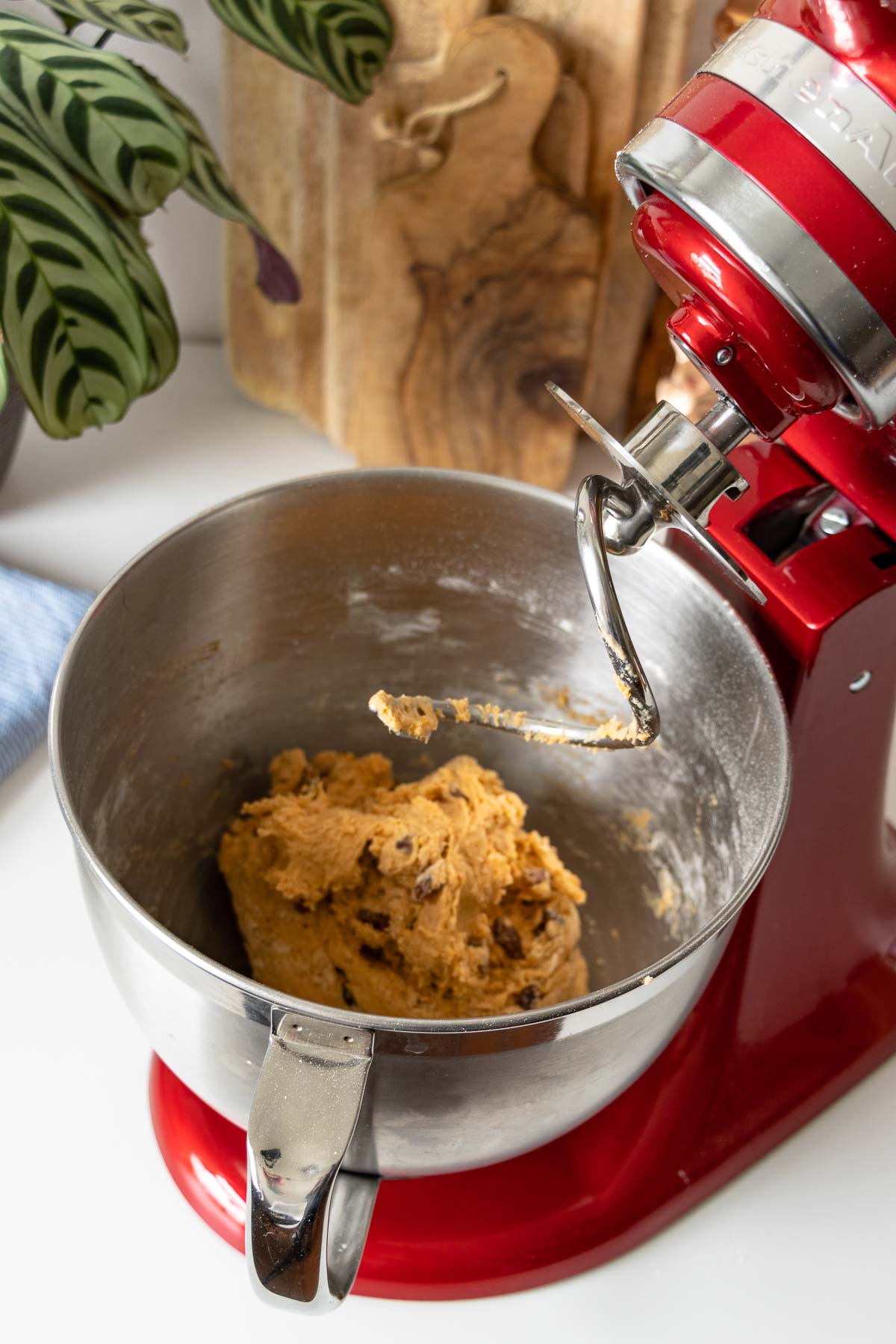 Easy to prepare, but plan in advance
These yeast-based rolls are really easy to make. You can either prepare them by hand or use your stand mixer. There isn't very much mixing involved so either method would be considered easy. Though, since we are working with cooked, mashed potatoes, you will need to plan ahead. Either by baking the sweet potato the night before (my preference) or planning in the baking time. However, if you have a microwave, you could cook the sweet potato in a jiffy, otherwise try steamed sweet potatoes as a quicker option. Also, this recipe requires that the dough be risen twice. Once for the initial dough, then again once the rolls are formed. Depending on the time of year and temperature of your kitchen, this can take between 1-2 hours for each rise.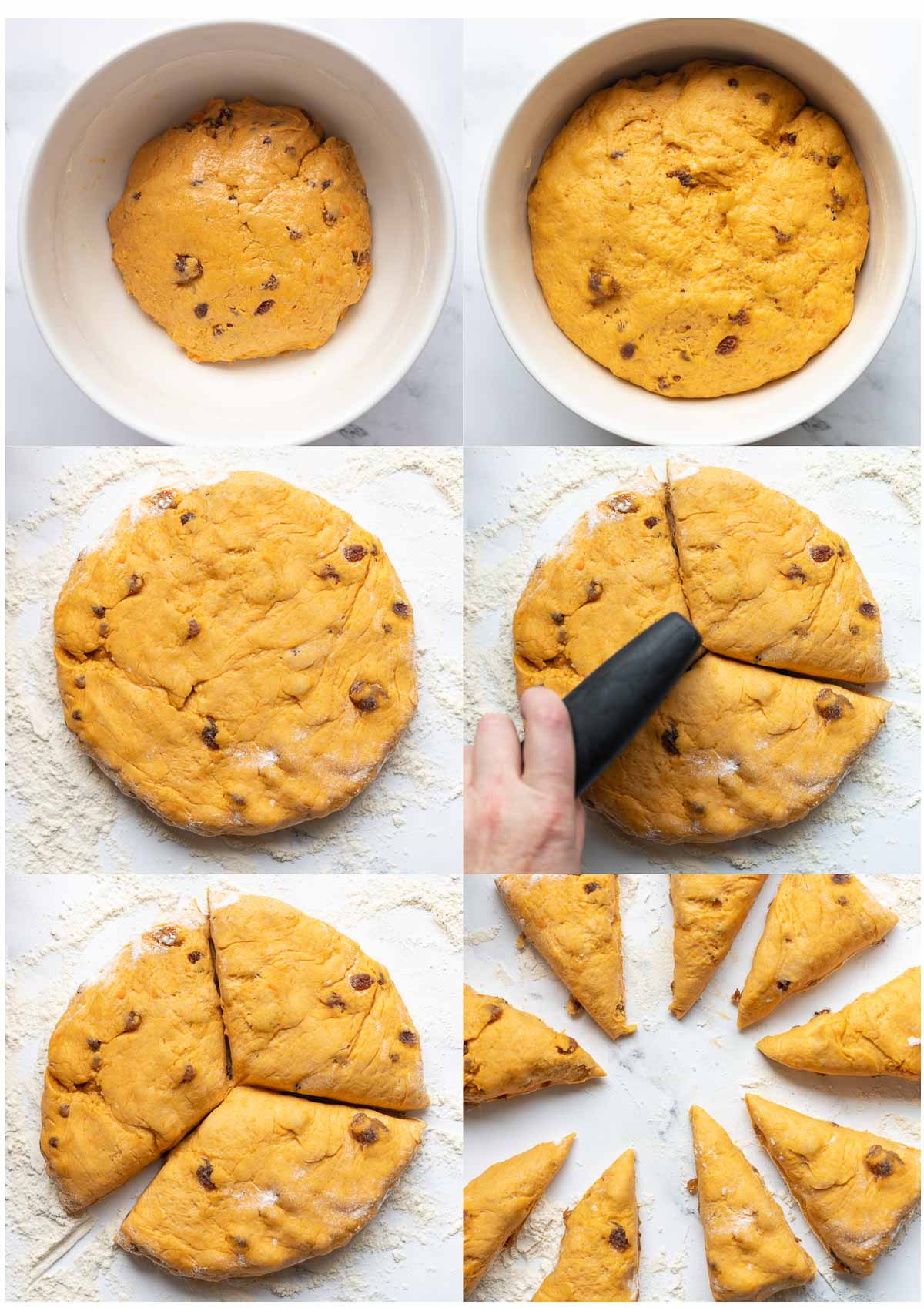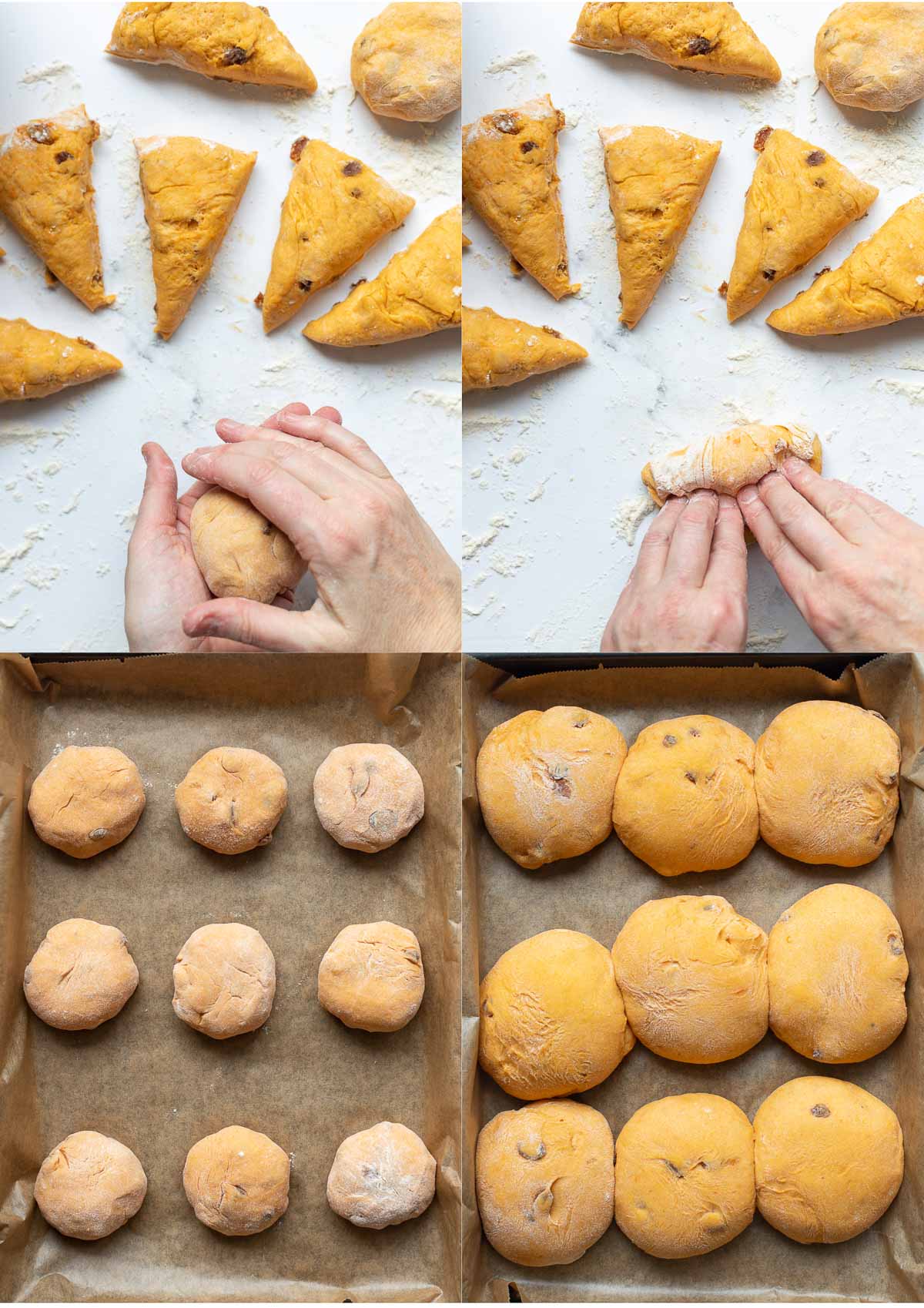 Storing the sweet potato raisin buns
Once the sweet potato rolls have cooled down completely, you can store them, sealed, in a plastic bag or container at room temperature for 2 to 3 days. Keep in mind, there are no artificial preservatives in these raisin buns so they will dry out or go off faster than store-bought buns will. Alternatively, store them, sealed in a container in the fridge and reheat in the oven before serving (or microwave).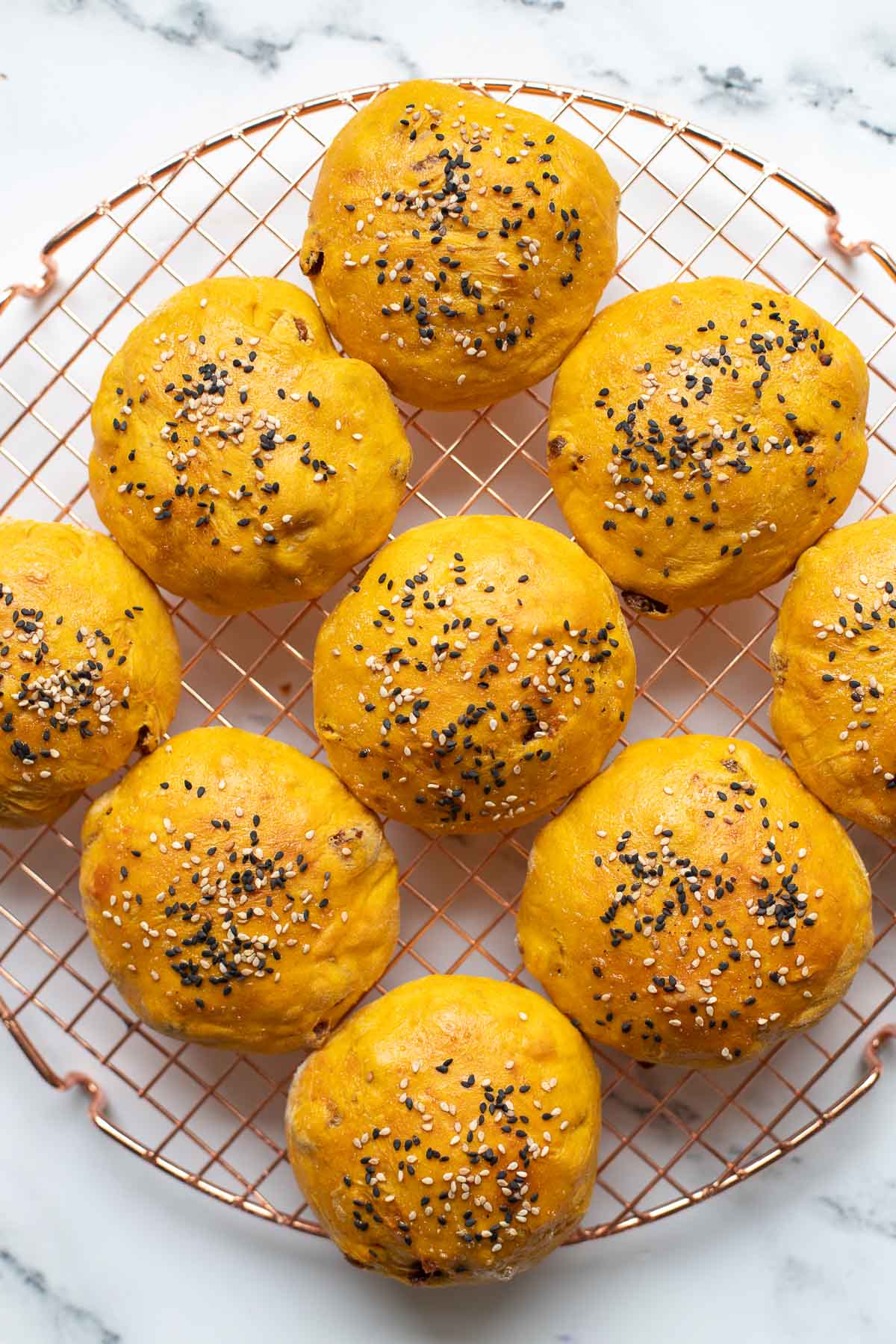 If you like this recipe, then try one of these baking recipes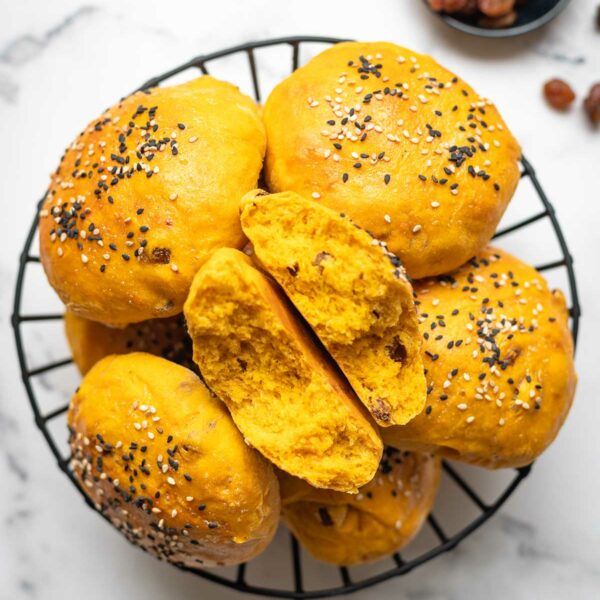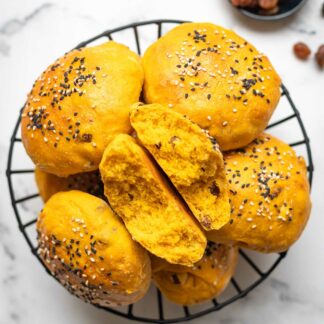 Sweet Potato Raisin Buns
These raisin buns are naturally sweetened and made with cooked, mashed sweet potato. A nutritious, delicious alternative to the classic.
Prep Time
2
hours
30
minutes
Total Time
3
hours
30
minutes
Ingredients
1

large sweet potato,

(450 g), reserving 280 g cooked flesh

60

ml

lukewarm milk

(I use unsweetened soy milk)

1

teaspoon

honey

7

g

package instant dry yeast

2

tablespoons

butter,

30 g, melted

2

egg yolks

M, room temperature (egg white reserved)

1/2

teaspoon

sea salt

350

g

flour

(Type 1050)

100

g

sultanas

Olive oil

Cumin seeds or Sesame seeds,

to garnish (optional)
Method
Preheat oven to 425ºF / 200°C. Prick 1 large sweet potato multiple times with a fork and place on a baking sheet. Bake until tender, 45 to 50 minutes. (Alternatively, microwave on HIGH until tender, about 10 minutes.) Let cool for 10 minutes, then peel and discard the skin. You will need 280 g of the flesh for this recipe; reserve any extra for another use (see tips below).

In a small bowl, add the lukewarm milk and whisk in the yeast and honey. Let proof until yeast is active and foamy, about 5 minutes.

Meanwhile, in the bowl of a stand mixer (Küchenmaschine), beat the cooked sweet potato until mashed, then add the melted butter and egg yolk. Mix on medium speed until well combined and creamy.

Add the yeast mixture and flour to the bowl and mix to form a dry, shaggy dough. Add the raisins and switch to the dough hook. Mix until a soft and sticky dough comes together, about 1 minute (it shouldn't be sticking to the sides of the bowl, but is still slightly sticky. If the dough is too wet, add a little more flour).

Transfer the dough to a greased bowl and slide the dough to one side and turn it upside down so the now-exposed top is greased (alternatively, brush the exposed dough with a little olive oil). Cover with a clean kitchen towel and set in a warm corner of the kitchen to rise (1-2 hours depending on temperature/time of year).

Transfer the dough to floured surface, form into a slightly flattened circle and divide into 9 equal pieces (see pictures).

Knead and roll each piece into a ball. Transfer to baking sheet, cover and let rise again (1-2 hours).

Preheat the oven to 375°F / 190°C (170° fan-assisted).

Brush the buns with the reserved egg white, sprinkle with cumin seeds or sesame seeds (if desired) and bake for 15-17 minutes, until golden brown.

Allow to cool slightly before serving. Enjoy!
Notes
The sweet potato dough can also be prepared the day before. Once you have made the dough and let it rise the first time, it can also be stored in the fridge overnight before forming the sweet potato rolls and doing the second rise.
Alternatively, bake the sweet potato the night before, if storing in the fridge bring to room temperature before use. The volume shrinks when baking, so choose a large sweet potato to yield enough flesh after baked (at least 450 g).
Fans of cumin can also be added to the dough. Just add 1/2 teaspoon along with the flour.
For a relaxing atmosphere in the kitchen I recommend my personal Elle Republic: Chilled Out Kitchen Tunes Playlist on Spotify.