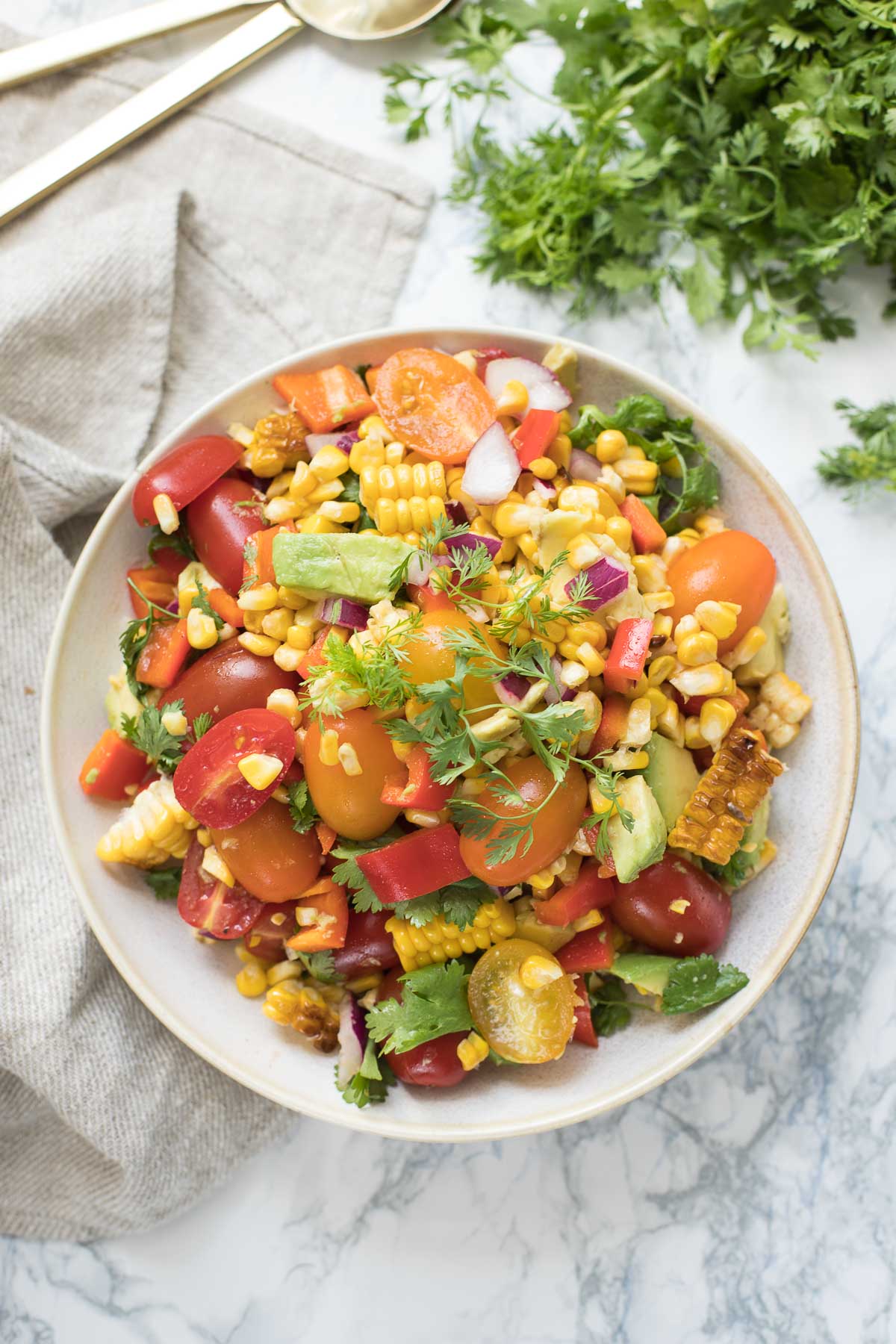 This tomato avocado corn salad is so EASY, so FRESH tasting, and so YUM! Loaded with ripe tomatoes, sweet red pepper, creamy avocado, cilantro, red onion, lime, a little cumin, and sweet, smokey grilled corn, I couldn't love it more!
It's grilling season, which also means corn on the cob season. And if your summer is anything like ours here in Hamburg, then it's been hot, hot, hot which for me translates into evening get-togethers over a cool glass of rosé and endless amounts of BBQs and salads, because really who wants to spend time in a kitchen when it is 30+ degrees outside? So break out the barbecue and get ready to grill some corn for this tasty summer salad!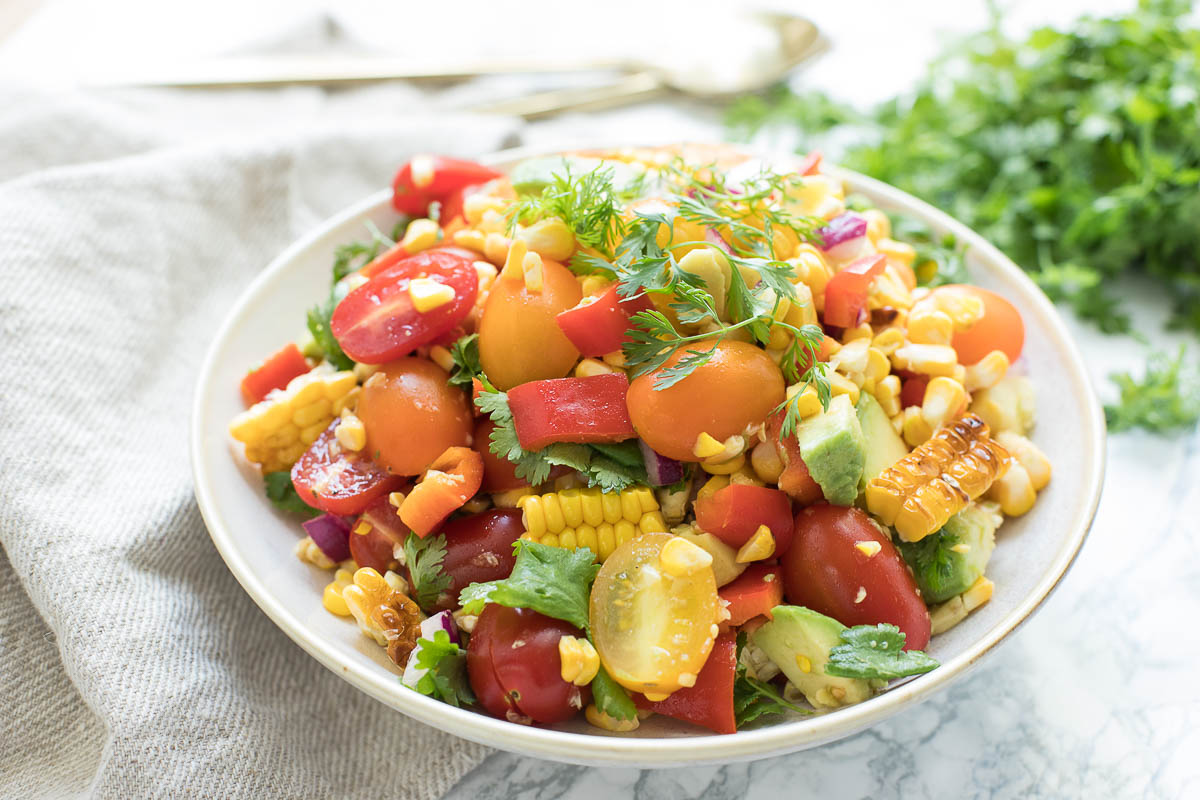 How to make this grilled corn salad – on the BBQ or in a skillet
Fresh corn is the star of this recipe and by grilling the corn, it's taste gets a sweeter flavor with an added touch of smoky flavor. You can either grill the corn in a skillet or directly on the BBQ.
How to grill corn on the BBQ
Peel back the husks, leaving them attached at the stem. Remove all the silk and then brush the corn with olive oil. Cover the corn back up with the husks and roast the ears of corn over a medium-hot grill, turning occasionally to ensure even cooking, until the outer husks are charred and toasted. This takes about 15 minutes, less time if the lid of the BBQ is down. Let the corn cool enough to handle, then strip off the husks and remove kernels from cobs.
How to grill corn in a skillet
Remove the outer husks and silk from the corn. In a grill skillet or regular skillet (preferably cast iron), warm a little olive oil on medium heat. Add corn one cob at a time, rolling it in oil. Cover and allow corn to cook for about 3 minutes on each side until it is tender and slightly browns.
More tips for cooking corn
Of course, you can also cook corn the classic way and boil it. Bring a large pot of water to a boil, then season it generously with salt. Add corn to the pot and blanch for 2 minutes. Remove cobs from water and set them aside to cool before cutting away the kernels from cobs. If the corn is really fresh, cook it for three to five minutes. For corn that's a few days old, go for six to eight minutes.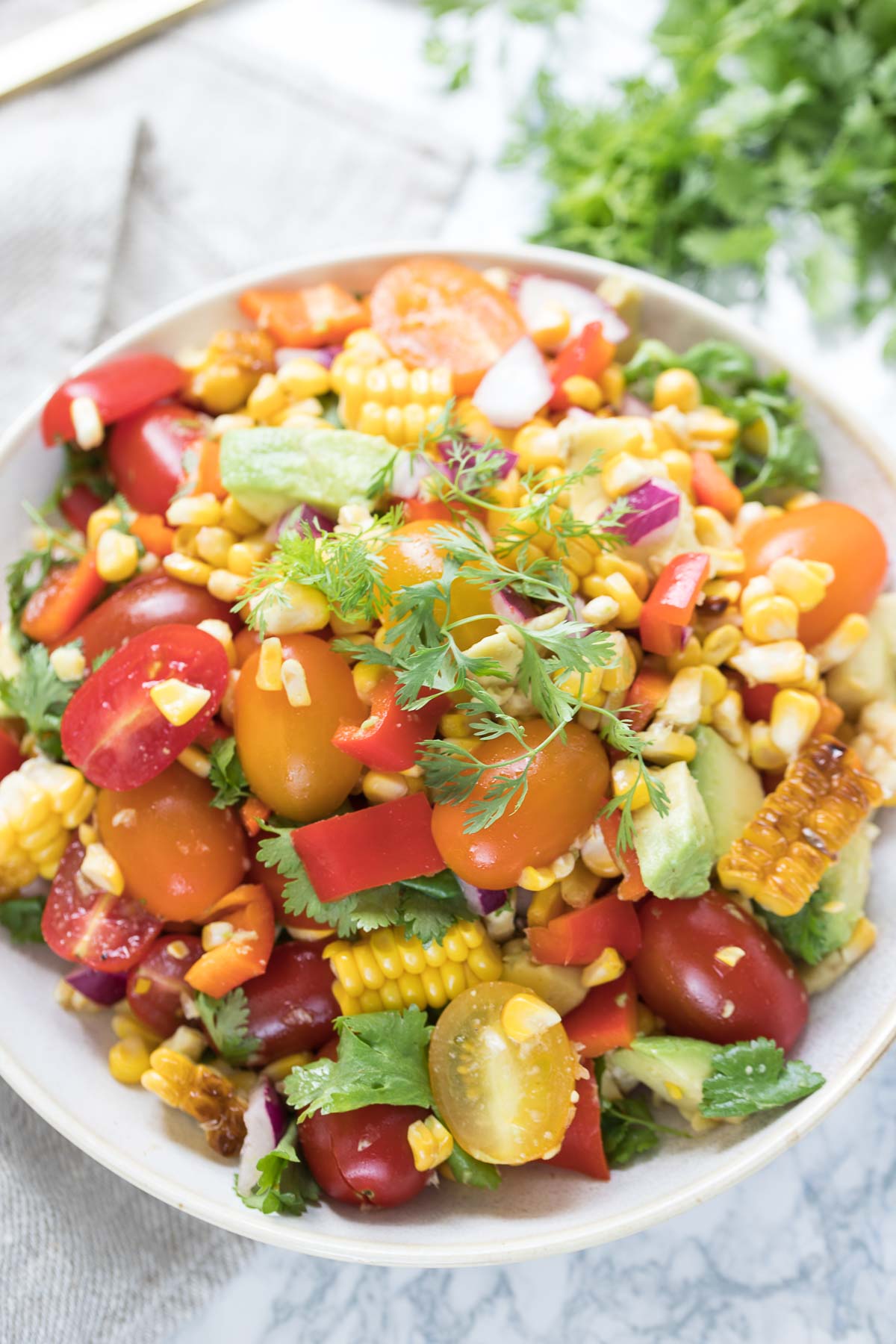 Variations of this tomato avocado corn salad recipe:
Steam or blanch the corn.
Trade out fresh coriander for basil or chives.
Grill some chicken and shrimp and toss it together for a main dish.
Add some black beans and a pinch of red pepper flakes for a vegan TexMex salad.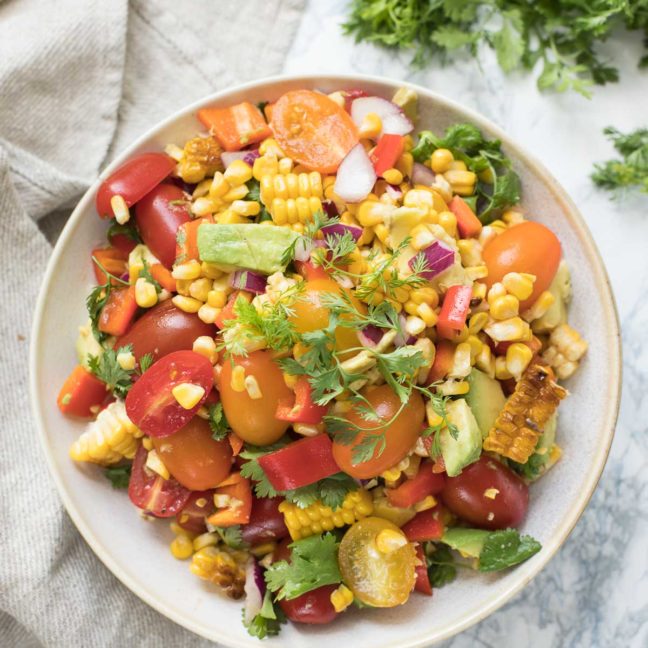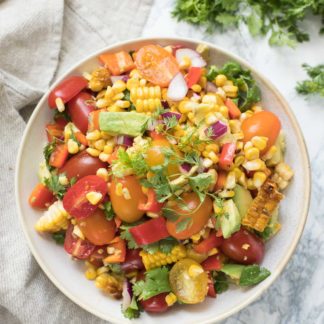 Tomato Avocado Corn Salad
This tomato avocado corn salad combines simple fresh summer ingredients, creating a tasty and refreshing salad that pairs perfectly with anything you're grilling. A healthy, simple and tasty salad recipe that is naturally vegan and gluten-free.
Ingredients
For the corn:
2

ears of fresh corn kernels,

husked and cleaned

olive oil
For the salad:
2

teaspoons

extra-virgin olive oil

Juice from 1 lime

1/4

teaspoon

sea salt

fresh black pepper,

to taste

1/2

teaspoon

ground cumin

1

small red onion,

diced

1

sweet red pepper,

diced

250

g

cherry tomatoes,

halved

1

avocado,

diced

1

small bunch fresh coriander,

leaves picked
Method
In a grill skillet (preferably cast iron), heat a little olive oil over medium heat. Also brush each corn cob in a little olive oil, and transfer them to the skillet.

Cook the corn, covered, for 3 minutes on each side until it slightly browns, about 10-12 minutes. Set aside to cool for 10-15 minutes.

Once cooled, using a large knife, cut the kernels from the cob and add them to a serving bowl.

Add the lime juice, salt, pepper, cumin to the bowl with the corn and toss until well combined. Add the onion, red pepper, cherry tomatoes, avocado and fresh coriander and toss again to coat.

Serve and enjoy!