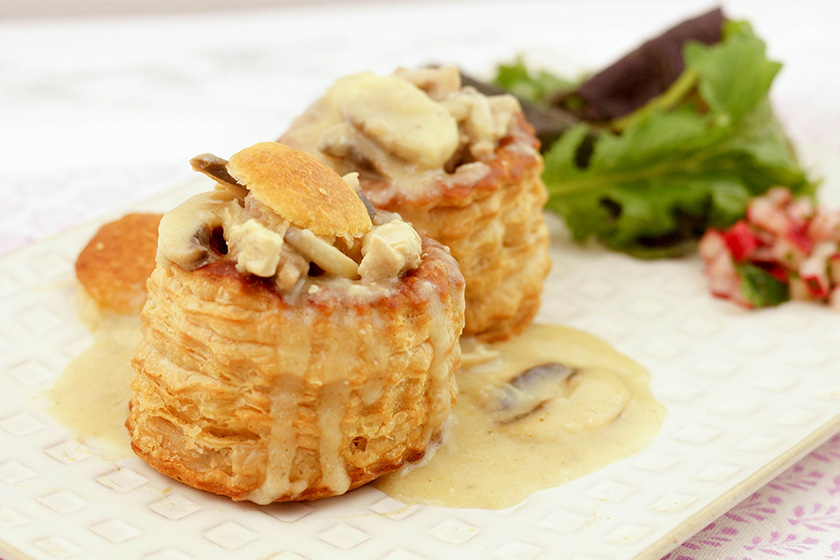 As a main meal or finger food, it's representative of a traditional German or French dish made for special occasions or to celebrate a festive time of year. Armed with this information, and a festive occasion (my birthday), that was my wish. Königin-Pasteten with a creamy veal and mushroom ragout.
It was a Monday night and I was looking for a break from dining out. Since we suffer fabulously from that thing called city living in Europe, we live within the confines of small maze of Jungenstil walls with old world flare, but sadly no balcony to speak of. So my favorite Schwabe and I have enjoyed this Indian summer with a new 50 year rule and mutual understanding that if the sun is shining and the weather is warm, we dine out. That in drizzly Hamburg is concentrated into less days than you'd expect and when we are lucky like this year, those precious 93 days of summer extend into spring and fall.
So after a lovely day on the bikes, enjoying the harbor and a seafood lunch we headed homewards to have the Schwabe cook for me. On route gathering tips from his mother on where to start, we stopped off at the butcher only to have the Schwabe proudly announce that he was cooking Königin-Pasteten for my birthday. That led to singing. German's love singing and I love Germans that sing. Especially if they tote a guitar like mine does.
Königin-Pasteten is a dish that seemingly has to be put on a "wish list" as it's somehow seen as something that takes a lot of time and preparation. In fact, it is simpler than simple. It's easy. Ask my favorite Schwabe.
Vol-au-vent – store bought or homemade
The puff pastry shells can be picked up a good bakery (or at least ordered ahead) or found at the supermarket. Or if you are feeling ambitious you can also make your own vol-au-vent, here's how:
The ragout itself can be prepared ahead and simply be re-heated while the puff pastry bakes in a hot oven. Even from scratch, I witnessed that this dish easily falls into the category "30 minute meals". So an effortless meal like this can definitely turn any day into something special.
I'm pretty sure this recipe would also taste just as great by throwing in a handful of peas. Enjoy!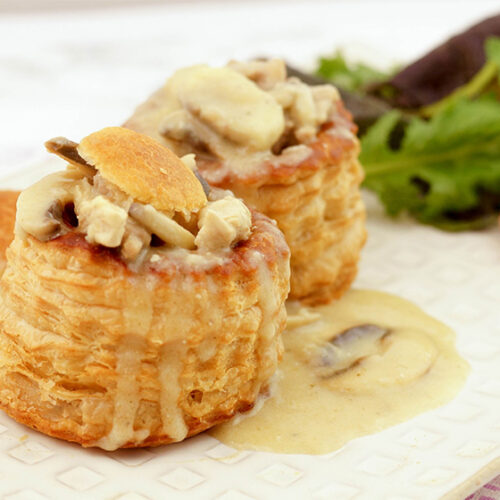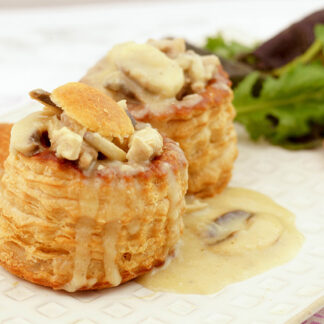 Vol-au-vent with a Creamy Veal and Mushroom Ragout
Vol-au-vent with a creamy veal and mushroom ragout in a lemony, white wine and crème fraîche sauce. A simple and fast meal that is great for kids and guests.
Ingredients
4

large or 8 small vol-au-vent pastry shells

600-700

g

veal,

cubed (preferably organic - can also be substituted with chicken or turkey)

300

g

crimini or button mushrooms,

sliced (can also use a mix of peas, carrots and mushrooms)

1

medium onion,

finely chopped

2

cloves

garlic,

minced

2

tablespoons

extra-virgin olive oil

2

tablespoons

butter

(30 g)

1/4

cup

dry white wine

(60 ml)

1/2

cup

all-purpose flour

(50 g)

2

cups

chicken or vegetable broth

(500 ml)

1

x 150 g container

crème fraîche

1

tablespoon

freshly squeezed lemon juice,

or more, to taste - I often add more

sea salt and freshly ground pepper,

to taste
Method
In large deep skillet or saucepan, heat the olive oil over medium-high heat. Sauté the onion and garlic until fragrant, about 1 minute, add the veal and continue to cook until lightly browned. Remove from the pan and set aside.

Add the butter and the mushrooms to the pan and sauté on low heat for 5 minutes. Slowly sprinkle the flour over the mushrooms and fry briefly, stirring, to combine.

Gradually stir in the white wine, the vegetable broth and the crème fraîche and stir until smooth. Bring to a brief boil. Reduce heat to low and allow to simmer for about 10 minutes (until creamy). Add lemon juice and a pinch of sugar, plus salt and pepper to taste. Add the veal. Taste and adjust seasoning, if desired. Let simmer on low heat until veal is warm and pastry shells are ready to serve.

Preheat the oven to 350°F / 175 ° C.

Slice the tops off the vol-au-vent pastry shells and heat the shells and the tops for about 6-8 minutes, until lightly golden.

Transfer pastry shells to a plate, fill with the ragout, cover with pastry lid and serve with a green salad and cool white wine. Enjoy!
Did you try this recipe?
Then tag @ellerepublic on Instagram and hashtag it #ellerepublic
How did you like it?
Please let me know how this Vol-au-vent (Königin-Pasteten) with a Creamy Veal and Mushroom Ragout recipe turned out for you! I would love to hear how you liked it. Simply rate it with the stars above ⭐or leave me a comment and rate it below.
Did you make any changes to this recipe?
If you have tips for other readers, let me know! It helps me and other readers so much. Sharing is Caring :-).