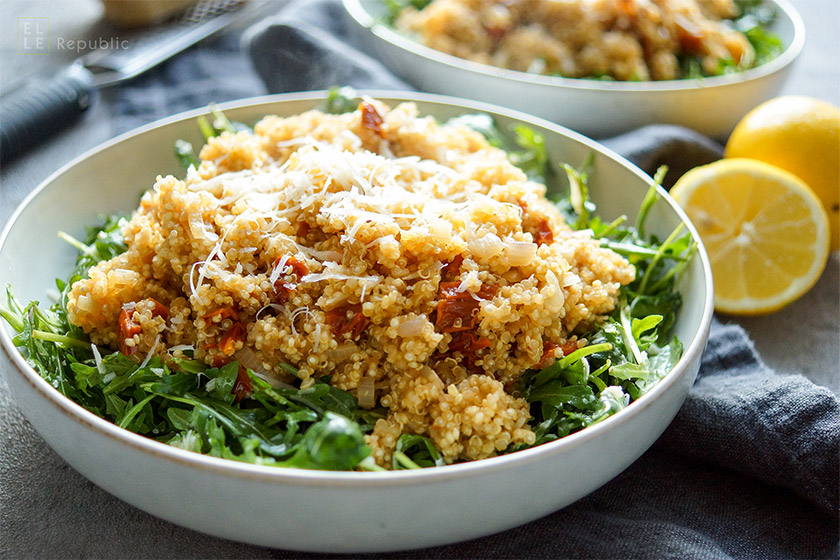 Originating from the South America Andes, quinoa has been referred to by the Incas as being the "mother of all grains" (though, technically quinoa isn't a grain at all, but the seed of the Goosefoot plant). It tastes great, it's high in protein, and it's gluten-free. Quinoa is simple to prepare and packed with goodness, making it a perfect foundation for a tasty and satisfying meal.
This quinoa salad with sun-dried tomatoes makes the perfect mid week meal
This arugula salad with quinoa is great for both dinner or lunch. Fresh arugula is tossed in freshly squeezed lemon juice and olive oil, sprinkled with parmesan and then topped with a delicious mixture of warm quinoa together and sun-dried tomatoes and more yummy parmesan! Now think about yourself eating those ingredients and also feeling healthy, happy and fully satisfied. This is a quick anytime meal that's an energizing and filling salad option for anyone looking for a plant-based meal as well!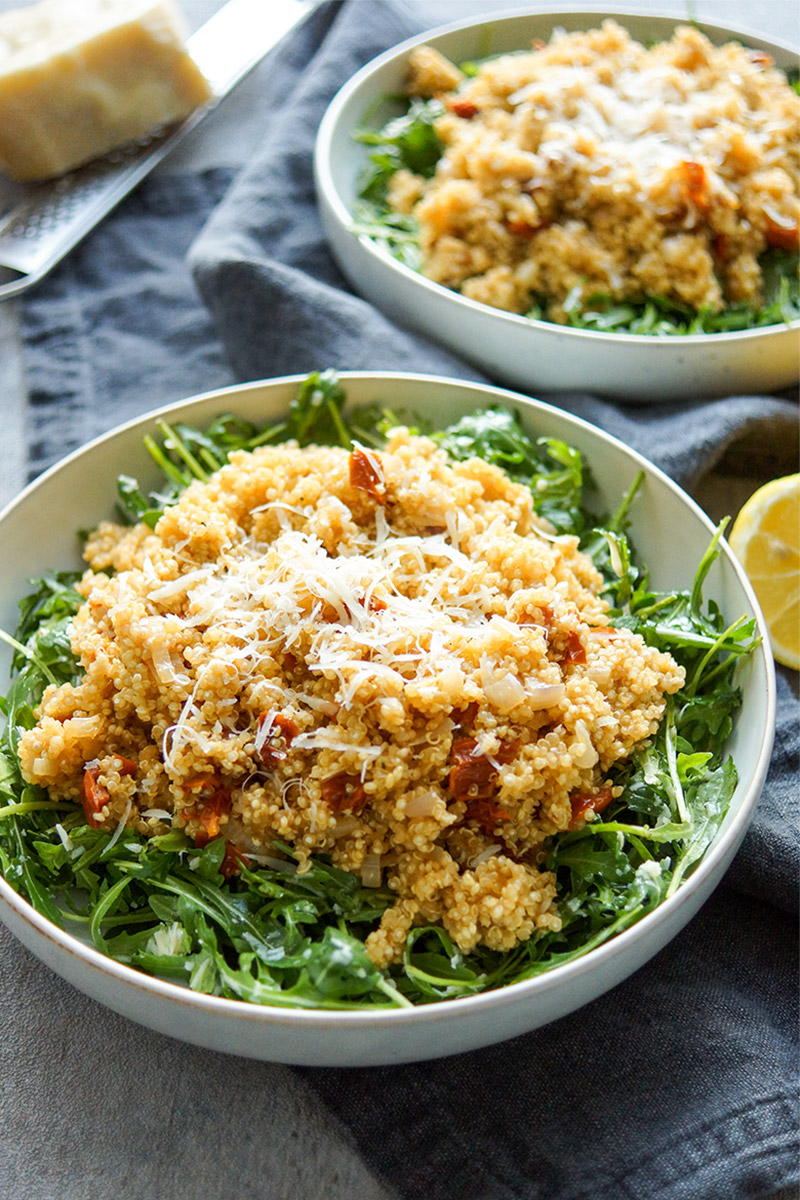 Yes, another quinoa salad. Of course I have to ask myself, why are food bloggers always making quinoa salads (and an overboard of kale and cauliflower recipes — don't they know we can only get kale in the deep of winter here in Germany? As for cauliflower, I've still haven't recovered from my childhood trauma of overwhelmingly smelly boiled cauliflower).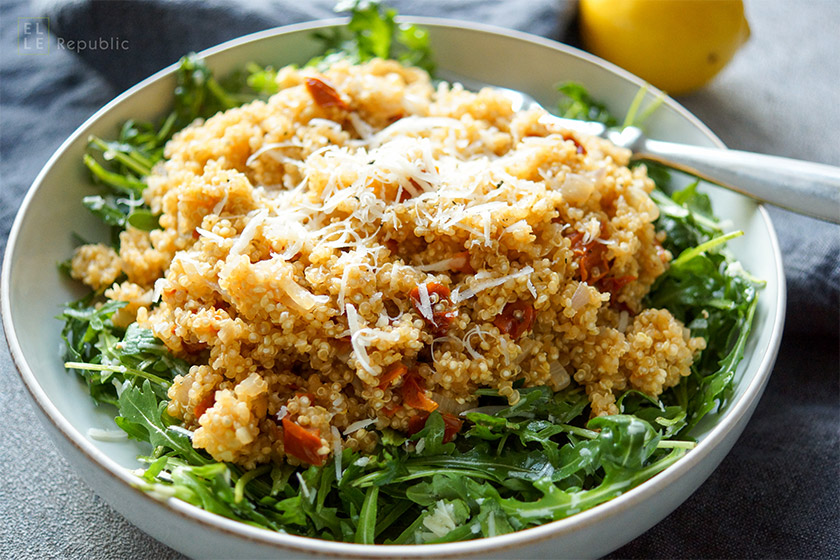 Dubbed a superfood, quinoa has definitely gone mainstream and over the past few years continually growing in popularity. Well…this recipe is the cure to my unquenchable desire to incorporate more healthy, gluten-free meals into my life. This particular dish is something I've been making regularly for the greater part of a decade. The only reason it took so long to join my repertoire is that my favorite Schwabe isn't the greatest (or even a moderate) fan of sun-dried tomatoes — sadly missed, it's something I may have had a slight addiction to!
He ate it, loved it. Bravo. The sun-dried tomatoes were merely a footnote.
Yes to sun-dried tomatoes and their sun-kissed Mediterranean summer freshness — something I have been missing and should be eating more of — I could imagine every day, all the time. 🙂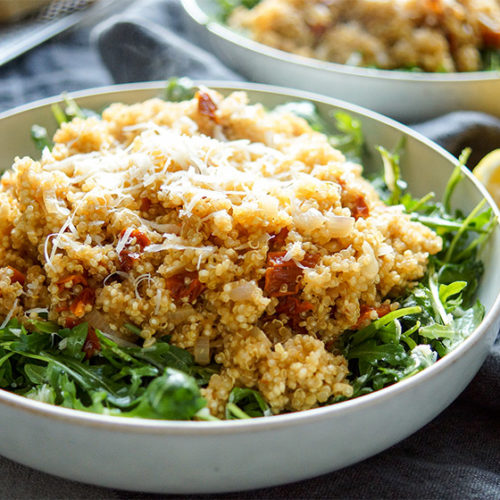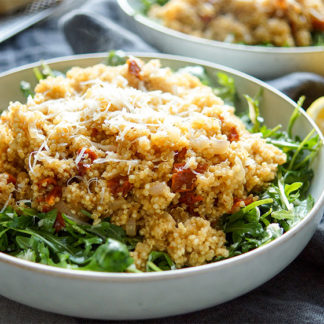 Warm Quinoa Salad with Sun-Dried Tomatoes
A warm quinoa salad with sun-dried tomatoes served over fresh arugula tossed in lemon juice, olive oil, and parmesan. Quick and delicious.
Ingredients
For the salad:
1

cup

uncooked quinoa,

rinsed (200 g)

2

cups

water

(500 ml)

1

tablespoon

extra-virgin olive oil

1/4

cup

dry white wine

(60 ml)

2

garlic cloves,

sliced thinly

2-3

shallots,

finely diced

generous pinch of cayenne pepper

1/2

cup

sun-dried tomatoes packed in oil,

finely chopped (about 8 sun-dried tomatoes or 50 g)

4

cups

baby arugula leaves

(alternatively mixed young greens) (100 g)
For the dressing:
1/4

cup

freshly squeezed lemon juice,

50 ml, plus more

1-2

tablespoons

extra-virgin olive oil

freshly grated parmesan,

to taste

freshly grated pepper,

to taste
Method
In a medium saucepan, heat the oil and sauté the garlic and shallots over medium heat until softened, approximately 2 minutes. Add cayenne pepper, sun-dried tomatoes and white wine and further cook for 2 minutes.

Add the quinoa and water and bring to a boil over medium-high heat. (TIP: add boiled water to the quinoa).

Reduce the heat to the lowest setting and cook uncovered for 15 minutes.

Remove the saucepan from the heat and let the mixture stand, covered, for 5 minutes.

In a large bowl, toss the arugula with the dressing.

Divide the greens between two serving bowls, sprinkle with parmesan and top with the quinoa mixture. Sprinkle with a generous amount of grated parmesan cheese and finish off with a squeeze of lemon. Season with freshly ground pepper and serve. Enjoy!
Did you try this recipe?
Then tag @ellerepublic on Instagram and hashtag it #ellerepublic
How did you like it?
Please let me know how this Warm Quinoa Salad with Sun-Dried Tomatoes recipe turned out for you! I would love to hear how you liked it. Simply rate it with the stars above ⭐or leave me a comment and rate it below.
Did you make any changes to this recipe?
If you have tips for other readers, let me know! It helps me and other readers so much. Sharing is Caring :-).