Tortilla chips baked at home using whole wheat tortillas are so much better than store-bought chips. Seasoned with za'atar gives them a delicious Middle Eastern flavor. These crispy, golden chips taste great with hummus or baba ganoush.
Easy homemade tortilla chips
Homemade tortilla chips are easy to make and are a healthier option than store-bought processed chips. For this recipe, whole wheat flour tortillas are cut into triangles, coated with oil and seasonings and baked in the oven until crispy. With Middle Eastern seasonings they are a great choice for serving as part of a mezze, but they can also easily be made with corn tortillas and a sprinkle of salt and served as part of a Mexican meal with salsa and guacamole.
Where do tortilla chips come from
The history of tortilla chips is not a long one. In 1943, Mexican restaurant owner Ignacio Anaya García invented nachos by slicing tortillas into triangles and baking them in the oven until crispy. The man had nine children. The tortilla chips must have been a hit at his house too. At least that's how it is with us. The chips came to prominence in the 1960s, when Rebecca Carranza , who owned a tortilla factory, cut the defective scrap of tortillas into triangles at home and baked them into chips in the oven. And later, tortilla chips became the main business of the factory.

A snack made with three simple ingredients
Tortillas: I like to use whole wheat tortillas for the extra fibre but regular white flour tortillas are fine too. You could also use pita bread.
Olive oil: this ensures the tortillas get crispy and helps the seasoning stick to the chips.
Seasoning: Za'atar makes these tortilla chips addictively delicious. It is a seasoning made with sumac, seasame seeds, cumin, thyme, oregano, marjoram.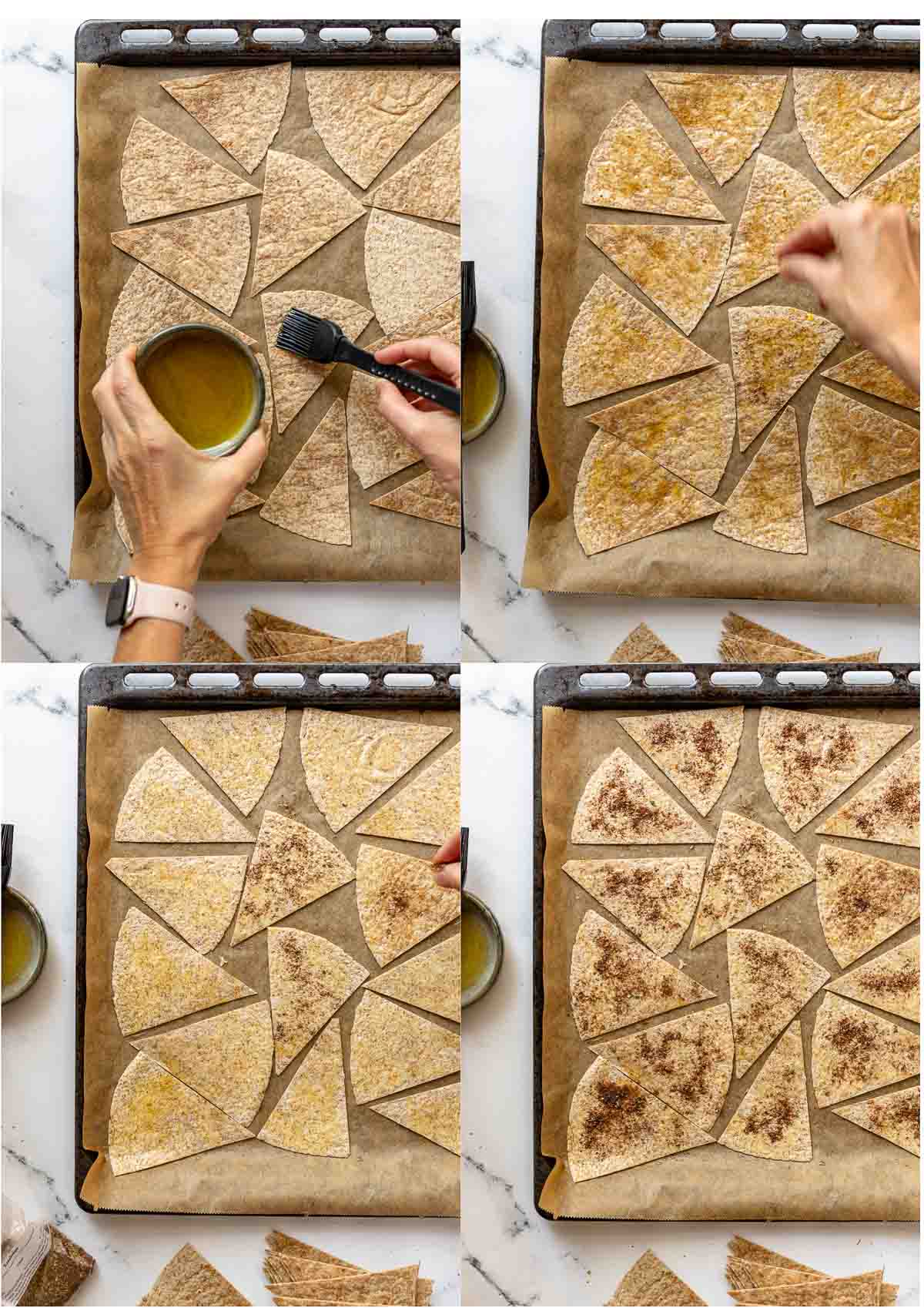 How to make baked tortilla chips
Homemade baked tortilla chips are simple to make as there are basically only four steps. Here's what you can expect:
Cut the tortillas
Cut the tortillas into triangles — Cut each tortilla into four triangles by first cutting it in half and then in half again. Then cut each of the four triangles in half again. You should be able to get eight chips out of each tortilla.
Oil and season the chips
Brush both sides of each chip lightly with oil using a pastry brush. The oil helps the seasoning stick to the tortilla and ensures a crisp chip. Sprinkle each chip with the za'atar seasoning.
Bake the chips
Bake the chips, spread in an even layer and rotate the baking sheet (front to back) halfway through to ensure even baking. Make sure to check the chips often so they don't burn. The last couple minutes are crucial.
Cool the chips
Allowing the chips to cool in an even layer on a flat surface ensures they properly crisp up (I use parchment paper and slide each batch onto the countertop to cool). Before adding to a bowl, make sure all the chips are fully cooled.
How to store tortilla chips
Homemade tortilla chips are delicious eaten the day they are made and just as fabulous days after. You can store them in an airtight container (or bowl covered in plastic wrap) at room temperature for a several days.
How to serve baked whole wheat tortilla chips
These chips are terrific with all kinds of dips, or soft cheese, or they can be added to a Lebanese fattoush salad in place of pita bread. Try one of these favourite dip recipes: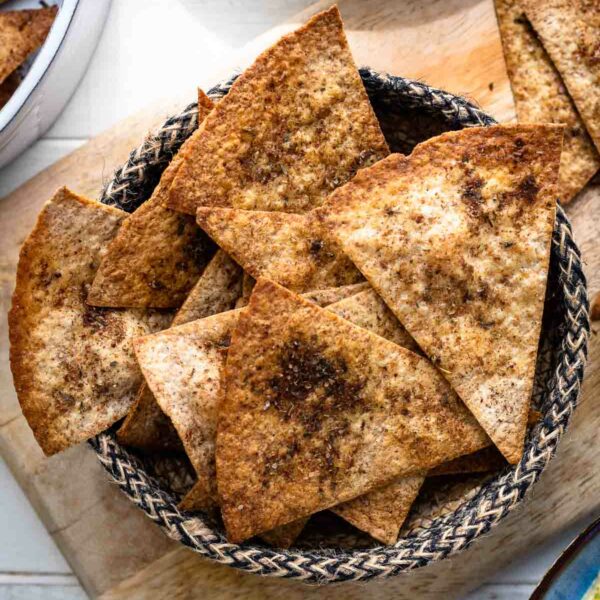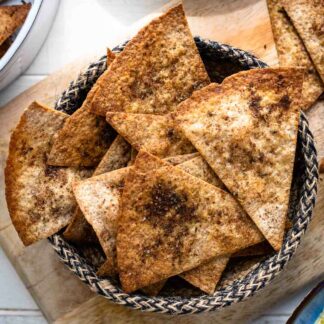 Baked Tortilla Chips with Za'atar
Tortilla chips baked at home using whole wheat tortillas and seasoned with za'atar for a delicious Middle Eastern flavor. Healthier option to store-bought chips or crackers.
Ingredients
6

whole-wheat tortillas (25 cm),

cut into 8 equal wedges

Olive oil,

as needed

Za'atar,

to taste
Method
Preheat oven to 400°F / 200°C (180°C fan-assisted) and line a baking sheet with parchment paper.

Spread the tortilla triangles in an single layer on the prepared baking sheet. Use a pastry brush to lightly coat both sides of tortilla with olive oil, then sprinkle za'atar.

Bake until light golden brown and crisp 6-8 minutes, rotating pans front to back halfway through (and positions, top to bottom, if baking more than one batch at a time). NOTE: Watch the chips carefully the last 2 minutes, as they can go from lightly brown to burnt very quickly.

Remove from the oven and place on a rack to cool. Or simply slide the parchment paper onto a flat surface to allow the chips to cool. The chips will get crisper as they cool.

Repeat with remaining tortilla triangles.

Cool fully to room temperature before storing or transferring to a serving dish.

Enjoy!
Notes
Za'atar is a seasoning made with sumac, seasame seeds, cumin, thyme, oregano, marjoram. You can find it in speciality spice shops, Middle Eastern or Turkish supermarkets or online.
You can also brush both sides of the tortillas with oil before cutting them into triangles. Stack and cut into sixths or desired size. Be sure to sprinkle with the za'atar spice while the tortillas are still moist from the oil to that the spice sticks to the chip.
Baked chips keep well, stored in an airtight container, for up to a week. I find that the flavor and texture are actually best after a day or two!
For a relaxing atmosphere in the kitchen I recommend my personal Elle Republic: Chilled Out Kitchen Tunes Playlist on Spotify.
Did you try this recipe?
Then tag @ellerepublic on Instagram and hashtag it #ellerepublic
How did you like it?
Please let me know how this homemade baked tortilla chips recipe turned out for you! I would love to hear how you liked it. Simply rate it with the stars above ⭐ or leave me a comment and rate it below.
Did you make any changes to this recipe?
If you have tips for other readers, let me know! It helps me and other readers so much. Sharing is Caring :-).
This post contains affiliate links. If you decide to make a purchase through my link, Amazon will pay me a commission for it. This doesn't cost you anything additional and the price remains the same. More about advertisements on Elle Republic.