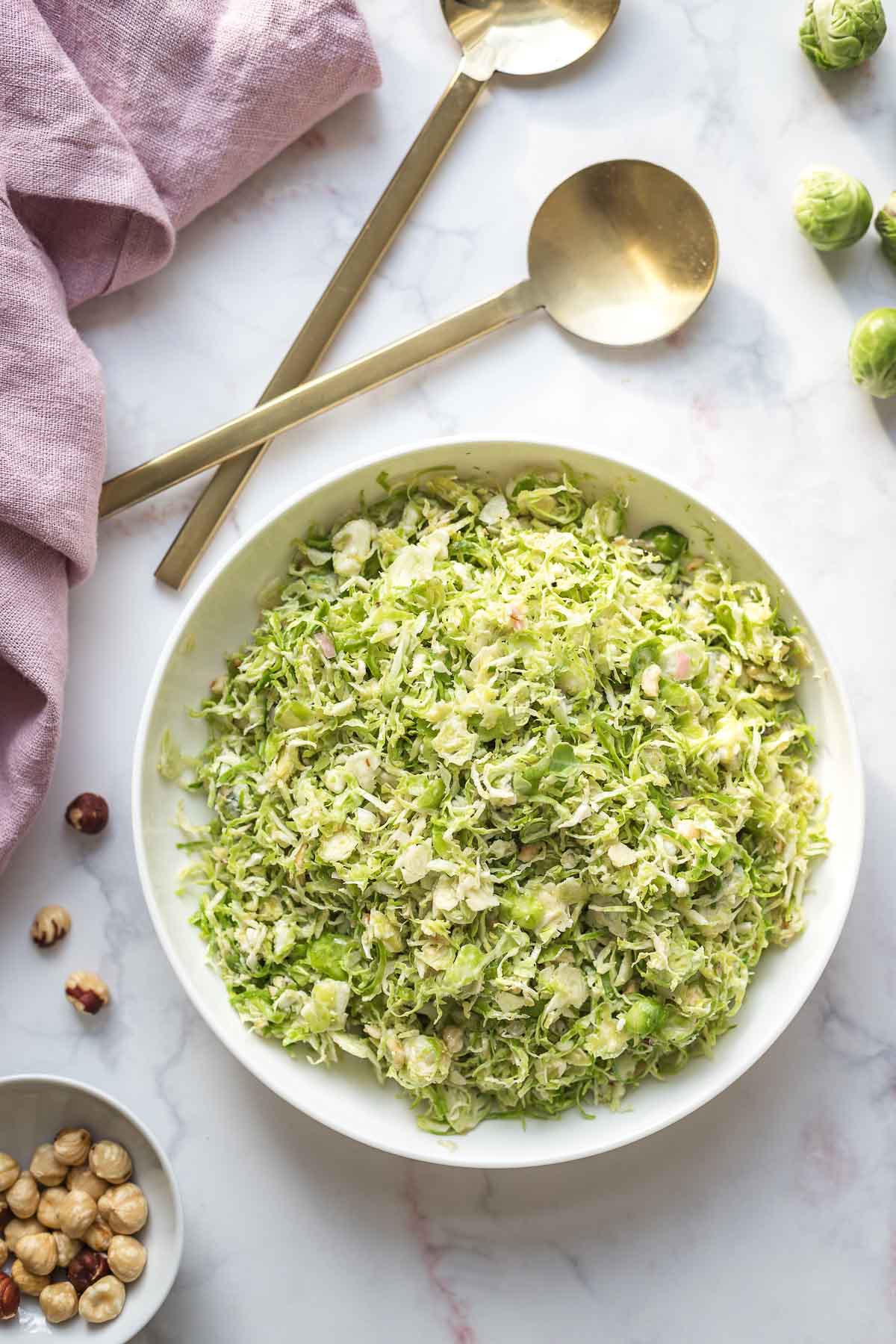 Brussels Sprout Salad with Blue Cheese and Hazelnuts. It doesn't get simpler than this. Three simple ingredients that make such a tasty trio when tossed in a simple honey vinaigrette. This is a salad that is a terrific side dish for the holidays. And yes, these are raw Brussels sprouts, shredded just as you would cabbage for a coleslaw. The crunchy Brussels sprouts and hazelnuts add such a nice contrast of texture to the crumbles of creamy blue cheese. The honey vinaigrette adds a little sweetness that is such a compliment to these flavours. And if you like even more sweetness in this kind of salad, feel free to add a handful of chopped dried cranberries. It's a great way to add a hint more sweetness to every bite and a great way to give this Brussels sprout salad with blue cheese a pop of color and Christmasy touch.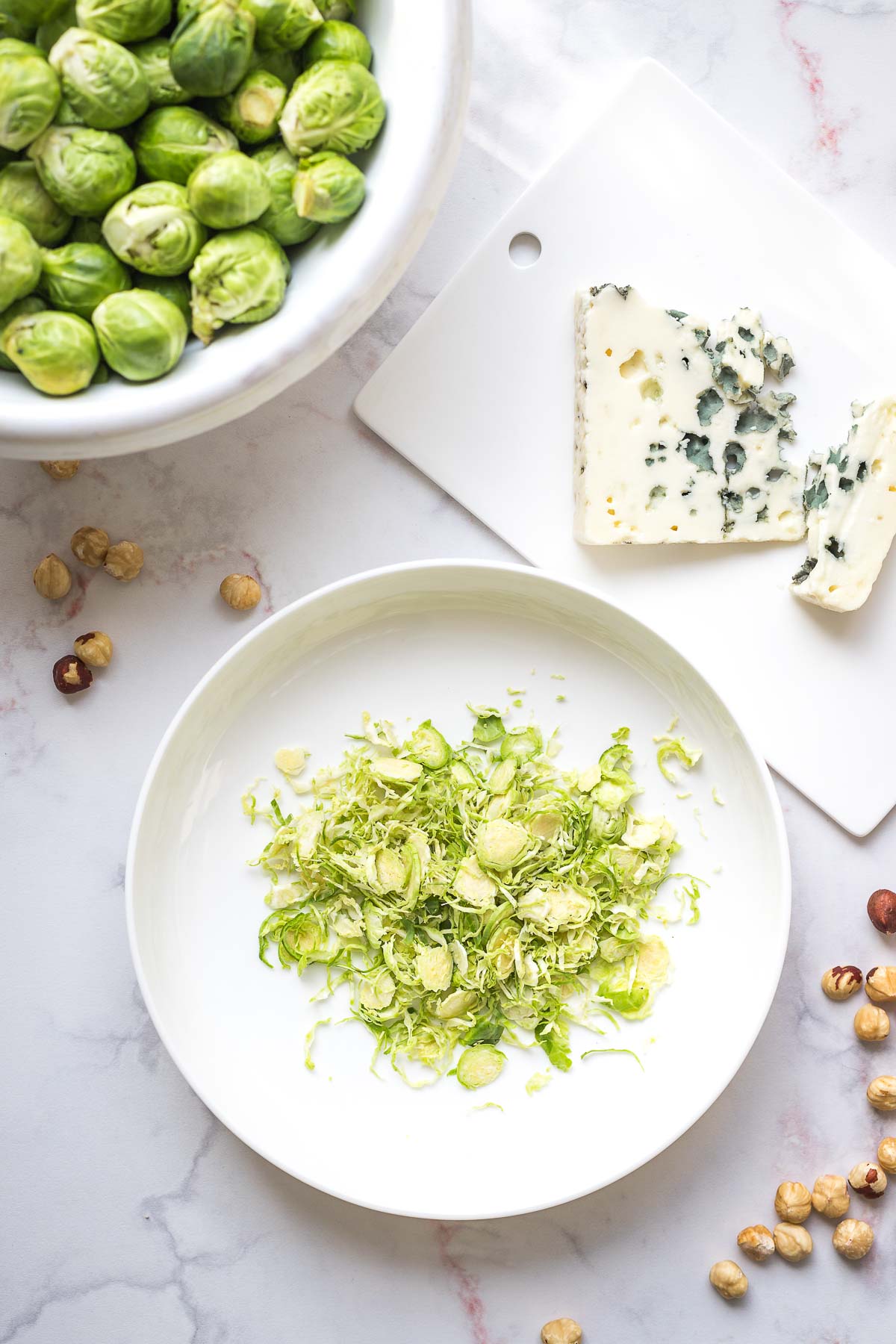 Tips for preparing this salad recipe:
There are a few different ways to shred Brussels sprouts. The quickest way is to use your food processor with the slicer blade. Just trim the stem end first and drop them through the feed tube. Alternatively you can use a mandolin. But take care, these things are sharp so you want to be careful and protect your hands.
And there is also the good old original way — by hand. Just trim the end of each sprout, then peel away any wilted or discoloured leaves. Slice each sprout in half, then place the cut side down on your cutting board. Starting at the tip, slice each sprout crosswise into thin ribbons to create "shreds".
As for the hazelnuts, they can be roasted in a pan, or if you are doing a batch, then the oven at in a 400°F / 200°C for 15 minutes or until fragrant. Once the hazelnuts are cool to the touch, remove some of the hazelnut skins by rubbing them vigorously in a dish towel.
I like to chop my nuts which gives you lots of different sized pieces and crumbs. But you can also place the cooled hazelnuts into a freezer bag and use a rolling-pin to crush them. Place the bag filled with the hazelnuts on a cutting board, then shake to distribute the nuts into an even layer. Using a rolling-pin, roll over them or give them a little whack until the nuts are crushed into small pieces.
How to adapt this Brussels sprout and blue cheese salad:
First of all, if you don't like blue cheese, that's okay! You can also substitute parmesan or pecorino in its place.
I'm all for fruit in my salads and sometimes like to add apple or pear to this salad. You could even toss in some dried cranberries (I like the naturally sweetened ones).
Feel free to use a mix of greens. Shredded kale is always wonderful with a Brussels sprouts salad. Or try a little savoy cabbage.
Or feel free to check out my Brussels sprout salad with apples, or my recipe for a kale and Brussels sprouts salad. Both are delicious!

Brussels Sprout Salad with Blue Cheese and Hazelnuts

Simple and easy to prepare, this shaved Brussels sprouts salad makes a great side dish for any Sunday dinner, Thanksgiving or Christmas.

Ingredients

For the salad:

500

g

Brussels sprouts,

shredded (see tips)

60

g

blue cheese,

crumbled

30

g

toasted hazelnuts,

coarsely chopped

For the dressing:

1

small clove garlic,

minced

1

small shallot,

finely chopped

2

tablespoons

white wine vinegar

1

tablespoon

honey

1/2

tsp

sea salt

Freshly ground black pepper,

to taste

6

tablespoons

extra virgin olive oil

Method

Heat a dry skillet over medium high heat. Add the hazelnuts and toast until the skins start to crack and the nuts are fragrant, 4-5 minutes. Remove from heat and transfer to a clean kitchen towel. Wrap and rub together to remove some of the skins. Transfer to a cutting board and coarsely chop (some there is a mix of fine and chunkier pieces).

Add the shredded Brussels sprouts to a large serving bowl.

Crumble the blue cheese into very small pieces and add to the salad bowl. Toss the Brussels sprouts, and blue cheese until well combined.

Transfer the chopped hazelnuts into the bowl with the sprouts.

In a small bowl, add the garlic, shallot, vinegar, honey, salt, and a pepper and whisk to combine. Add the olive oil and whisk together until the dressing is emulsified.

Pour the dressing over the salad, toss well to combine, then taste for seasoning, adding more salt and pepper, if desired. Serve and enjoy!

Notes

Use your favourite type of blue cheese for this recipe. Personally, I like strong tasting cheese like Roquefort. Other favourites of mine are Stilton and Danish Blue.
How to shred Brussels sprouts: I like to use a mandoline (with a hand protector!). But you can also do this by hand. To do so, trim the ends of the Brussels sprouts and remove any wilted outer leaves. Slice each Brussels sprout in half. Lay the cut side down, then slice widthwise to create shreds. Start with the top of the sprout, as the root end will keep the leaves intact while you slice. Easy-Peasy.
As a time saver, pre-roasted hazelnuts can also be found at your local natural foods store.

Did you try this recipe?

Then tag @ellerepublic on Instagram and hashtag it #ellerepublic

How did you like it?

Please let me know how this Shaved Brussels Sprout Salad with Blue Cheese and Hazelnuts recipe turned out for you! I would love to hear how you liked it. Simply rate it with the stars above ⭐or leave me a comment and rate it below.

Did you make any changes to this recipe?

If you have tips for other readers, let me know! It helps me and other readers so much. Sharing is Caring :-).

This post contains affiliate links. If you decide to make a purchase through my link, Amazon will pay me a commission for it. This doesn't cost you anything additional and the price remains the same. More about advertisements on Elle Republic.