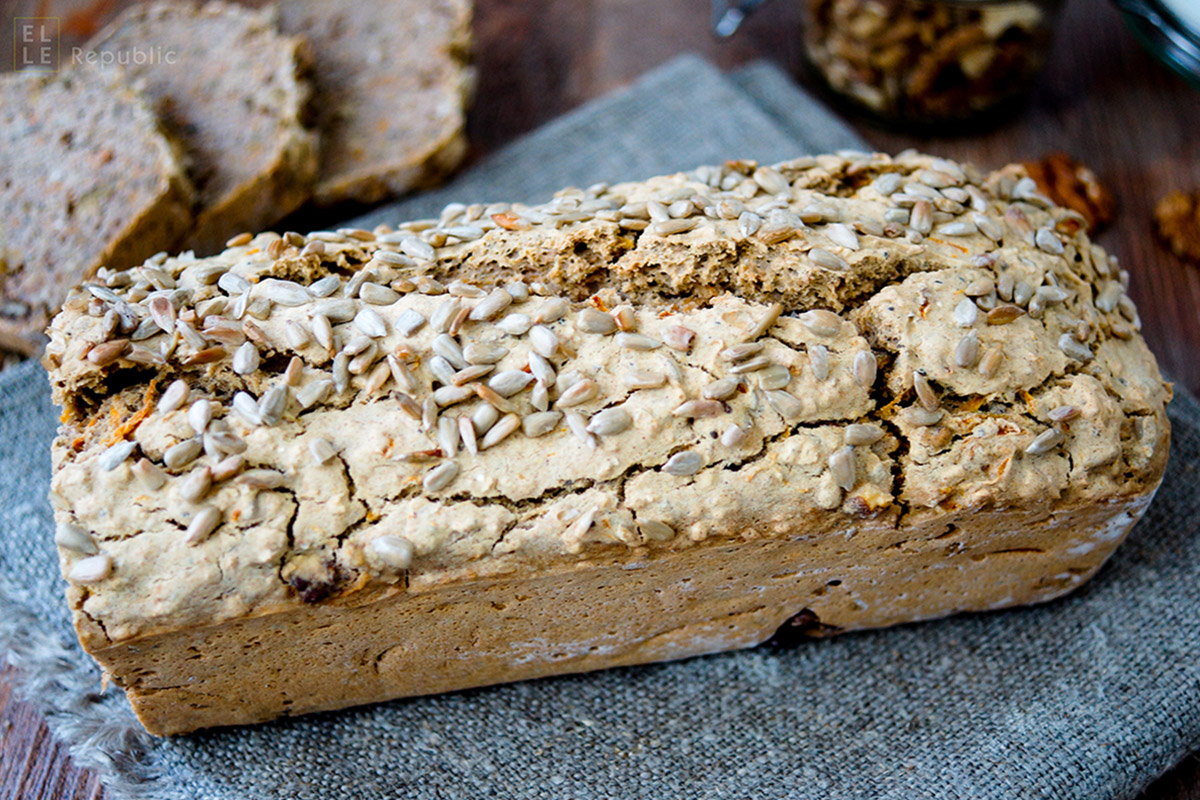 This buckwheat bread is magical. Not only does it please all my gluten-free friends but it is equally fantastic for anyone following a vegan diet. And best of all… it's delicious. Yes, so here I am, someone who doesn't eat a lot of bread, going on a craze of bread baking. It seems I too, am starting to believe that there nothing beats a warm slice of homemade bread. Especially one like this that is full of lots of tasty and good for you ingredients: oats, chia seeds, sunflower seeds, walnuts and fresh grated carrot. Full of flavor, this buckwheat bread is perfectly dense and moist so you can slice it just like any other type of bread, making it perfect for toast or to enjoy it as I do, just like it is!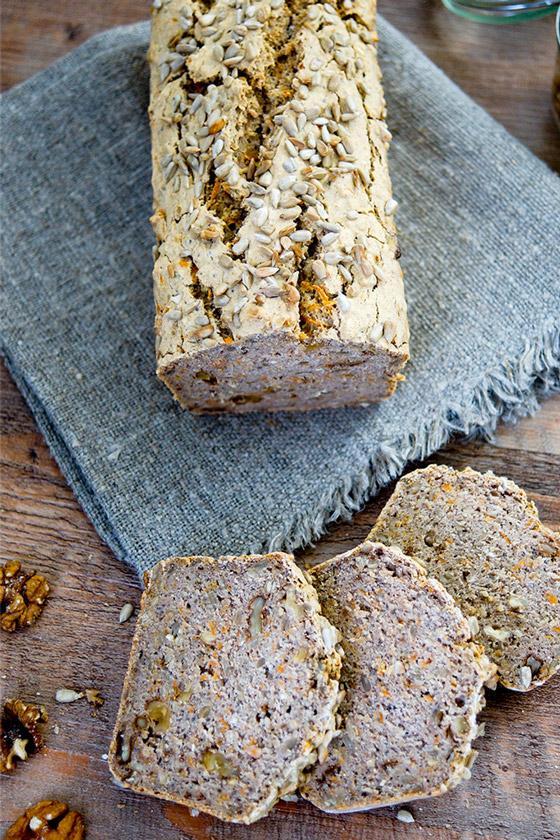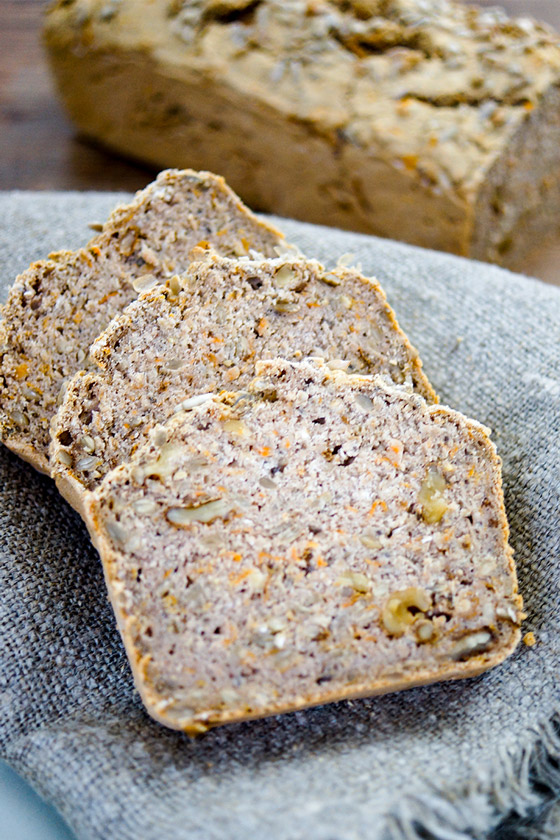 Making a yeast-free, gluten-free buckwheat bread that's also vegan
This buckwheat bread recipe uses chia seeds as an egg replacement. Mostly because I really like the texture, but secondly, because chia seeds are something I always have on hand. Ground flax seeds would be my second choice. But remarkably enough, there are a number of other ways to replace eggs in your baking recipes and is especially easy to do with muffins and cakes by adding mashed apple, banana or pumpkin. That's right; you don't need to rely on a multitude of ingredients to make a good vegan yeast-free gluten-free bread stick together.
What's so great about buckwheat?
Not only does buckwheat's wonderful nutty flavor make fantastic pancakes and crepes, but it's also naturally gluten-free (since it's a fruit seed). It's a great source of soluble fibre, making it light and easy to digest, is low GI, and high in amino acids and essential minerals. I love pairing this buckwheat and chia loaf with a nourishing soup for lunch, or a main-meal salad for dinner. It works well for breakfast too, topped with fresh sliced avocado and feta, or for anyone with a sweet tooth, a little homemade nutella or honey.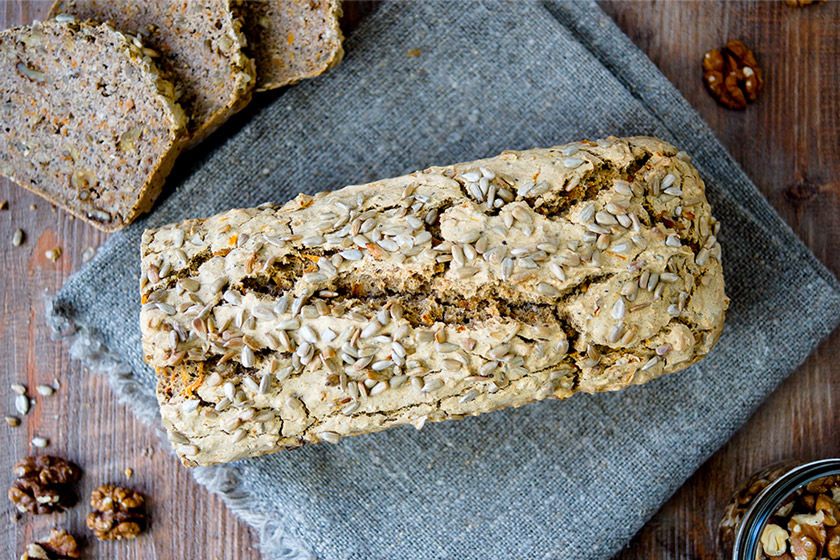 Looking for other gluten-free bread recipes?
How about trying my recipe for Simple Buckwheat Bread Recipe (gluten-free & vegan) or check out my archive for other gluten-free baking recipes.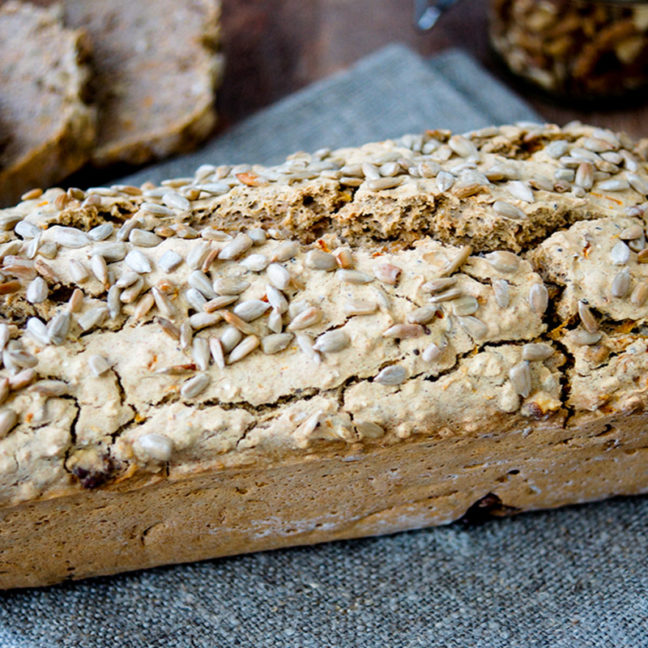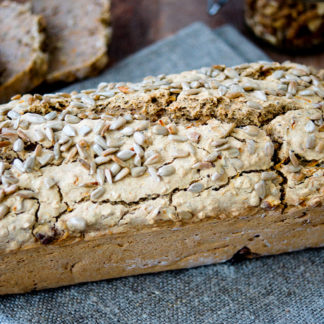 Buckwheat Bread (vegan + gluten-free)
This buckwheat bread is moist and delicious, stays fresh for days and is perfect for making in advance and storing in the freezer. A healthy recipe that is naturally gluten-free, yeast-free and vegan.
Total Time
1
hour
10
minutes
Ingredients
2

tablespoons

chia seeds

6

tablespoons

luke warm water

500

g

buckwheat flour

50

g

fine-cut oats

(choose certified gluten-free if needed)

1

package

baking powder

(17 g)

2

teaspoons

sea salt

2

cups

unsweetened soy milk

(500 ml)

3

tablespoons

pure maple syrup

1

large carrot,

shredded (100 g)

80

g

sunflower seeds,

plus more

40

grams

walnuts,

coarsely chopped
Method
Preheat the oven to 400°F / 200°C and grease a bread tin with coconut oil and dust with flour; tapping out any excess.

In a small bowl, mix together the chia seeds with the water and let stand for 10-15 minutes to make a gel.

In a large mixing bowl add the flour, oats, baking powder, and salt. Whisk together to combine. Add the soy milk, maple syrup, soaked chia seeds and carrot. Using a hand-held mixer with a dough hook, mix until well combined and becomes a thick sticky dough.

Add the seeds and nuts and mix until combined.

Transfer the dough into the prepared bread tin. Spread it out using the back of a spatula. Sprinkle with more sunflower seeds, if desired.

Bake for about 50 minutes, until the crust is lightly golden and cracked. When pierced with a toothpick, it comes out clean.

Transfer the tin to wire rack to cool slightly, about 10 to 15 minutes and then remove it from the pan to further cool.

Before slicing it, allow it to come to the room temperature. Or do as we did and eat it while it's still slightly warm (delicious!). 🙂
Notes
I meant to only use 3 teaspoons maple syrup but used the wrong measure and put 3 tablespoons in. Tasted fantastic so I left it as is. You could also reduce the amount to 2 tablespoons or replace with aztakien honey if not following a vegan diet.
I used unsweetened soy milk, but I expect unsweetened almond milk would also work well since almonds and buckwheat pair well. Or there is always water!
I choose chia seeds to replace the egg, but 6 tablespoons of almond butter could also be used, as could ground flax seeds (or whole flaxseed ground in coffee mill), however I would let them sit for about 30 minutes to soak, rather than 15 minutes as I do with chia seeds.
The ratio walnuts to sunflower seeds can also be played with. I used 40/80 walnuts to sunflower seeds, but 50/70 or 60/60 world well. Or use only walnuts as they are terrific with buckwheat. As you will!
Did you try this recipe?
Then tag @ellerepublic on Instagram and hashtag it #ellerepublic
How did you like it?
Please let me know how this Buckwheat Bread (vegan + gluten-free) recipe turned out for you! I would love to hear how you liked it. Simply rate it with the stars above ⭐or leave me a comment and rate it below.
Did you make any changes to this recipe?
If you have tips for other readers, let me know! It helps me and other readers so much. Sharing is Caring :-).