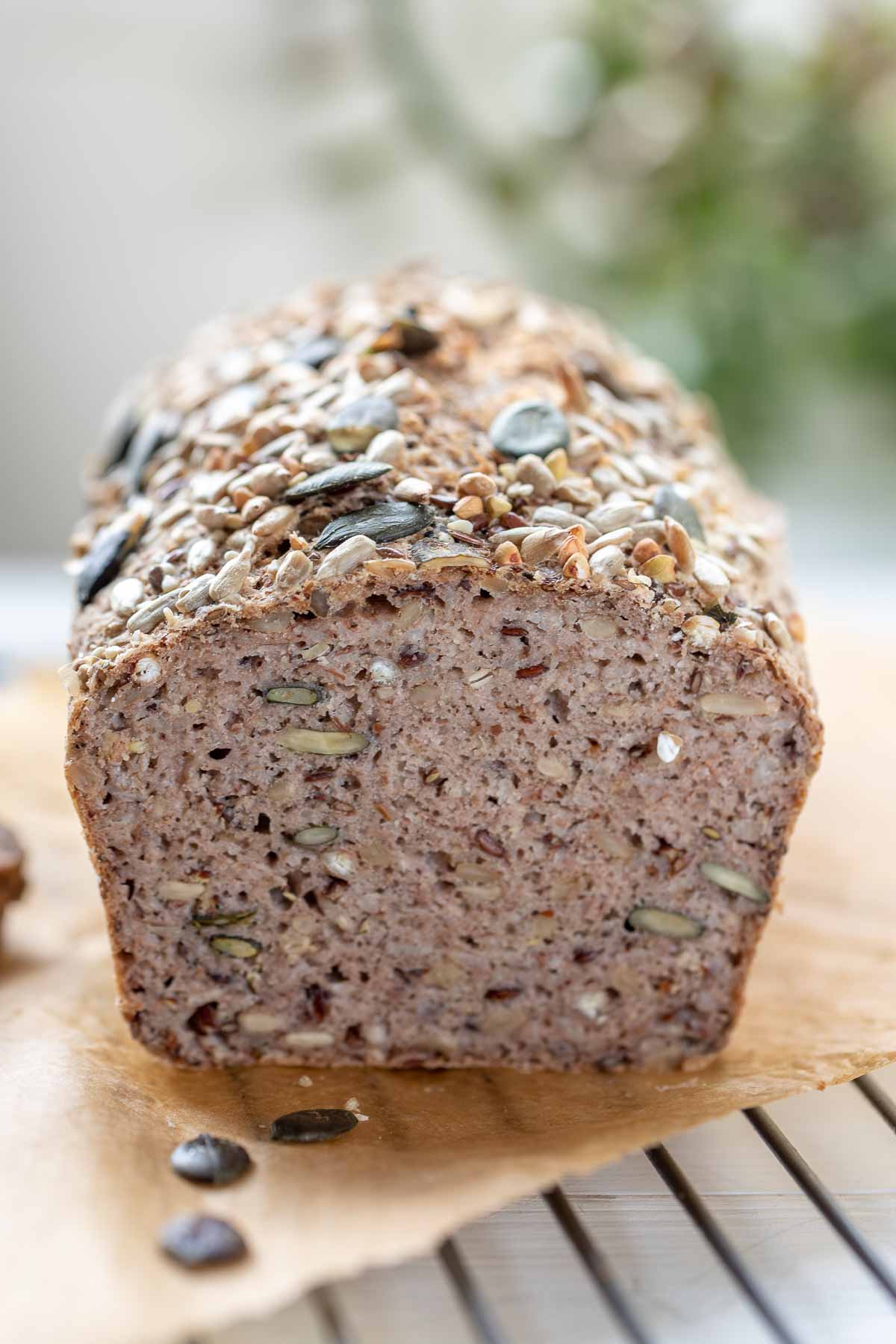 A healthy, and super easy recipe for a vegan buckwheat bread made gluten-free using buckwheat flour, buckwheat flakes and plenty of seeds!
If you are already familiar with my other buckwheat bread recipe made with grated carrots, walnuts and sunflower seeds, then I'm pretty sure you are going to also love my new buckwheat bread! And this one is even simpler to make (is that possible?), is just as tasty and stays fresh even longer. Best yet, is that it's so easy to make, freezes well and goes with anything – whether you are vegan or not.
These toppings are great with this buckwheat bread recipe
As a start, I love it toasted with herbed cream cheese or French Boursin (a favourite!), thinly sliced cucumber, a sprinkle of sea salt and broccoli sprouts or alfalfa sprouts. Sooo good. It's also great with poached eggs, mashed avocado, homemade nutella, peanut butter or jam, or simply dunked in a delicious and warming bowl of soup…need I go on? Now that I've gone through more than a few loaves, I have found the perfect method for making this buckwheat bread recipe. Above all, I'm really thrilled with the taste and consistency. Straight out of the oven and still warm, it tastes great on its own. But my absolute favourite way to enjoy it is toasted — there is something about toasted seed bread that tastes so good. Which is also something that makes it the perfect bread to make in advance and store in the freezer — then you always have a healthy toast bread on hand. Best yet, one that just happens to be vegan and gluten-free.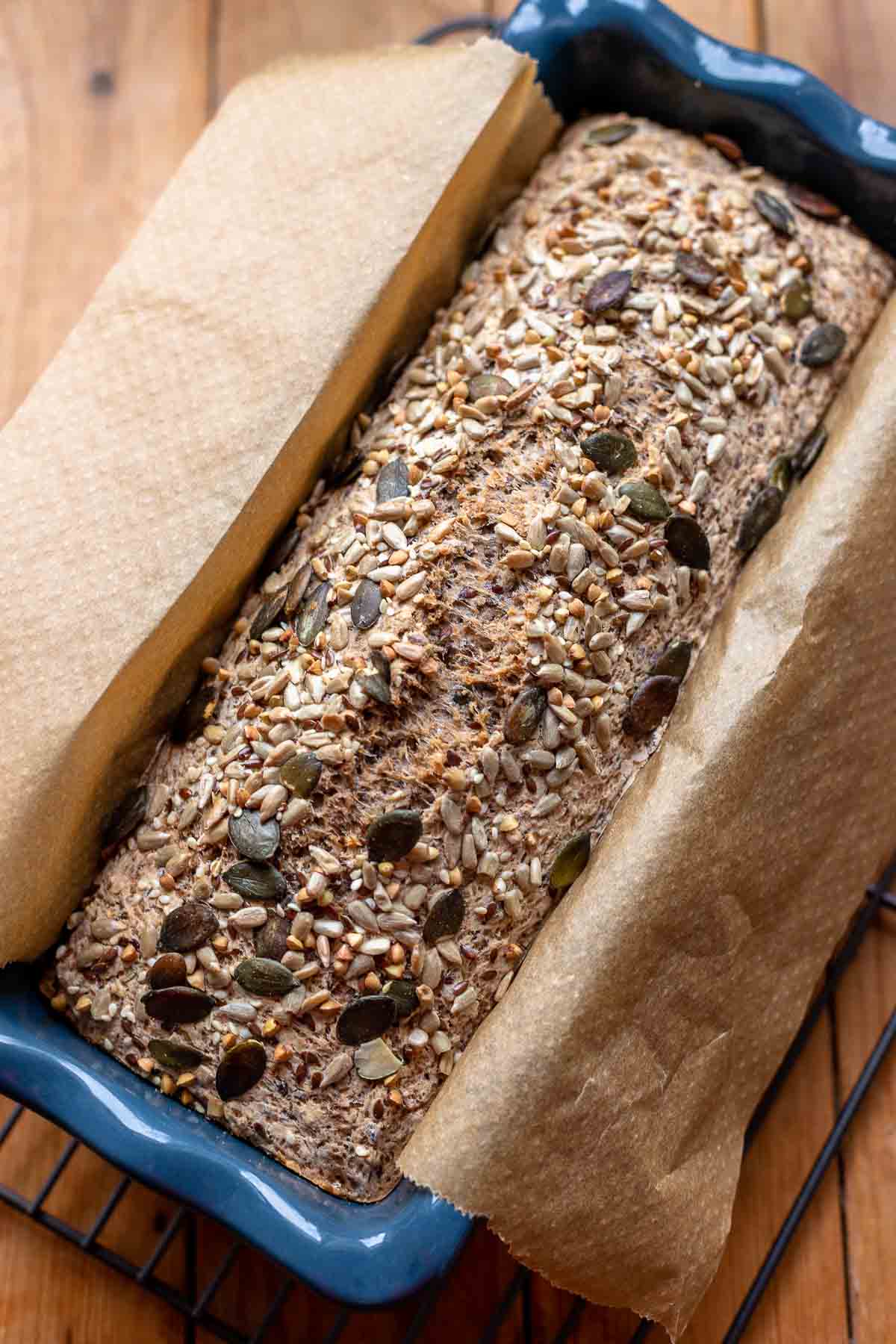 What makes this buckwheat bread recipe so simple
What always intimidated me from baking my own gluten-free bread was the long list of obscure, unfamiliar ingredients in so many recipes – industrial food additives like gums and other binders. Okay, yes you need some form of binder when you take out the gluten or things like eggs, but there are so many other ways to bring the dough together. This gluten-free vegan bread uses simple natural ingredients to do just that. Natural ingredients like ground linseed and psyllium husk do an amazing job of acting like a binder. Chia seeds are also a great choice instead of linseed – they are usually my go-to egg-substitute. Yes, these natural ingredients create a loaf of bread that you can easily slice (doesn't fall apart) and is like real bread and not a brick.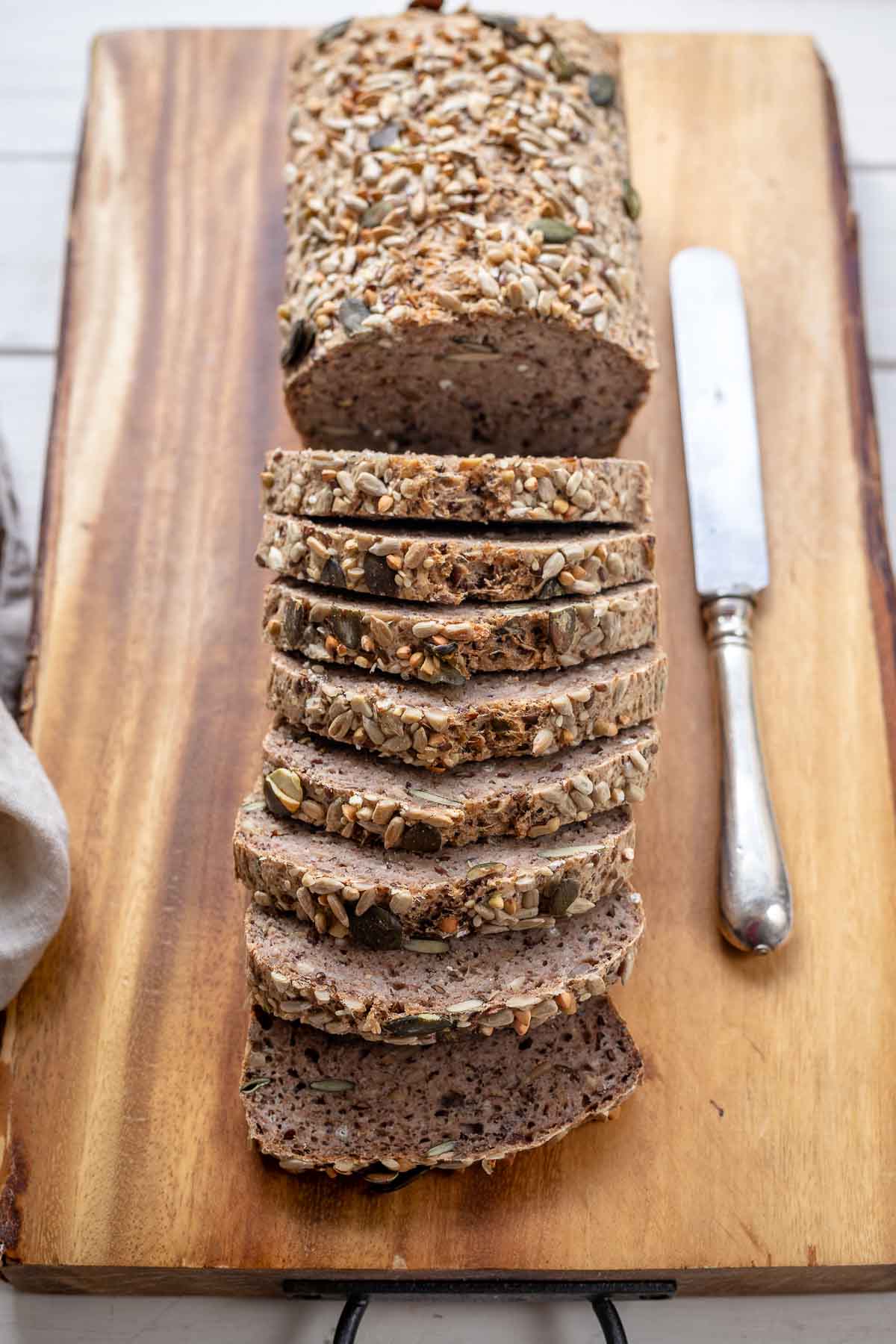 Using natural binders for gluten-free vegan baking
Generally there are three binders I like to use in vegan gluten-free baking: chia seeds, ground linseed, psyllium husks or a combination of them. Psyllium husks I would say are the most magical of the three. It comes from the seed of the plantago plant, a native of India and Pakistan, is a great source of soluble fibre and loves to absorb moisture. With the addition of water it becomes thick and gelatinous, and adds an excellent elasticity and gluten-like-structure, while having an undetectable flavour or color. Plus there is the extra bonus that it supports healthy digestion.
Using psyllium, chia and linseeds in baking
Adding a teaspoon of psyllium to any baking recipe will help provide extra structure and improve the crumb and texture of your baked goods. It's a win, all around. Chia seeds are also very reliable in gluten-free baking. I generally use them as I would eggs by creating a chai egg by combining 1 tablespoon chia with 3 tablespoons water and letting soak until it forms a gel (10-15 min). As for ground linseeds, I usually use them in combination with chia or psyllium as although it has a nice nutty taste, it only provides moderate binding strength.
Looking for other gluten-free bread recipe inspiration?
Then try one of these recipes: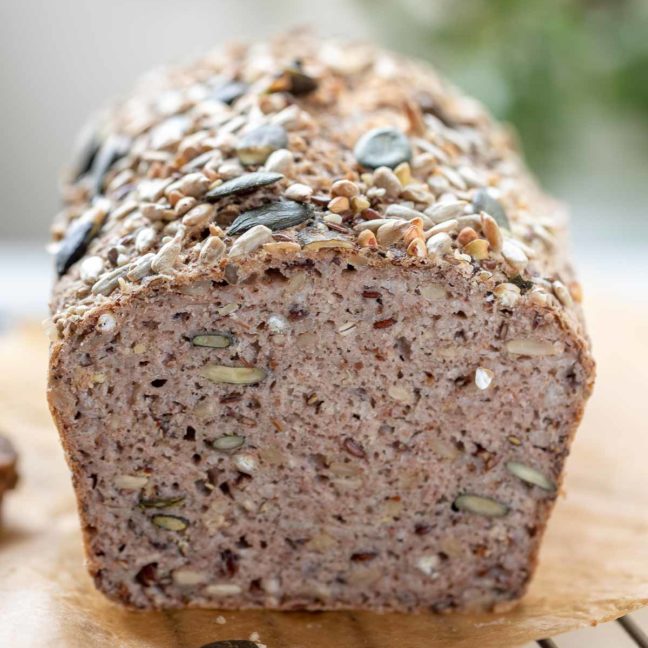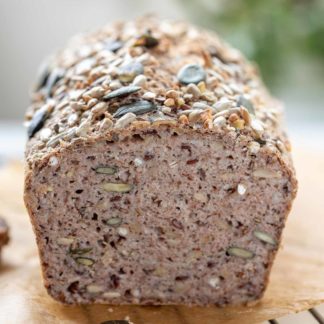 Simple Buckwheat Bread Recipe (gluten-free & vegan)
A healthy, and super easy to make vegan buckwheat bread recipe made with natural ingredients. Yeast-free and nut-free. Slices like regular bread and freezes well. This bread raises to 6,5-7cm high, and can be sliced into 20-22 pieces.
Total Time
1
hour
20
minutes
Ingredients
Bowl 1:
650

ml

water

4

tablespoons

ground linseed

(flaxseed)

3

tablespoons

psyllium husk powder

(Indian)

2 1/2

tablespoons

maple syrup

(or honey)

2

tablespoons

organic apple cider vinegar

(unfiltered)
Bowl 2:
300

g

buckwheat flour

100

g

buckwheat flakes

1 1/2

teaspoons

baking powder

(phosphate-free)

1/2

teaspoon

baking soda

1 1/2

teaspoons

sea salt

1

cup

mixed seeds

e.g. a mix of buckwheat and seeds such as sesame, pumpkin, flax, or sunflower, plus more for garnish (100g)

Coconut oil,

to grease the loaf pan
Method
In a large mixing bowl combine the water, maple syrup, vinegar, linseed and psyllium husk. let stand 20 minutes, then whisk to combine.

Combine the buckwheat flour, buckwheat flakes, mixed seeds, baking powder and salt in a medium mixing bowl. Whisk together till well combined. Pour the dry mix into the wet mix and mix until combined thoroughly.

Meanwhile, preheat oven on to 350°F / 180˚C. Grease a loaf pan with coconut oil and line the bottom and sides with a piece of parchment paper.

Transfer the dough into the prepared loaf tin and smooth the top with a spatula. Sprinkle with extra seeds.

Transfer to the preheated oven and bake for 1 hour 10-15 minutes. The bread should be golden brown and very firm to touch in the center, when it is done.

Remove from the oven, place on a cooling rack; remove it from the loaf pan as soon as it's cool enough to handle to avoid it "sweating" and then allow to cool completely.

Once cooled, slice and store in the fridge for up to a week or sealed in the freezer for a longer life (see more tips below).
Notes
 I use a ceramic loaf pan 30,5 x 13,5 x 8,5 cm
This recipe uses ground psyllium husk.
This buckwheat bread also stores well for a number of days on the counter double-wrapped in baking paper and a kitchen towel. Wrapped just in a kitchen towel the bread dries out faster. The bread should be fully cooled before storing.
I like to slice half of the loaf and freeze it so that I always have toast bread on hand.
This bread can also be made into "rolls" as reported by one of my readers. You can use a muffin tin (greased and lined at the bottom) and reduce the baking time. If you try this let me know!
This buckwheat bread recipe can also made without baking powder. Use two teaspoons baking soda instead. Note, increasing the amount of baking soda reacts with sunflowers since they are sensitive to changes in Ph balance. The alkaline effect of baking soda interacts with the seeds. This is totally normal and they are still safe to eat.
Did you try this recipe?
Then tag @ellerepublic on Instagram and hashtag it #ellerepublic
How did you like it?
Please let me know how this buckwheat bread recipe turned out for you! I would love to hear how you liked it. Simply rate it with the stars above ⭐or leave me a comment and rate it below.
Did you make any changes to this recipe?
If you have tips for other readers, let me know! It helps me and other readers so much. Sharing is Caring :-).
This post contains affiliate links. If you decide to make a purchase through my link, Amazon will pay me a commission for it. This doesn't cost you anything additional and the price remains the same. More about advertisements on Elle Republic.