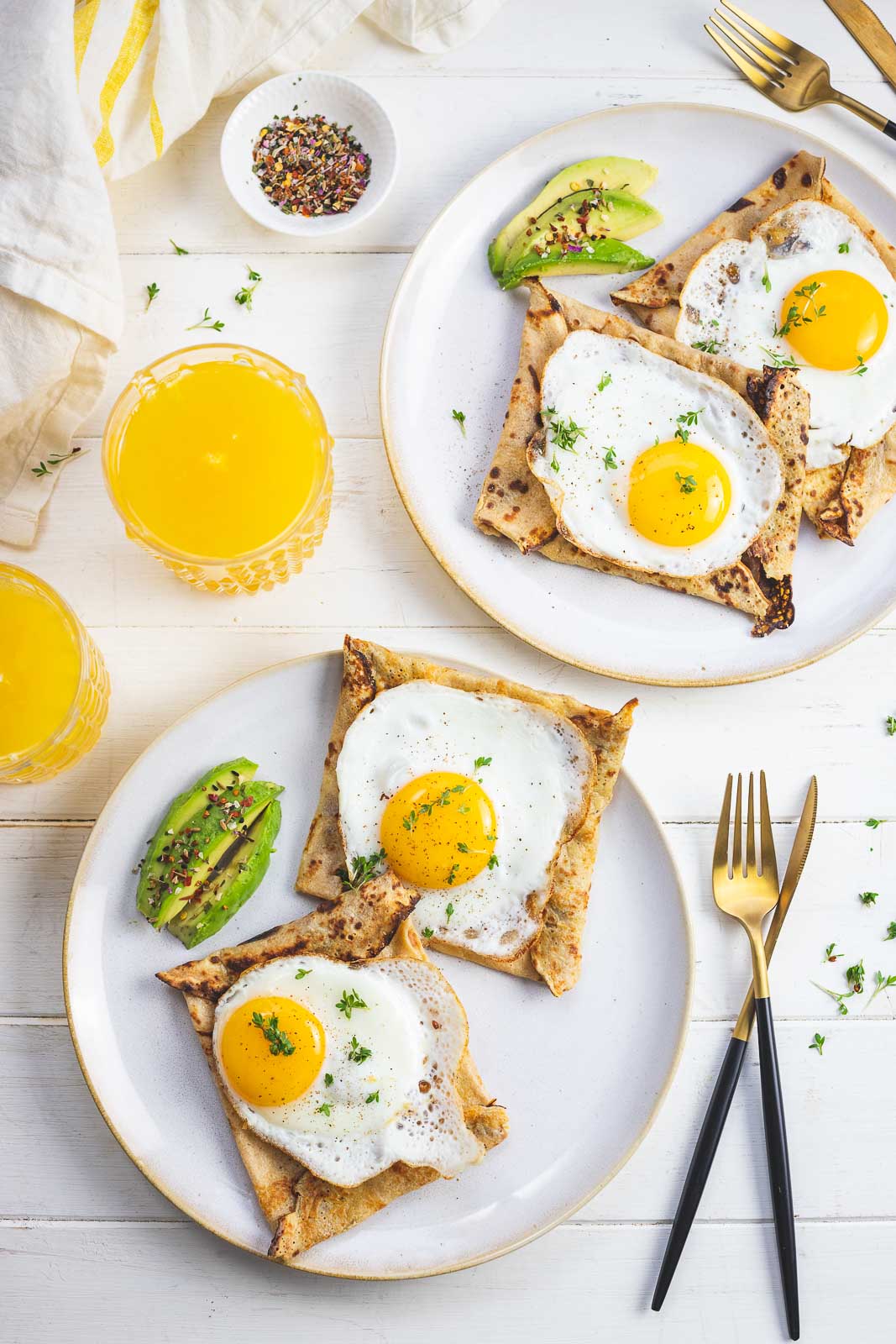 Inspired by the French "crêpe complete" these easy to make buckwheat pancakes are loaded up with Comté cheese, ham and a fried egg making them perfect for a weekend brunch. They are made with a mix of regular and buckwheat flour, milk, buttermilk and eggs. The perfect combination for savoury toppings.
What is the difference between pancakes, crêpes and galettes?
Normally in France the crêpes are the sweet pancakes filled with Nutella or something sweet and served as a dessert. Savoury pancakes on the other hand are filled with cheese and ham and pretty much anything, and are called galettes. Galettes are usually made with buckwheat flour, whereas crepes with regular flour. Both are very thin, like British (English) pancakes and larger than the American version. And what differs them from fluffy American pancakes (also called flapjacks) is that there is no leavening agent (like baking powder or baking soda) used. So essentially these are pancakes, served like a French galette.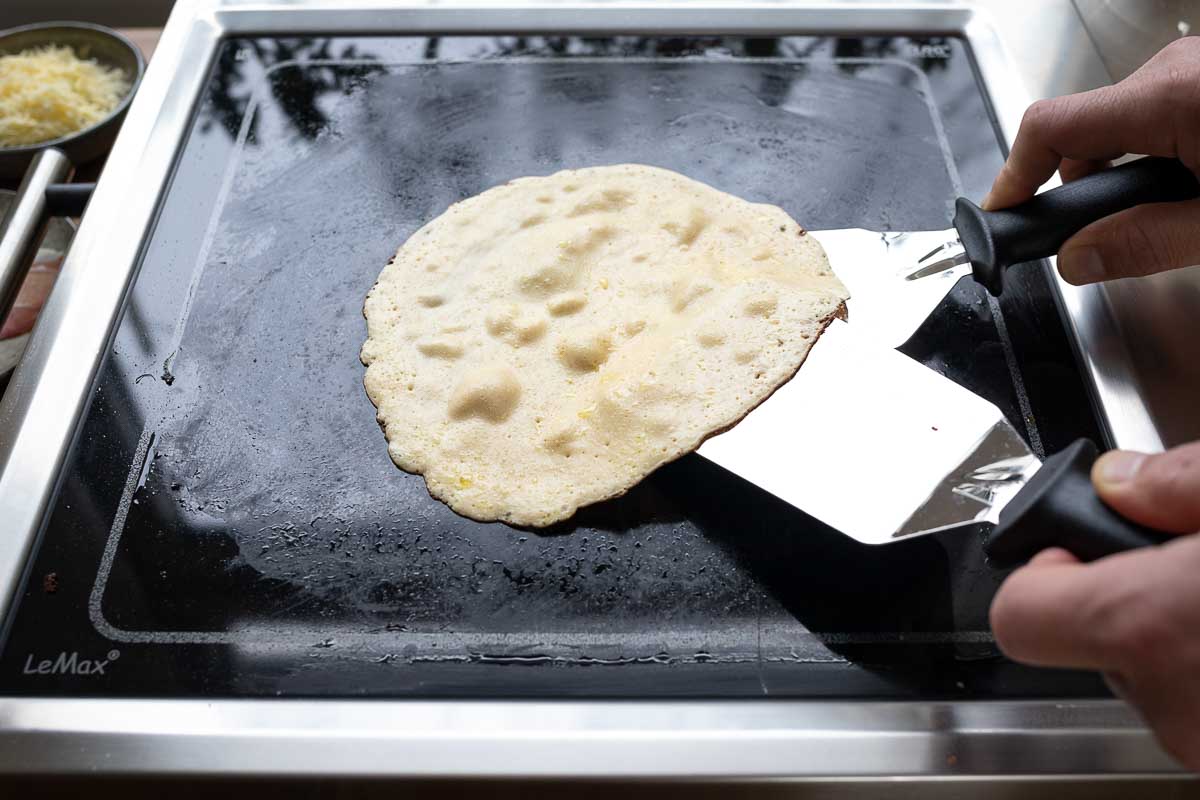 Putting LeMax to the test
If you are a regular reader, then you may have already seen my other recipes using the LeMax electric tabletop ceramic grill (check out my YouTube channel to see the videos!). Its large surface gives you the flexibility to cook so many different types of dishes. More than imaginable. So this was an opportunity to put its breakfast and brunch making abilities to the test. American silver dollar pancakes are cinch as you can cook many at time, but you can also prepare thin English or French style pancakes as well!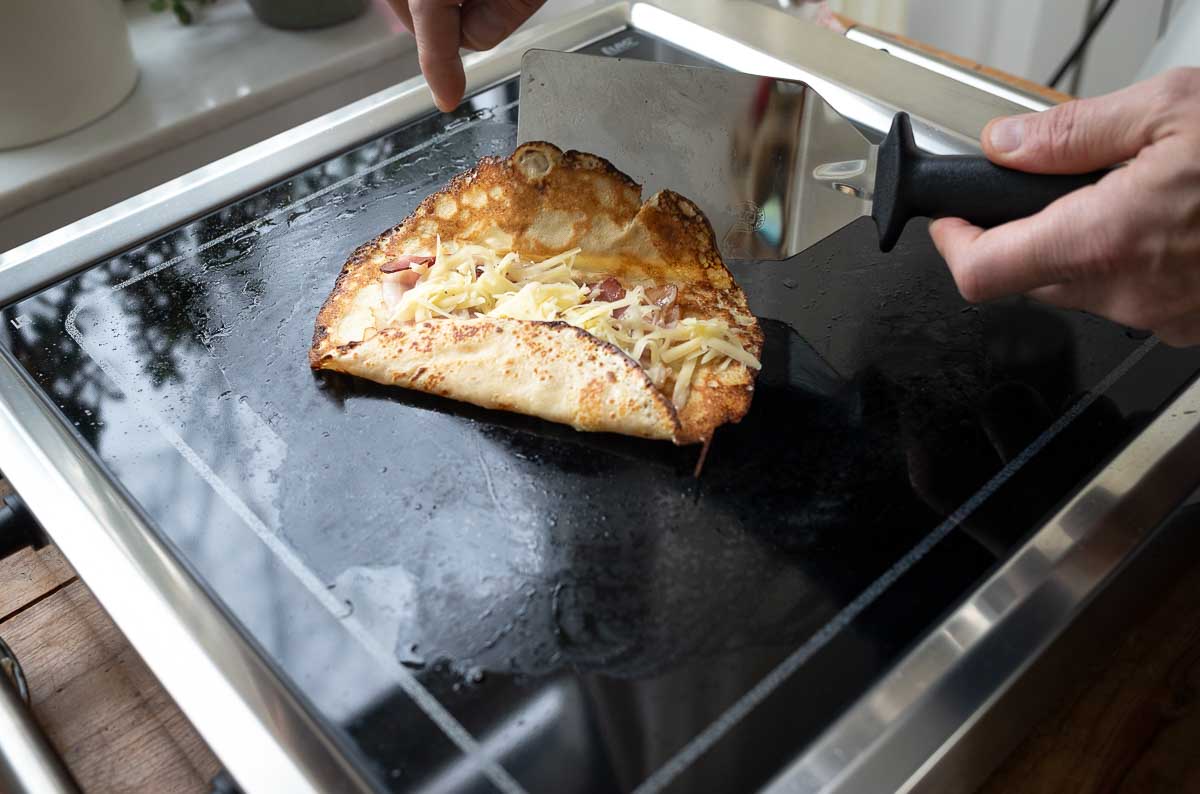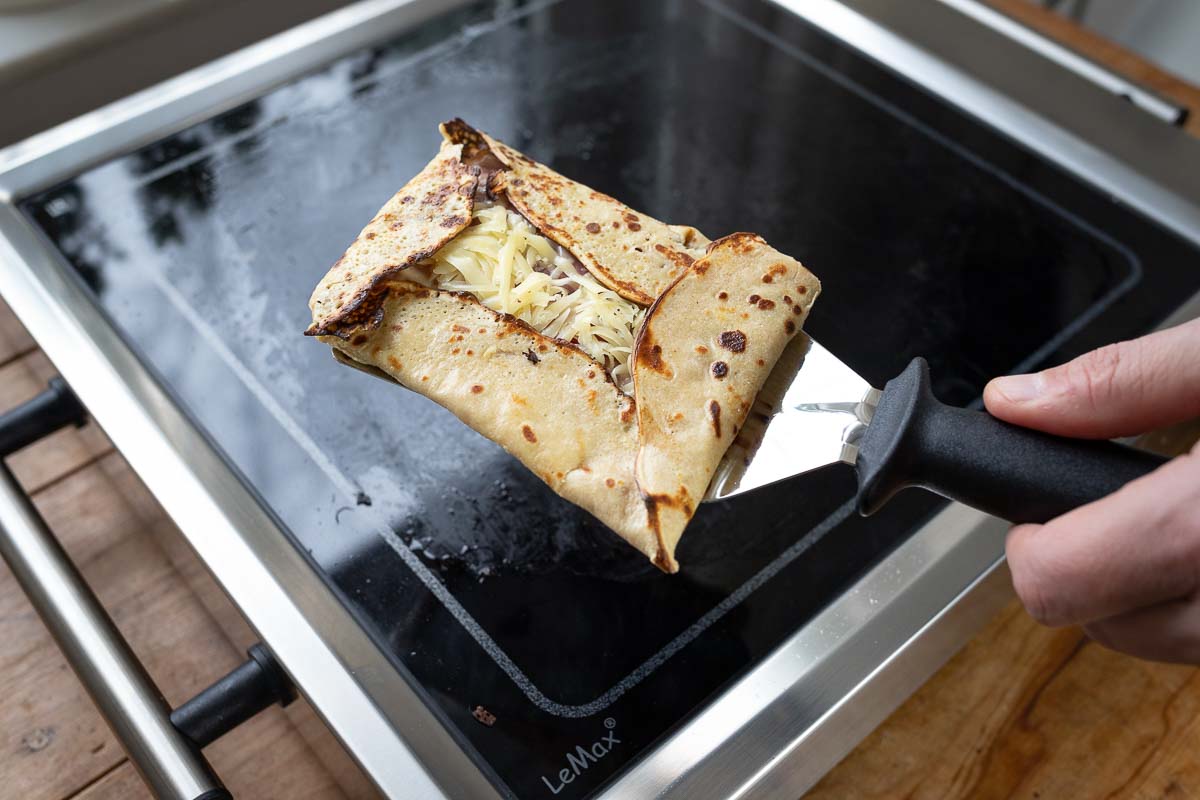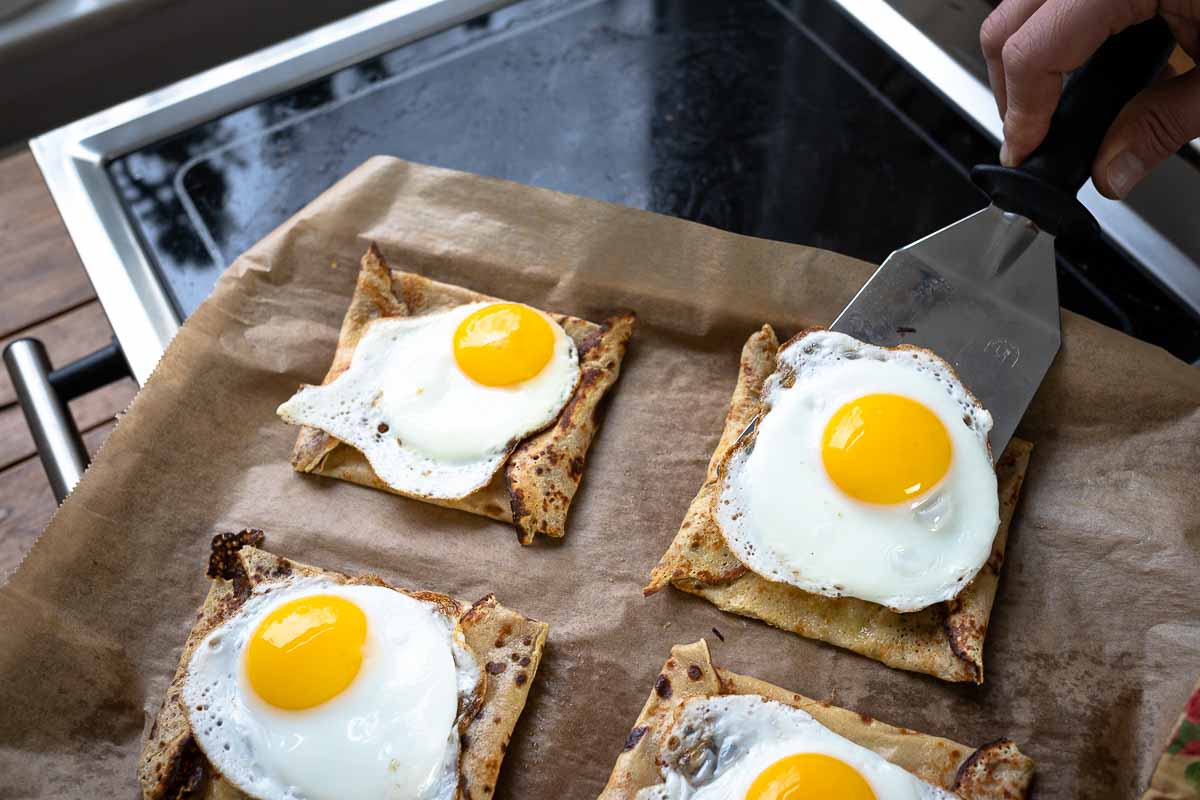 Cooking buckwheat pancakes with LeMax: the basics
Thin French-style pancakes are the ideal thing to cook on the LeMax ceramic grill, as it has a large smooth surface which allows you to space to cook large and small pancakes alike. The most important thing for the perfect pancake is to have the surface fully heated. Then lightly grease the surface, then, working quickly, drizzle the batter in a circle and with the underside of a large spoon, quickly spread the batter in a circle towards the outside, until it reaches 16-17 cm in diameter. This is the perfect size for pancakes with filling, otherwise 14-15 cm is perfectly fine.
When the pancake is ready to be flipped, it will start to pull up along the edges and some pockets of air will start to develop in the middle. Flip the pancake, with large spatula (two is better for larger crepes). Cook the second side till golden. It's that easy and no harder than making small American-style flapjacks!

Filling ideas for savoury pancakes
The beauty of a making savoury pancakes is that you can fill them with a number of tasty combinations. The traditional bretonne galette is it is filled with ham, cheese and gruyere cheese, but there are a number of tasty options. Some ideas:
Baby spinach and feta
Smoked salmon, creme fraiche, squeeze of lemon
A couple thin slices of pear and blue cheese
Sautéed mushrooms and onions, plus a dollop of creme fraiche
A mix of types of cheese
Fried potatoes, ham and cheese
Or simply top with a handful mesclun greens and a drizzle of balsamic creme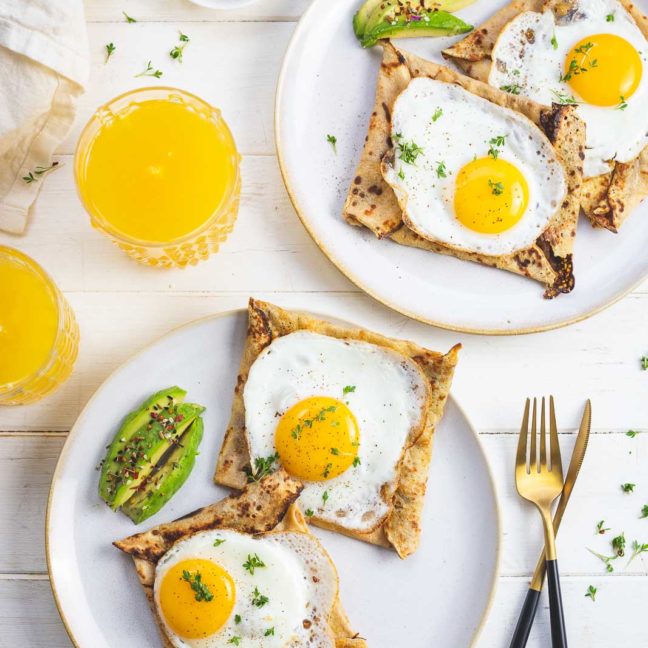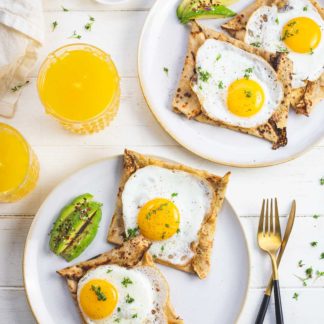 Buckwheat Crêpes with Ham, Cheese and Egg
A simple and delicious recipe for savory buckwheat pancakes (inspired by traditional French galette). Filled with ham and cheese and topped with a fried egg, you can't go wrong!
Ingredients
For the pancake batter:
2

tablespoons

butter

plus more for greasing the cooking surface (30 g)

65

g

buckwheat flour

60

g

flour

½

teaspoon

sea salt

250

ml

organic milk

(reduced-fat)

180

ml

organic buttermilk

3

large eggs
For the filling:
sliced ham

(I like smoked ham or "Landschinken")

80

g

Comté cheese

grated (or other hard cheese such as Gruyere)

1

egg per galette
Method
For the pancake batter:
Melt two tablespoons butter and set aside to cool slightly.

In a mixing bowl, whisk together the flours, salt, milk, buttermilk, butter, and eggs until very smooth and no clumps (otherwise use a handheld mixer or blender). Let the batter sit for at least 1 hour at room temperature.

Important: the batter needs to rest for at least an hour, so that the starches can absorb some of the liquid, so plan accordingly or make the batter and refrigerate it overnight and let it sit at room temperature for at least 30 minutes before preparing the pancakes.
For the galettes:
Preheat the oven to 300°F / 150°C. This is where you'll keep the pancakes warm while you make the others.

Preheat a table grill (or a large, non-stick skillet) to medium-high heat (setting 8 on the LeMax grill) for 5 minutes. To test if it's hot enough, throw a few drops of cold water on the hot surface. The drops should sizzle immediately.

Coat the surface with a small dab of butter (1 teaspoon or so) and use a folded paper towel to wipe away any excess.

In a circular motion, pour 1/4 -1/3 cup (60-80 ml) of the batter onto the hot surface and use the back of a spoon to spread the batter out into an even layer (16-17 cm in diameter). Cook until the edges start to pull away from the pan and the centre starts to "bubble" away from the surface, about 2 minutes. (see video)

Using one or two spatulas, carefully flip and cook the other side until golden brown, about 1 minute. While is is cooking, top the centre of the thin pancake with slices of ham and a small handful of grated cheese. When the other side of the crepe is golden too, fold in the sides and the ends. Transfer to a baking sheet and keep it in the oven to keep warm while you make the others.

If the grill surface starts to get too dry, add another dab of butter.

Continue preparing the rest of the galettes. Once they are done, grease the surface of the grill once again and fry eggs, sunny-side up, until white is no longer translucent and edges have crisped. (3-5 minutes, depending on how you like them).

Top each galettes with a fried egg, serve and enjoy!
Notes
If you prefer to serve pancake on their own, topped with fruit or a sprinkle of sugar, you can also prepare them all in one go. Lay each crepe on a large plate and repeat until you've gone through all of the batter (stacking the crepes on the plate).
I like to do 4 galettes for adults and the rest of the batter as traditional pancakes for kids to enjoy.
For a relaxing atmosphere in the kitchen I recommend my personal Elle Republic: Chilled Out Kitchen Tunes Playlist auf Spotify.
Did you try this recipe?
Then tag @ellerepublic on Instagram and hashtag it #ellerepublic
How did you like it?
Please let me know how this buckwheat bread recipe turned out for you! I would love to hear how you liked it. Simply rate it with the stars above ⭐ or leave me a comment and rate it below.
Did you make any changes to this recipe?
If you have tips for other readers, let me know! It helps me and other readers so much. Sharing is Caring :-).
Many thanks to ELAG Products GmbH for sponsoring this Buckwheat Pancakes with Ham, Cheese and Egg recipe.