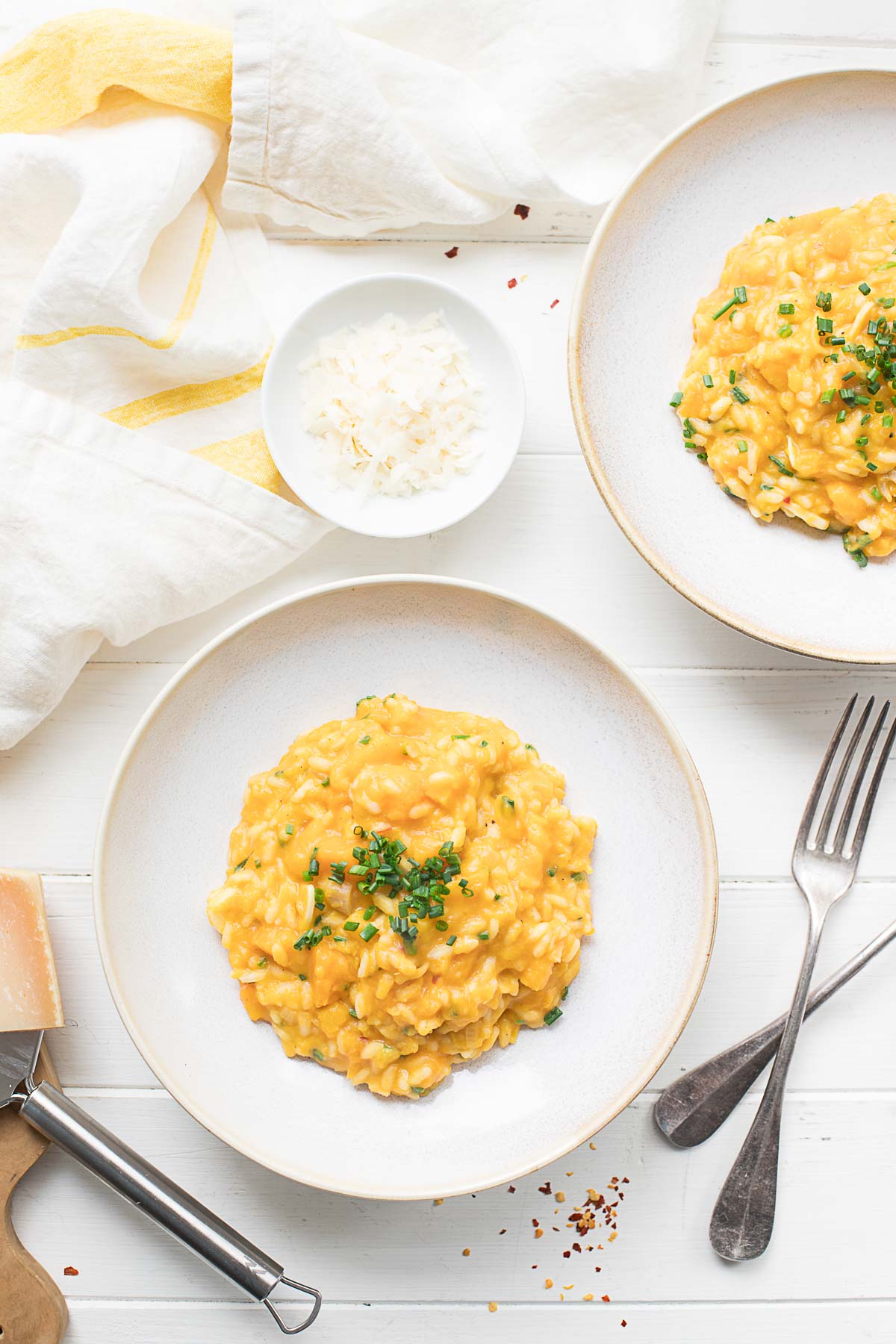 An easy and comforting Butternut Squash Risotto made with fresh ginger, chives and parmesan. This risotto uses easy, seasonal produce that's perfect for Autumn and Winter. It's the perfect way to warm up on chilly nights and can be on the table in about an hour! What makes this butternut squash risotto so special is that the pumpkin is roasted in two different forms—halved and cubed—which adds two levels of texture to the risotto base. Although making a risotto make sound complicated to some, it actually very easy, it just takes a bit of attention (stirring) while the rice slowly absorbs the broth.

Key to a good risotto
Sticking with the classic combination of olive oil, onions, white wine, chicken stock, Arborio rice, butter and Parmesan cheese pretty much guarantees that your risotto will taste spectacular. But there are also a couple other tips along the way:
Briefly cook the rice in oil to lightly toast the grains for a nutty flavour.
The wine should completely evaporate before adding in the stock.
Add the warmed stock in 60-125 ml increments to allow the rice to gradually absorb the liquid.
Constantly stir the rice to release the starches, this thickens the cooking liquid and keeps the granules separate.
Adding a tablespoon of butter at the end along with parmesan cheese adds richness. And fat = flavour.

Tips for making this Butternut Squash Risotto recipe
Use short grain rice such as Arborio oder Carnaroli rice. Most supermarkets should sell arborio rice but if not you can easily find both types online.
Adding a splash of white wine to the recipe gives a good touch acidity to the risotto which helps balance out the sweetness of the butternut squash. Chili flakes (touch of spice) and parmesan (umami richness) also adds balance.
One of the key secrets to making a perfect risotto is patience. That's right! No quick tricks here my friends. So go ahead and use this as an excuse to pour yourself a glass of wine, put on your favourite playlist on Spotify, and just ENJOY the process of making this risotto!
Now if you're wondering, can risotto be reheated? The answer is YES, YES IT CAN! Just reheat a portion in a skillet and enjoy it for another two days!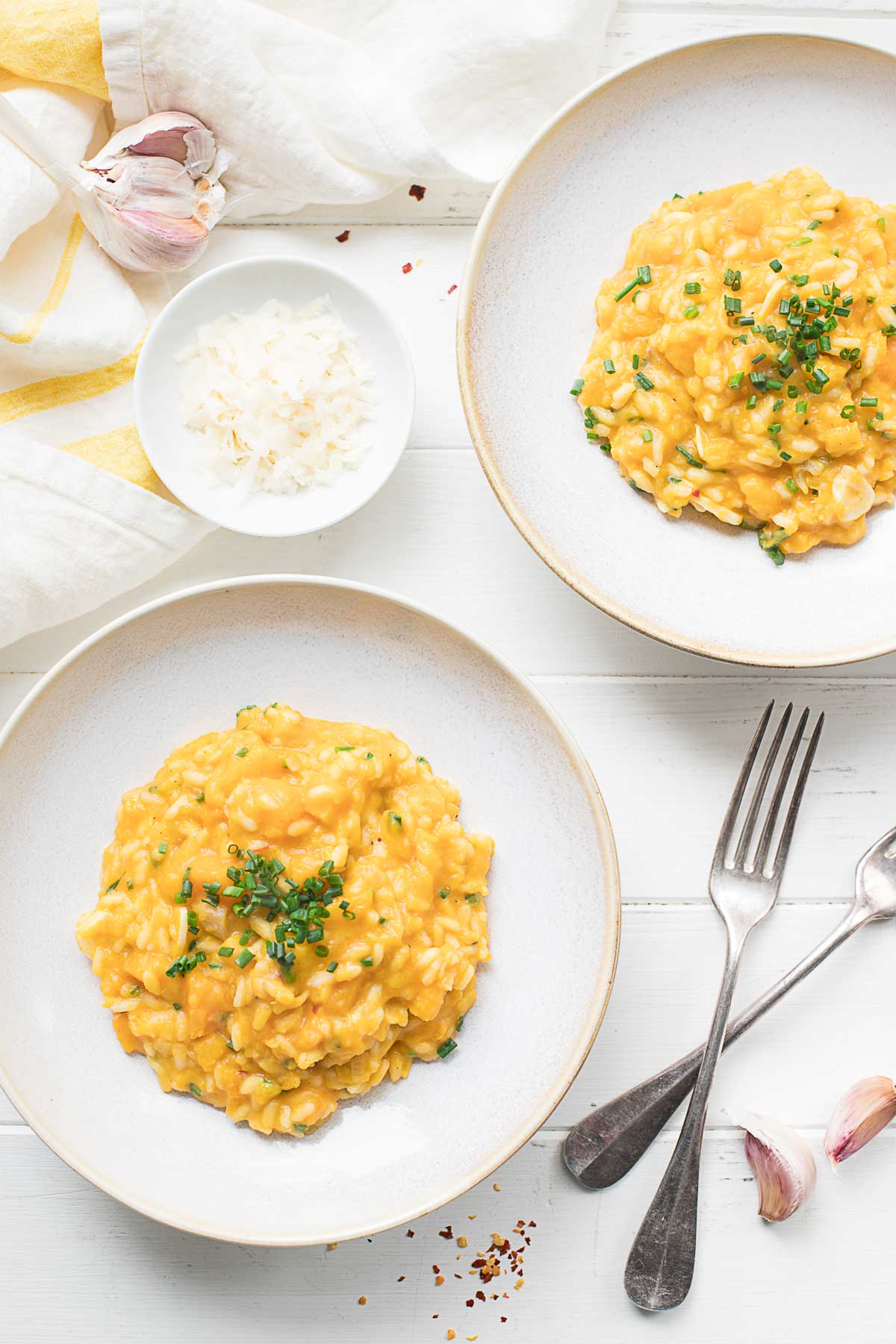 One more tip: Use The Best Ingredients Possible – This goes for EVERY recipe of mine. Use the highest quality ingredients possible because it makes such a difference in flavor and the end result. More is less in my opinion, I'd rather have one beautiful bowl of tasty food than two bowls of something average tasting.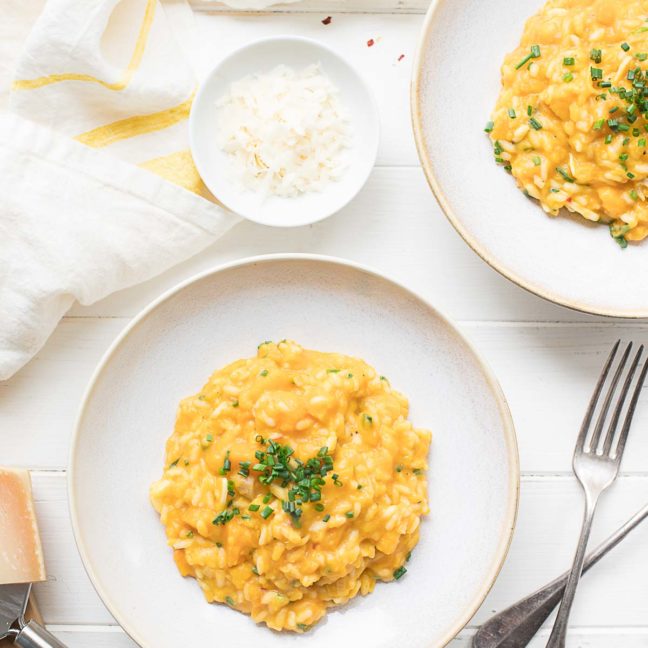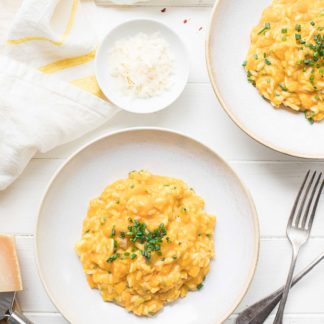 Butternut Squash Risotto
This pumpkin risotto recipe uses two different textures of butternut squash. Taking advantage of both the sweet creaminess of pumpkin as well as firmer chunks. With fresh ginger, a pinch of cinnamon and chili flakes, this risotto recipe has a perfect balance of sweet and savory flavor!
Ingredients
1

medium butternut squash

(about 1,5 kg)

2 1/2

tablespoons

extra-virgin olive oil,

separated

3,5

cups

chicken broth

1/2

cup

water

(plus more if needed)

3

shallots,

finely chopped

4

large garlic clove,

sliced thinly

1

tablespoon

peeled and grated fresh ginger

1

cup

Arborio rice

1/4

teaspoon

cinnamon

pinch

chili flakes

1/2

cup

dry white wine

1

tablespoons

unsalted butter

30

g

freshly grated parmesan

(about 3 tablespoons)

3-4

tablespoons

chopped fresh chives
To garnish:
chopped fresh chives

freshly grated Parmesan
Method
Preheat oven to 450°F / 230°C and line a large baking sheet with parchment paper.

Halve the squash lengthwise and remove the seeds. Peel one half and cut into small 1 cm diced cubes. Transfer to the baking sheet and toss with 1 tablespoon olive oil and season with salt and pepper.

Put the remaining half, cut side down, in a shallow baking dish coated with a little oil with diced squash. Bake the half squash in the top of oven. Bake the cubed squash in middle of oven, stirring diced squash halfway through, until tender and browned lightly, about 20 minutes. Remove and set aside. Check the half squash for doneness. The skin should be lightly browned and flesh firm but not raw. If needed, bake for 5 more minutes. The remaining cooking will take place after adding it to the rice.

Holding the halved squash in a kitchen towel, scoop out flesh (or peel away the skin) and coarsely chop into bite-sized pieces.

Meanwhile, in a saucepan bring the broth and water to a simmer, reduce heat and keep at a very low simmer.

In a large non-stick saucepan (I like to use a wokpfanne) heat the remaining 1 1/2 tablespoons olive oil over medium heat. Add the onion, garlic, and ginger and cook, stirring, until softened. About 5 minutes.

Stir in the rice and cook over medium to medium high heat, stirring constantly, about 1 minute. Add the wine and cook, stirring, until absorbed.

Stir in about 60 ml (1 small ladle full) broth and cook, stirring constantly, and keeping at a simmer throughout, until absorbed. Continue simmering and adding broth, one ladle full at at a time, stirring constantly and letting each addition be absorbed before adding next, until about HALF the broth has been used.

Stir in the squash (both diced and chopped), plus the cinnamon, plus a pinch of chili flakes. Stir and continue simmering and adding broth in same manner as before, until the rice is tender and creamy-looking but still al dente, about 20 minutes. The tender diced pumpkin will become very creamy and incorporate with the rice, whereas the chopped pumpkin will keep it's form.

Finally, stir in the butter, parmesan and chives. Season with salt and pepper, to taste.

Spoon risotto into serving bowls and garnish with chives and parmesan. Serve and enjoy!

It's a good idea to undercook the halved squash initially, letting its final cooking take place after adding it to the rice. This way we have some firmer chunks of pumpkin with the tender creamed pumpkin. The difference in textures makes it more interesting to eat as well as look at.

To save time, I usually start cooking the risotto while the squash is still in the oven. Which when I am quick, gets this on the table in 45 minutes. If you want a more relaxed approach to cooking this dish, then plan for 1 hour and 15 minutes.

Feel free to add a an extra pinch of chili peppers or a drizzle of truffle oil to spiffy it up! Enjoy!
Notes
Make it vegan: Starchy rice accounts for most of this risotto's creaminess, so you can replace the butter with vegan butter and also skip the Parmesan cheese and add some nutritional yeast for cheesy umami-rich flavour.
A note on parmesan: yes, Parmesan Reggiano is not vegetarian but actually there are some great animal rennet-free parmesan on the market. Check your local organic food store.
Did you try this recipe?
Then tag @ellerepublic on Instagram and hashtag it #ellerepublic
How did you like it?
Please let me know how this Butternut Squash Risotto recipe turned out for you! I would love to hear how you liked it. Simply rate it with the stars above ⭐or leave me a comment and rate it below.
Did you make any changes to this recipe?
If you have tips for other readers, let me know! It helps me and other readers so much. Sharing is Caring :-).
This post contains affiliate links. If you decide to make a purchase through my link, Amazon will pay me a commission for it. This doesn't cost you anything additional and the price remains the same. More about advertisements on Elle Republic.