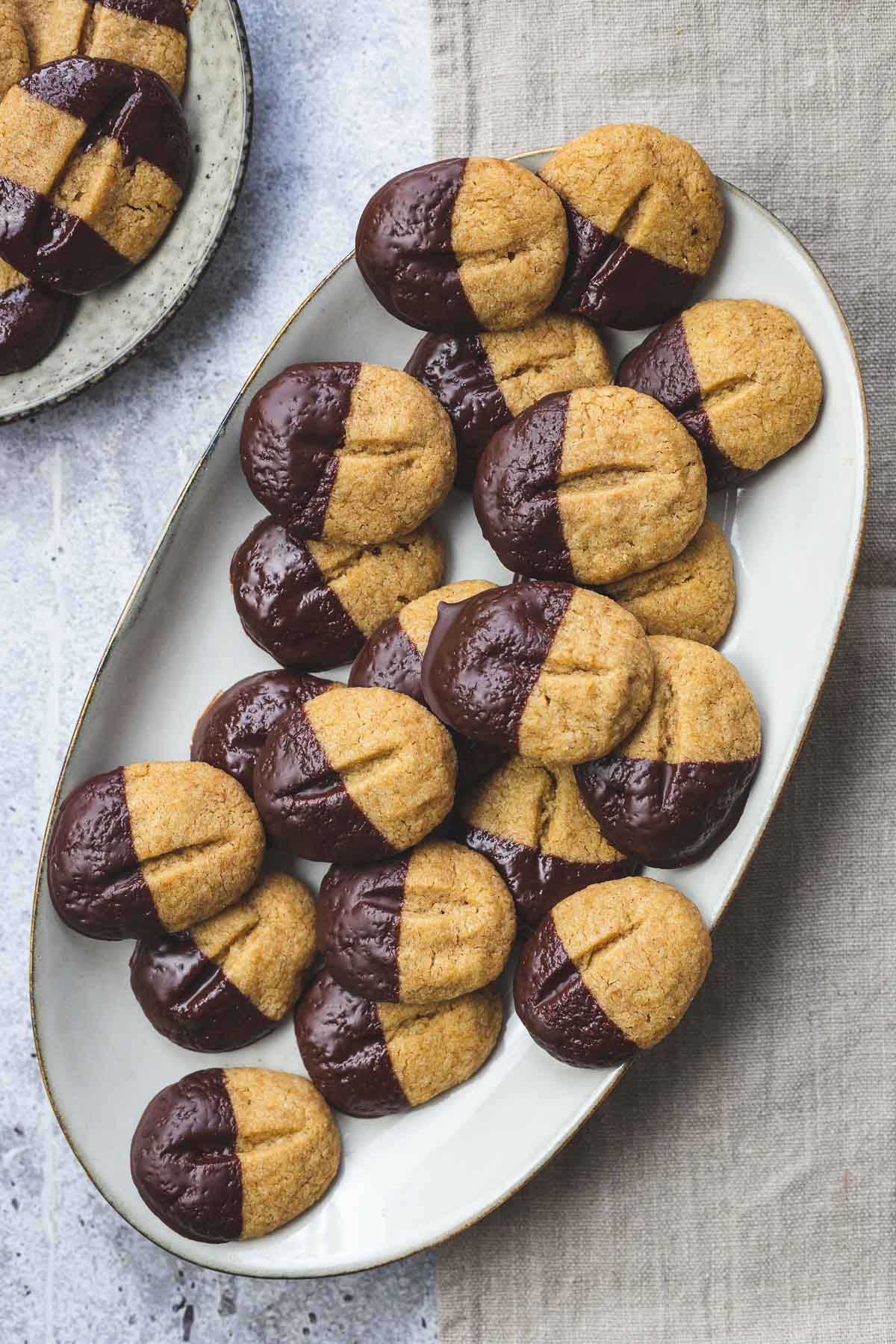 It just isn't Christmas without Cappuccino Shortbread. That's what my family would say. These delicious cookies make an appearance every year without fail. Okay, shortbread, what's not to love? Add a little coffee flavor and chocolate…yum!
This Canadian favorite was originally invented by a fellow Vancouverite, a caterer named Jane Bailey. It was brought to fame by former food editor for the Vancouver Sun who then republished it in the newspapers cookbook. And in my family, this has been has been baked ritually every year around Christmas time for decades. One that get passed along again and again.
The original recipe is pretty simple. Butter, sugar, flour, cornstarch, vanilla and finely ground instant coffee. My version uses caffeine free instant barley coffee, natural beet sugar and arrowroot powder (my go-to starch of choice). I also choose to chill the dough prior to forming it into cookies, as this reduces some of the spread. If your butter gets too soft, or you beat it with the sugar too long, you'll experience a little extra spread. But happily no sacrifice on flavor!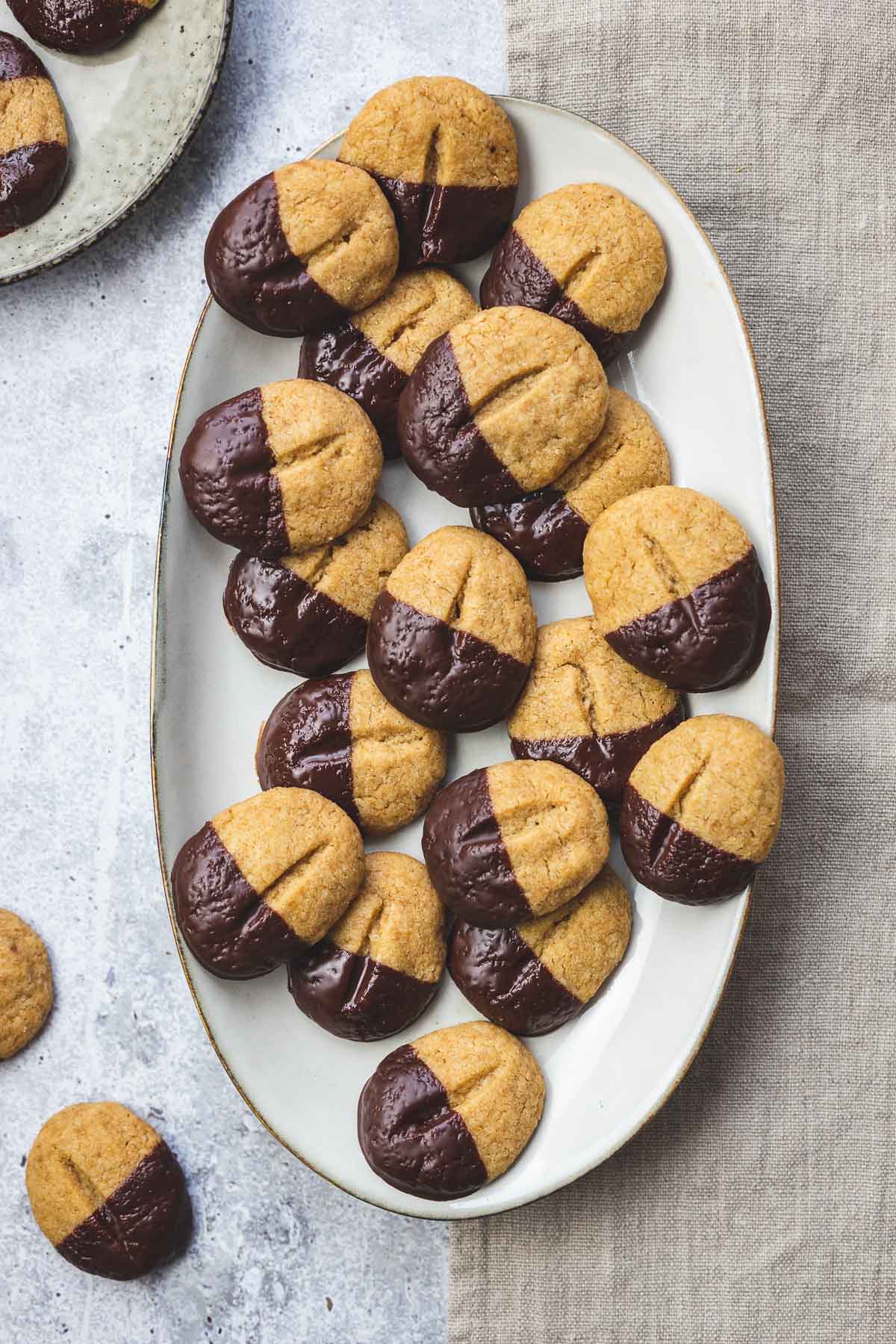 Vacation in Canada
So even if I won't make it back to my home country for Christmas this year, I can enjoy something that reminds me of them. And well, unless you are headed to the mountains for a little snow and skiing, I think summer is when you want to enjoy all that Canada has to offer. Nature galore!! So if you are interested in planning a vacation to Canada in the new year, here is great source for more information:

You'll need an Electronic Travel Authorization (ETA) which as of March 15th 2016 is required for EU foreign nationals (as well as a number of other countries) prior to travelling to Canada. Definitely information we all need prior to planning a trip! Especially when planning one without the help of a travel agent. Good thing is that it's tied your passport and valid for 5 years (unless of course your passport expires beforehand). A big thank you to VisumAntrag.de for enlightening me on this. On their website you will also find information on other country travel requirements. Something that makes planning ahead a lot easier without the risk of an expected surprise as you are about to take off!
Happy planning and I hope you enjoy these cookies!
Looking for other family cookie recipes?
Then try …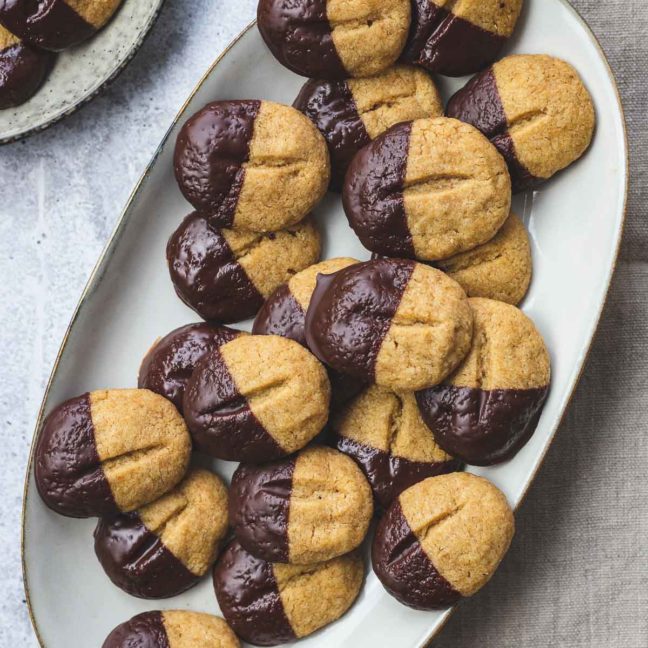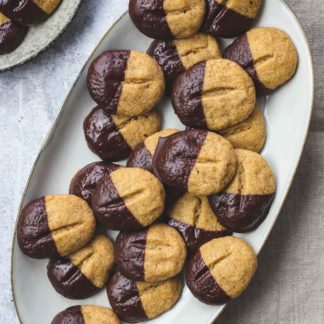 Cappuccino Shortbread with Dark Chocolate
A family favorite Canadian recipe for chocolate dipped cappuccino shortbread. Simple and delicious!
Ingredients
1

cup

butter,

at room temperature

1/2

cup

fine sugar,

I use beet sugar

1/8

teaspoon

vanilla powder

4

teaspoons

barley coffee

(or instant coffee, finely ground)

1 3/4

cups

all-purpose flour

1/4

cup

arrowroot powder

(or other starch of choice)

150

g

dark chocolate,

melted
Method
In a large bowl, cream the butter and sugar together (max. 1 minute). Beat in instant coffee and vanilla.

In a second bowl, sift together the flour and arrowroot powder. Add it to the butter mixture and mix together using your hands. Continue kneading it together until it forms a dough. (the mixture is quite dry at first and takes a few minutes to knead into a ball).

Mould the dough into a ball, cover with plastic wrap and refrigerate for 1 hour (or overnight).

Preheat the oven to 325°F / 165°C and line a baking sheet with parchment paper.

Mould the dough into the shape of coffee beans, using 2 teaspoons dough for each cookie.

Using the back of a knife, press a slight indent, lengthwise, across the top of each cookie (not too deep, otherwise the cookies will spread too much).

Transfer the cookies to the prepared baking sheet and bake in the preheated oven for 15 minutes. Remove and slide the parchment paper onto wire racks to cool the cookies.

Meanwhile, melt the chocolate in a double boiler. Dip one end of the cookies in the chocolate. Place on plates lined with parchment paper and refrigerate.

Once chocolate has hardened, serve and enjoy!
Notes
Be sure not to cream the butter too long as this will fill it with air bubbles which can result in the shortbread spreading too much while baking. It should be smooth, rather than fluffy.
I bake the cookies one batch at a time in the middle of the oven as this produces best results. Otherwise, it is important to rotate and switch places of the baking sheets to ensure two sheets of cookies bake evenly.
For a relaxing atmosphere in the kitchen I recommend my personal Elle Republic: Chilled Out Kitchen Tunes Playlist auf Spotify.
Did you try this recipe?
Then tag @ellerepublic on Instagram and hashtag it #ellerepublic
How did you like it?
Please let me know how this buckwheat bread recipe turned out for you! I would love to hear how you liked it. Simply rate it with the stars above ⭐ or leave me a comment and rate it below.
Did you make any changes to this recipe?
If you have tips for other readers, let me know! It helps me and other readers so much. Sharing is Caring :-).
Advertisement
Many thanks to Digital Visa Systems B.V. for sponsoring this Cappuccino Shortbread recipe.