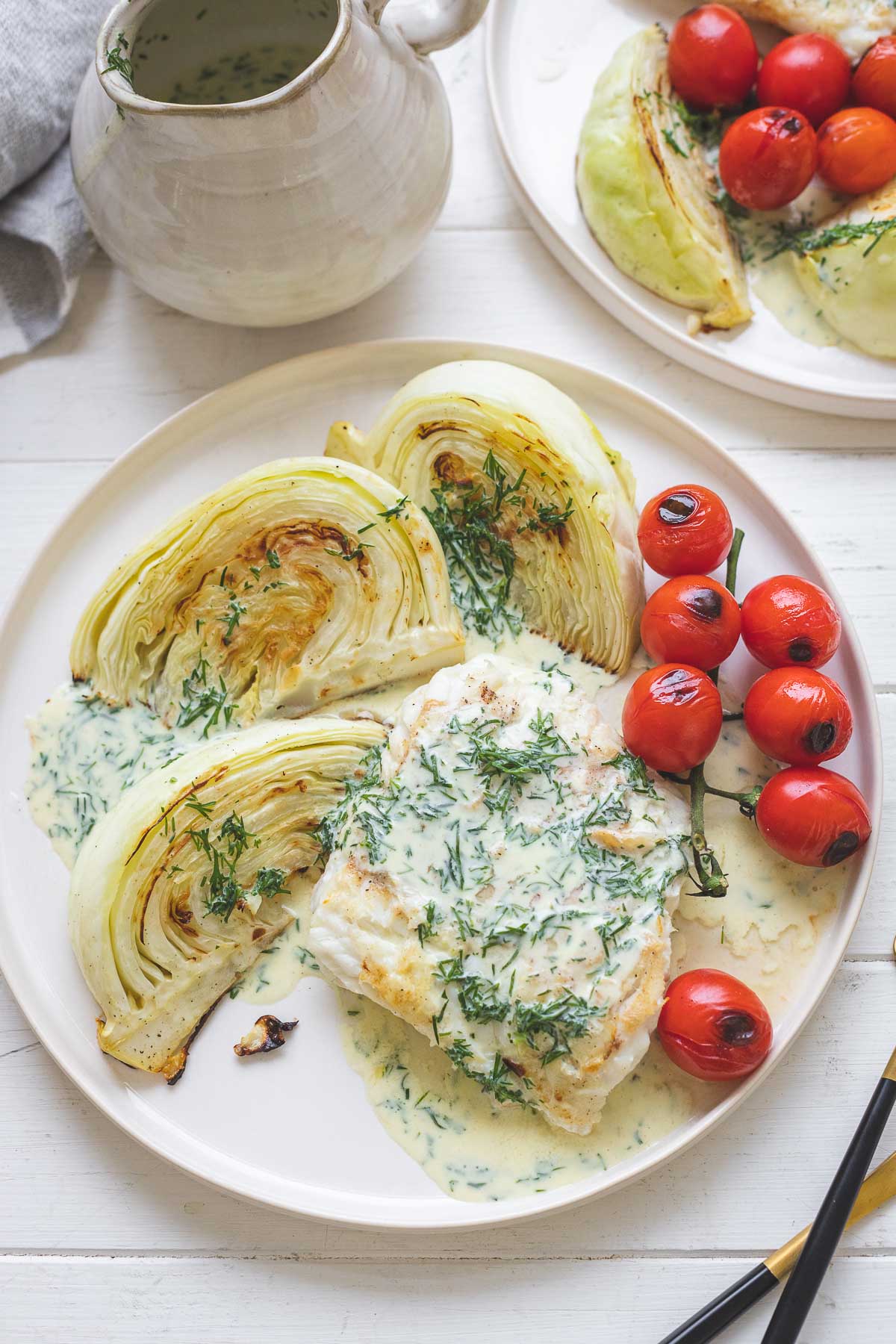 This grilled ling fish recipe has to be one of the easiest and quickest ways to prepare a delicious tasting meal in less than 30 minutes. Ling fillets are grilled to perfection on a glass-ceramic grill in mere minutes, along with wedges of winter cabbage and sweet vine-ripened cherry tomatoes. Together the fish and cabbage are topped with my absolute favorite sauce for fish — a buttermilk, Dijon mustard, dill sauce. And it is spectacular. Trust me!
What does ling fish taste like?
If you aren't already familiar with ling fish, well, I can tell you this is the fish to try, even if you aren't a big fan of fish. Let's just call it "chicken of the sea". Ling's flesh is firm, tender and moist, with large flakes and it has a mild, pure flavor. It's neutral flavor is similar to cod, and the flesh firm and flaky like that of lobster. Because of this, it is one I like to make for kids, plus it is nearly boneless and holds it shape well, making to great for pan frying, steaming or grilling.

Grilling ling fillet with LeMax
This was the perfect fish to put to the test with my LeMax glass-ceramic grill. Using a glass grill means you don't need a lot of fat, which with pan fried fish is often the case. The surface is practically non-stick which means very little fat is needed when cooking. And if you are preparing a fatty fish, like salmon, you could actually do without! For this recipe, I simply brushed both sides of the fish lightly with olive oil, seasoned them with salt and pepper and then added them to the LeMax grill which was also only lightly brushed with cooking oil.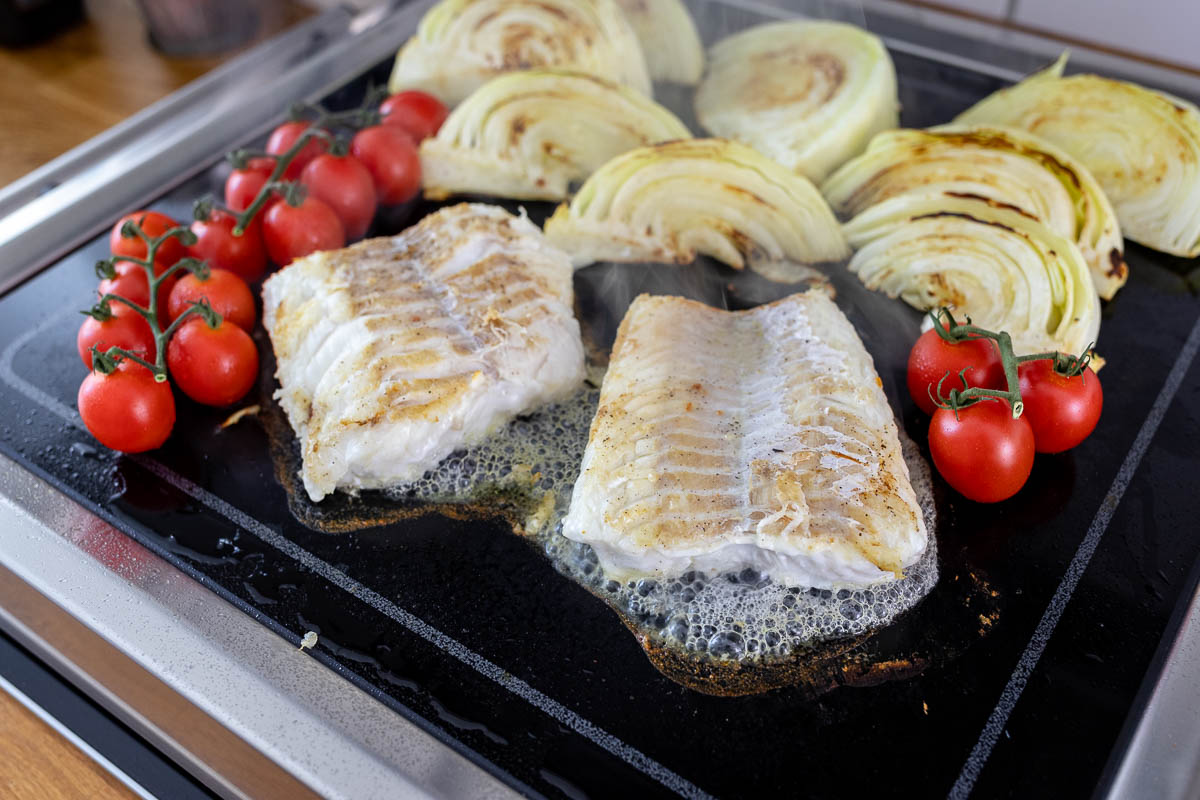 Benefits of using a glass-ceramic grill
The benefit of using the LeMax for grilling fish isn't only the reduction of fat, but its large surface allows you to prepare a complete meal in one go. Whether you want to prepare a meal for two or four. It's easy to grill 4 fish fillets as well as vegetable sides on it's spacious surface. What's great is, that the sides of the grill can be used to keep the vegetables warm as you prepare the rest of the meal. Meaning, you could grill the cabbage first, move to to the sides to keep warm while you cook 4 or 6 fish fillets.
Or, if you are cooking for a crowd, you can easily prepare the side dishes in the oven or on the stove and use the LeMax grill to prepare enough fish fillets to feed the whole crowd in one go! It only takes 3-4 minutes per side and tastes like a restaurant quality masterpiece!

Grills aren't just for fish or meat, try grilling cabbage too!
Ever try grilled cabbage? Well it's time you did! Grilled cabbage tastes great on its own or as a side dish. You can grill it in wedges or as "steaks", and enjoy it warm or at room temperature.
A small cabbage works best here: it makes the right sized wedges serving as a side.
Slice the wedges so the root stays intact. This is important! You'll want the cabbage to stay together on the grill, so don't cut off the root. Grill until tender and lightly charred, about 6 minutes per side.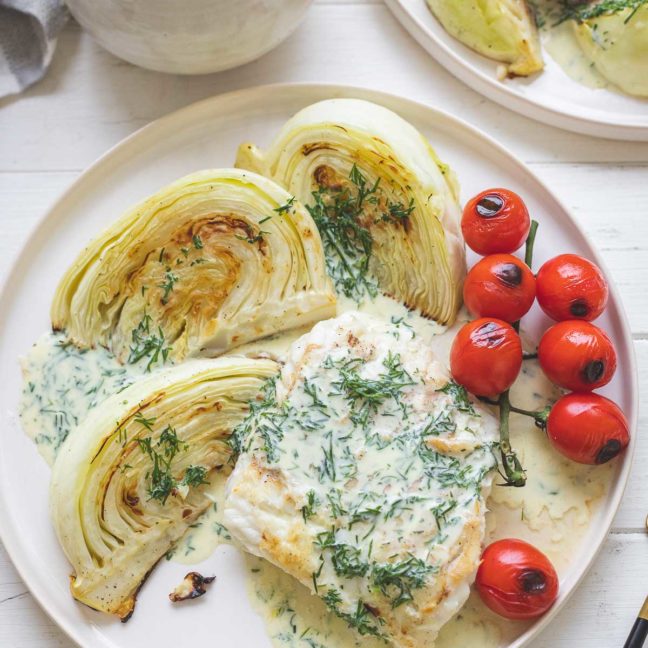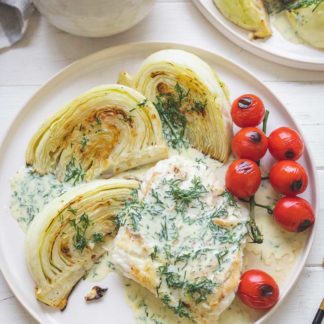 Grilled Ling Fish & Cabbage with a Buttermilk-Dill-Sauce
Ling filet together with grilled cabbage and and buttermilk-dill-sauce is a delicious meal that only takes minutes to prepare.
Ingredients
For the fish and vegetables:
1

small green cabbage

2

ling fish fillets (à 200 g)

(or other firm white fish fillet)

200

g

vine cherry tomatoes

1

tablespoon

extra-virgin olive oil

sea salt and fresh ground pepper,

to taste

heat resistant oil,

for the grill
For the buttermilk dressing:
100

ml

organic buttermilk

1

tablespoon

Dijon mustard

1

tablespoon

unseasoned rice wine vinegar

(Japanese)

4

tablespoons

extra-virgin olive oil

1/2

small bunch fresh dill,

chopped (3 tablespoons)
Method
Remove the fish from the refrigerator at let come to room temperature for 15 minutes (up to 30 minutes). This helps ensure even cooking. Brush each side of fish fillets lightly with oil and season with salt and pepper. Set aside.

Meanwhile, remove any loose, tough outer leaves from the cabbage, and cut into 8 evenly sized wedges, leaving the stem in tact. Do not remove the stalk or inner core. Lightly brush the wedges with oil and season with salt and pepper.

To prepare the dressing, in a small bowl or serving carafe, add the buttermilk, mustard, vinegar, oil and dill and whisk together until well combined. Set aside.

Preheat a table grill (or a large, non-stick skillet) to medium-high heat (setting 10 on the LeMax grill. Once hot, reduce heat to setting 9). Brush the grill lightly with heat resistant oil.

Place the cabbage wedges on the grill and grill until the edges of each layer are lightly browned and the cabbage is beginning to soften, about 6 minutes per side. The cabbage is ready when it is beginning to wilt, but is still firm in the middle. (I prefer mine fairly crisp still, cook longer if you may prefer it more well-done.)

After flipping the cabbage to cook the other side, place the fish fillets and the cherry tomatoes on the grill. Cook the fish for 3 minutes per side, until easily flakes with a fork.(cooking time will depend on the thickness of the fillets).

Transfer the fish, cabbage wedges and cherry tomatoes to serving plates. Drizzle the dressing over the fish and the wedges and serve immediately. Enjoy!
Notes
Depending on how soft you like your cabbage, you could cook both longer. If you like the tomatoes very soft, then add then shortly after placing the cabbage on the grill. Once they have reached the desired softness, then can be moved to the outer edges of the LeMax grill to be kept warm.
Did you try this recipe?
Then tag @ellerepublic on Instagram and hashtag it #ellerepublic
How did you like it?
Please let me know how this Grilled Ling Fillet & Cabbage with a Buttermilk-Dill-Sauce recipe turned out for you! I would love to hear how you liked it. Simply rate it with the stars above ⭐ or leave me a comment and rate it below.
Did you make any changes to this recipe?
If you have tips for other readers, let me know! It helps me and other readers so much. Sharing is Caring :-).
This post contains affiliate links. If you decide to make a purchase through my link, Amazon will pay me a commission for it. This doesn't cost you anything additional and the price remains the same. More about advertisements on Elle Republic.
Advertisement
Many thanks to ELAG Products GmbH for sponsoring this Grilled Steak Salad with Balsamic Glaze recipe.