Healthy, flavorful, filling and fast! There's so much good going on here with this simple chickpea salad. The carrots and zucchini get julienned into little matchsticks, then tossed with freshly podded green peas, sun-dried tomatoes, toasted seeds and a simple roasted sesame oil dressing (oh yeah… and a little garlic – cause I think everything tastes better with a little garlic). I'd would say that with less than 30 minutes, you could call this a blitz recipe! And one that happily satisfies anyone following a vegetarian, vegan or gluten-free diet.
Julienned vegetables made easy with the right tools
What I really love about using julienned carrots and zucchini in a salad like this is the impact it has on the taste. Texture contributes to taste, which means shape and size also influence the way your taste buds perceive food. I'm not a fan of carrots, but julienned – bring them on! And actually it's less work than you can imagine. You can use a mandoline, which is the quickest way to get thin even slices.
If you don't have a julienne attachment, you can also use your mandoline to produce ultrathin slices which can be stacked up and cut into skinny matchsticks. Though, razer sharp as it is, that thing scares me, even with the handguard! So for the less brave, a julienne peeler is also a great option. It's easy enough to use and you get a similar effect by cutting those long skinny strands into matchsticks. If you don't have either of these handy kitchen tools, then a good sharp knife, a little patience and extra time is all you need.
When time allows use dried chickpeas over canned
For this recipe I use organic canned chickpeas but if you have the foresight and time allows feel free to use dried chickpeas. First the chickpeas need to be soaked. I do this overnight in a bowl, covered with twice as much water. The next day I rinse and drain them and transfer them to a saucepan, cover with twice the amount of water and a lid. Next, bring them to a boil, remove the lid, and lower the heat and let simmer for about an 1 hour. Test to see if tender, cooking time may vary. Drain and allow to cool. Voila!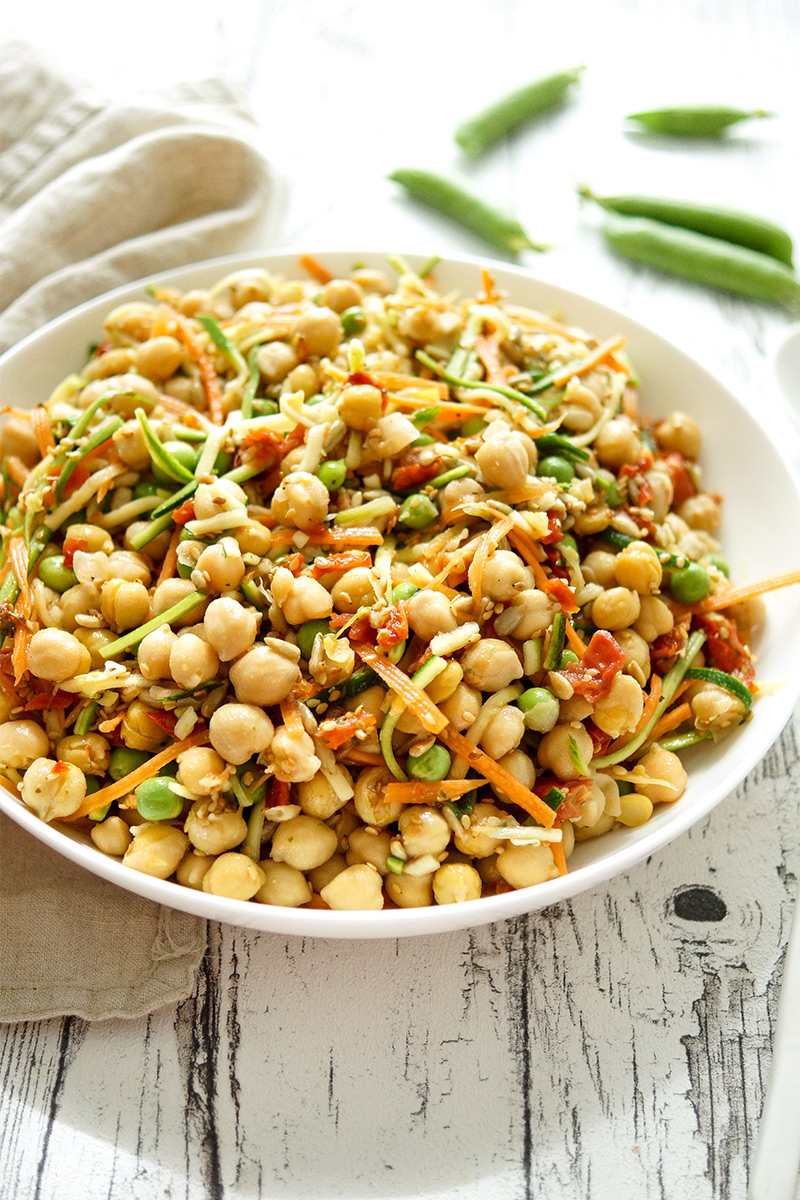 A healthy, flavorful, filling and fast chickpea salad recipe
This would be the perfect weeknight meal when you don't have a lot of time but want something healthy and satisfying. This recipe takes less than 30 minutes to prepare, which makes getting a healthy meal on table a whiz. With all those chickpeas you would expect this is enough to serve 4, but actually we devoured it as a weekend lunch for two. So if you are serving four, then plan this is an side dish along with the rest of the meal. This salad also stands up well to the test of time, so feel free to prepare it ahead or bring leftovers for lunch the next day.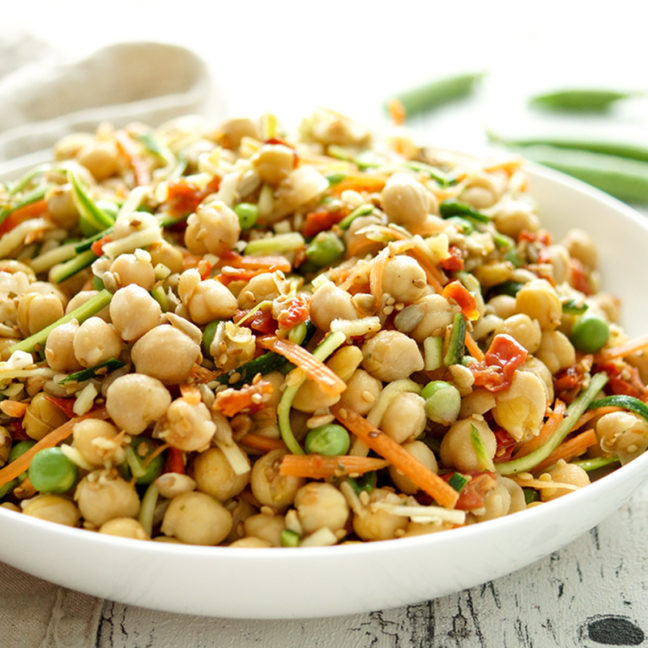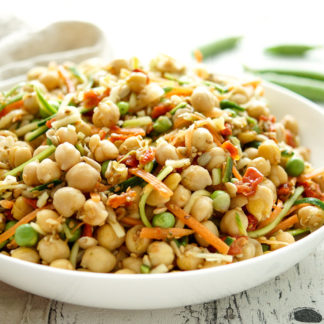 Chickpea Salad with Zucchini and Carrot
An easy recipe for a flavorful and healthy chickpea salad with fresh vegetables, sun-dried tomatoes and aromatic seeds tossed in a roasted sesame oil dressing. Naturally vegan, vegetarian and gluten-free.
Ingredients
2

x 400 g can

organic chickpeas,

drained and rinsed

1

small to medium carrot,

julienned (cut into matchsticks)

1

small zucchini julienned,

cut into matchsticks

7-8

packed in oil sun-dried tomato halves,

drained and finely chopped (40 g)

200

g

fresh peas,

in the pod, shelled

2

cloves

garlic,

minced

3

tablespoons

roasted sesame oil

1 1/2

tablespoons

good-quality red wine vinegar

2

tablespoons

sunflower seeds,

light toasted

2

tablespoons

sesame seeds,

lightly toasted

Sea salt and freshly ground pepper,

to taste
Method
In a salad serving bowl, add the chickpeas, carrot, zucchini, sun-dried tomatoes, fresh peas and garlic. Drizzle with the roasted sesame oil and vinegar. Toss to combine. Add the toasted seeds and toss again. Season with salt and pepper. Taste and adjust seasoning accordingly.

Enjoy!
Notes
I use a heavy bottomed skillet to toast the seeds. No oil is needed, just a hot dry skillet. Lightly toast the sunflower seeds and sesame seeds over medium heat until aromatic and golden. Play close attention and shake the skillet frequently for even browning. Remove the seeds from the skillet immediately so they do not continue to brown.
If you aren't following a vegan diet, this salad is also tasty with the addition of mini mozzarella balls. Leave them whole or chop them up.
I say there is no substitute for fresh peas right out of the pod. So if you can't get them, I suggest skipping them or try substituting them with sliced sugar snap peas.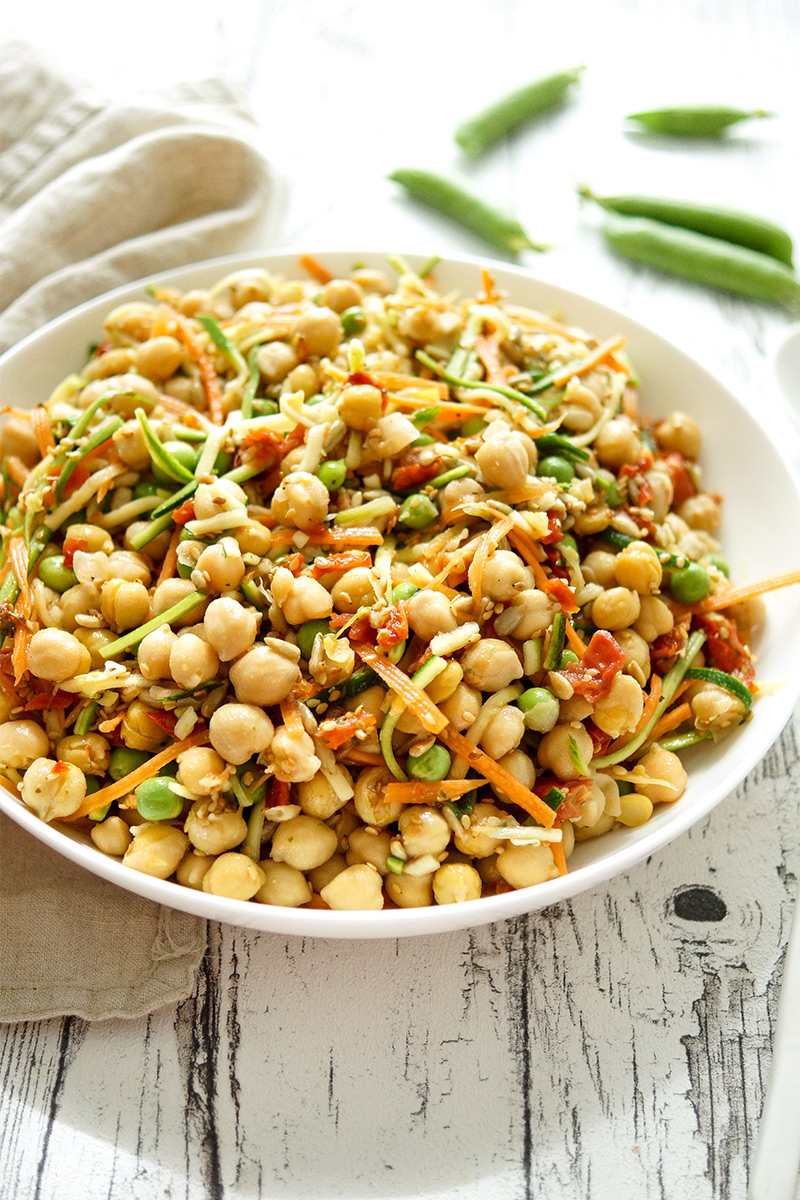 Ein gesunder, aromatischer und reichhaltiger veganer Kichererbsensalat
Wenn Ihr unter der Woche mal wenig Zeit habt und trotzdem gesund und reichhaltig essen wollt, ist dieses Rezept genau das Richtige. Ihr braucht wie gesagt weniger als 30 Minuten und selbst der liebste Schwabe war begeistert als ich ihm den Kichererbsensalat vorgesetzt habe. Mit der Menge an Kichererbsen habt Ihr eigentlich genug für 4 Portionen. Uns hat er allerdings so gut geschmeckt, dass wir die gesamte Menge zu Zweit gegessen haben. Und wenn doch etwas übrig bleibt, könnt Ihr den Salat auch noch gut am nächsten Tag essen.