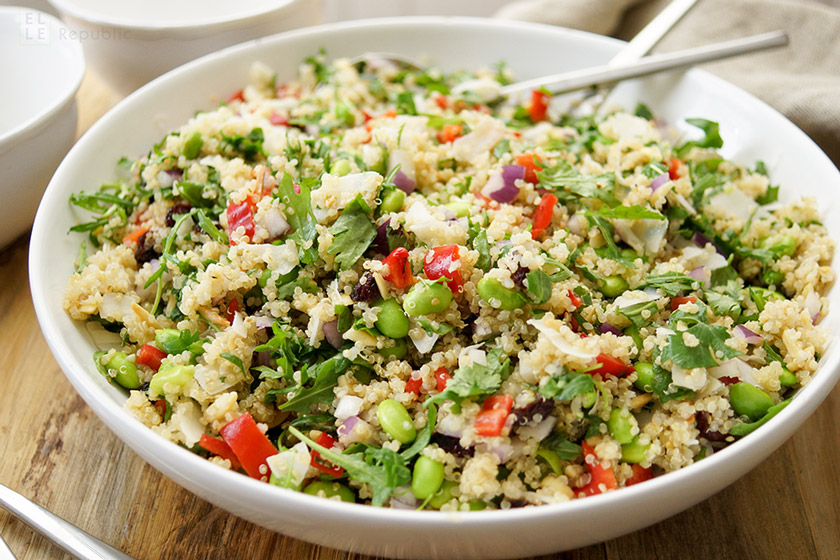 Here's the Coconut Edamame Quinoa Salad low down: we've got quinoa, a whole load of edamame, a wicked amount of unsweetened coconut flakes, plus cilantro, red onion, sweet red pepper, dried cranberries, crunchy toasted almonds and a couple generous handfuls of greens. Toss that all up with a tasty dressing with plenty of salt and pepper and you've got the perfect all-in-one salad. One packed with pure goodness and lots of textures, flavors and colors!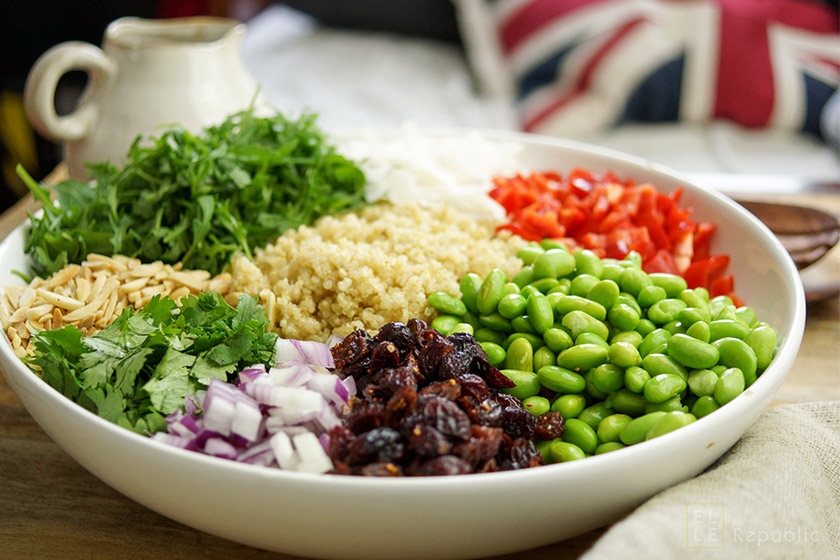 Quinoa is one of my go-to grains. It's a nutrient-dense, complete protein making it perfect for a vegetarian diet (plus it's gluten-free!) Plus it has the amazing ability to fill you up so you can serve up a salad as a vegetarian main meal. Extra bonus: it's delicious slightly nutty flavor goes with absolutely everything.
Ever since I discovered frozen SHELLED edamame, I've developed a thing about putting them in salads. They are kind of like peas, but not really. Okay, they are green but the taste WAY better. I think. My favorite Schwabe didn't quite realize the difference. He even steamed like for the kids as he does peas. Did they notice? Sort of. The shape is a little different. And anything served with spätzle and a brown sauce tastes great to them. Add schnitzel, and they worship you forever.
So what was on the menu? Healthy totally in-to-it Coconut Edamame Quinoa Salad for the "grown-ups" and well… you guessed it for the kids.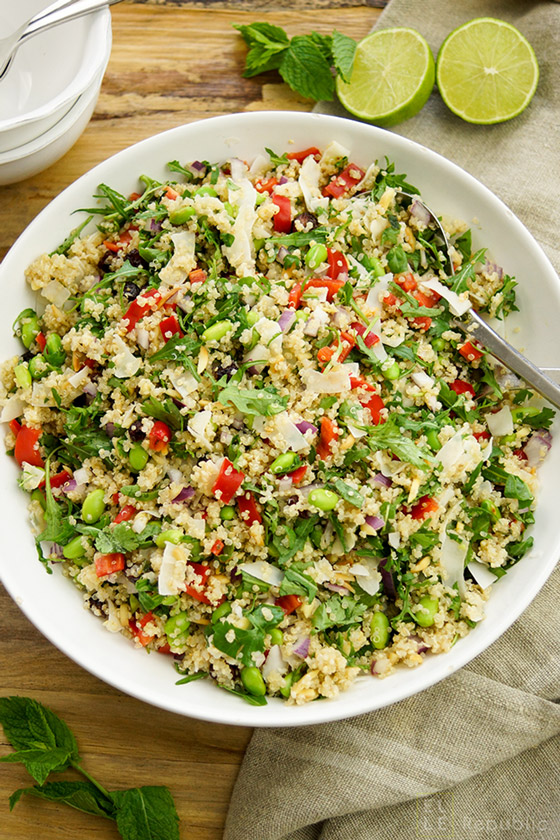 Does Quinoa Need to Be Rinsed?
To rinse or not to rinse? Rinsing the quinoa gets rid it's natural coating, called saponin. I don't do this with the brands of organic white quinoa I use since they are polished or pre-washed. Though, it is said that some people are more sensitive to the taste than others… reason enough to give it a good rinse!
Variations: If you are looking for more tastes of summer and are a fan of fruit, feel free to add orange segments to this edamame quinoa salad or bring in some tropical flavors with chopped mango. Fresh blanched or frozen fava beans, double-shelled (also called broad beans) are also a great alternative to edamame. This is a good choice if you want to choose a local green vegetable over an import. Often frozen edamame is coming from China, Thailand, or somewhere else in East Asia. That's not necessarily bad thing in terms of quality, but it does mean they had to travel an awful long way to reach your table — which has economic and environmental consequences. And when it comes to soy products, keep in mind that more than 90% of soy crops in the U.S. are genetically engineered. So read your labels and buy organic!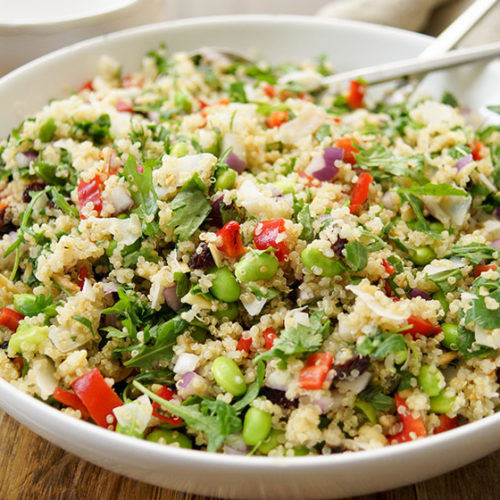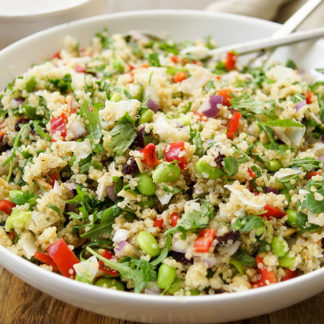 Coconut Edamame Quinoa Salad
A low-fat, healthy and nutritious recipe that makes for a perfect vegetarian meal. It's also a perfect dinner-to-lunch recipe; leftovers make for a great packed lunch for the office. 4-6 servings.
Ingredients
For the salad:
1

cup

uncooked quinoa

(200 g), rinsed

1 1/2

cups

frozen shelled edamame

(young soybeans), thawed (200 g)*

1

sweet pointed red pepper,

diced

1

medium red onion,

diced

1

small bunch cilantro,

chopped

1

cup

unsweetened coconut flakes,

(50 g)

1/2

cup

slivered almonds,

lightly toasted (50 g)

1/2

cup

organic dried cranberries,

(50 g) coarsely chopped

2-3

handfuls baby spinach or arugula,

roughly chopped
For the dressing:
3

tablespoons

unseasoned rice wine vinegar

(Japanese)

2

tablespoons

freshly squeezed lime juice

2

tablespoons

extra-virgin olive oil

1

tablespoon

honey

1/2

teaspoon

Dijon mustard

1

tablespoon

chopped fresh mint

1/4

teaspoon

sea salt

freshly ground black pepper,

to taste
Method
To cook the quinoa, rinse the uncooked quinoa in a fine mesh strainer. Place in a medium saucepan and cover with 2 cups (500 ml) water.

Bring to a low boil, then reduce heat to low, cover and simmer until most of the liquid has been absorbed and the quinoa is light and fluffy, about 15 minutes. Remove from heat, fluff with a fork, and then place lid back on to steam for another 4-5 minutes. Transfer the quinoa to a large serving bowl to fully cool.

One the quinoa is fully cool, fluff with a fork. Add all other salad ingredients, pour over dressing and toss to combine. Serve at room temperature or chilled. Enjoy!
Notes
Fresh fava beans (or even fresh peas) make a great alternative to edamame.
Did you try this recipe?
Then tag @ellerepublic on Instagram and hashtag it #ellerepublic
How did you like it?
Please let me know how this buckwheat bread recipe turned out for you! I would love to hear how you liked it. Simply rate it with the stars above ⭐or leave me a comment and rate it below.
Did you make any changes to this recipe?
If you have tips for other readers, let me know! It helps me and other readers so much. Sharing is Caring :-).