This new potato salad with green beans and cherry tomatoes has seriously got it going on. All the textures and colors – together it's one ENORMOUS flavor party! It's almost impossible to imagine how just a handful of ingredients can wake up your mouth and make your tongue sing with utter glee!
As you know, I love my weekly visits to the farmers market. Especially during the summer months when there is such an amazing assortment of fresh and flavorful foods. Just looking at the sea of stalls along the Isemarkt almost drives me to take a week of vacation so I cook even more! It's almost impossible to imagine enjoying everything there is to offer in such a short season. Or maybe it's just that I forget (took for granted) how lucky I am to have Europe's largest open-air market just steps away.
During my last visit, I picked up some cute little red-skinned new potatoes. I love new potatoes. Since we only see them in summer, it about the only time I eat potatoes. The rest of the year is all about sweet potatoes for me. Although some supermarkets stock new potatoes, you are best to buy them at the farmers market since the freshness is incomparable, plus you'll have a chance to pick from a number of delicious heirloom varieties. With their sweeter less starchy taste and texture, they are a summer favourite for me. Plus their thin and delicate skin makes it so easy to prepare a perfect new potato salad. No peeling!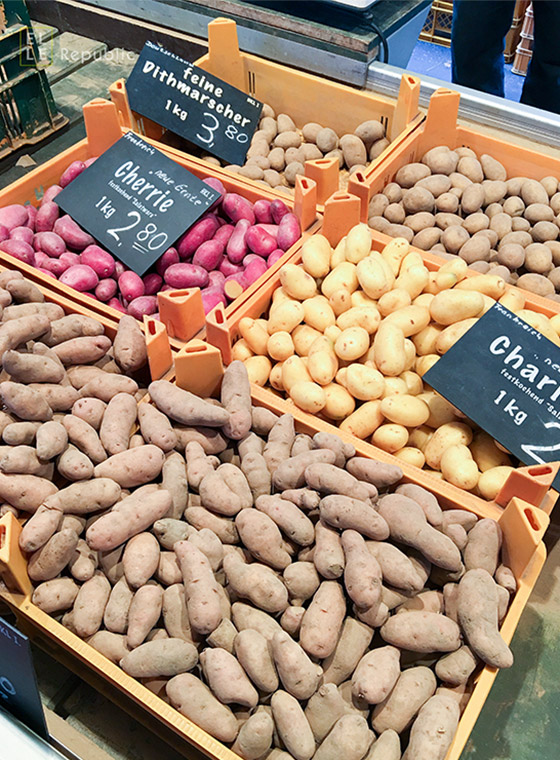 So I said I pretty much stick to new potatoes, but, admittedly I did eat a regular "baking potato" just last week. You know… those extra-large potatoes. The ones you are supposed to fill with creamed spinach, sour cream or chili. Well I ate one of those during lunch at the Block House with my colleagues – something no one would think I would EVER do. It's just not my type of lunch place. I like light midweek lunches and mostly eat salads, Thai, Vietnamese… you get the idea. So what to order on a steak-heavy menu? Baked potato, no sour cream, with a salad. Sounds terribly boring, I know. But a simple potato with a little butter and salt can be pretty tasty. And as my mother taught me, I made sure to eat the potato skin. Now here it comes: I was enlightened by my colleague…did you know that the potato skin is poisonous? And not as healthy as I have been preached my whole life? So it's all been a hoax, an urban myth, a wives tale all these years? Apparently so.
Okay, it turns out it has something to do with increased toxins concentrated in the peel, just below the surface and in the sprouted "eyes" of old or sprouting potatoes and potatoes that are green or have a greenish color under the skin. Aha. Likewise, if part of it tastes bitter don't eat it. Another interesting tidbit…turns out, most commercially sold potatoes are screened for this toxin (called solanine) but any potato will build up the toxin to dangerous levels if exposed to light or stored improperly. Good to know. So if it's green and sprouted, toss it! And in the future, I will disobey my mother and leave the skin.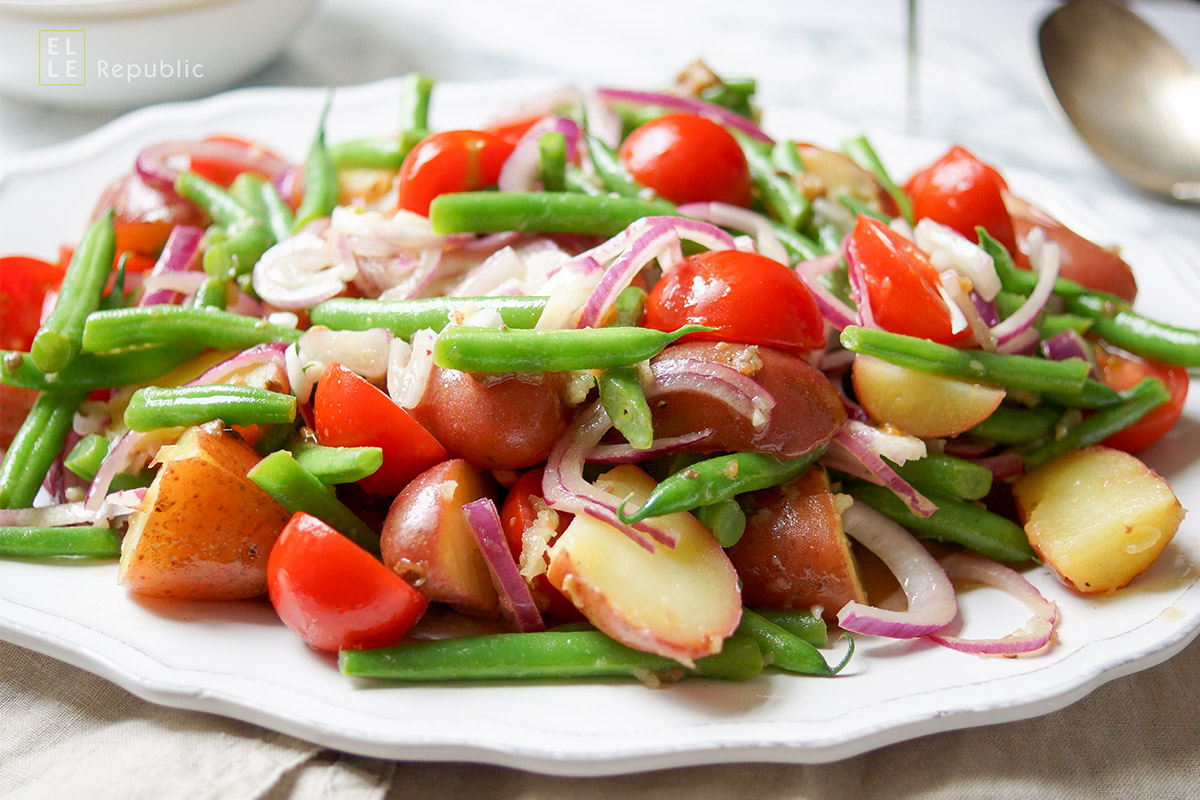 So a big high five for this new potato salad with market fresh seasonal ingredients – it's healthy, easy, and over-the-moon delicious. The two of us ate this as a main for lunch, but I had really wished that I doubled it so I could enjoy some leftovers. If the thought of anchovies turns you off, trust me, don't skip them, they add a super tasty umami element. Just chop them up as small as possible; you will never notice they are there. This is a great compliment to a zucchini salad like this one or as a side dish at your next BBQ.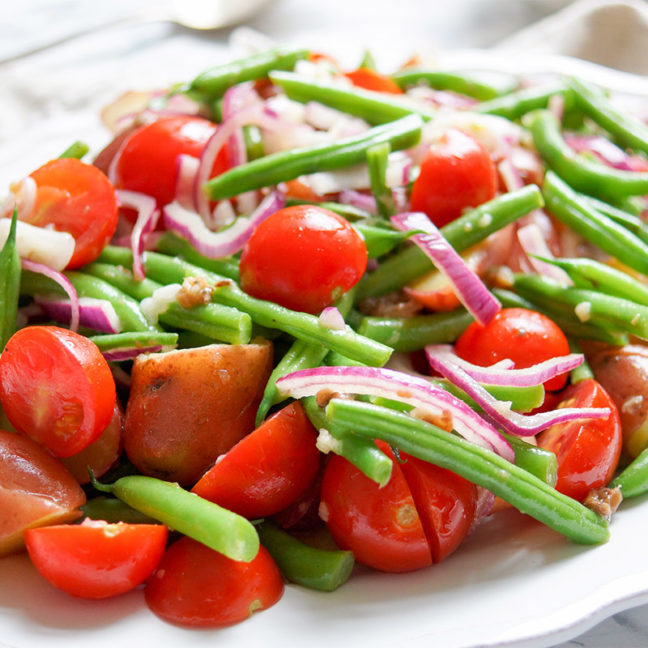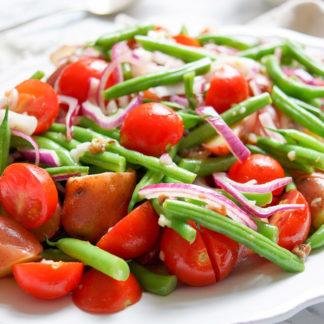 New Potato Salad with Green Beans and Cherry Tomatoes
A new potato salad recipe made with sweet summer red-skinned new potatoes, blanched green beans and cherry tomatoes. This is an easy and quick side dish that perfectly complements any summer meal or BBQ.
Ingredients
For the salad:
400

g

baby new potatoes

300

g

green beans,

trimmed

1

medium red onion,

thinly sliced

300

g

cherry tomatoes,

halved
For the dressing:
4

tablespoons

extra-virgin olive oil

2

tablespoons

red-wine vinegar

(good quality)

1

tablespoon

fresh lemon juice

4

anchovies,

finely chopped

1

tablespoon

Dijon mustard

1

large garlic clove,

minced

1/2

teaspoon

sea salt

freshly ground pepper,

to taste
Method
Gently boil the potatoes in salted water until tender, about 10-12 minutes, depending on size. Drain and set aside to cool slightly.

Meanwhile, blanch the green beans in boiling salted water until crisp-tender, for about 2-3 minutes (or to desired degree of doneness). Drain and cool under cold running water (or plunge into an ice bath). Shake out the excess water and transfer to a large salad bowl.

Once the potatoes are cool enough to handle, cut them in half lengthwise (or in wedges for bigger ones) and transfer to the salad bowl. Add the red onion and tomatoes.

In a small bowl, whisk together the dressing ingredients until emulsified. Drizzle the dressing over the salad and toss to combine.

Taste and season with more salt and pepper, if desired. Serve at room temperature and enjoy!
Did you try this recipe?
Then tag @ellerepublic on Instagram and hashtag it #ellerepublic
How did you like it?
Please let me know how this New Potato Salad with Green Beans and Cherry Tomatoes recipe turned out for you! I would love to hear how you liked it. Simply rate it with the stars above ⭐or leave me a comment and rate it below.
Did you make any changes to this recipe?
If you have tips for other readers, let me know! It helps me and other readers so much. Sharing is Caring :-).