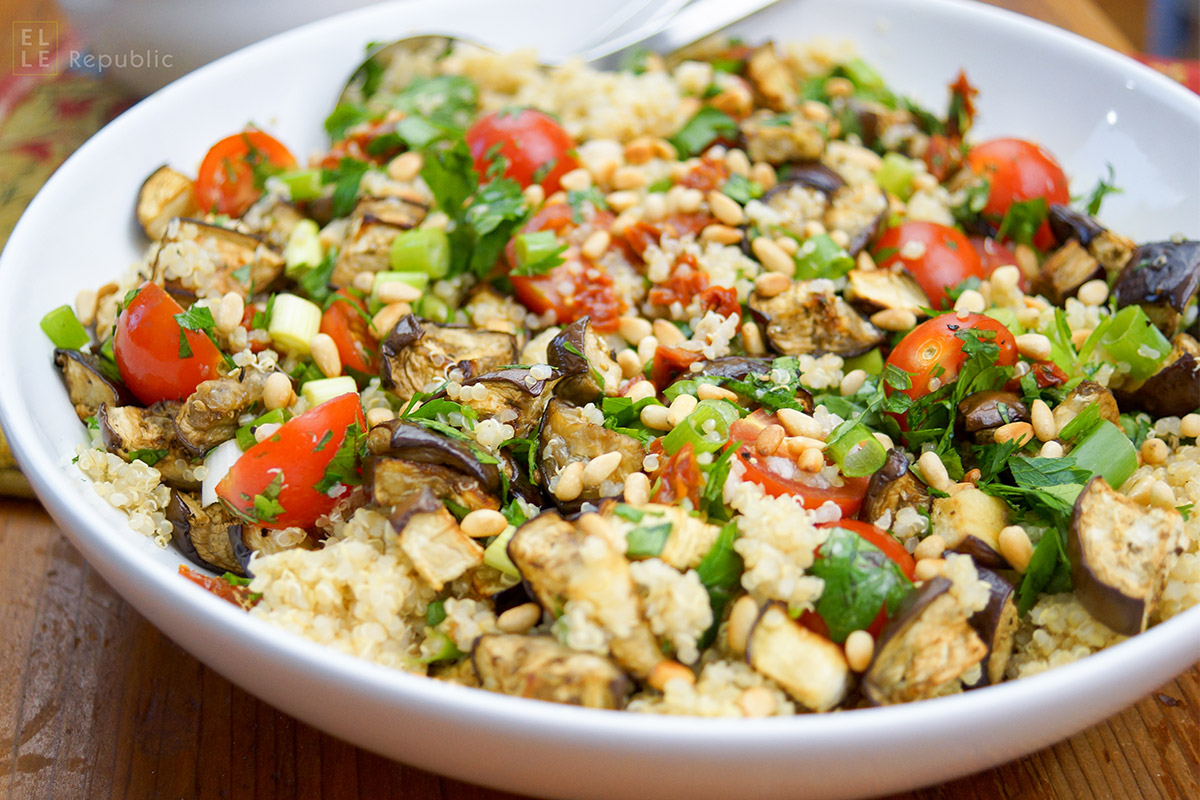 If it weren't for the fact that I am the only person in my family who likes eggplant (aubergine), you'd find a whole lot more of it here. Yes, there are those times when I cook it just for me or other times when I sneak it into a dish, just like this recipe for quinoa with roasted eggplant and cherry tomatoes. Of course, once again hoping I can convince my favorite Schwabe of its merits.
Roasted Eggplant and Quinoa Salad with Cherry Tomatoes — One-Bowl Deliciousness!
Together, quinoa with roasted eggplant pairs wonderfully with tomatoes — doubly! I've got cherry tomatoes and sun-dried tomatoes going on here. Plus lots of fantastic fresh flavors from green onions and parsley. Mix this together with a tangy lemon dressing and you have more incredible flavor. Top it off with protein rich pine nuts and consider it one heck of a one-bowl meal! Something my vegan and gluten-free friends can get on board with — the eggplant loving ones that is — it's far from unanimous! 😉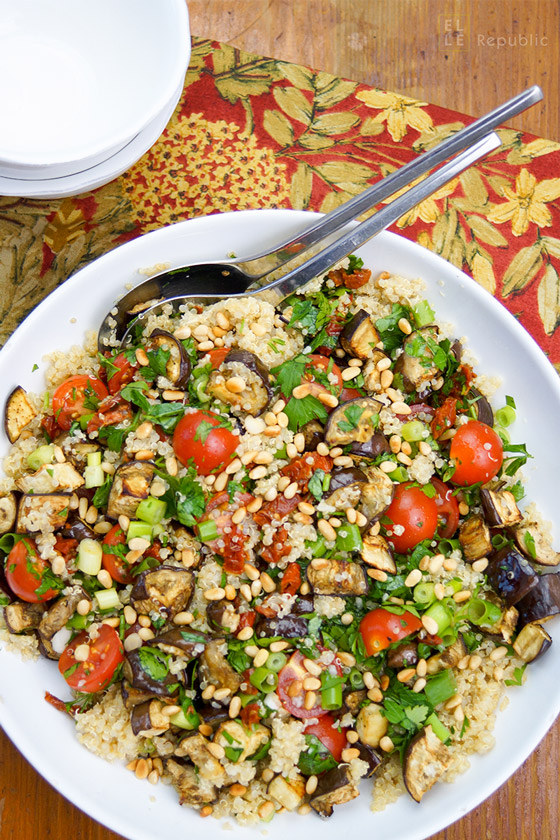 Eggplants Lovers & Aliens
I am one of those people who seriously crave eggplant. It's true… I could easily become an aubergine addict. If there is such a thing. It's not totally alien. Or maybe it is. A friend of mine recently shared an article on Facebook about a new theory that suggests if you have an RH negative blood type, you may have a kind of "alien DNA". Okay, there are so many things wrong with this, but of course I went ahead and read it (being RH negative and all). And I also read the comments and people's accounts of alien abduction. There are a lot of people that believe this! Even my own mother. Okay, not that she was abducted but rather she witnessed UFOs first hand. My mother was a geneticist, a woman of science… but also an artist who was and still is fascinated in everything from extraterrestrials to unicorns. She later moved on as an artist from paintings to digital art and there too you can find her whimsical side… and me, digitalized, as a child, hatching from an alien egg in outer space. So any truth to this? Well, ask anyone who swears their abduction really happened.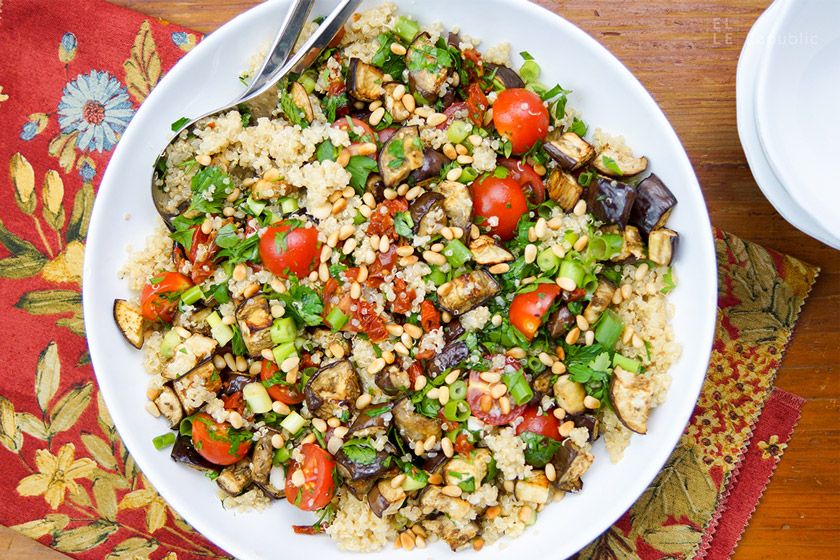 In Praise of Versatile Eggplant
So back to me loving aubergine. Whether it's called eggplant or an aubergine, it's got to be one of the most versatile vegetables out there. What I love about it is its ability to soak up the flavors of the ingredients that it's paired with. It's kinda like the tofu of the veggie world. It's terrific pureed in Middle Eastern style baba ganoush, Italian Melanzane alla parmigiana, sautéed and served in a rich pasta sauce or curry, or even roasted in the oven and served in a simple bowl of pure goodness like one. Yes, I could eat eggplant every day and all it would do is make me perfectly happy.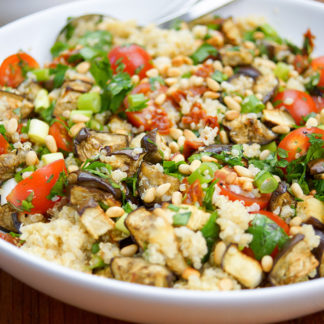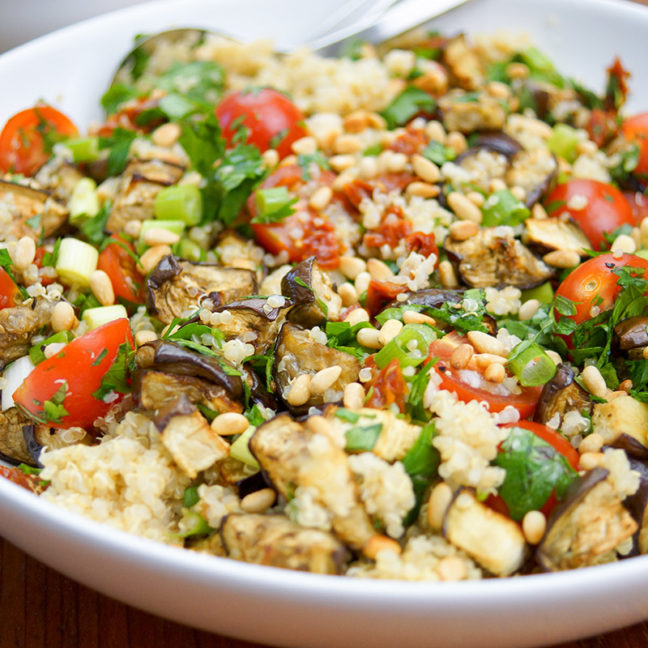 Roasted Eggplant and Cherry Tomato Quinoa Salad
Filling, healthy and delicious, this recipe for quinoa with roasted eggplant and cherry tomatoes makes an excellent one-bowl meal that's both vegan and gluten-free. Makes 2 large servings or 4 side servings.
Ingredients
For the salad:
1

cup

dried quinoa,

rinsed (200 g)

2

medium eggplants

(aubergine), cut into same size cubes

2-3

tablespoons

extra-virgin olive oil

250

g

mini-Roma or cherry tomatoes,

halved

60

g

oil-packed sun-dried tomato halves

(about 6-8 halves)

4

green onions,

thinly sliced

1

small bunch chopped fresh flat-leaf parsley

(about 1/2 cup)

1/3

cup

pine nuts,

lightly toasted (35 g)
For the dressing:
2

tablespoons

extra virgin olive oil

juice of 1 lemon

1

clove

garlic,

minced

1/2

teaspoon

sea salt

freshly ground black pepper,

to taste
Method
Preheat the oven to 200°C / 400°F.

To roast the eggplant: Place the eggplant cubes onto a baking sheet lined with parchment paper (or a non-stick baking sheet) and drizzle the oil over them. Toss with your hands so all pieces are lightly coated in oil; add a little more if necessary. Sprinkle with salt and pepper. Roast in the oven for 20 to 30 minutes; until softened and beginning to brown. Halfway through give everything in the pan a good toss.

Meanwhile, rinse the uncooked quinoa in a fine mesh strainer. Place in a medium saucepan and cook according to package instructions (this can vary slightly depending on what type of quinoa you use), for about 15 minutes. Once most of the liquid is absorbed and the quinoa is light and fluffy, remove from heat, fluff with a fork, and let stand for another 5 minutes. Transfer the quinoa to a large serving bowl.

In a small bowl, mix together the dressing ingredients.

Transfer the eggplant to the bowl with the quinoa. Add the cherry tomatoes, sun-dried tomatoes, green onions, and parsley. Pour over the dressing and toss to combine. If desired, season with a little more salt and pepper and possibly and another squeeze of lemon, to taste. Sprinkle with the toasted pine nuts and enjoy!
Did you try this recipe?
Then tag @ellerepublic on Instagram and hashtag it #ellerepublic
How did you like it?
Please let me know how this Roasted Eggplant and Quinoa Salad with Cherry Tomatoes recipe turned out for you! I would love to hear how you liked it. Simply rate it with the stars above ⭐or leave me a comment and rate it below.
Did you make any changes to this recipe?
If you have tips for other readers, let me know! It helps me and other readers so much. Sharing is Caring :-).