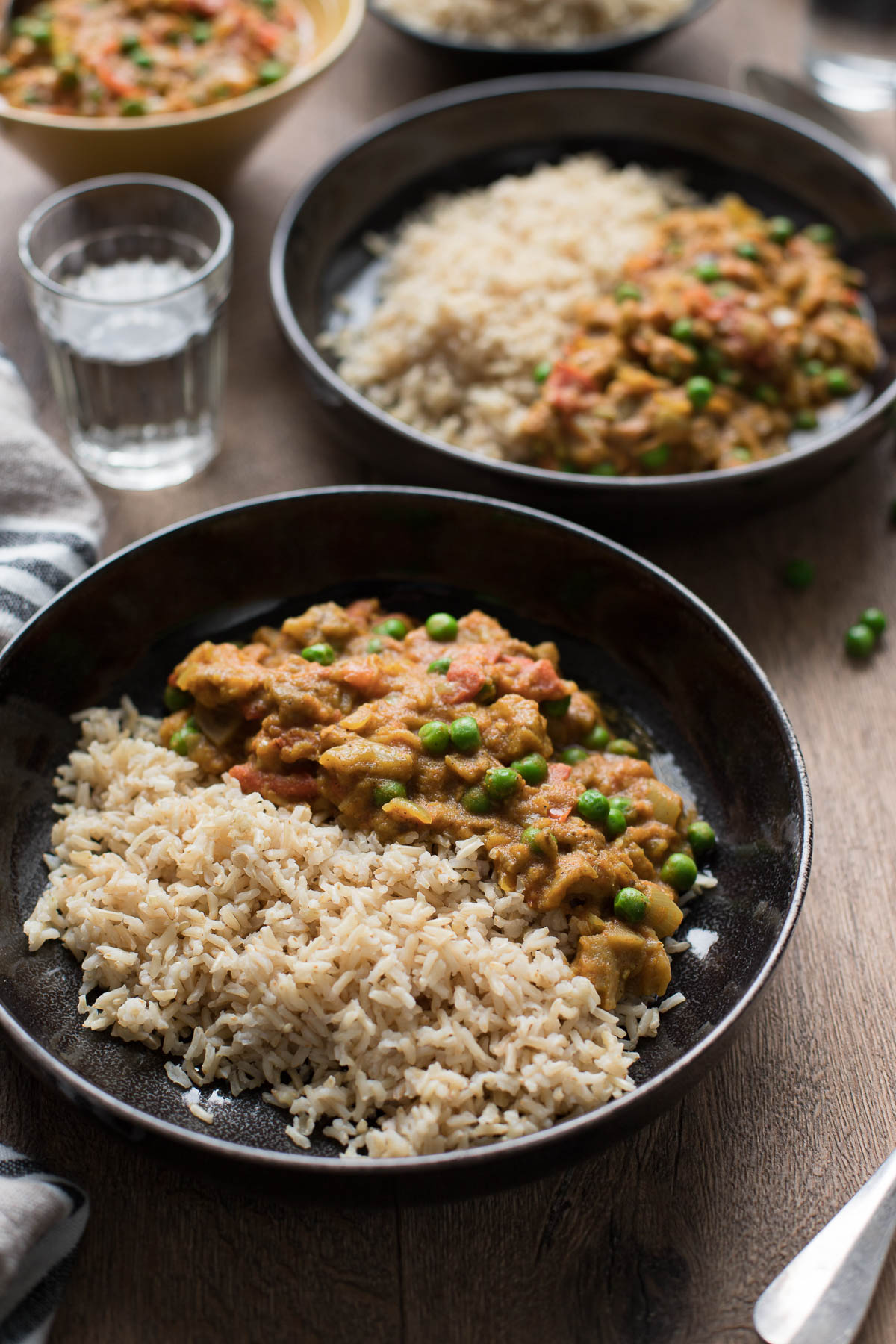 If you like eggplants AND Indian food, this curry recipe is definitely for you. It's not pretty, but it's delicious! This eggplant curry is inspired by the Indian dish Baingan Bharta. It is made with roasted eggplant, which is then mashed (without the skin) and added to a richly spiced onion, garlic and tomato sauce. It's super simple to make and is naturally suitable for anyone following a vegan or gluten-free diet. And if you are a meat lover, I am willing to bet this dish would taste fantastic with lamb.
Indian Eggplant Curry ala Elle
Traditionally, this Pakistani dish is either served as a dip with flatbread, or as a main dish with rice and a yoghurt sauce (raita). As with any curry recipe, there are many versions of this traditional dish. My version is pepped up with my own favorite choice of curry spices (garam masala, turmeric and cumin). And I also love to add tomato paste for extra umami richness, peas for color and texture, and a small amount of coconut milk to create a tasty sauce that can be soaked up by basmati rice. I like to use whole grain basmati rice, which is simple to cook and only takes 30-35 minutes. And a little tip — you can also serve this eggplant curry mixed together with the rice, just like a biryani rice dish. Yum!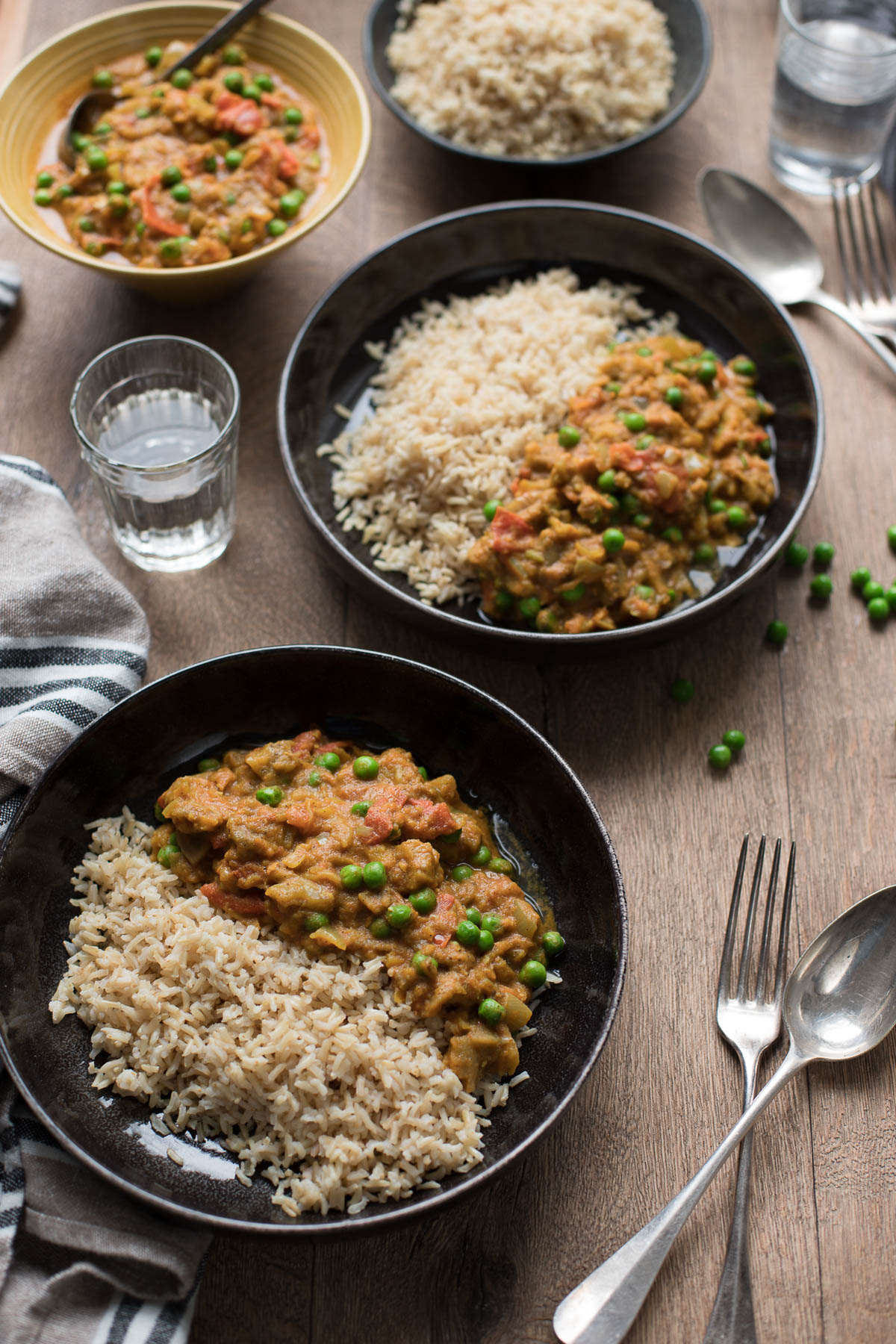 Best way to prepare eggplant for this simple Indian curry recipe
First of all, you want some smokey flavors that come from roasting the eggplant. This makes it ever so flavorful. I do this in the oven since I don't have a gas stove or a BBQ. But if you do have either of these… fantastic! You can cook the eggplant directly on the flame until it is charred. Simply brush will oil, prick the eggplant all over with a fork, place it over a medium grill heat and let it cook, turning occasionally until the skin is charred and it collapses, about 20 minutes or so. So easy.
And if you are like me, then you do this in the oven. This takes longer but is just as effective. Bake it in a 180°C preheated the oven for about one hour or until the skin is charred and eggplant starts to shrink. And if you want some of those smokey flavors, broil if for 2 minutes on high settings.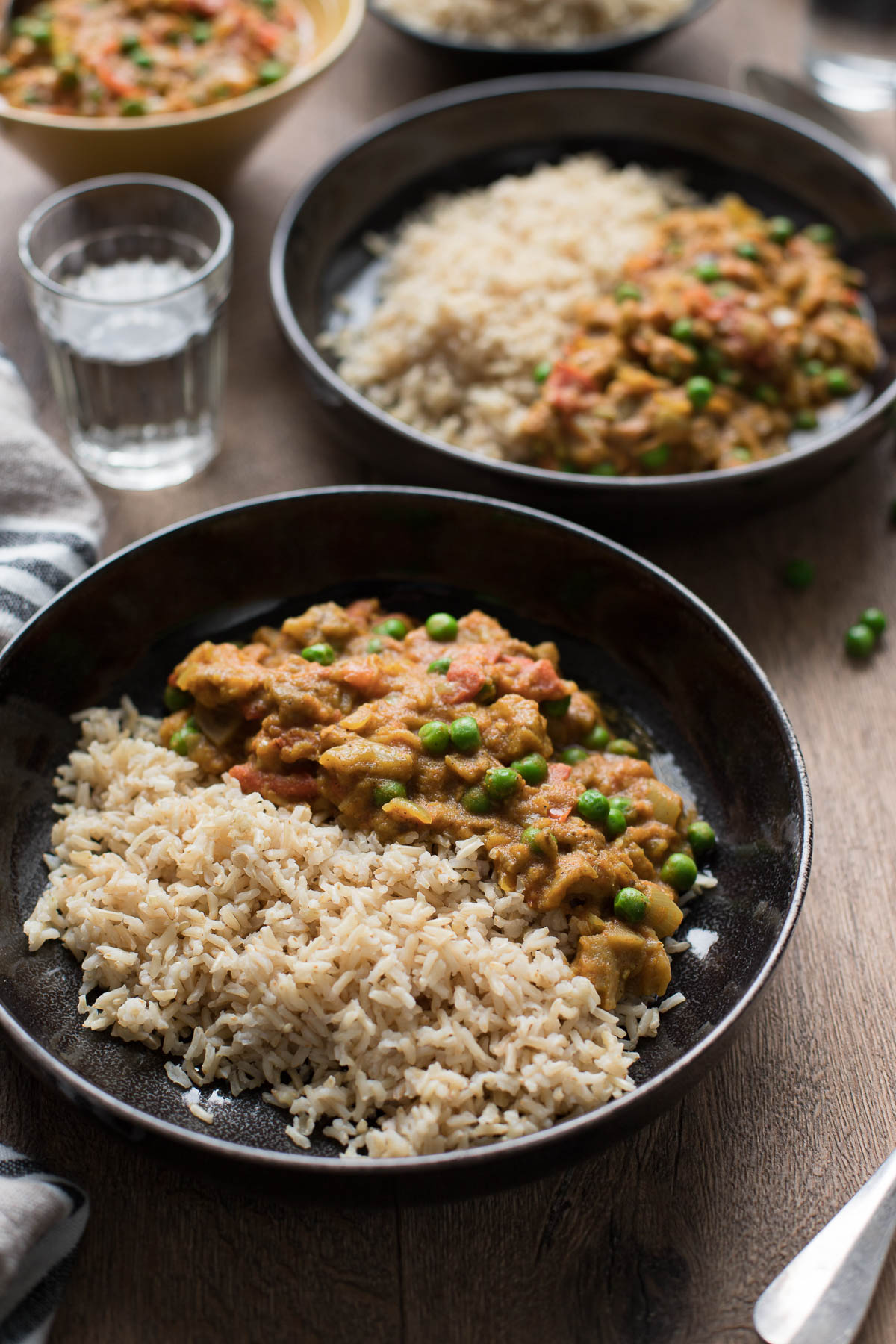 I hope you'll like this eggplant curry as much as I do. It makes great leftovers and even aubergine naysayers enjoy it. My favorite Schwabe didn't even realize he was eating eggplant or a vegan meal for that matter. Though, he too did say it would be fabulous if I made it with lamb. I may just try that one of these days.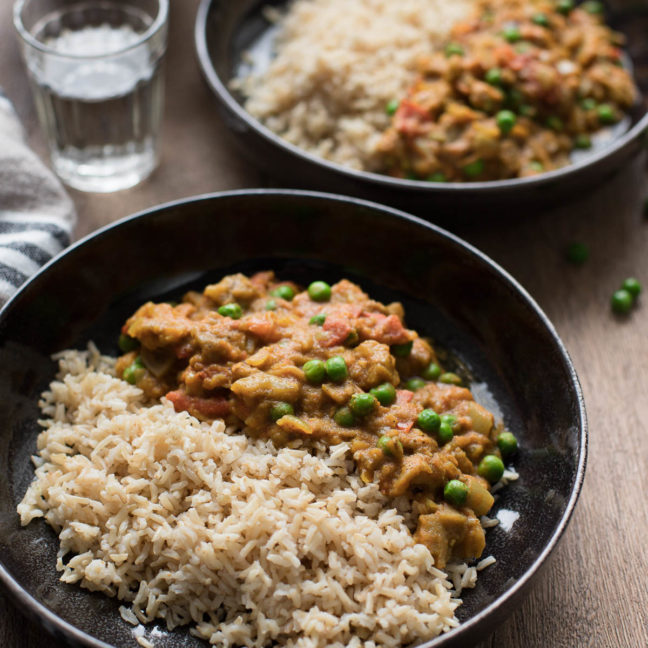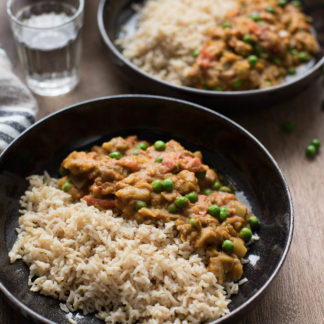 Spicy Indian Eggplant Curry
Slow food pure. A delicious adaptation of the Indian eggplant curry dish known as Baingan Bharta. Best served with basmati or jasmine rice. Packed with flavor, this is a great dish for anyone following a vegetarian, vegan or gluten-free diet.
Total Time
2
hours
5
minutes
Ingredients
2

medium eggplants

2

tablespoons

coconut oil

1

medium yellow onion,

diced

3

cloves

garlic,

minced

3

medium tomatoes,

diced (ca 300 g)

1/2

tablespoon

tomato paste

1

tablespoon

peeled and grated ginger

2

teaspoons

garam masala powder

2

teaspoons

ground cumin

1/2

teaspoon

ground turmeric

1/4

teaspoon

cayenne powder

(reduce to 1/8 if you prefer less spicy)

1

x 200 ml can

organic coconut milk

1

cup

frozen peas,

thawed (150 g)

1/2

teaspoon

sea salt,

plus more to taste

freshly ground black pepper,

to taste
Method
Preheat the oven to 350°F / 180° C and line the middle rack with baking paper.

Prick the eggplants a few times with a fork, transfer to the oven and bake until really tender and the skin is wrinkly, about 1 hour. To get some of that charred flavor, broil for 2 minutes on high settings (optional).

Once cool enough to handle, cut the eggplant in half and use a spoon to scoop out the flesh and then chop it up; the eggplant will be mushy -- this is perfect.

Meanwhile, heat the oil in a large deep skillet or wok over medium heat. Add onions and garlic and cook until onion is translucent, 10 minutes. Add the tomatoes, tomato paste, ginger and all of the spices except for the salt. Cook, stirring occasionally, for 10 minutes, or until tomatoes are softened.

Add the coconut milk, cook for one minute, then add the eggplant and peas. Mix to combine and continue cooking until heated through. Add the salt, plus more to taste (if desired) and season with black pepper.

Serve over whole grain basmati rice and enjoy!
Notes
Depending on how flavorful the tomatoes are you may need to add a touch more tomato paste. Look for ripe, aromatic one for the best results. I have also made this eggplant curry recipe with market fresh beefsteak tomatoes, which tastes fabulous.
As mentioned in the blog text, you can cook whole eggplants over the open flame of a gas burner or BBQ. This gives it a lovely smokey flavor.
Whole grain basmati rice takes 30-35 minutes to prepare. I usually start cooking it while the eggplant is still in the oven and then keep it covered while the rest of the dish is being prepared.
Did you try this recipe?
Then tag @ellerepublic on Instagram and hashtag it #ellerepublic
How did you like it?
Please let me know how this Spicy Indian Eggplant Curry (Baingan Bharta) recipe turned out for you! I would love to hear how you liked it. Simply rate it with the stars above ⭐or leave me a comment and rate it below.
Did you make any changes to this recipe?
If you have tips for other readers, let me know! It helps me and other readers so much. Sharing is Caring :-).
This post contains affiliate links. If you decide to make a purchase through my link, Amazon will pay me a commission for it. This doesn't cost you anything additional and the price remains the same. More about advertisements on Elle Republic.