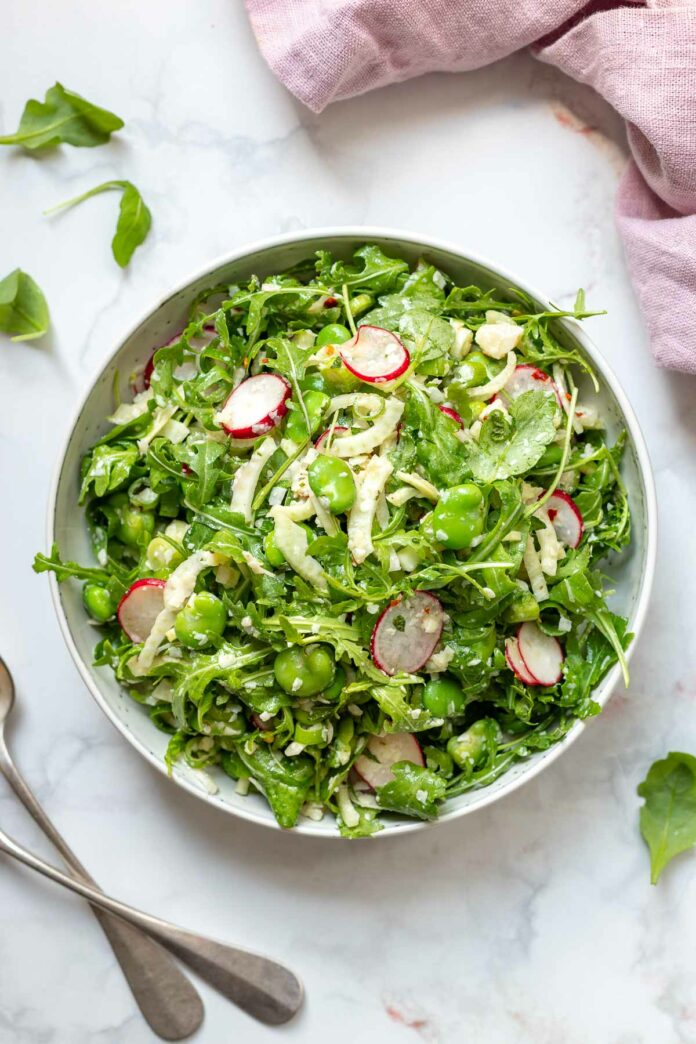 This fresh fava bean salad is simple, basic and full of fresh flavors. Buttery, nutty fava beans are tossed with green onions, fennel, radishes, young arugula leaves and served with grated parmesan and a simple lemony dressing.
Fava beans — a summertime favorite
Every time I see fava beans at the market I question whether they are worth the effort of the shelling, blanching and shelling again. And the answer is YES! They are so absolutely delicious and since the season is so short, I find it is worth taking the effort, for the very few times a year, that I can take advantage of their availability. They bring a nice fresh flavor and velvety, butter texture to a a simple salad. And if you want to get the absolute most out of their delicious flavor, then an even more basic salad than this one is the way to go.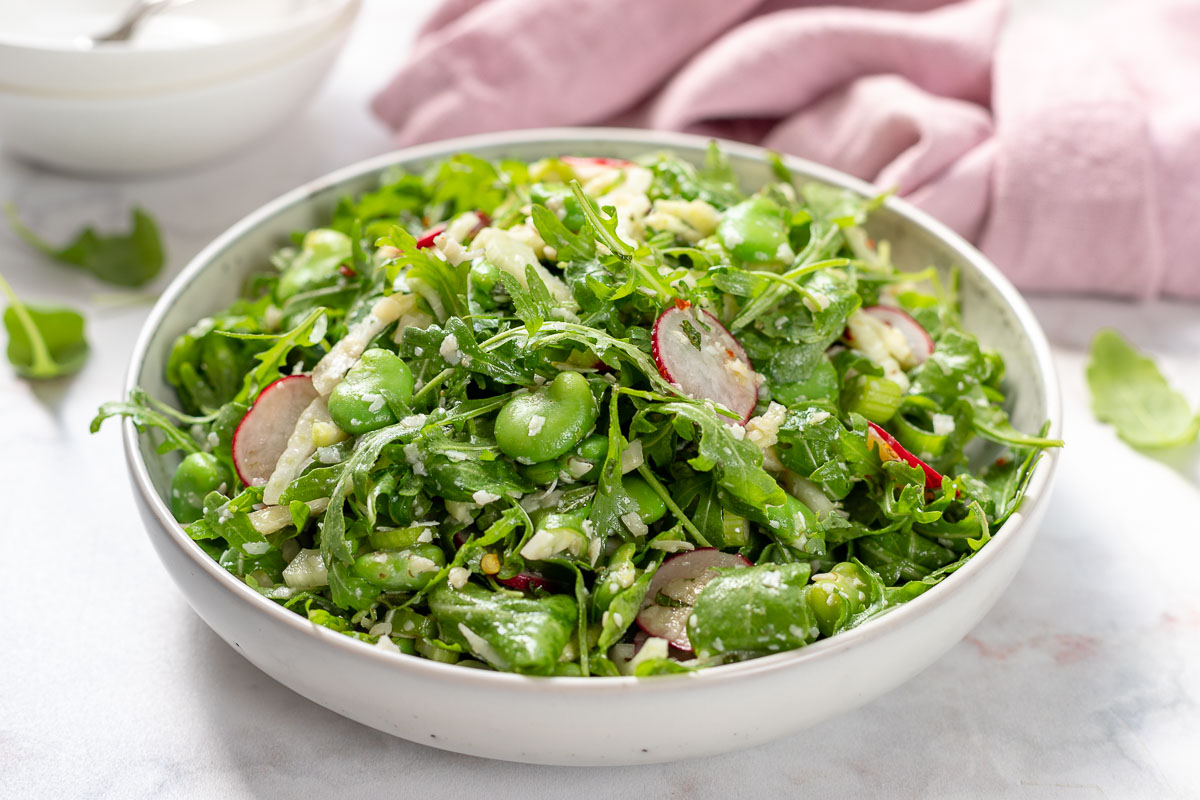 Some simple ideas on how to enjoy fava beans
To get the most out of their fabulous color, flavor and texture try them with:
Crumbled feta cheese, radishes and fresh cilantro
A mix of fresh herbs, a drizzle of oil, sea salt and freshly ground pepper
Fresh mint, parmesan and pistachios
Pecorino, lemon juice, olive oil and mint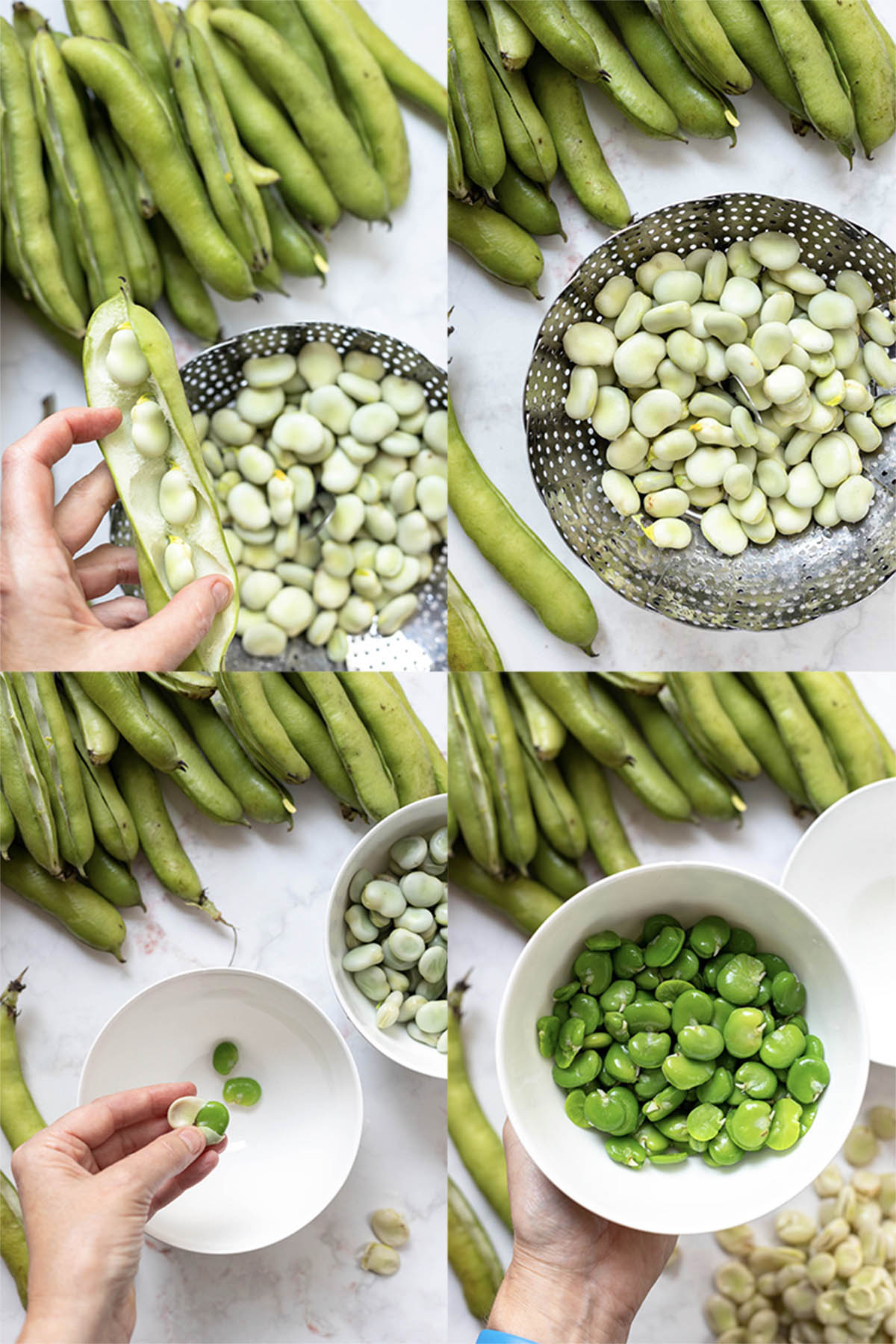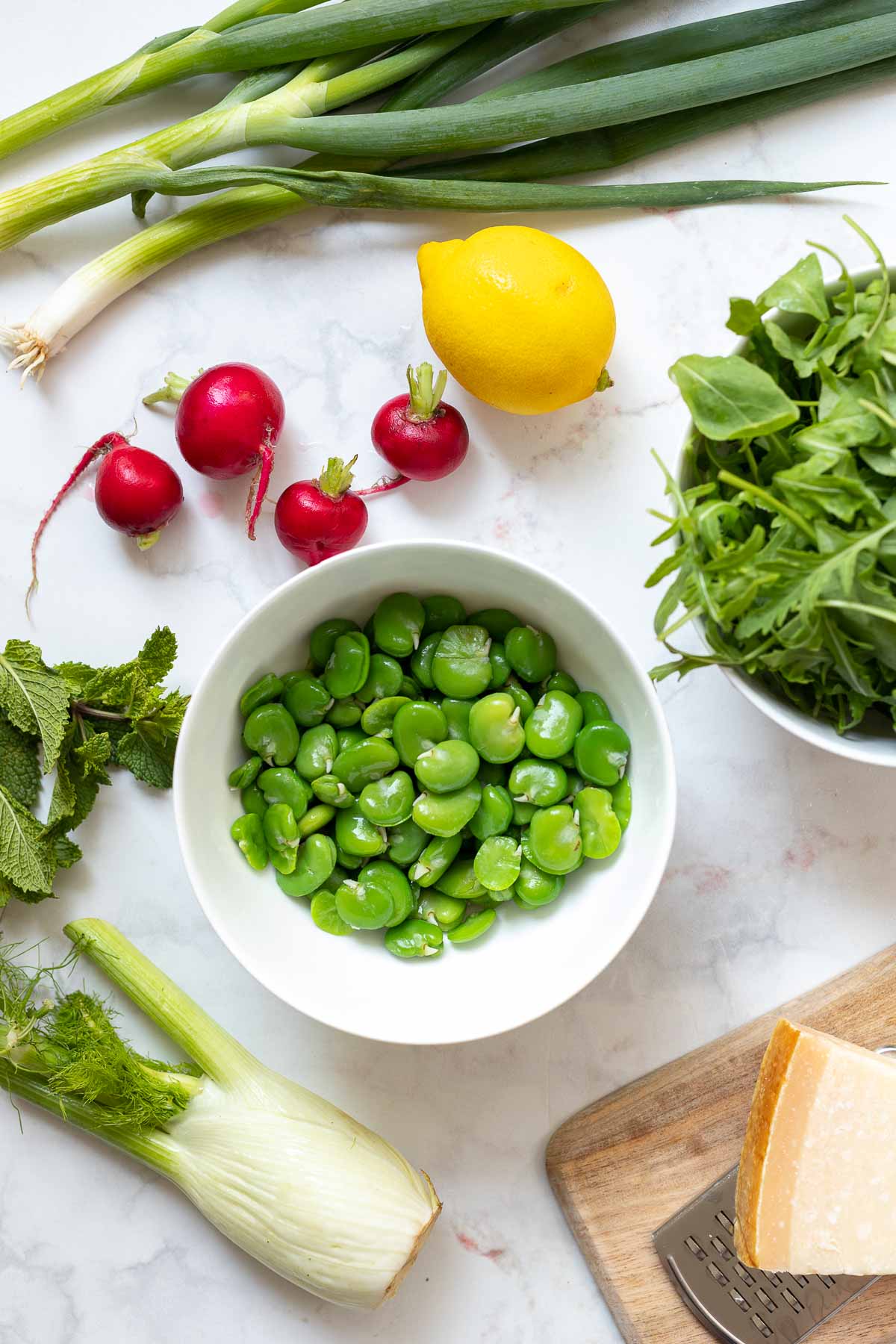 Fresh fava bean salad preparation
The salad itself is simple, however there is a little preparation needed for the fava beans.
When you first see them in their pods you may think you'll have a lot of beans in the end, but actually the pods are quite bulky. So you'll need 1-1,2 kg to get the 200 g (1 1/2 to 2 cups) you'll need for this fava bean salad.
To start, pop the beans out of their large pods and then blanch them in boiling water for a few minutes (until al dente) before shocking them with ice cold water to stop the cooking process. Now they are ready to be shelled again.
Fava beans have a thin skin around each bean that is easy to remove after they've been blanched. Using a knife to cut open a little slit will allow you to release them with just a little squeeze. They will pop right out and leave you with these delicious little emerald green beans.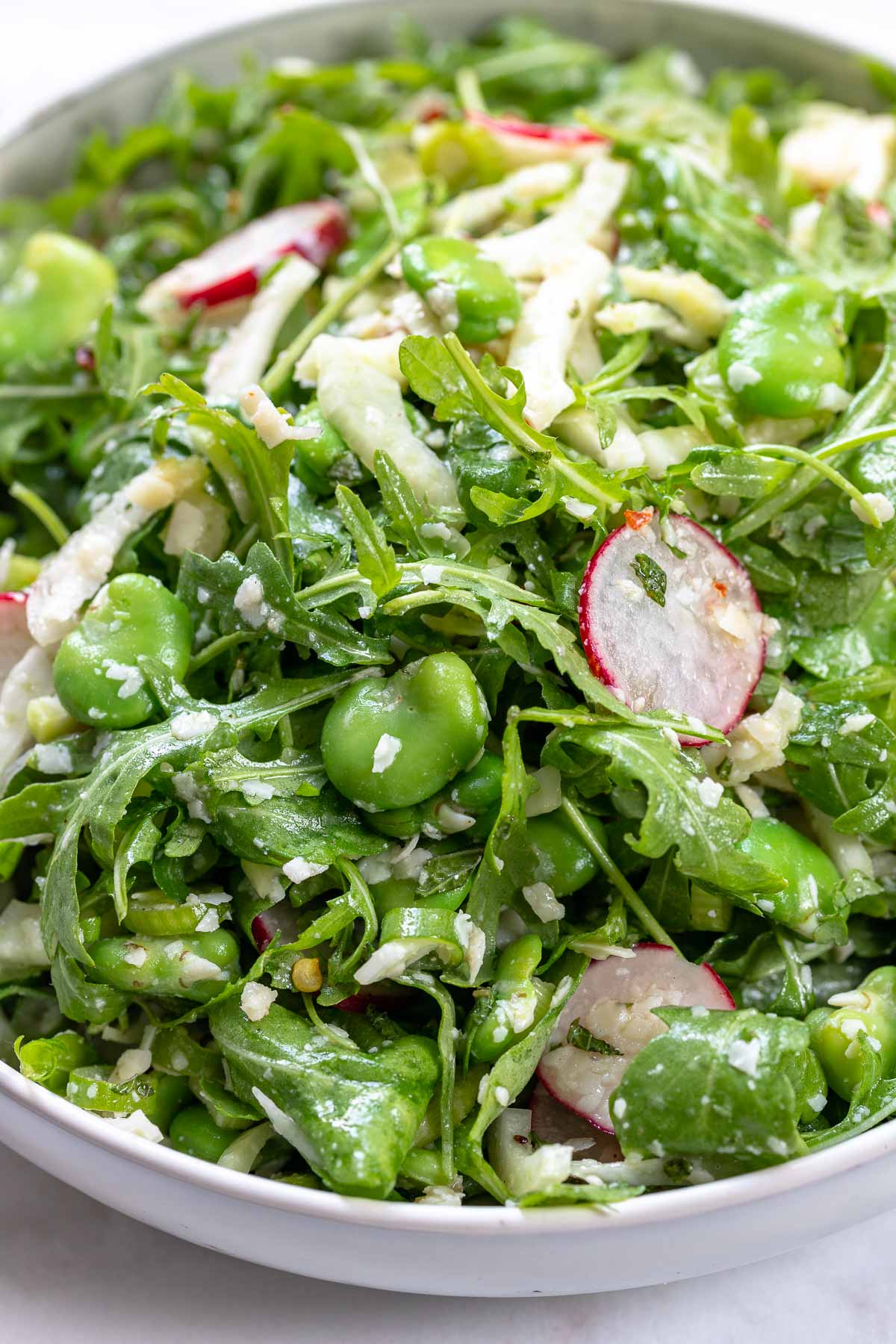 Looking for other ideas on how to prepare fresh fava beans?
Try one of these recipes: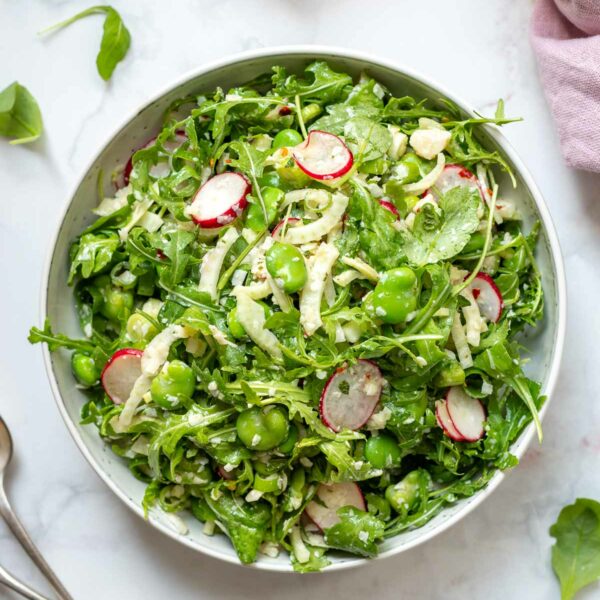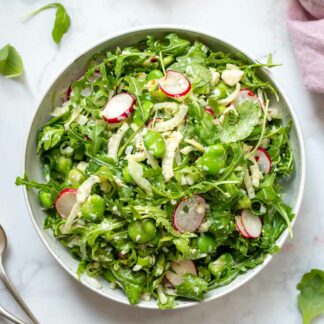 Fresh Fava Bean Salad with Arugula, Fennel and Radishes
A simple salad using fresh fava beans together with other fresh ingredients, tossed with Parmesan and a simple lemony dressing.
Ingredients
1-1.2

kg

fresh fava beans in pods

(200 g shelled)

1

small bulb fennel,

thinly sliced ( mandoline works well for this)

4

radishes,

thinly sliced

3

green onions (white and light green parts),

thinly sliced

1

tablespoon

mint leaves,

chopped

1

tablespoon

extra virgin olive oil

Juice from 1 small lemon,

or to taste

Sea salt and freshly ground black pepper,

to taste

Pinch

of chili flakes

35

g

parmesan cheese,

grated

2

handfuls young arugula leaves
Method
Fava beans need to be shelled twice, first before cooking to remove the outer pod, then after cooking, to remove the membrane around the bean. First, shell away the fava beans outer pod.

Bring a large pot of salted water to a boil and blanch the shelled fava beans for about 3 minutes (until just tender). Plunge them into a bowl of ice water to stop the cooking process. Drain well and remove the outer peel by squeezing the favas from their skins.

In a serving bowl, combine the cooked fava beans, fennel, radish, green onions and mint. Drizzle extra virgin olive oil and lemon juice over the mixture, sprinkle with salt and pepper, and a pinch of chili flakes and toss to coat. Add the parmesan and arugula; toss until combined.

Serve and enjoy!
Notes
Fresh fava beans can be substituted with shelled edamame (fresh soybeans)
See above for other simple ideas on how to use fava beans in salads.
For a relaxing atmosphere in the kitchen I recommend my personal Elle Republic: Chilled Out Kitchen Tunes or Lounge Kitchen Tunes Playlist on Spotify.
Did you try this recipe?
Then tag @ellerepublic on Instagram and hashtag it #ellerepublic
How did you like it?
Please let me know how this buckwheat bread recipe turned out for you! I would love to hear how you liked it. Simply rate it with the stars above ⭐ or leave me a comment and rate it below.
Did you make any changes to this recipe?
If you have tips for other readers, let me know! It helps me and other readers so much. Sharing is Caring :-).
This post contains affiliate links. If you decide to make a purchase through my link, Amazon will pay me a commission for it. This doesn't cost you anything additional and the price remains the same. More about advertisements on Elle Republic.