This garam masala chicken recipe is inspired from traditional Indian butter chicken. Though you can expect a lightened up, healthy version of butter chicken. That's because this recipe contains no butter and no full-fat cream. Instead it's a trimmed down version with a lot less calories. It relies on warm spices, onions, garlic and ginger to give it flavor, tomatoes for a little extra umami, and just a little coconut milk to keep you from missing the richness of a traditional Indian dish.
Years ago we made a trip to India, flying first into Mumbai, then making our way down the coast, with a stopover in Goa (which I would describe as India-light), onto Sai Baba's Ashram (when in India…) only to travel to the most southern tip to have Nadi readers read my fortune from palm leaves — yes, I saw a travel documentary and had to see for myself. But this was very confusing experience. In order to find "my" palm leaf, the Nadi reader needed my mother's full name (first, second, third), same with my fathers. So here's the thing. My mother has changed her name multiple times. First, middle and last. Long story… and yes, this is allowed in Canada. So far she's had three first names, two middle names, and I've lost count on the last names. How could I give this guy a name? Poor man. I'm sure he gave up and read me some random leaves. Yeah, mildly disappointing. Only because we met another couple of travels that were blown away by the experience. Nonetheless, we continued on and made our way to Chennai then finally after a 34 hours train ride, arrived in Delhi for the last portion of our trip.
So yes, over those 6 weeks, I tried a fair share of authentic Indian foods and came to the conclusion that the food in the south, as spicy as it was, was delicious. On the contrary, in the North what I experienced was neon green and flashing orange, full of food coloring and void of anything "culinary". It took me years before I could enjoy Indian food again. Okay, perhaps the amoeba that I took home with me had something to do with it. Not the infamous brain-eating amoeba — no one can survive that! — but another bugger that took numerous parasite cleanses and colon hydrotherapy to eradicate. Okay, India wasn't all the charming. There were moments and places, but for me they were mere flashes. I recommend visiting Nepal — of course this was also ages ago, but I loved it. And the food… amazing!!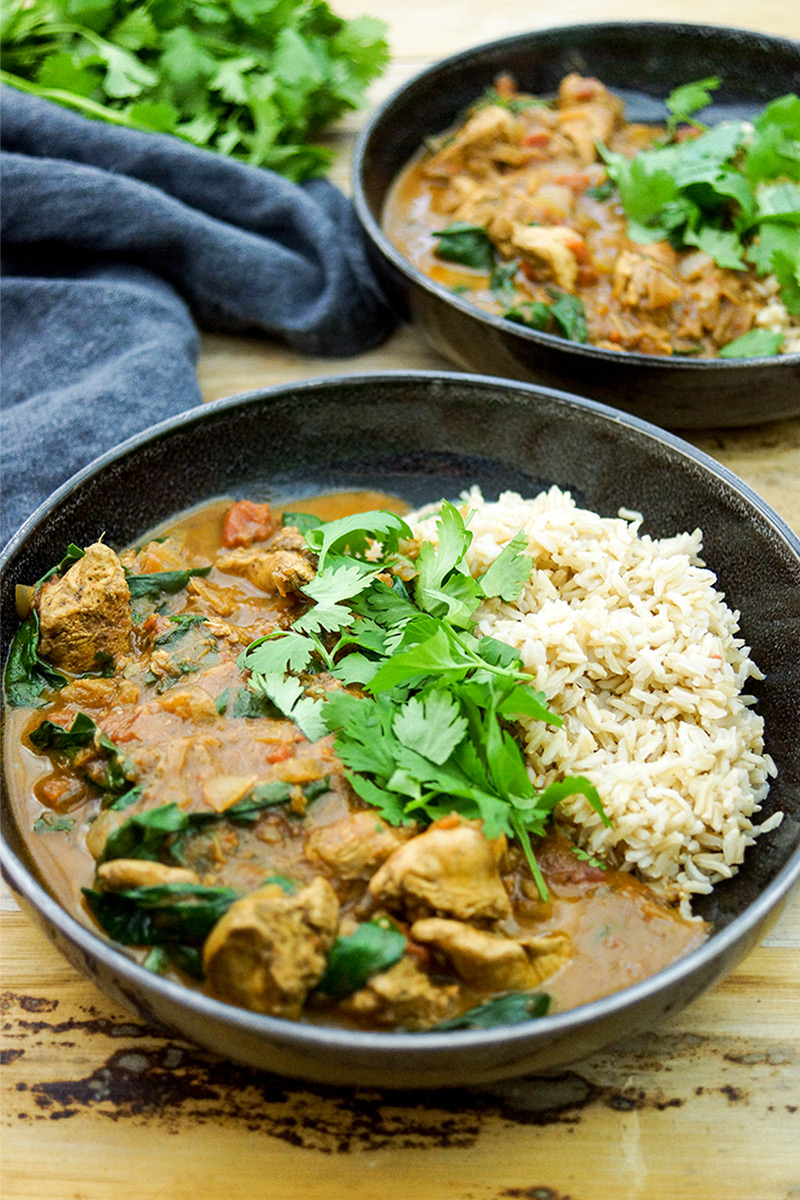 This quick and easy garam masala chicken was my solution to bring healthy, tasty Indian from home without relying on take-out. It makes great leftovers too. Add some more vegetables (broccoli works well!) and enjoy as a low-carb main.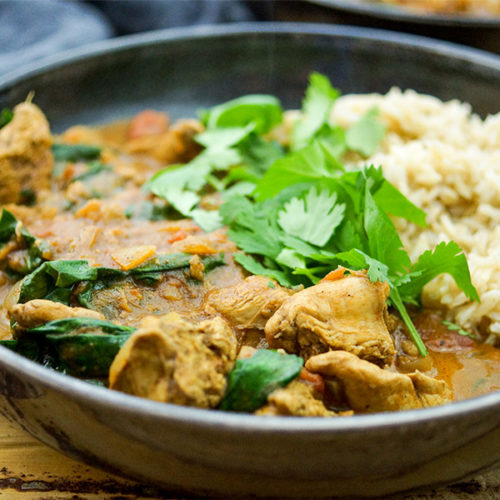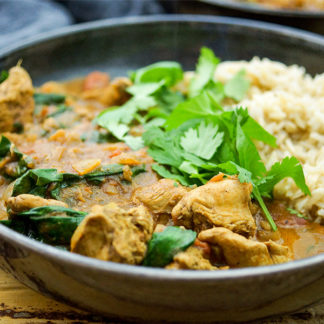 Easy Garam Masala Chicken with Spinach
This quick and easy garam masala chicken recipe makes for a tasty weeknight dinner. It's a lightened up version of classic butter chicken dish while still having a lot of flavor. Serve it with whole grain basmati rice for a healthy and wholesome meal. Makes 2 generous portions, or 4 lighter portions.
Ingredients
3

tablespoon

extra-virgin olive oil

2

small yellow onions,

finely chopped

4

large cloves garlic,

minced

2

tablespoons

freshly grated ginger

1

tablespoon

garam masala spice

1

teaspoon

curry powder

1

teaspoon

ground coriander

1/2

teaspoon

ground paprika

(sweet)

1/2

teaspoon

cayenne powder

1

teaspoon

sea salt

generous sprinkle of freshly ground black pepper

500-600

g

boneless skinless chicken breast halves

(preferably organic), cubed

1

tablespoon

tomato paste

1

x 400 g can organic diced tomatoes

1/2

cup

chicken broth

(125 ml)

1

x 200 ml can

organic coconut milk

3

generous handfuls spinach,

trimmed and chopped

freshly chopped cilantro,

to garnish
Method
Heat the olive oil in a wok or deep pan over medium heat to medium-high heat. Add the onions, garlic and ginger, along with the garam masala, curry powder, coriander, paprika, cayenne, salt, and pepper. Stir to combine and cook, stirring occasionally, until the onion softens.

Add the cubed chicken breast and the tomato paste to the pan. Cook for a few minutes to brown the chicken a little. Stir in the diced tomatoes and chicken broth. Cover with a lid and simmer for 20 minutes over medium to medium-low heat.

Add the coconut milk and mix to combine. Continue to cook on a low simmer for 10 minutes. Then add the spinach and cook for 1-2 minutes, until wilted. Garnish with freshly chopped cilantro and serve the garam masala chicken over whole grain basmati rice. Enjoy!
Notes
If you prefer a creamy tasting curry, try using coconut cream instead of coconut milk.
I like to serve this garam masala chicken with whole grain basmati rice. It's simple to prepare — and perfect every time! All you need to do is put the rice in a pot of water (it's cooked in lots of water just like potatoes), stir, then cover and turn the heat to low and simmer it for 25 minutes, then drain in a colander and allow it to stand for 5 minutes before fluffing with a fork. Couldn't be easier!
Did you try this recipe?
Then tag @ellerepublic on Instagram and hashtag it #ellerepublic
How did you like it?
Please let me know how this Easy Garam Masala Chicken with Spinach recipe turned out for you! I would love to hear how you liked it. Simply rate it with the stars above ⭐or leave me a comment and rate it below.
Did you make any changes to this recipe?
If you have tips for other readers, let me know! It helps me and other readers so much. Sharing is Caring :-).
This post contains affiliate links. If you decide to make a purchase through my link, Amazon will pay me a commission for it. This doesn't cost you anything additional and the price remains the same. More about advertisements on Elle Republic.