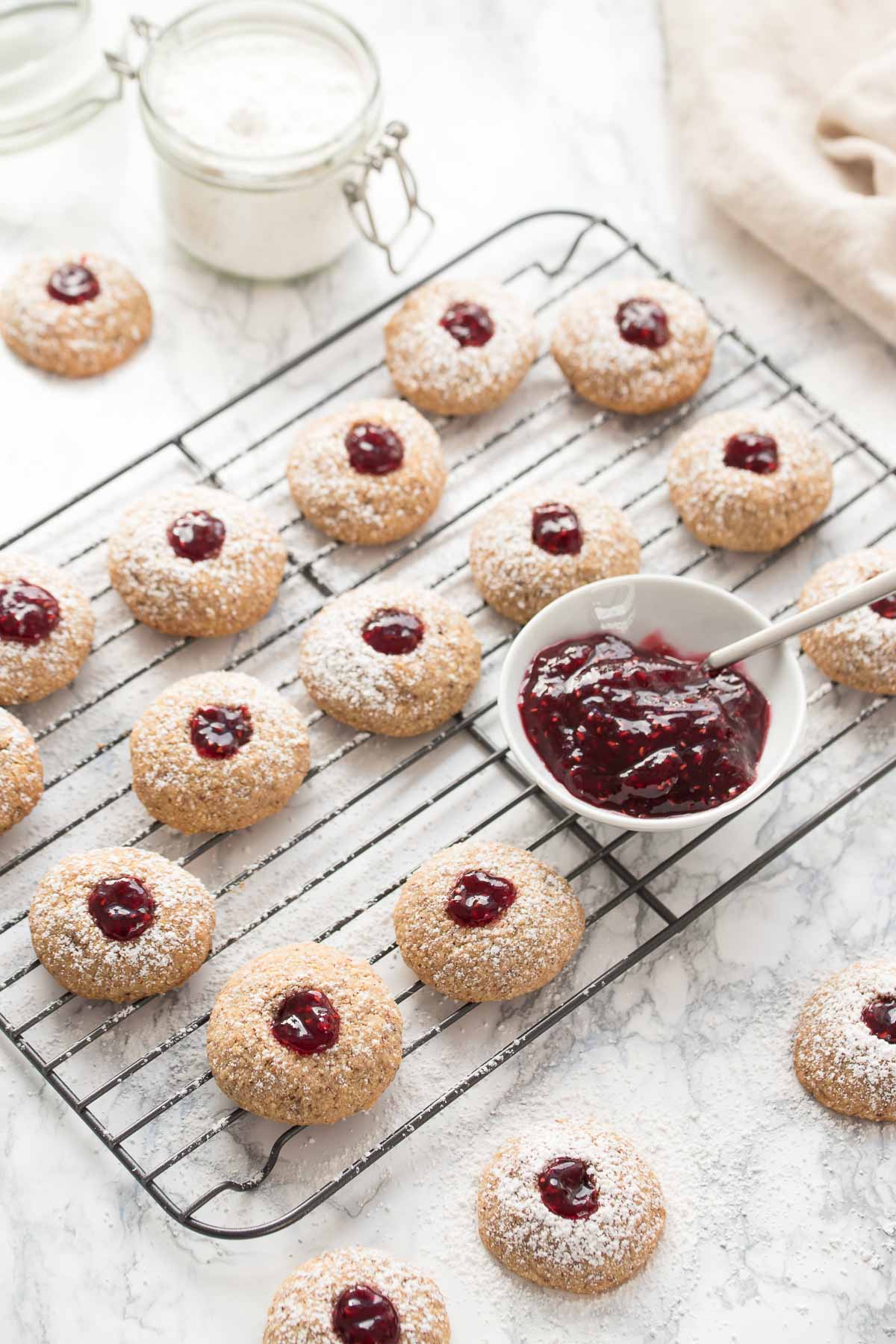 Gluten-free thumbprint cookies. Sounds healthy, right? Well, sort of. Of course there are some good things in these cookies… like ground almonds, buckwheat flour, brown rice flour and good ole oats. Yay to that. But these are Christmas cookies after all, which means we are approaching the time of year when we grant ourselves permission to enjoy a few treats… here and there. So.. there is butter in these cookies and some sugar too — but not too much, as overly sweet isn't my thing — just enough to make them a "cookie". Otherwise, I this would have been nothing other than a recipe for Christmas crackers. Hmmm not a bad idea. Savory Christmas crackers. I could groove on that.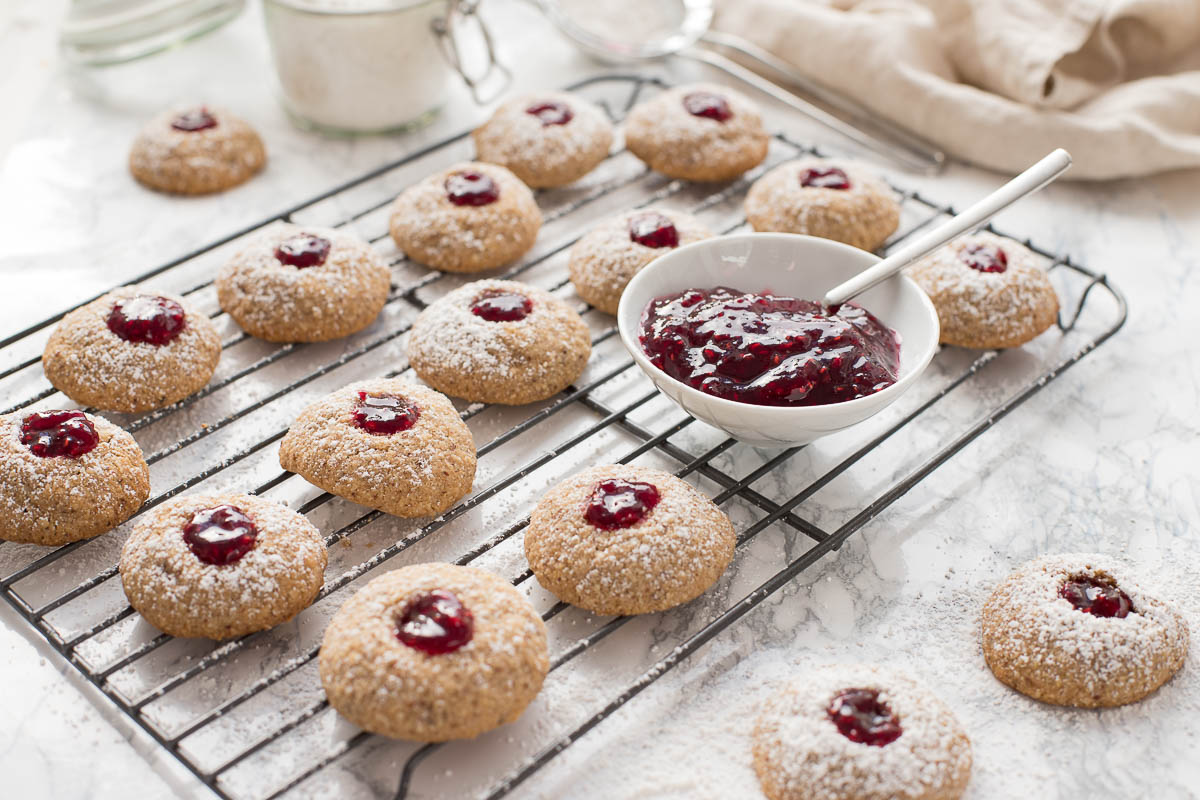 These gluten-free thumbprint cookies are the first of what should be an annual tradition. Christmas cookie baking. I only managed to bake Christmas cookies once last year. But this year will be different. Why? Well, for once, I actually had a chance to reflect and think about what I actually want to bake. Okay, forced reflection time. I was hit with the most terrible cold infection… EVER! Which meant a week and a half flat out. Of course, I watched a couple of good series on Netflix…"Salt Fat Acid Heat" (based on her fantastic book!) and the much promoted "The Bodyguard" (good but over-hyped), but how much TV can one take before it is completely boring? So I started thinking about Christmas and cookies and making christmas cookies with that Elle Republic twist. Not too sweet, some healthy elements and well, these are the first to make it through my "test kitchen". Tried, tested and approved by my work colleagues and at home, kid-approved. Ka-ching!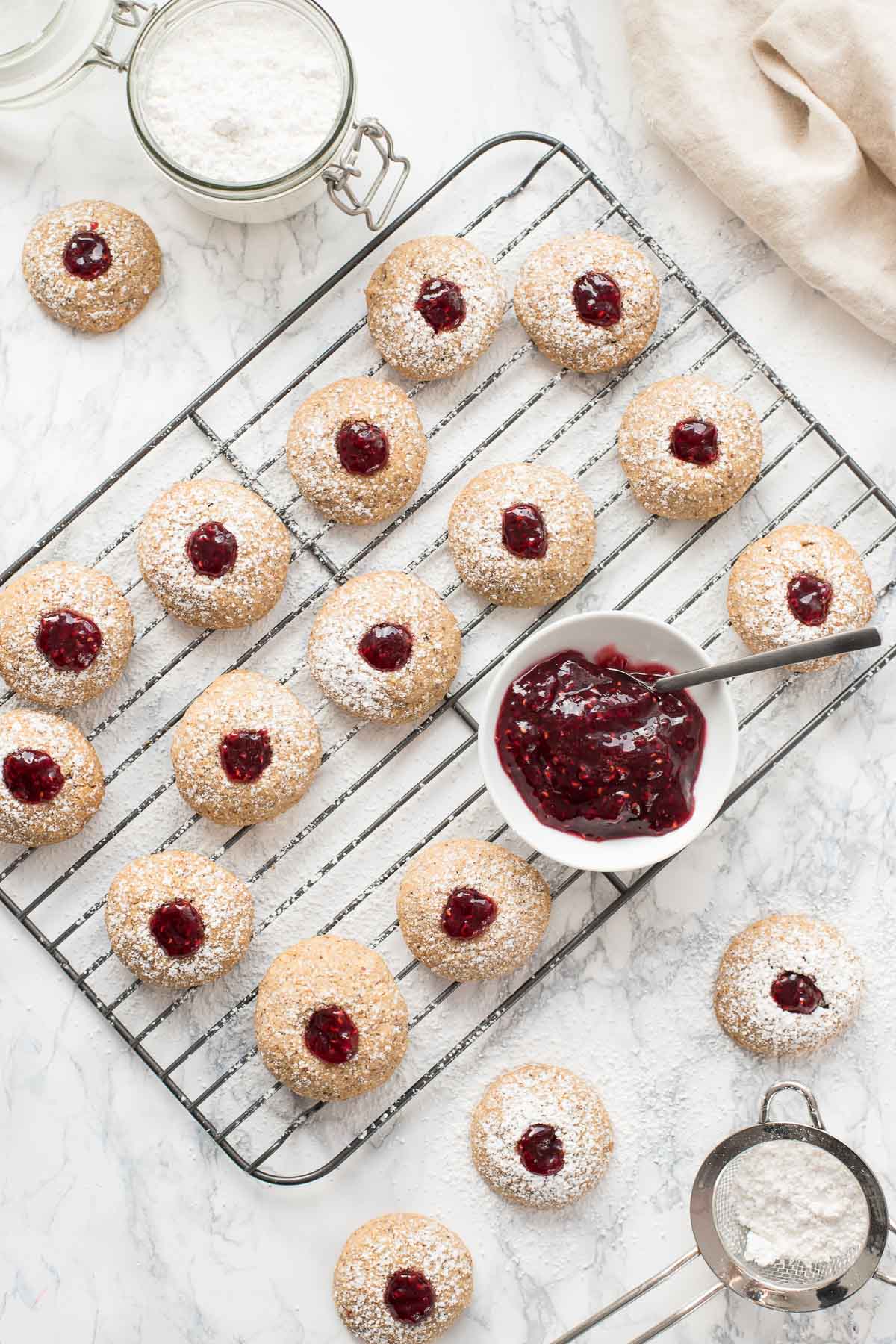 And funny enough, through my "sample group" there's one thing I noticed about thumbprint cookies. There are those who are pro-jam and against. So I think the best way to prepare a Christmas cookie recipe that will please everyone is to do a mix of both. Those with and those without jam. Which is perfectly easy to do with this recipe.
I also learned that there are soooo many names for thumbprint cookies in German: Engelsaugen Kekse, Husarenkrapfen, Kulleraugen, or Vogelnest. The funniest being Kulleraugen which are those wobbly googly eyes for craft projects. So these are my googly eye Christmas cookies. 🙂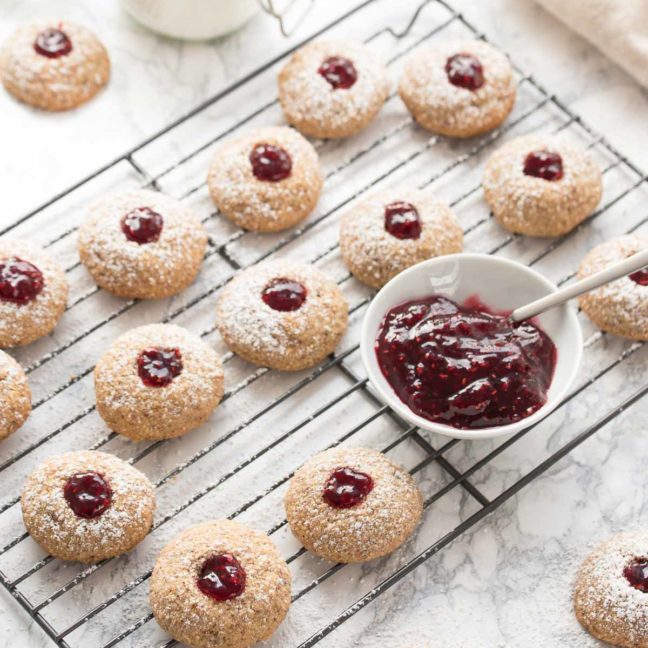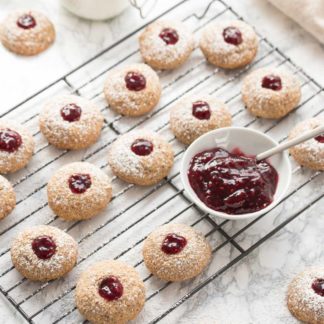 Gluten-free Thumbprint Cookies
An easy recipe for gluten-free thumbprint cookies. Fill with your favorite jam for a delicious Christmas cookie. Note: the dough needs to be chilled beforehand so is best prepared the night before. Yields 24 cookies, more if made smaller.
Ingredients
130

g

almond meal

70

g

buckwheat flour

55

g

brown rice flour

65

g

fine-cut oats

(certified gluten-free if needed)

80

g

organic beet sugar

1/4

teaspoon

sea salt

1/8

teaspoon

baking soda

1/8

teaspoon

pure vanilla powder

60

g

cream cheese

170

g

unsalted butter,

slightly softened, cut into chunks

1

tablespoon

water
To decorate:
Powdered sugar,

for dusting

Favorite jam,

for filling
Method
In a food processor, fitted with the steel blade, add the almond meal, buckwheat flour, rice flour, oats, sugar, salt, and baking soda and vanilla. Pulse once to combine. Then add the cream cheese, butter, and water. Process just until a smooth dough forms.

Using a rubber spatula, scrape the dough into a bowl and cover it with plastic wrap. Refrigerate overnight (or at least 2-3 hours, so that it is completely cold).

Preheat the oven to 325°F / 165°C. Position the oven racks in the upper and lower thirds of the oven and line two cookie sheets with parchment paper.

Use a tablespoon to scoop out enough dough to make a ball. Gently roll each portion of dough between your hands into a round ball that is about 3 cm in size.

Place the balls ca. 5 cm apart on cookie sheet. Bake 18 to 20 minutes, until the cookies are browned on the bottom (you will see that the edges are golden brown, otherwise gently lift the edge of one of the cookies and peek at the bottom).

IMPORTANT: Be sure to rotate the cookie sheets from top to bottom AND front to back halfway through the baking time. This is important to ensure even baking.

Once done, place the cookie trays on wire racks and use handle of a wooden spoon to create an indent each cookie (about halfway into the center) while they are still hot.

Once the cookies have cooled, use a fine-mesh strainer to dust the cookies with powdered sugar, then add a little jam to the indented center. Store in an airtight container. Without the jam, these cookies will keep for up to 2 weeks.

Enjoy!
Did you try this recipe?
Then tag @ellerepublic on Instagram and hashtag it #ellerepublic
How did you like it?
Please let me know how this Gluten-free Thumbprint Cookies recipe turned out for you! I would love to hear how you liked it. Simply rate it with the stars above ⭐or leave me a comment and rate it below.
Did you make any changes to this recipe?
If you have tips for other readers, let me know! It helps me and other readers so much. Sharing is Caring :-).
This post contains affiliate links. If you decide to make a purchase through my link, Amazon will pay me a commission for it. This doesn't cost you anything additional and the price remains the same. More about advertisements on Elle Republic.