This grilled steak panzanella salad recipe embodies the flavors of summer! It's made with marinated grilled steak which is served over a salad made with juicy tomatoes and grilled ciabatta and zucchini. And then tossed with fresh spinach leaves and basil in a simple Dijon vinaigrette dressing.
What is a panzanella salad?
Essentially, a panzanella salad consists of stale bread (in this case grilled ciabatta), fresh tomatoes, basil and oil and vinegar. It's rather simple but can be transformed into a filling, hearty, dinner salad by including other fresh ingredients, such as grilled zucchini or red peppers, avocado (also peaches!) or an even grilled steak, chicken or halloumi.

A steak salad delivers extra nutrients
With three teenagers who are big fans of steaks, burgers & co. making a grilled steak salad is a great way to get them eating more greens and an assortment of vegetables. With a plate full of colourful fresh food, you can pretty much guarantee that you are getting a wide variety of vitamins, minerals and antioxidants from your meal. The more colours the better!

Grilling steak indoors
When you think of grilled steak, an outdoor grill probably comes to mind. However there are other ways to get that "grilled steak" flavour indoors as well. You may have already seen my post (and video) on how to grill steak using a cast iron grill plate — a fantastic method by the way — but this time I thought I would put my ELAG LeMax to the test and try grilling steak on a glass ceramic grill. The benefit here is that is can be used both indoors and outdoors.
Grilling steak with the LeMax
One of the best things about this electric grill is that it has plenty of room for all of your ingredients. It also can reach temperatures of 380°C, which makes for the perfect surface for searing steaks quickly. When you sear meat, it forms a rich brown crust on the surface which amplifies the flavor and texture of the finished dish. Then you finish the steak at a reduced temperature to allow for the inside to cook.
Cook time depends on your preference and the thickness of the steak, but generally after you have seared a light brown crust on each side (1-1,5 minutes), you cook the steak as follows:
4 to 6 minutes for medium-rare (135°),
6 to 8 minutes for medium (140°)
9 to 10 minutes for medium-well (150°)
Don't forget to to let your steaks rest after they come off the grill to let the juices redisburse — around 5-10 minutes is ideal, as this will give you a more tender, juicier steak.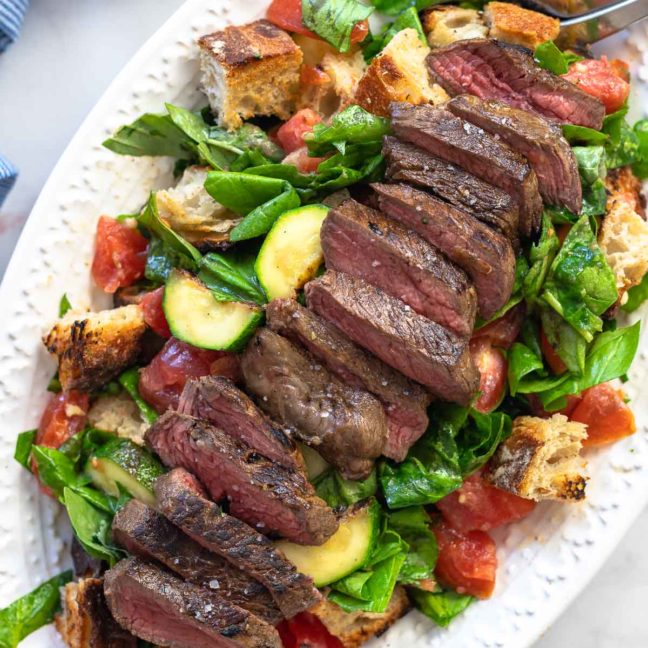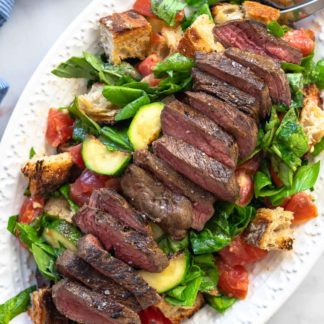 Grilled Steak Panzanella Salad
Panzanella salad (Italian bread and tomato salad) with grilled steak, zucchini, spinach and basil makes a great summer BBQ meal, one that can be enjoyed by the whole family. Serves 2 as a filling main or 4 as a side dish. This recipe can easily be doubled to feed a crowd.
Prep Time
1
hour
10
minutes
Total Time
1
hour
40
minutes
Ingredients
For the marinated meat:
300-350

g

beef filet, sirloin, or other cut of choice

(sustainably sourced)

1 1/2

tablespoons

extra-virgin olive oil

1 1/2

tablespoons

balsamic vinegar

1

garlic clove,

minced

1/2

teaspoon

coarse sea salt

freshly ground black pepper
For the salad:
500

g

ripe beefsteak or heirloom tomatoes,

cut into bite-size pieces

1

teaspoon

coarse sea salt

1

medium zucchini,

cut in half lengthwise

2

thick slices ciabatta bread

1/2

tablespoon

white wine vinegar

2

tablespoons

extra-virgin olive oil

1

clove

garlic,

minced

1/2

tablespoon

Dijon mustard

2

handfuls spinach leaves,

stems removed, chopped

1

generous handful basil leaves,

torn if large
Method
Place the steak in a bowl, and add the marinade ingredients (olive oil, balsamic vinegar, garlic, sea salt, and a generous grind of black pepper). Toss until the meat is coated, then let rest at room temperature for at least 1 hour.

Meanwhile, transfer the chopped tomatoes to a colander and place over a large bowl. Sprinkle with salt and toss to combine; set aside to rest for 1 hour.

Preheat the tabletop grill (or grill pan) over medium-high heat (for the LeMax level 10 for 7-8 minutes).

Remove the steaks from marinade and pat dry with a paper towel.

Brush the grill with a little heat resistant oil (e.g. sunflower, corn and avocado oil), alternatively brush the steak with a little extra oil, this results in less smoke.

Place the steaks on the grill and brown them for 1-1,5 minutes per side. Reduce the temperature (on the LeMax to level 8) and continue the grilling turning occasionally, until lightly charred on all sides and steak has reached desired doneness.

Transfer to a cutting board and let rest 10 minutes before slicing against the grain.

Scrape any remnants on the grill to the side, and brush zucchini with oil and season with a little salt and pepper. Place cut side down on the grill, and turning occasionally, grill until zucchini is lightly charred and tender, about 8-10 minutes.

Meanwhile, also grill the ciabatta slices alongside zucchini, turning occasionally, until lightly charred and crisp, about 4-5 minutes.

Transfer the zucchini and bread to cutting board. Let cool slightly, then slice zucchini into half moons and slice the ciabatta into bite-sized cubes.

Shake the colander with the tomatoes to thoroughly drain, and set aside, reserving the tomato liquid in bowl. Add the olive oil, white wine vinegar, garlic and mustard to the bowl with the reserved liquid and season with freshly ground pepper. Whisk together to combine.

Add the tomatoes and zucchini and toss to coat. Then add the spinach, basil and ciabatta. Toss again just to combine. Top the salad with the sliced steak and sprinkle with coarse or flaky sea salt. Serve and enjoy!
Notes
The steak can be marinated 10 hours ahead covered in the refrigerator. Let steak come to room temperature at least 1 hour before cooking.
For a relaxing atmosphere in the kitchen I recommend my personal Elle Republic: Chilled Out Kitchen Tunes Playlist on Spotify.
Did you try this recipe?
Then tag @ellerepublic on Instagram and hashtag it #ellerepublic
How did you like it?
Please let me know how this bGrilled Steak Panzanella Salad recipe turned out for you! I would love to hear how you liked it. Simply rate it with the stars above ⭐ or leave me a comment and rate it below.
Did you make any changes to this recipe?
If you have tips for other readers, let me know! It helps me and other readers so much. Sharing is Caring :-).
This post contains affiliate links. If you decide to make a purchase through my link, Amazon will pay me a commission for it. This doesn't cost you anything additional and the price remains the same. More about advertisements on Elle Republic.
Many thanks to ELAG Products GmbH for sponsoring this Grilled Steak Panzanella Salad recipe.