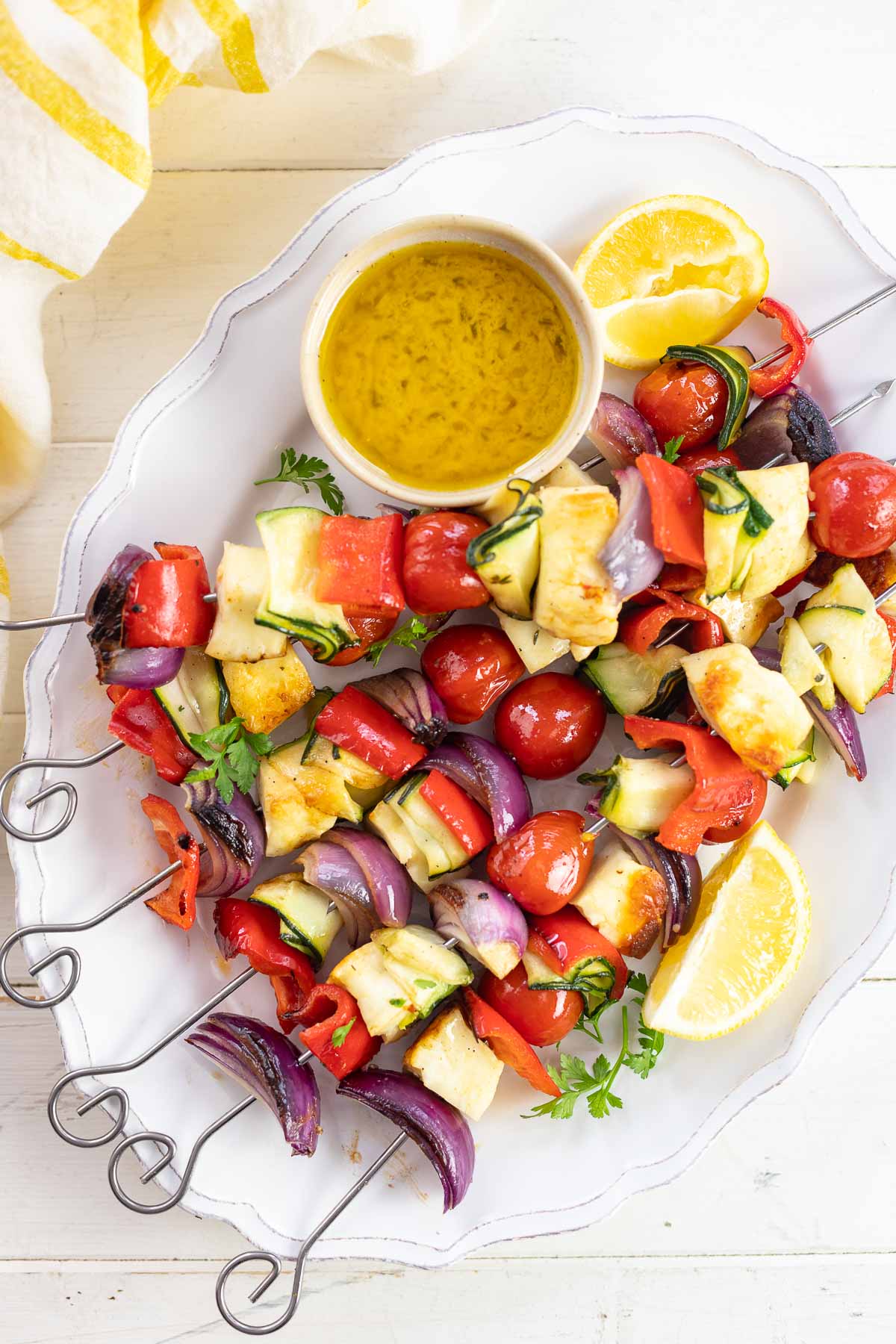 Grilled Halloumi and Vegetable Skewers are a summertime favourite. Easy to prepare, these grilled veggie kabobs with halloumi are the ultimate choice for vegetarian grilling. If you have already discovered the awesomeness of halloumi—then you know that this salty-tasting "grill cheese" transforms into something magnificent when pan-fried or grilled. Originating from Cyprus, it's usually made of goat or sheep's milk (and sometimes also with cow's milk in the mix, or a mixture of all three).
Halloumi – One of a kind grill cheese
It's wonderful enjoyed with grilled tomatoes and eggplant (as in this Bulgur Chickpea Salad with Grilled Halloumi and Eggplant) or a combination of mediterranean favorites, like zucchini, red pepper, tomatoes and red onion. You can enjoy it pure with a drizzle of Greek-influenced vinaigrette of oil, red wine vinegar, garlic, oregano, and mint. Or as in this recipe with a thyme butter basting and dipping sauce. The bonus here is that the sauce doubles up as the perfect topping for grilled corn on the cob, potatoes, asparagus AND the topper, grilled fish and chicken. So I like to make a little more than is needed for the skewers and use the sauce for anything accompanying these vegetables skewers.

ELAG LeMax — a grilling experience
Once again, I put my ELAG LeMax to the test — this time with grilled kebabs with vegetables and halloumi. The most surprising thing for me was that grilling kebabs on the LeMax actually taste like the came right off a traditional outdoor BBQ. You get that wonderful smoky flavour that is so well recognised from outdoor grilling. And this, all in the comfort of your home, anytime of year, any type of weather. And another benefit is that thanks to its large cooking area, you can actually prepare a pot with the sauce directly on it surface. And to control its heat, just move the pot to the outside edge of the cooking surface for the "keep warm" area. Easy peasy.

How to prepare the halloumi and vegetable skewers
There are actually three ways you can prepare this recipe. Let's take a look:
You can simply thread the skewers with the vegetables and halloumi, brush the grill lightly with oil, and then once you place the kabobs on the grill, brush them with a little of the basting sauce. Grill, turn over and baste again.
Thread the skewers and brush them with the basting sauce and place them on the grill, no need to brush the grill with oil.
Pour the marinade over the veggies and halloumi, and give everything a big stir so that everything is well coated in the marinade. Then thread the skewers and place them on the grill.
There's not right or wrong way, all three methods result in delicious tasting grilled vegetable kabobs!

How to adapt this grilled kabob recipe
The great thing about vegetable skewers is that you can easily adapt them to suit your taste. Love potatoes, how about adding parboiled potatoes to the mix. And while you're at, crimini mushrooms are also a great choice. And if you are looking for something a little different than the usual how about adding a few radishes. They are also great grilled. As for the zucchini, I like to cut it into ribbons, but you could also since cut it into half moons.
Tools Needed:
Skewers: First, you need skewers to thread your vegetables and halloumi on. I like using metal skewers as they are reusable. But feel free to use wooden skewers. However, they are best soaked in water for a few minutes beforehand, especially if you are using an outdoor BBQ. And one note about metal skewers, they can get hot. You may be able to turn the skewers the first time, but you'll most definitely need a kitchen tongs or mitts to handle them as they continue grilling. They can get hot!
Grill: Naturally. As a city dweller, I love to use my LeMax as it can be used indoors or outdoors on the balcony. If you don't have one, you can use a standard BBQ or a cast iron grill plate or pan.
Kitchen tongs: An essential in every kitchen, you will use the tongs to flip and remove the skewers from the grill.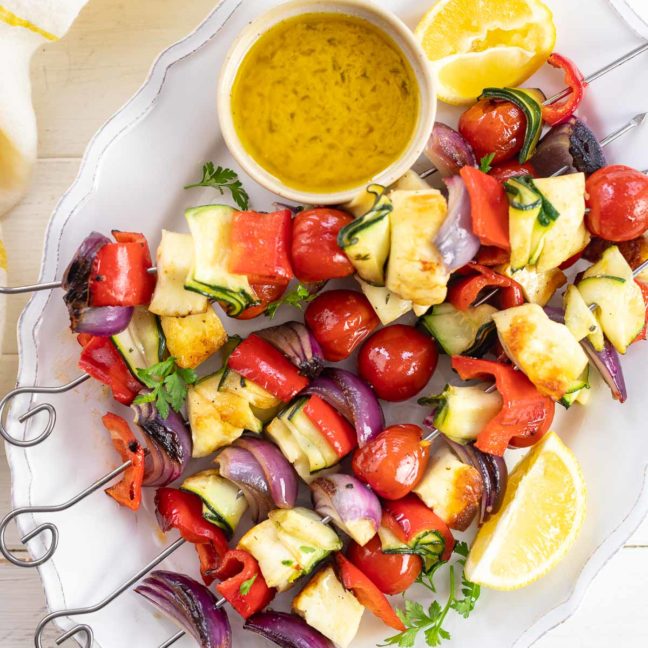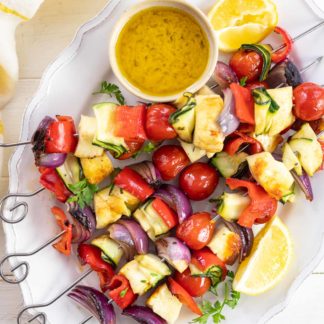 Halloumi and Vegetable Skewers
A simple vegetarian grilled kebab recipe. Simple halloumi and vegetable skewers are basted in in a delcicious dijon-lemon-thyme sauce.
Ingredients
For the skewers:
1

zucchini,

sliced into thin ribbons

1

pointed red pepper,

cut into pieces

1

medium red onion,

quartered

1

x 200 g package

halloumi,

cubed

140

g

cherry tomatoes

Sea salt and freshly ground pepper,

to taste
Basting Sauce (see notes):
110

g

unsalted butter,

melted

2

shallots,

finely chopped

4

tablespoons

extra-virgin olive oil

3

tablespoons

Dijon mustard

2

tablespoons

freshly squeezed lemon juice

2

tablespoons

chopped fresh thyme

Finely grated lemon zest,

from one organic lemon
Grilling And Serving:
Sprigs of parsley

Lemon wedges
Method
Thread the cubes of halloumi and variety of vegetables onto the skewers.

Preheat the grill over medium-high heat (for the LeMax level 8, for 5 minutes). Place a small saucepan on the grill and melt the butter. Then combine the remaining basting sauce ingredients and season with salt and pepper, to taste.

Place the saucepan with the basting sauce on the outer edge of the grill to keep warm and brush the remaining surface lightly with heat resistant oil.

Place the skewers on the grill and brush them with the basting sauce.

NOTE: alternatively you can brush the skewers with the basting sauce and then place them directly on the grill.

Grill for 3 minutes on each side, brushing occasionally with basting sauce and turning with tongs, until slightly charred and cooked to your liking.

NOTE: If doing a bigger batch or grilling other accompaniments, transfer vegetables to small platter and tent with foil to keep warm.

Season all vegetables with salt and pepper. Garnish with fresh parsley sprigs and lemon wedges. Enjoy!
Notes
NOTE: if only using the basting sauce for the skewers, then I recommend reducing it by half. I like to use the remaining basting sauce as a dip for the vegetables and also as a sauce for accompanying sides, such as potatoes, grilled corn or grilled fish or chicken.
Did you try this recipe?
Then tag @ellerepublic on Instagram and hashtag it #ellerepublic
How did you like it?
Please let me know how this halloumi and vegetable skewers recipe turned out for you! I would love to hear how you liked it. Simply rate it with the stars above ⭐ or leave me a comment and rate it below.
Did you make any changes to this recipe?
If you have tips for other readers, let me know! It helps me and other readers so much. Sharing is Caring :-).
This post contains affiliate links. If you decide to make a purchase through my link, Amazon will pay me a commission for it. This doesn't cost you anything additional and the price remains the same. More about advertisements on Elle Republic.
Many thanks to ELAG Products GmbH for sponsoring this Halloumi and Vegetable Skewers recipe.