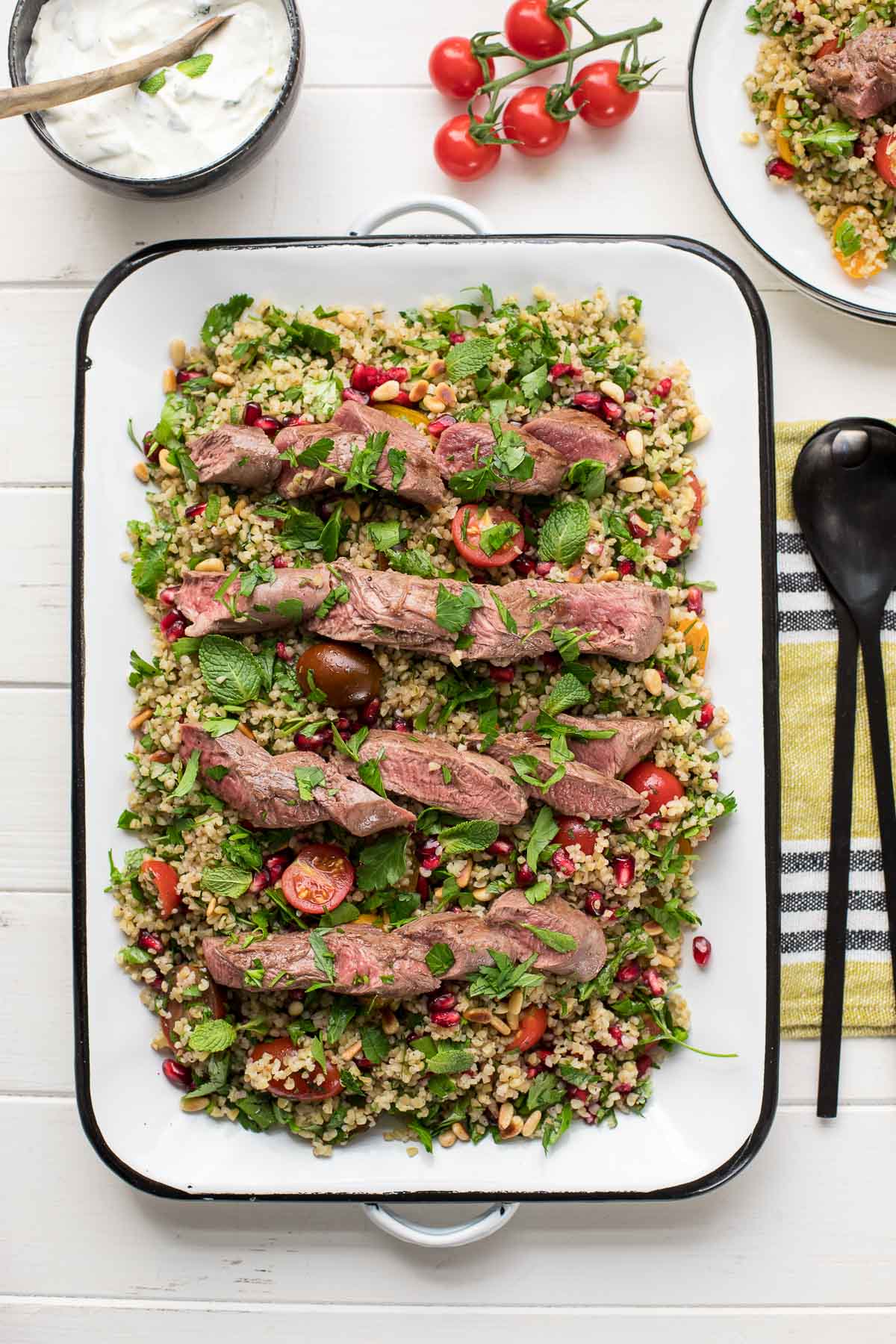 For this dish, I combined some of my favorite ingredients that ended up being a great play on flavors and texture. Tender lamb is served over a delicious bulgur salad that is packed full of fresh herbs, sweet tomatoes, pine nuts and pomegranate, then tossed in an dressing with flavors of the orient. On the side, a minty yogurt dip to accompany the lamb. It comes together perfectly, and much to my surprise is a dish the whole family enjoys.
A quick and easy lamb fillet recipe
The wonderful thing about this recipe is that you can prepare the lamb in about 5 minutes and the bulgur salad in about 20 minutes. That's because this is a lamb fillet recipe. Lammfilet is so easy and quick to prepare compared to a whole leg! Lamb is a popular choice for Easter, especially a slow-roast leg of lamb. However, unless you're cooking a big Easter feast, buying and cooking a whole leg for a small family isn't really sensible or economical. This is a dish that can be successfully cooked for one, two or a whole family (or more, if you wish so). It's a wonderfully satisfying and light meal. Serve it with a vegetable side (such are roasted root vegetables or cauliflower), plus some pita bread and turn this into a mini feast – perfect for Easter Day or as an alternative to Sunday roast! But on its own, this quick and easy to make recipe for lamb fillet with bulgur salad are enough for an everyday meal.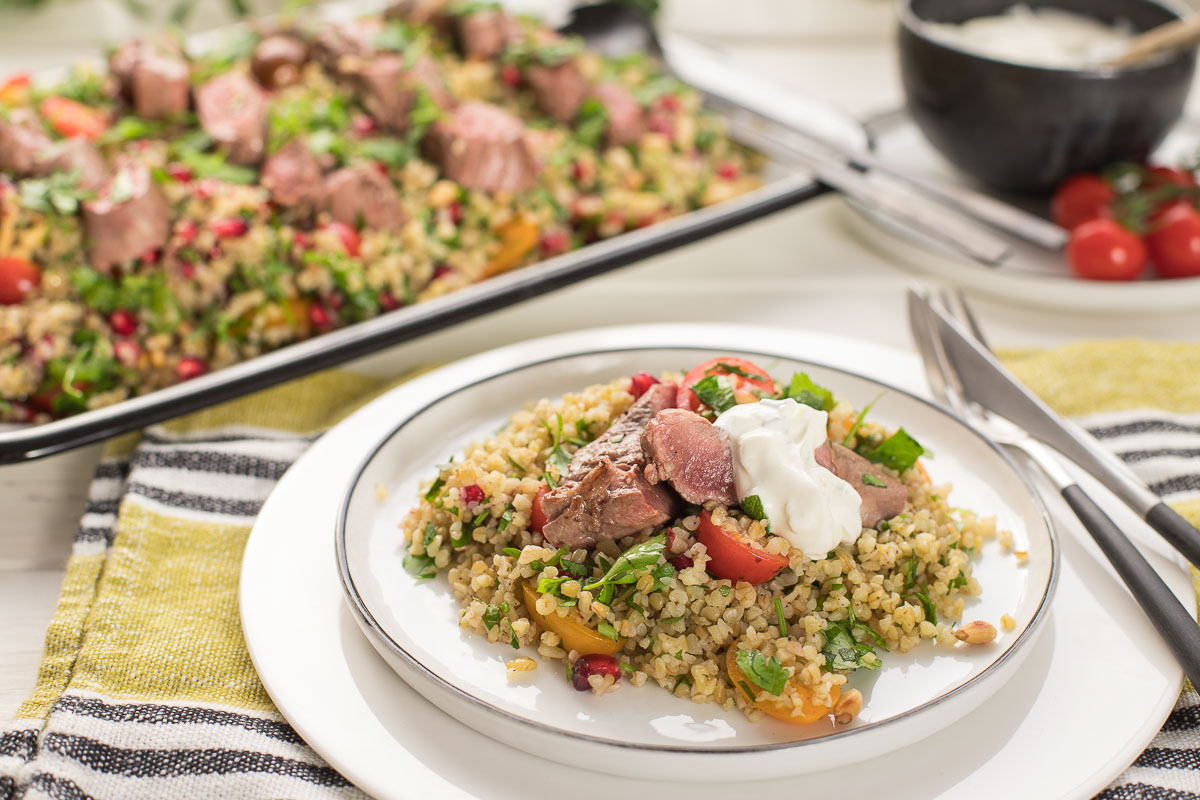 Honor Your Body, Your Food, Our Planet
There are so many reasons to swap conventional, factory-farmed meat for grass-fed, pasture-raised animal protein. It's more humane and better for the animal; it's more sustainable and better for the environment; and it's higher in nutrients and better for YOU! For me, as a flexitarian, ethical meat all starts with the farmer and the way the animal is raised. And how you slaughter animal is as important as how you raise them. That includes not just the animal, but the land. It's kind of a complete circle. To eat meat more ethically, my advice is two-fold: eat less (about 50 per cent less, if you can) and choose better quality meat.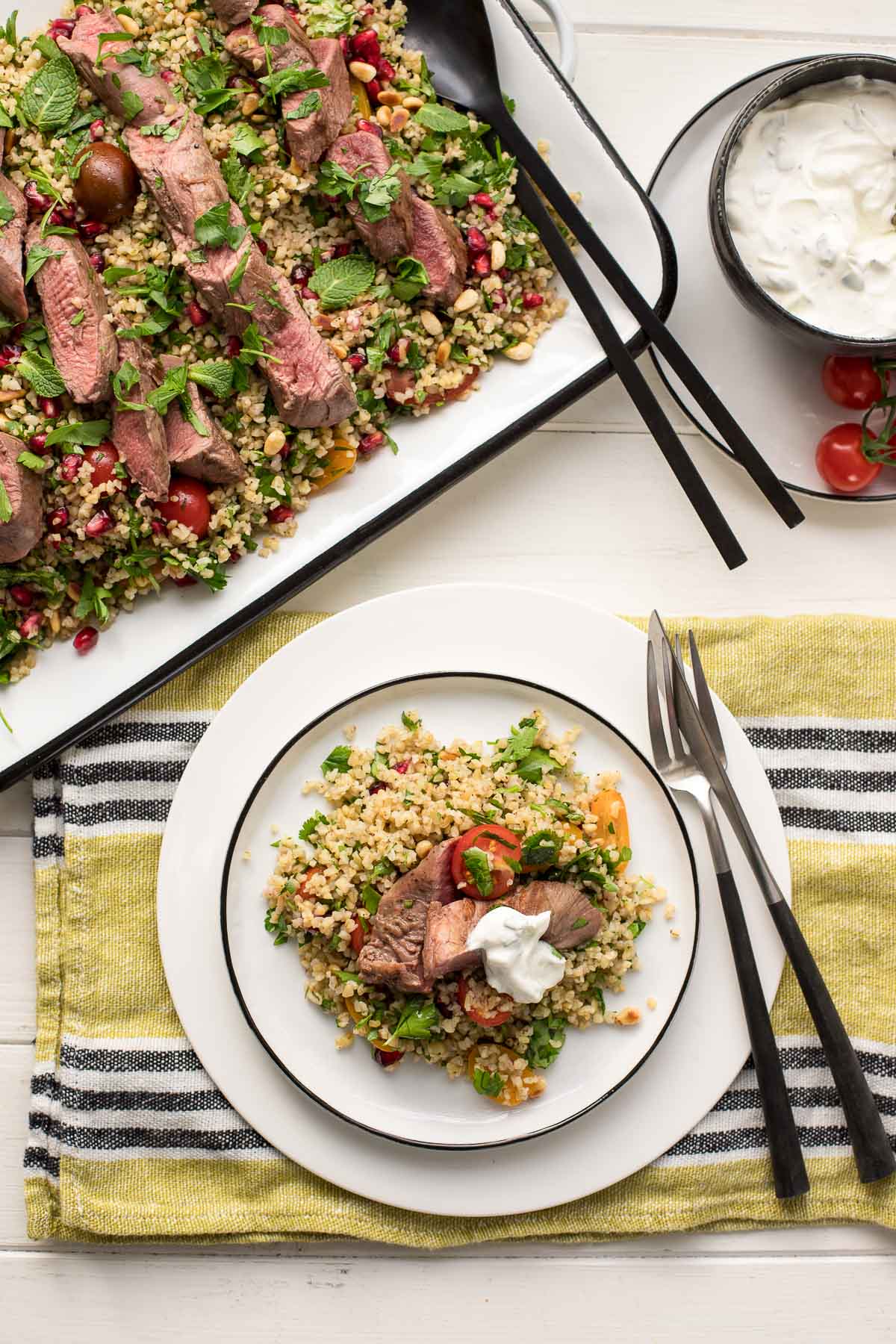 Farm-to-fridge
The advantages of farm-to-fridge services to consumers are clear—competitive pricing, the convenience of home delivery (or nearby pickup), reduction in food waste (no overproduction!) and of course knowing that your food is humanely and ethically treated, and sustainably raised. Producers are also happy to have an alternative to the farmers market model, which requires many to leave their farms early in the morning to make the long drive, and stand around for hours, often in horrible weather.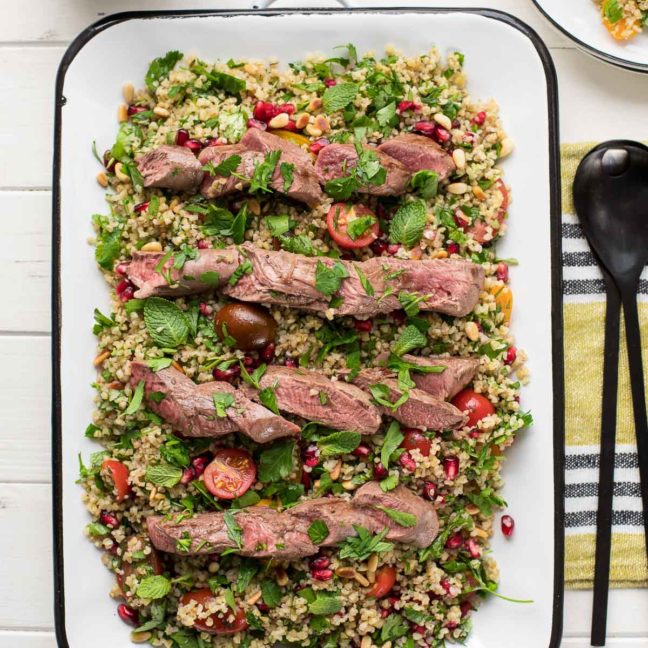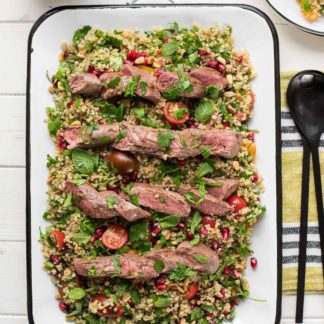 Lamb Fillet with Bulgur Salad
A delicious recipe for tender lamb fillet served over with a herb-packed bulgur salad full of Middle Eastern flavors. Stunning enough to make an appearance at Easter, this quick and easy recipe serves 4-6, but can easily be adapted for two, a whole family, or more, if you wish!
Ingredients
For the salad:
300

g

uncooked bulgur

300

g

cherry tomatoes,

halved (the sweeter the better)

2

small bunches flat-leaf parsley,

chopped

1

small bunch coriander,

chopped

2

tablespoons

freshly chopped mint leaves

2

tablespoons

pine nuts,

lightly toasted

Seeds from 1 small pomegranate

500

g

lamb fillet

(from trusted butcher)
For the salad dressing:
3

tablespoons

extra-virgin olive oil,

or more

1

teaspoon

ground coriander

1

teaspoon

ground cumin

1/2

teaspoon

sumac spice

1/2

teaspoon

coarse sea salt,

or to taste

Fresh ground pepper,

to taste

2

tablespoons

pomegranate balsam

(see notes)
Yoghurt sauce for the lamb:
200

g

Greek yogurt

2

teaspoons

extra-virgin olive oil

1 1/2

tablespoons

freshly chopped mint

1

teaspoon

freshly squeezed lemon juice
Method
Cook bulgur according to package instructions in a saucepan with lightly salted water for 10 minutes, until liquid absorbed. Fluff and transfer to a serving bowl to cool. NOTE: Alternatively, bulgur can be soaked. To soak, put the bulgur in a bowl and pour over boiling water until the water level is about 1 cm above the bulgur. Cover with a plate and let stand until water is absorbed, about 30 minutes.

In a small bowl, mix together the salad dressing ingredients and set aside.

Once the bulgur has cooled, add the chopped parsley, coriander and mint, pour over the dressing and toss until well combined. Add the pine nuts and pomegranate seeds and gently toss again. Transfer to a serving platter.

Rub the lamb loin fillets with, oil and season with a little salt and pepper, to taste.

Preheat a non-stick skillet to medium-high. Cook one side of lamb fillet until the first sign of moisture appears on the uncooked side, turn and cook other side. You may need to turn the meat 3 times so all sides are browned. Test for doneness with tongs. Rare is soft when pressed, medium is springy and well done is very firm. (Lamb loin cooks fast, so depending on desired doneness, this only takes a few minutes per side). Rest the lamb for 2-3 minutes before slicing.

While the lamb rests, prepare the yogurt sauce. In a small bowl, combine all the ingredients and mix until well combined. Taste and adjust seasoning, as desired.

Transfer the sliced lamb to the platter with the bulgur salad. Garnish with a little extra herbs if desired. Serve immediately with the yogurt sauce on the side. Enjoy!
Notes
I used pomegranate balsam, which is made with organic apple vinegar, apple and pomegranate concentrate. You can find it in organic food stores.
If you prefer to make this recipe without you can also use freshly squeezed lemon juice and possibly skip the sumac, since it adds a lemony taste as well.
Did you try this recipe?
Then tag @ellerepublic on Instagram and hashtag it #ellerepublic
How did you like it?
Please let me know how this Lamb Fillet with Bulgur Salad recipe turned out for you! I would love to hear how you liked it. Simply rate it with the stars above ⭐or leave me a comment and rate it below.
Did you make any changes to this recipe?
If you have tips for other readers, let me know! It helps me and other readers so much. Sharing is Caring :-).
This post contains affiliate links. If you decide to make a purchase through my link, Amazon will pay me a commission for it. This doesn't cost you anything additional and the price remains the same. More about advertisements on Elle Republic.