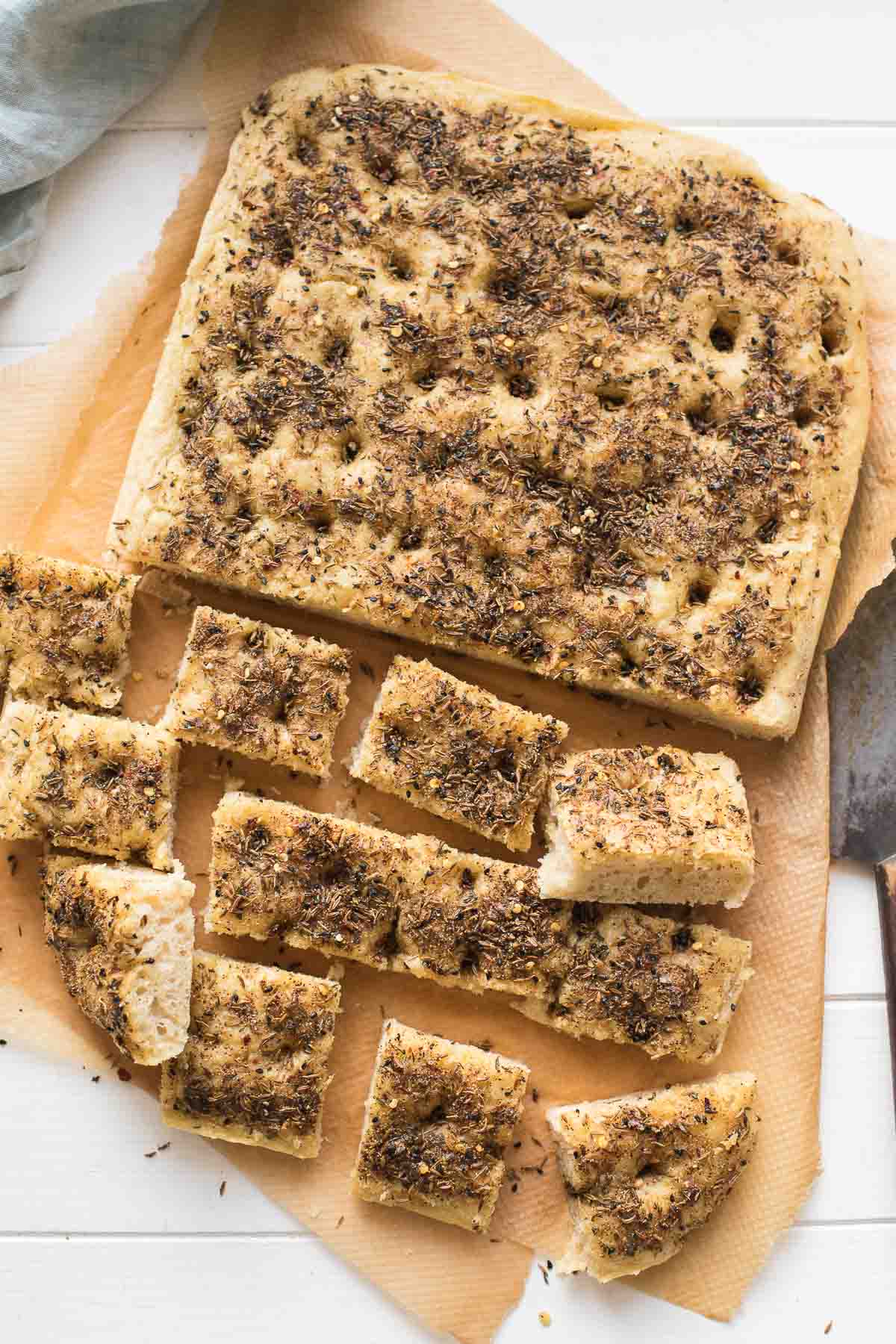 This is probably the most exciting and delicious focaccia bread that I have ever made! This homemade focaccia recipe is super easy, is light and fluffy, and features a mix of my favorite middle eastern spices. There's cumin, coriander, mint, chili flakes, thyme, nigella seeds and sumac, which give it such an amazing flavor!
Homemade focaccia bread is one of my favorite breads to serve it warm to guests as it is so easy to prepare and totally versatile. My classic version is topped with fresh rosemary leaves, Maldon sea salt and olive oil, but you can also top it with things like cherry tomatoes, or sautéed mushrooms or even make a tasty garlic herb bread. The possibilities are endless.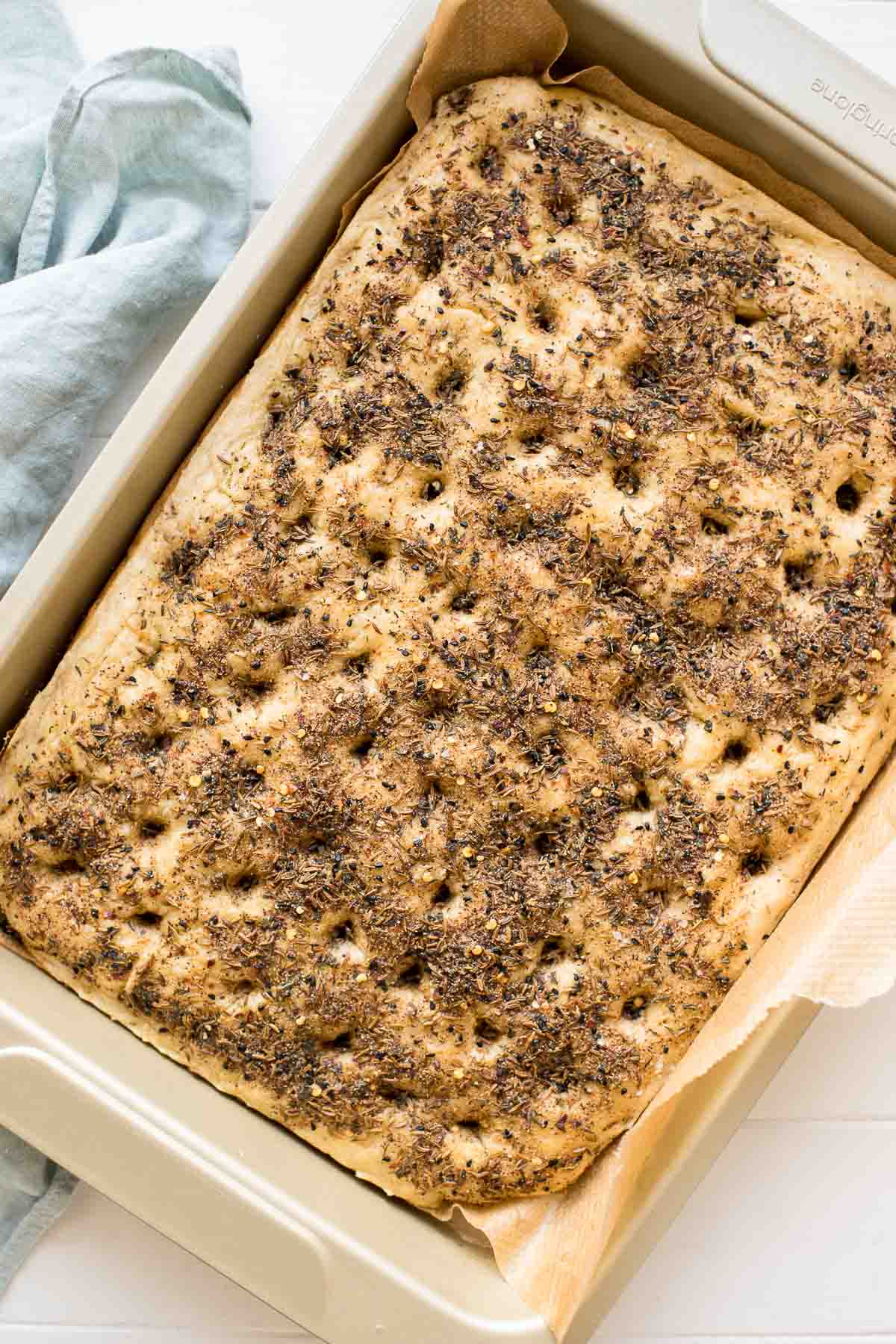 Baking focaccia takes planning ahead
This middle eastern focaccia bread requires about 2-3 hours to make, but that time is absolutely worth it, cause there isn't much "work" involved in all that time. Some focaccia recipes ask you to do two rises, but my version one only requires one rise. All you have to do is mix all the ingredients together, and spread the dough out onto a lined baking sheet, cover it up and let it stand in a warm spot until the dough fluffs up to double its size. This is what gives it the traditional fluffy texture. Sprinkling it with herbs, spices and olive oil is what give it lots of flavor and nice crust.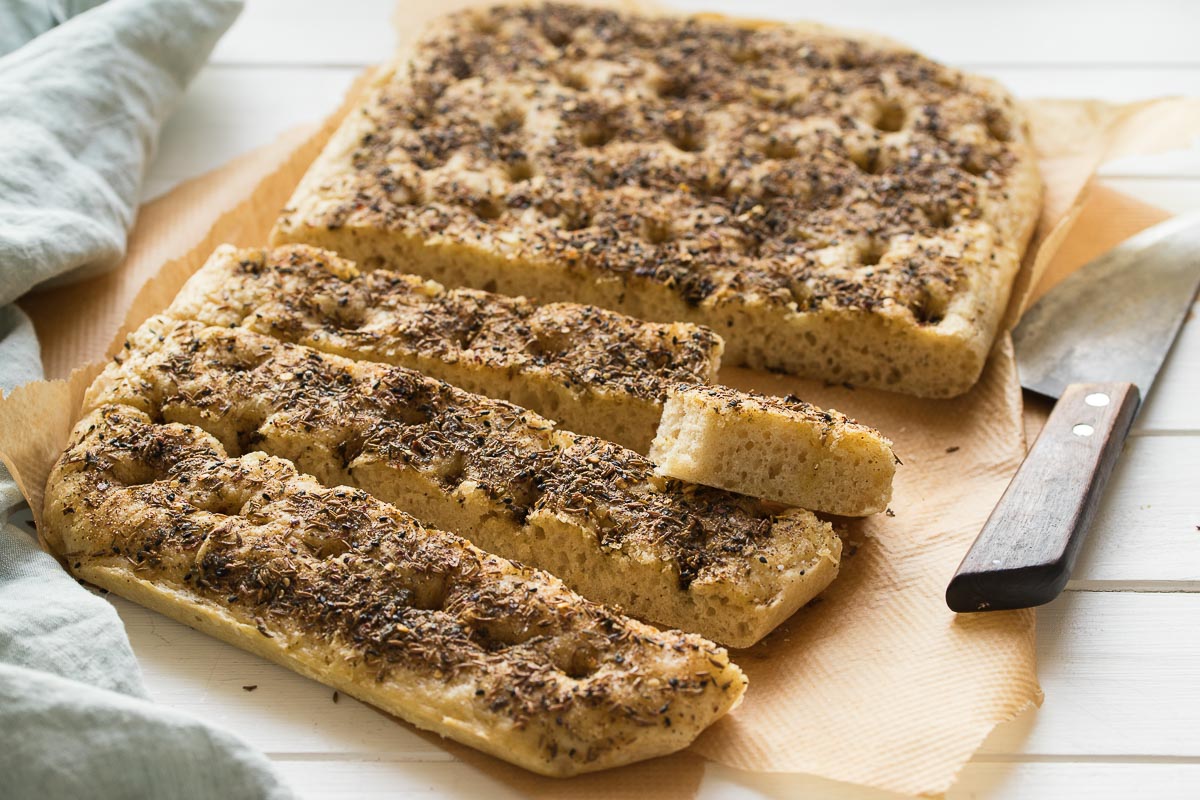 How to make a simple focaccia bread
Making homemade focaccia bread is similar to many yeast-based bread recipes. I like to use instant yeast for this recipe as it is foolproof. But if you are using active yeast then you need to activate it in some warm water beforehand. Then, you need to combine the ingredients in either a bowl or stand mixer. Once everything is loosely combined, either attach a dough hook to your stand mixer or use a handheld mixer with a dough hook and mix the ingredients until they form a rough ball and the dough comes away from the sides of the bowl. Some recipes require that the dough be smooth and elastic and others that it remains sticky. It really depends on the result you are looking for. Some focaccia breads are chewy, others light and fluffy. This one is the latter.
Now it's ready to be formed. With well-greased hands, spread the dough into a baking pan. Then comes the easy part: waiting for the dough to rise. Depending on the time of the year and whether you can find a warm spot for it, this could take 1-2 hours.
And if you decide to do a double rise, which maybe feels a little familiar, then do a long rise for 1 ½ hours, punch down the dough to knock the air out, then spread it into the baking pan. Then let it rise for another 30 minutes in the pan. I think the single rise is easier.
Finally drizzle the focaccia dough with olive oil and sprinkle with your toppings. Voila! Ready for the oven! But wait focaccia also has those lovely indentations. I create them using the end of a wooden spoon, but you can also do them using your thumb. And whether you do this before or after adding the toppings is a bit of a personal choice.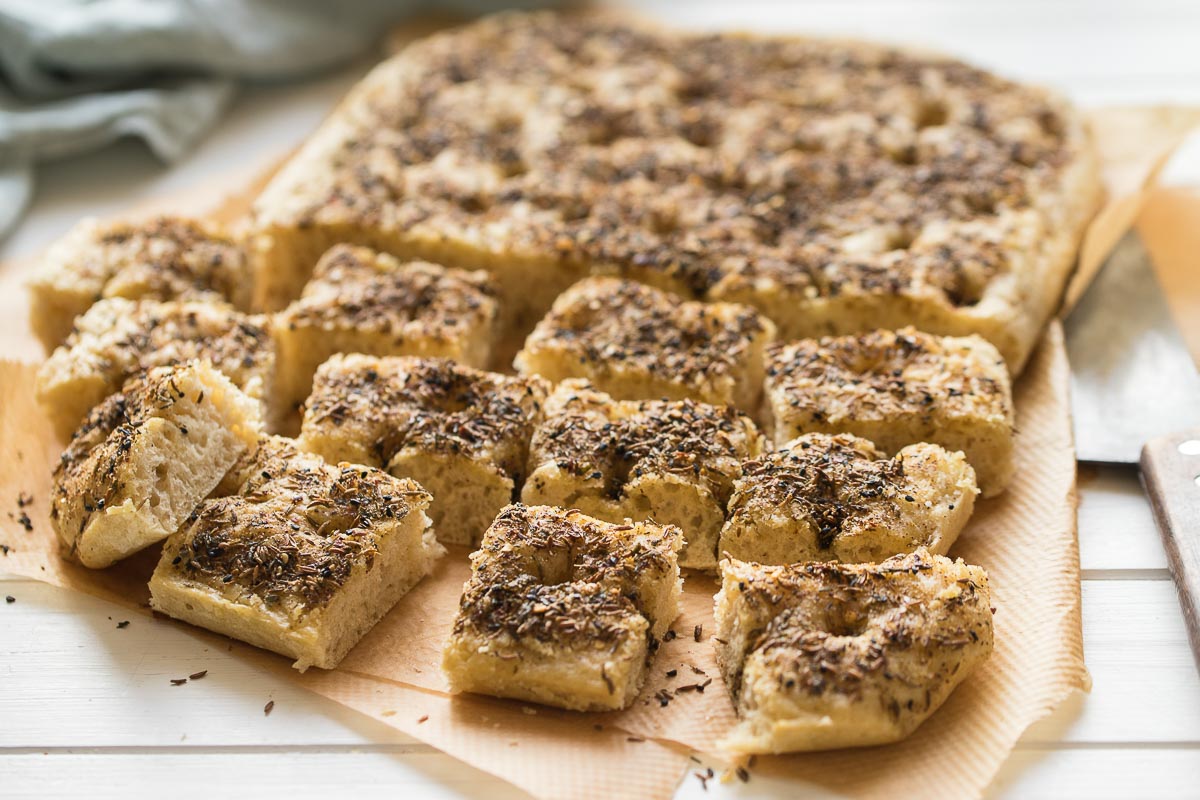 A word about yeast
I am a big fan of using dried instant yeast for my focaccia recipes. And this is mostly because I have had such bad luck with yeast not proofing. Especially the organic versions. Which maybe it is that I am too impatient to wait long enough for them to start bubbling. Some start quickly, others after 10 minutes, and other not at all. So with a quick and easy recipe like this one, I prefer to use what I consider fail safe. And that is simply instant yeast sold at my local grocery store.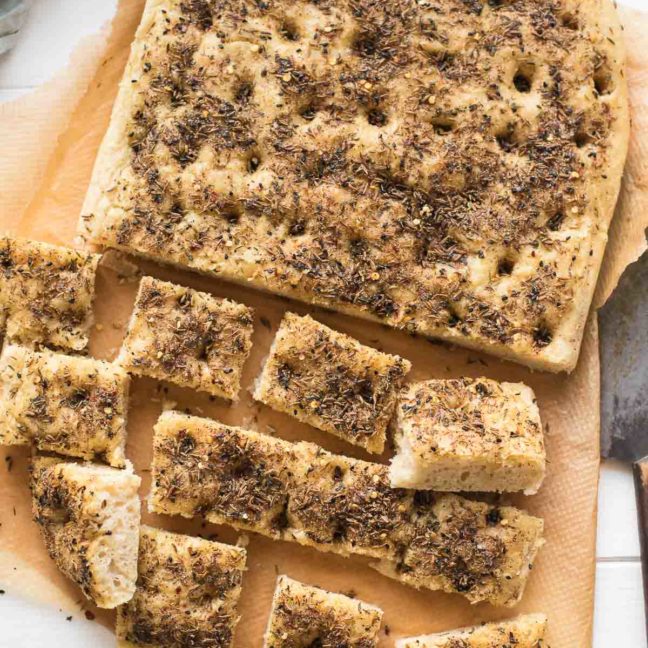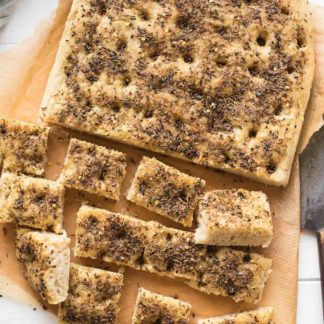 Middle Eastern Focaccia
This homemade focaccia recipe is super easy, is light and fluffy, and features a mix of my favorite middle eastern spices. 
Cook Time
2
hours
30
minutes
Total Time
2
hours
40
minutes
Ingredients
For the focaccia:
400

g

flour

(Type 405)

100

g

whole wheat flour

9

g

package instant yeast

1 1/4

teaspoons

sea salt

1 1/2

cups

warm water

(375 ml)

3

tablespoons

olive oil
For the spice mix:
2

tablespoons

cumin seeds

1

tablespoon

ground coriander

1

tablespoon

finely chopped fresh mint

1/2

teaspoon

dried red chilli flakes

1

teaspoon

fresh thyme leaves

1

teaspoon

black cumin seeds

(nigella)

1

teaspoon

sumac
For topping the focaccia:
3

tablespoons

olive oil mixed with 1 tablespoon water,

plus more oil for drizzling over the spice mix

pinch

coarse sea salt
Method
Combine both types of flour, the instant yeast, salt, warm water and olive oil in a large bowl and beat at high speed with an electric mixer or Kitchenaid/stand mixer using the bread hook for about 60 seconds; until a rough ball of dough forms and it comes away from the sides of the bowl. The dough will be sticky.

Line a large roasting tin (ca. 23cm x 33cm) with parchment paper and place the dough on top. Stretch out the sticky dough to the size of your tin. TIP: I oil my fingers so that the dough doesn't stick to them.

Cover the baking tin with a clean tea towel or plastic wrap. Let the dough rise in a warm place until it has doubled in size, 1 to 2 hours, depending on the ambient temperature. See tips below.

Meanwhile, in a small bowl mix together the ingredients for the spice mix.

While your dough is resting, preheat the oven to 375°F / 190°C with a rack in the middle of the oven.

Once your dough has puffed up in the pan, gently poke the dough all over with your index finger or the end of a wooden spoon.

Drizzle 3 tablespoons olive oil over it, ensuring it is evenly coated. I use a silicone brush to do this. Sprinkle the entire surface of the dough liberally with the spice mixture. Drizzle the remaining olive oil-water mixture over the focaccia. Sprinkle with a little coarse sea salt.

Bake for about 25 minutes, or until golden on top.

Remove it from the oven, wait 5 minutes, then turn it out of the pan onto a rack. Serve warm or at room temperature. Focaccia is best eaten when warm, but is also good at room temperature.
Notes
If using active yeast. Dissolve the yeast and 1/2 teaspoon sugar in 60 ml water and set aside until bubbly (about 10 minutes). Then in a mixing bowl combine the proofed yeast with remaining warm water and other ingredients.
For the topping, the amount of olive oil can also be reduced, if desired. I like to mix it with a little water to keep the bread moist and soft in some of the grooves.
I sometimes also make focaccia using more whole wheat flour. This changes the consistency somewhat but also makes a delicious bread that is a little healthier. Try 350 g flour with 150 g whole wheat or even half and half.
Homemade focaccia keeps for up to 2 days before drying out too much. TIP: leftover day-old bread can also be used to make croutons for a salad rather than tossing leftovers.
Nigella can be found in organic foods stores. It has a delicious black pepper, lemony, caraway-like taste. Sumac is sold in some grocery stores, middle eastern shops, or online. It gives a fantastic tangy lemony taste.
Did you try this recipe?
Then tag @ellerepublic on Instagram and hashtag it #ellerepublic
How did you like it?
Please let me know how this Middle Eastern Foccacia recipe turned out for you! I would love to hear how you liked it. Simply rate it with the stars above ⭐or leave me a comment and rate it below.
Did you make any changes to this recipe?
If you have tips for other readers, let me know! It helps me and other readers so much. Sharing is Caring :-).
This post contains affiliate links. If you decide to make a purchase through my link, Amazon will pay me a commission for it. This doesn't cost you anything additional and the price remains the same. More about advertisements on Elle Republic.