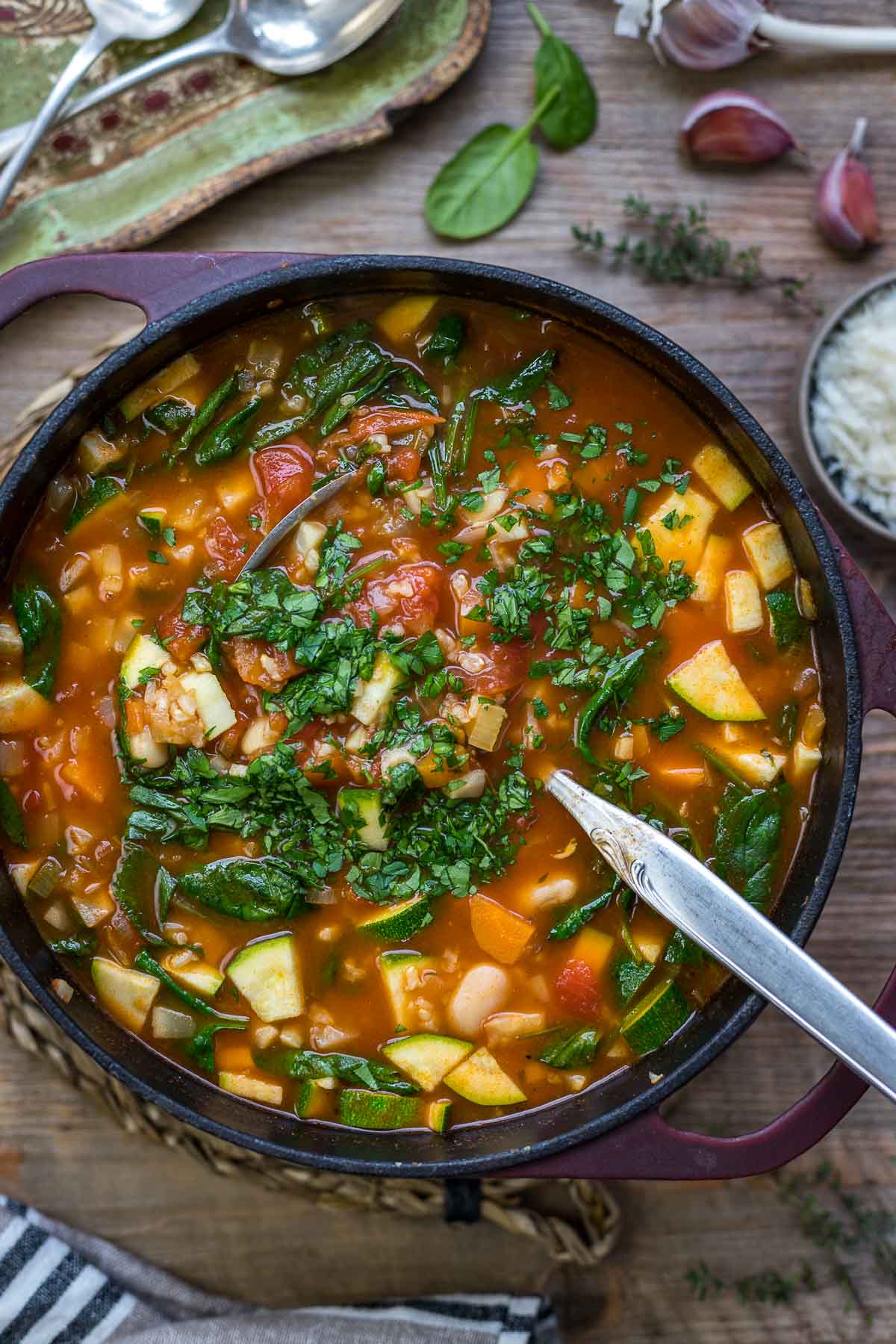 EIt's about time I added a traditional minestrone soup recipe to this blog. Minestrone is a hearty Italian vegetable soup made with a tomato-y broth and either pasta or rice. For this recipe I choose rice — natural short grain rice, which is my absolutely favourite kind of rice. And since minestrone was traditionally made to use up leftover vegetables, you can feel free to use any seasonal vegetables and fresh greens you have on hand. I used creamy white beans, some zucchini and spinach for this soup, and it was absolutely delicious.
When time is of the essence or you haven't planned ahead (or you don't have a pressure cooker) canned beans are the way to go. They cut down on the cooking time which makes this a reasonable choice for a weeknight dinner, but if you really want to cut even more corners, you could use whole wheat pasta instead of natural rice. Or even diced potatoes. Then you could have this on the table in 30 minutes, start to finish. The remaining ingredients are basic pantry items, including canned tomatoes, spices, carrots and onions.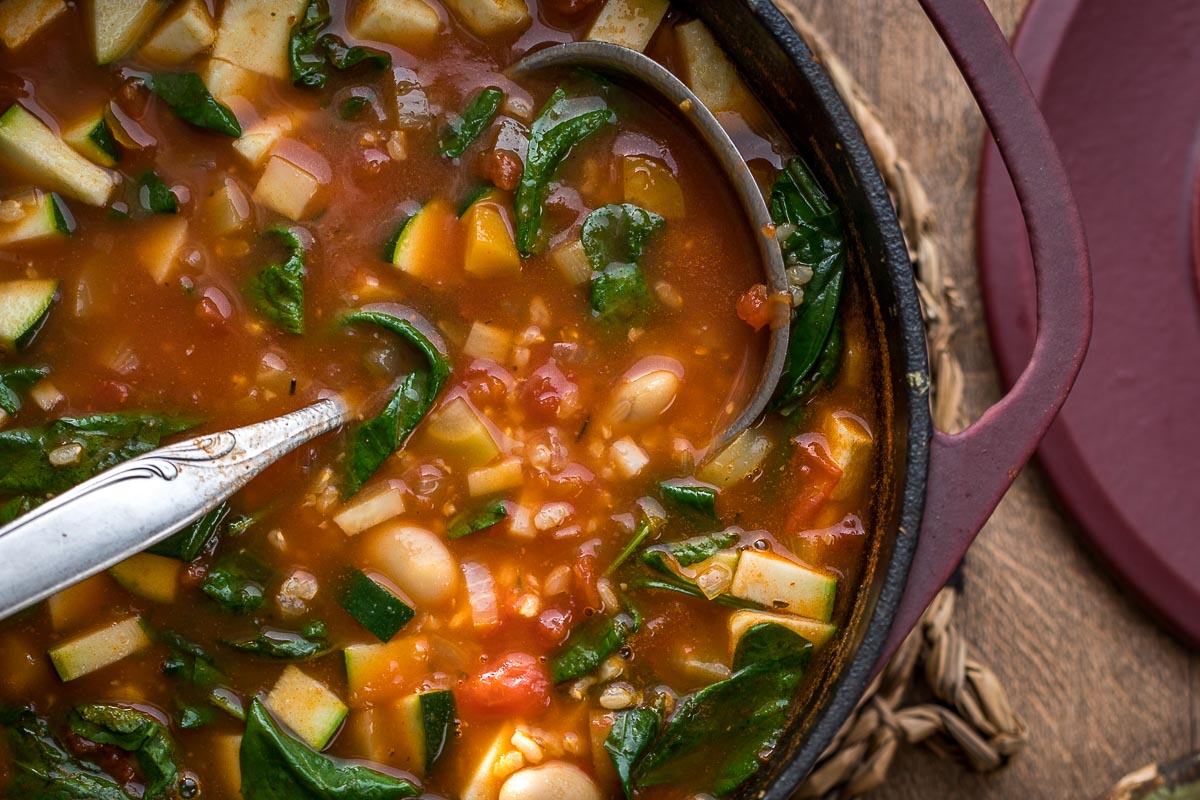 Minestrone Soup is adaptable for any season
You'll see in the recipe though that I have listed some alternative choices of vegetables for you, including potatoes, squash, green beans and peas. And of course, depending on the season you can adapt this soup to incorporate the current seasons freshest vegetables, meaning you can enjoy it in the fall all the way through spring! Asparagus is terrific in this soup!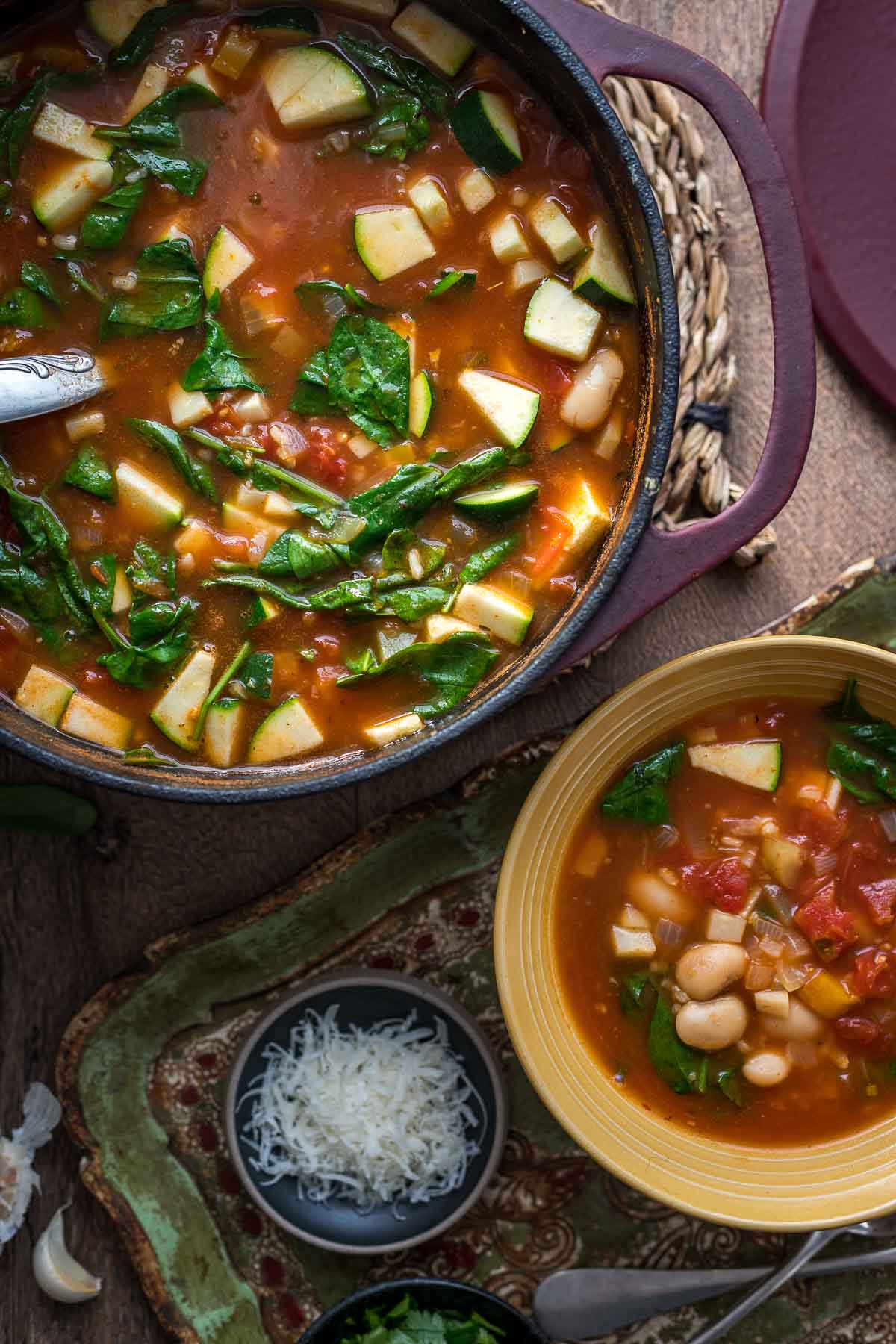 Why is this the best minestrone soup?
This minestrone is easy to make, so tasty and completely worth the effort.
This recipe is loaded with goodness thanks to seasonal vegetables.
It's a nutritionally balanced meal with plant-based protein and whole grains.
It relies on common, affordable pantry ingredients.
You can totally adapt this soup recipe to make it your own.
This homemade minestrone is infinitely better than any store-bought variety!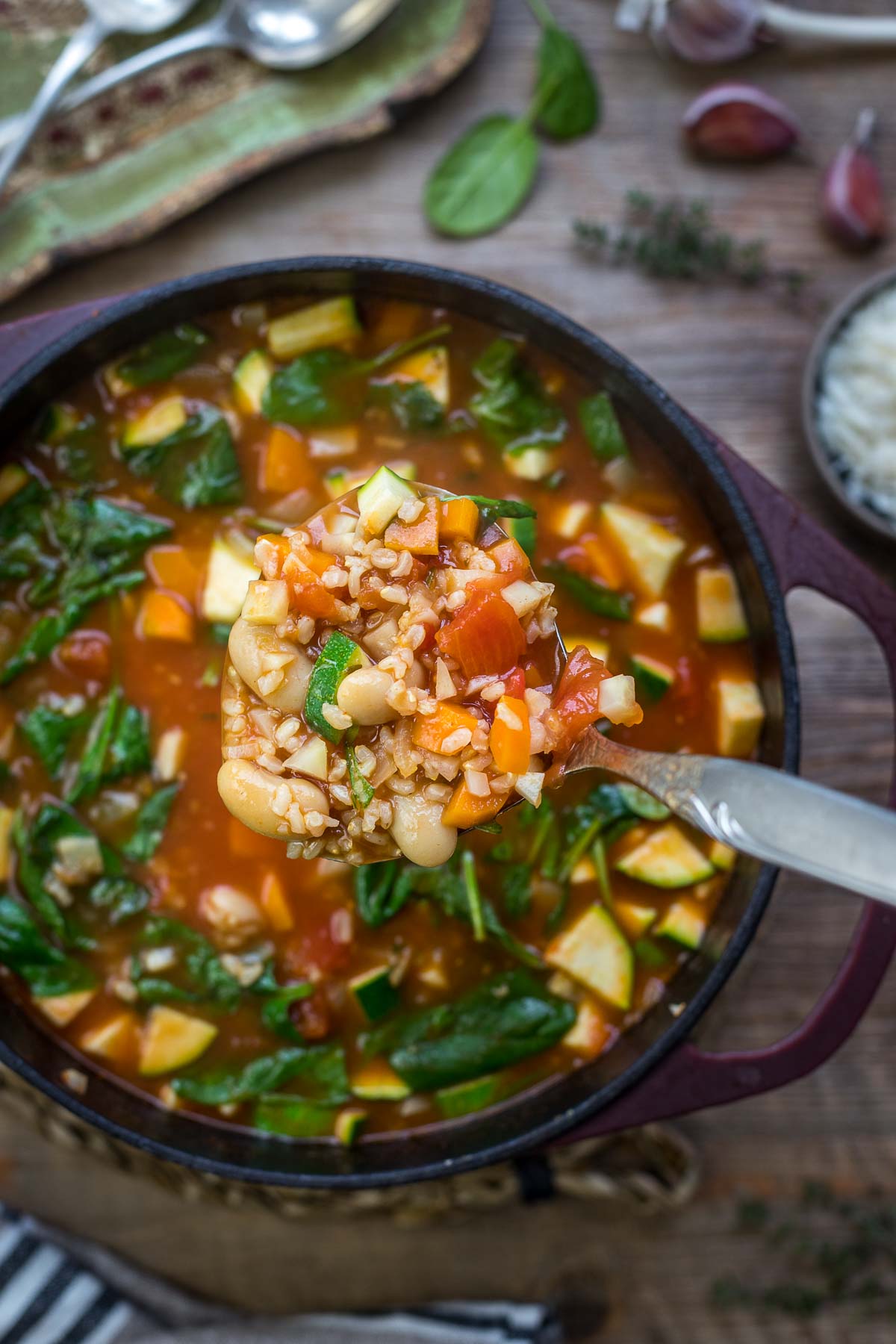 Take a look at my soup archive or try one of these favourite vegetables loaded soup recipes.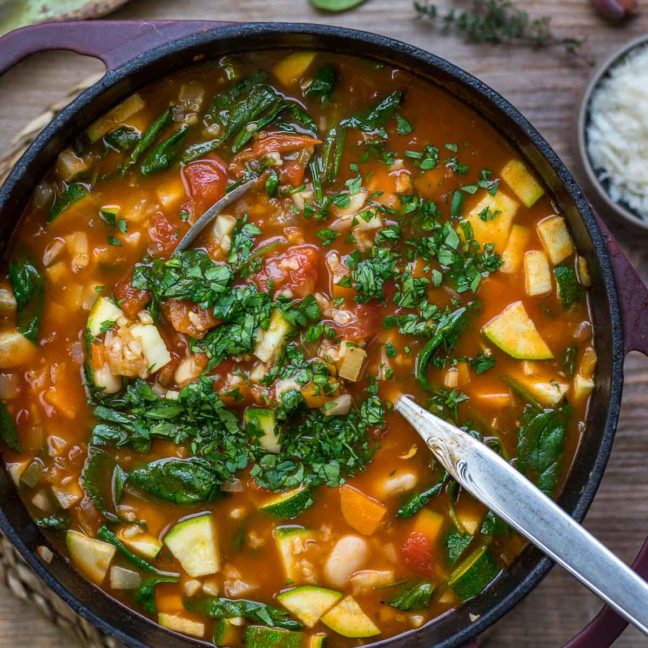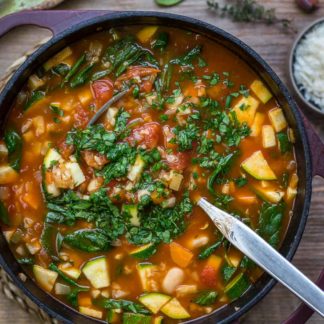 Rustic Minestrone with Rice & White Beans
A rustic and wintery minestrone soup made with short-grain whole rice and white beans. This is a hearty, easy, delicious meal that is made with a pantry staples and whatever fresh vegetables you happen to have on hand.
Cook Time
1
hour
5
minutes
Total Time
1
hour
15
minutes
Ingredients
2

tablespoons

extra-virgin olive oil

2-3

small yellow onions,

peeled and chopped

1/2

a small celery root,

peeled and finely diced (ca. 200g piece)

2

large carrots,

peeled and chopped

4

garlic cloves,

minced

2/3

cup

wholegrain rice

(150 g)

1/2

teaspoon

dried oregano

a couple sprigs of winter herbs such as thyme or chopped sage

1/4

teaspoon

chili flakes

1/4

teaspoon

smoked paprika

2

tablespoons

tomato puree

sea salt and freshly ground black pepper,

to taste

2

x 400g can

organic chopped tomatoes

1

litre

vegetable or chicken broth

125

ml

water

1

x 400g can

organic cannellini or butter beans,

drained and rinsed

1

medium zucchini,

chopped

2

cups

baby spinach

(or chopped kale)

2

tablespoons

chopped fresh parsley

freshly grated parmesan

for serving
Method
In a dutch oven or large pot, heat the olive oil over medium heat and add the onion. Saute, stirring occasionally, until onion is translucent, about 7-8 minutes.

Add the carrots and celery, cover, and continue cooking, stirring occasionally, until vegetables have softened but are still al dente, about 8 minutes.

Add the rice, garlic, seasonings, tomato paste and salt and cook, stirring until the garlic is fragrant, about 2 minutes.

Add the diced tomatoes, broth, and water and bring to a boil. Reduce the heat to a light simmer, cover, and cook for 35-40 minutes, until the rice is al dente. Taste the minestrone soup and add more salt to taste, if desired.

Add the beans, and zucchini, cover, and cook until for 3 minutes. Add the spinach, cook until wilted 1 minute (if using kale, add it with the beans and zucchini). Note: I like my zucchini al dente. If you prefer it softer cook longer.

Sprinkle the soup with fresh parsley then ladle into bowls and garnish with a sprinkle of parmesan cheese. Serve more on the side to be added as desired. Enjoy!
Notes
Feel free to add your favourite vegetables to this minestrone soup or whatever you have on hand. I like to add 2 cups chopped seasonal vegetables (potatoes, butternut squash, rutabaga, sweet potatoes, broccoli, Brussel sprout leaves, green beans or peas all work). Root vegetables I add early on, and for the others, they only need a maximum of 10 minutes to cook.
If you have time and plan ahead, dried white beans are the superior choice to canned beans. They need to be soaked overnight and then pre-cooked. I usually make a big batch and use them throughout the week. Or if you are lucky enough to have a pressure cooker you can prepare dried beans the same day.
Did you try this recipe?
Then tag @ellerepublic on Instagram and hashtag it #ellerepublic
How did you like it?
Please let me know how this Minestrone Soup with Rice and White Beans recipe turned out for you! I would love to hear how you liked it. Simply rate it with the stars above ⭐or leave me a comment and rate it below.
Did you make any changes to this recipe?
If you have tips for other readers, let me know! It helps me and other readers so much. Sharing is Caring :-).
This post contains affiliate links. If you decide to make a purchase through my link, Amazon will pay me a commission for it. This doesn't cost you anything additional and the price remains the same. More about advertisements on Elle Republic.