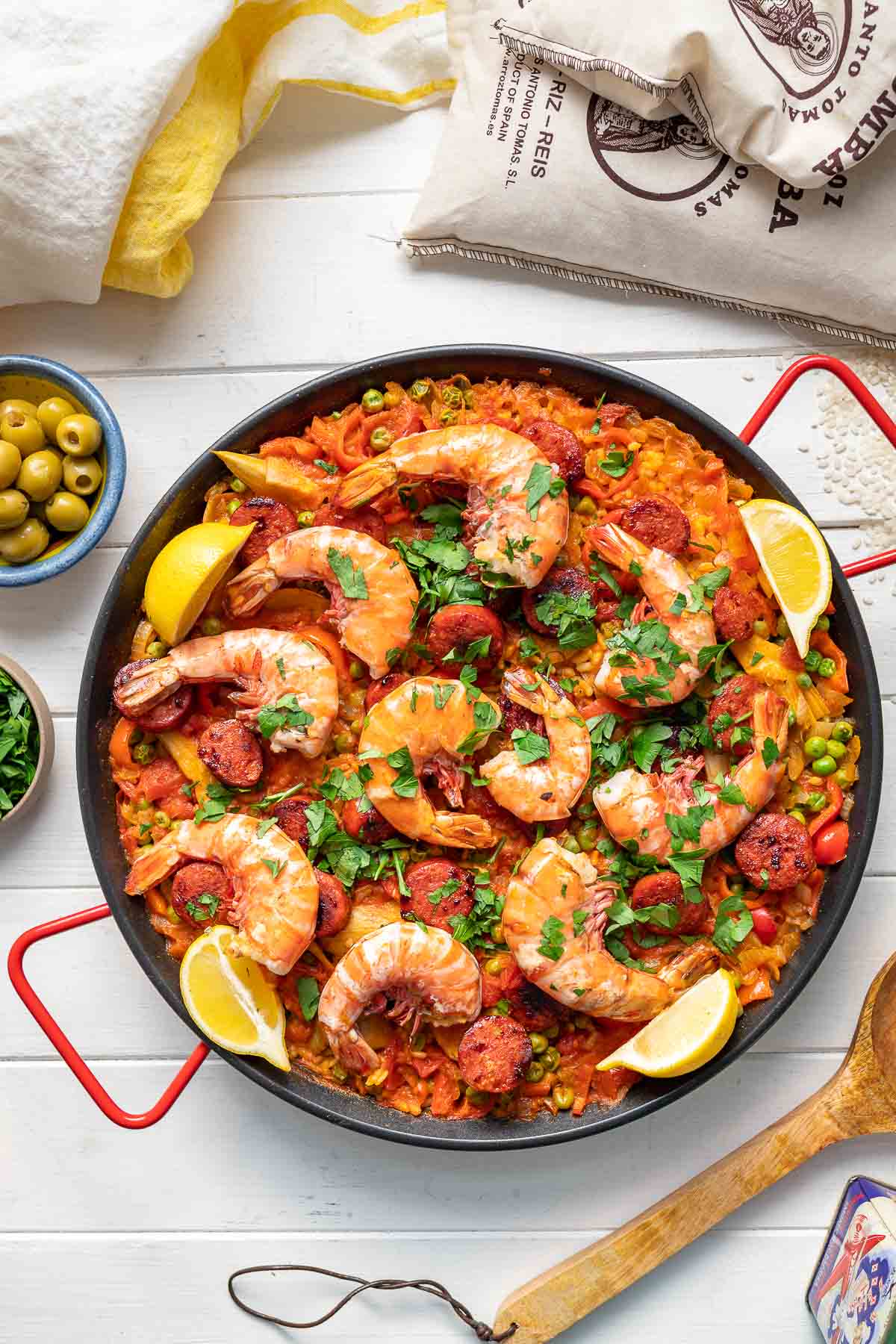 Paella! With this delicious prawn and chorizo paella recipe you can enjoy Spanish cuisine at home! It's surprisingly straightforward to make — as in really EASY — and is full of flavorful ingredients including sweet red peppers, artichokes and peas. But you can load up this famous saffron-infused rice dish with anything your heart desires!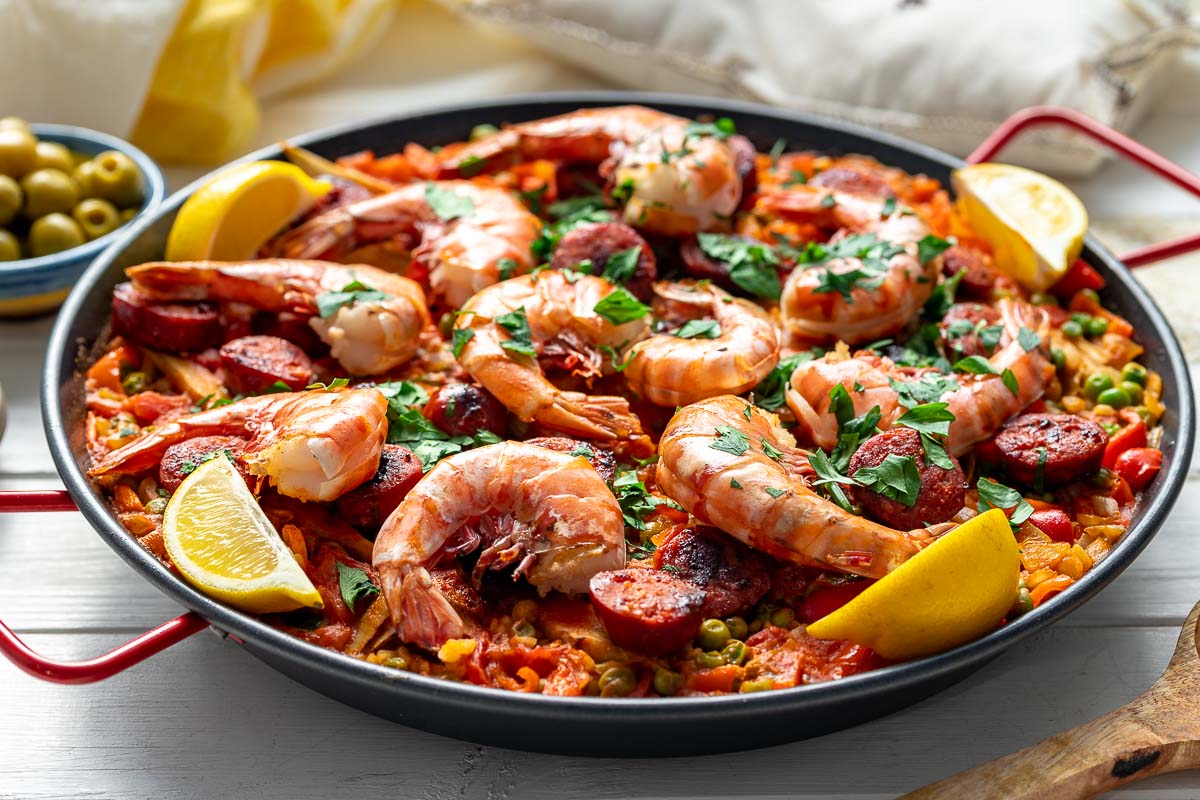 ELAG induction cooktop test for making paella
You don't need a paella pan to cook paella, a large skillet will do, but I do recommend using one, especially if you are using an induction stove top like mine. This was the perfect way for me to test the infusion zone function for my ELAG cooktop. For both the grill plate and using a 34 cm paella pan which needs quite a big "cooking zone". ELAG's "FusionTechnology" allows you to combine two cooking zones to form a continuous surface, creating a large cooking zone. It's super easy to activate and gives you the ability to use many more sizes and types of pan for use, including grill plates and oven roasting pans (making it really easy to prepare gravy directly in the roasting pan!). And of course, perfect for cooking paella on the stovetop!
What's also cool about the fusion zone is that it will only heat up the surface area where the pan is placed. And when you remove the pan from the cooking area, the power supply stops immediately. This is a natural energy saver which also makes for easy clean-up of any splatters which never get a chance to bake on to the surface. Easy cleaning is definitely a bonus!

Tips for making a Spanish paella
Using the right pan
If you are preparing this Spanish rice dish for two to four people, you can cook easily cook it on the stovetop. In my opinion, I think it's worthwhile getting an authentic paella pan, since they are really inexpensive (11€). But, if you don't have one, then use a large, deep, non-stick frying pan. Ideally it should be both shallow and wide to allow the liquid to evaporate quickly, and the base should be thin since thicker bases retain heat which could lead to overcooking. A round-bottomed wok is definitely not a good choice for this type of recipe.
Ingredient tips
Always use medium-sized rice such as Arroz Bomba or Arroz Calasparra paella rice ("arroz" means rice in Spanish), or risotto rice like arborio or carnaroli.
Be generous with the oil; this keeps the rice separated and distributes the flavour evenly.
Saffron is signature to making paella and giving it its warm yellow color and delicate flavour. Yes, it's expensive, you only need a pinch.
Chorizo apparently is not traditionally part of this dish, but it adds tons of flavor, so not be skipped!
Artichokes add a lovely, briny flavor. I like to use quality marinated artichokes from a local delicatessen or farmers market but canned ones are also fine.
I like frozen peas for a pop of color, but green beans are also a great choice.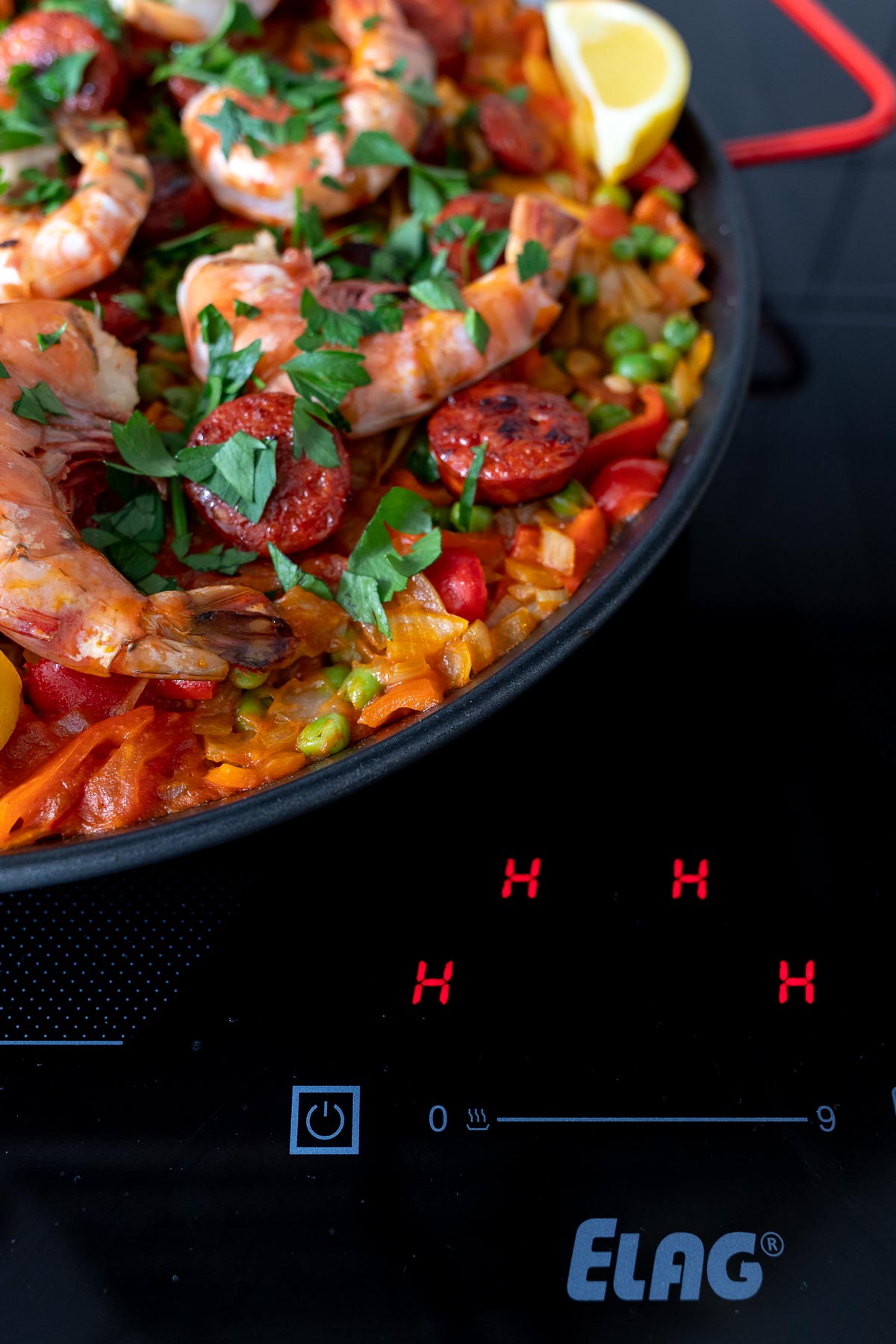 The no-stir method for preparing paella
Paella isn't all that different to risotto when it comes to ingredients, but there is one thing that is different. It involves a lot LESS stirring. In fact, stirring is discouraged as it activates the starches! This is a really important point! Unlike risotto, it should NOT be creamy. There is literally no stirring done in the last 20 minutes. And this is the secret to developing a golden crust on the bottom, something called the soccarat (meaning "to toast lightly"). It's the best part of the paella as it gives the dish a smoky, almost nutty flavour. But there is a fine line between a golden crust and a burned one. And this is why I really love making paella with my new ELAG 4-zone induction stovetop — the heat penetrates the entire surface of the pan, with no warmer or cooler spots and the temperature is maintained precisely, without any slow build of hotness, and won't change until you tell it to. Something that is key to ensuring a successful paella recipe!
Looking for other ideas with rice?
How about try my recipe for Vegetable Jambalaya (Creole One-Pot Rice Dish) or Vegetable Fried Rice (Nasi Goreng).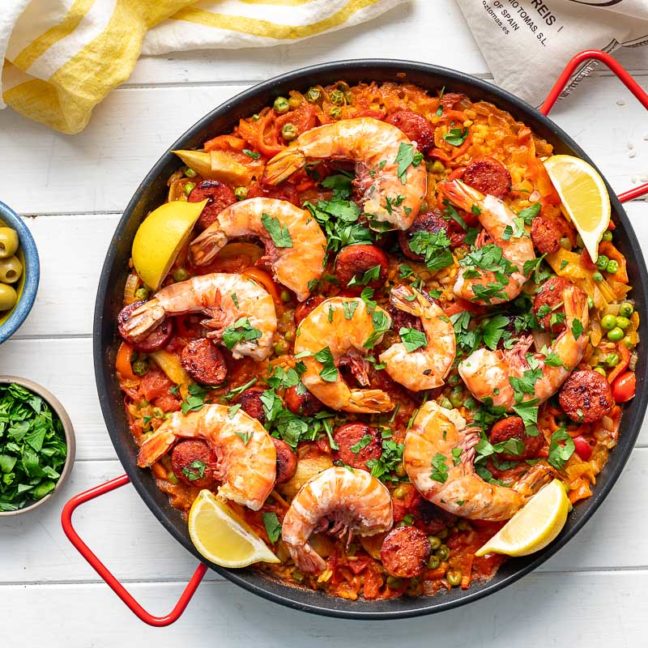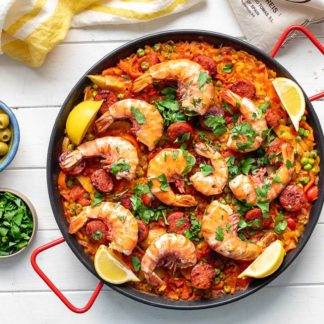 Paella with Prawns & Chorizo
An easy to make stovetop paella recipe. This traditional Spanish one-pot rice dish is great for serving guests and also makes for great leftovers. Serves 4 generously.
Ingredients
4

tablespoons

extra-virgin olive oil

4

small yellow onions,

finely chopped

4

garlic cloves,

minced

1

sweet pointed red pepper,

chopped

1

x 400 g can

organic diced tomatoes

sea salt,

to taste

2

teaspoons

smoked paprika

pimentón dulce (alternatively sweet paprika)

A good pinch of saffron threads

2

cups

Spanish paella rice

(or risotto rice, such as Arborio or Carnaroli) (400 g)

1

cup

dry white wine

(250 ml)

3

cups

chicken stock,

heated (plus more if needed) (750 ml)

1

x 400 g can

artichoke hearts,

drained and quartered (see tips)

1

cup

frozen peas

(150 g)

300

g

chorizo,

sliced (4 small sausages)

10

jumbo tiger prawns,

deveined, in their shells

3

tablespoons

chopped flat-leaf parsley,

to garnish

1

lemon,

cut into wedges, for serving
Method
Heat the oil in a 34 cm paella pan over medium heat. Add the onions and sauté until soft, stirring often, for 5-6 minutes.

Stir in the garlic and red pepper. Before it begins to color, add salt to taste, smoked paprika, and saffron. Stir well and cook for 2 minutes. Add the rice, stir well and cook until well coated and glossy (1 minute).

Add the wine and stir to combine. Increase heat to medium-high and cook until reduced, stirring a couple times. Add the tomato and warmed broth. Season with salt. Stir in artichokes and frozen peas. Bring to a simmer. Stir well a few times and spread the rice out evenly in the pan. If the broth has been kept warm, it will begin to boil almost immediately. Lower to a medium heat but keep it at a steady simmer. The rice should be completely covered by the broth. Do NOT stir again — the paella must cook undisturbed — this is key.

Let it cook another 20 minutes at medium heat. (if needed add a little broth to keep the rice submerged until the rice on the top is al dente).

Meanwhile, in the last 10 minutes, slowly heat a grill plate, to cook chorizo and prawns.

Brush lightly with oil, then add the chorizo and cook, turning occasionally, until golden brown on both sides, about 5-6 minutes. Halfway through, add the prawns to same grill plate, and cook, turning occasionally, until cooked through, about 2 minutes per side, depending on size (if using a skillet, cook the chorizo and prawns in batches).

Top the paella with the chorizo and prawns. Let paella rest 5 minutes, covered with a large piece of foil (or lid if you a big one) before you dig in.

Top with parsley and season with sea salt. Serve with lemon wedges. Enjoy!
Notes
I like to use marinated artichokes from my local farmers market or delicatessen (4 whole hearts, quartered)
The rice at the bottom of the pan will develop a golden crust. This is called soccarat (meaning "to toast lightly") and is the best part of this dish.
I recommend also garnishing this traditional rice dish with a little lemon zest and add a squeeze of lemon before serving.
For a relaxing atmosphere in the kitchen I recommend my personal Elle Republic: Chilled Out Kitchen Tunes Playlist auf Spotify.
Did you try this recipe?
Then tag @ellerepublic on Instagram and hashtag it #ellerepublic
How did you like it?
Please let me know how this Paella with Prawns and Chorizo recipe turned out for you! I would love to hear how you liked it. Simply rate it with the stars above ⭐ or leave me a comment and rate it below.
Did you make any changes to this recipe?
If you have tips for other readers, let me know! It helps me and other readers so much. Sharing is Caring :-).
Advertisement
Many thanks to ELAG Products GmbH for sponsoring this Thai Red Curry with Grilled Pineapple-Prawn-Skewers recipe.
This post contains affiliate links. If you decide to make a purchase through my link, Amazon will pay me a commission for it. This doesn't cost you anything additional and the price remains the same. More about advertisements on Elle Republic.