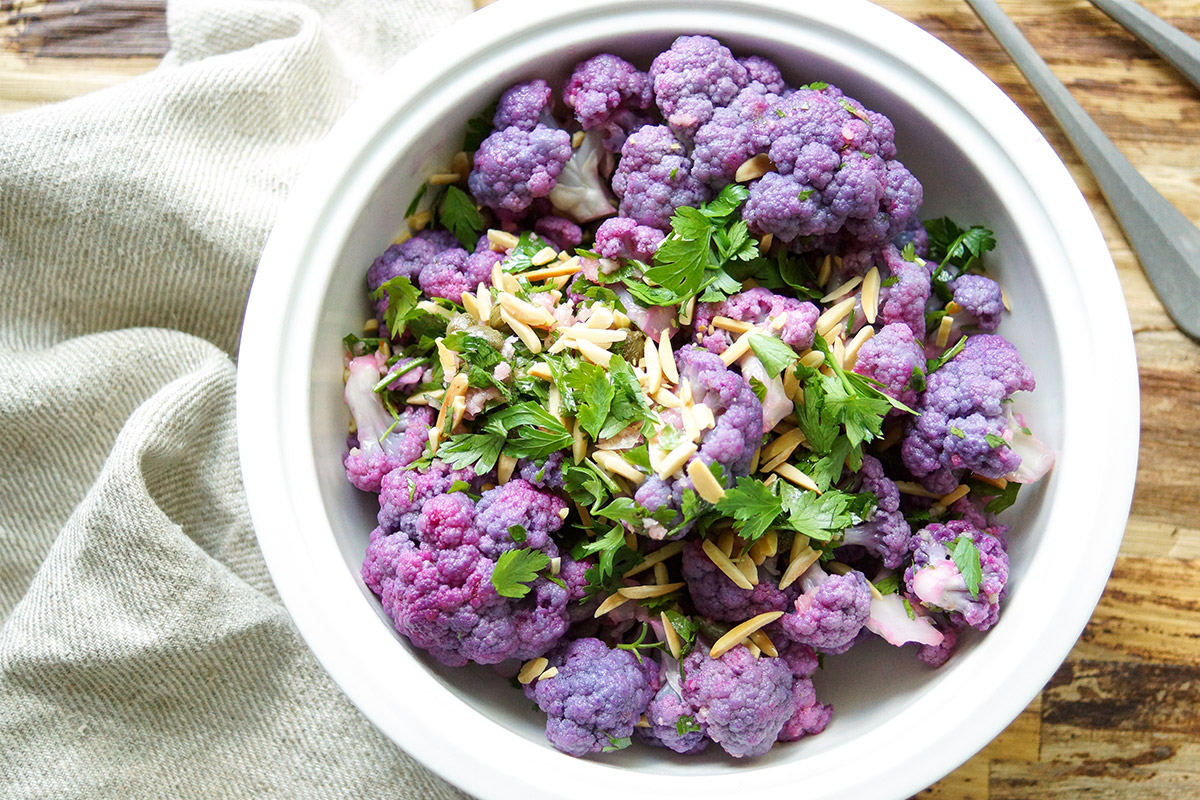 Purple cauliflower. Is it not beautiful? And you may be thinking "is this really natural?". Yes, it is! As part of the Brassicaceae family, just like red cabbage, it too can be found in this beautiful hue thanks to the antioxidant anthocyanin (also found in red wine my friends!). No dye, no GMO. Just an all-natural, super tasty bowl of steamed purple cauliflower tossed with bright summery lemon juice, olive oil, capers, and parsley. L O V E.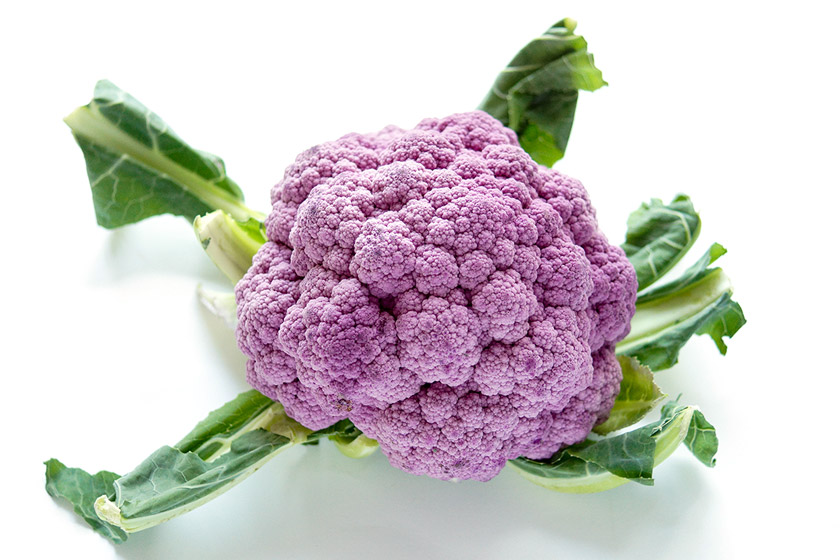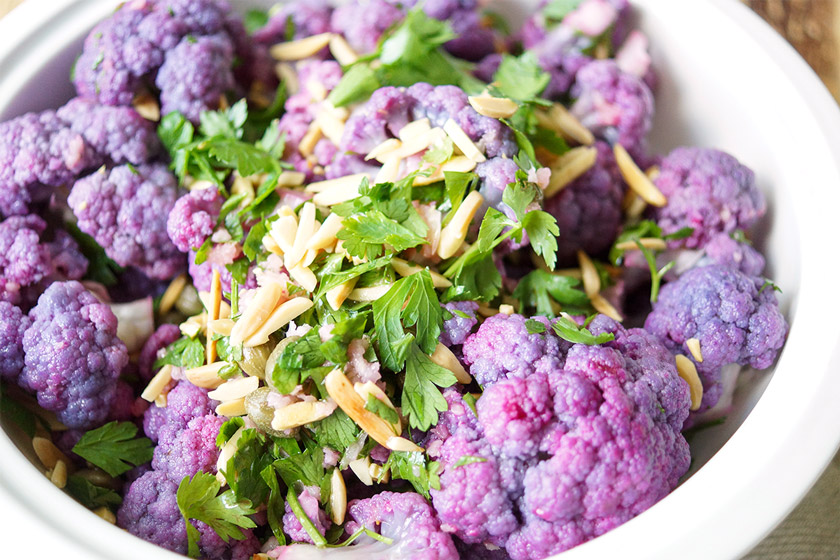 Jewel hued cauliflower adds "pop" to an otherwise bland looking dish
So like cauliflower hasn't already catapulted its way to the top of the charts with a strong comeback over the last years. Well, I'm thinking that with more and more of this lovely looking gem colored cauliflower popping up at the famers markets and even my local grocery store, this previous underdog of the vegetable world is sure to keep its place at the top. Okay, purple cauliflower does have its place. I'm not sure I'll be making a purple soup out of it, or be using it for a low-carb pizza base or stir-fried "cauliflower rice", but roasted or steamed for a salad…definitely. In salads is where I think it's color should shine!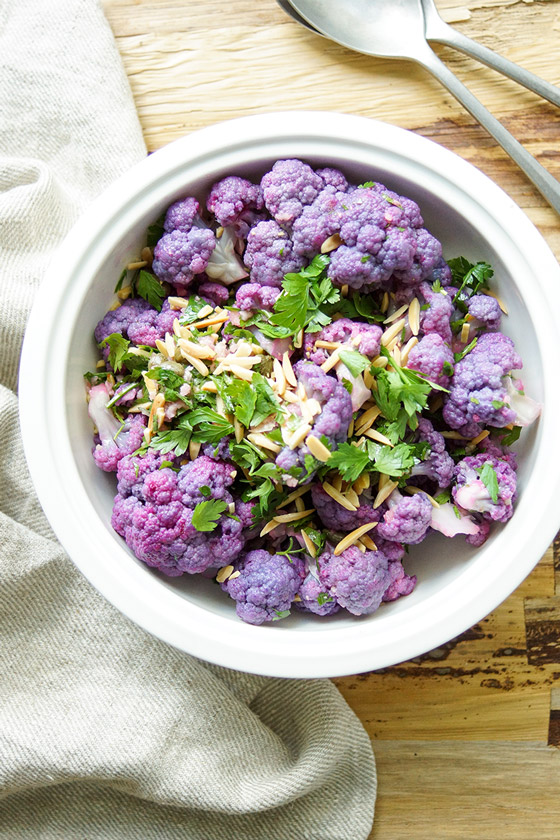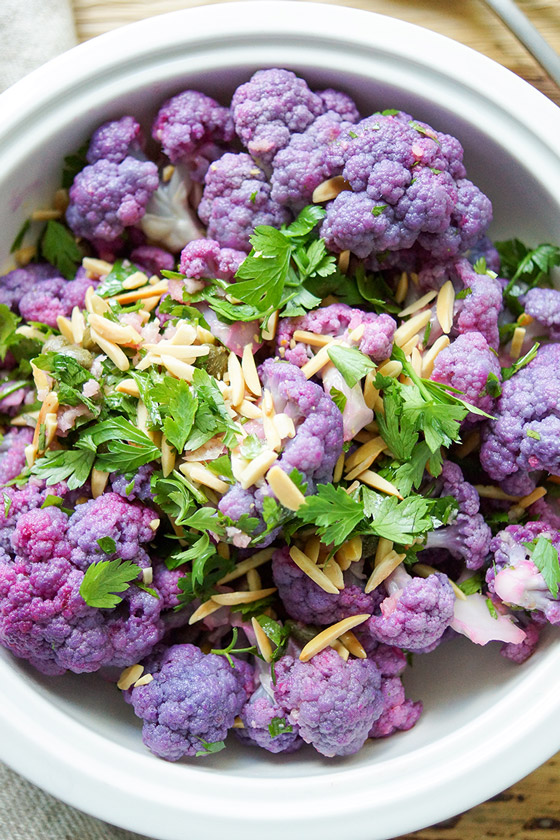 A quick and simple purple cauliflower salad recipe that is surprisingly addictive
Growing up eating cauliflower meant eating plain over-cooked, falling apart, steamed cauliflower without any fancy trimming. Not only was the color dull, but it had a taste to match. It took me years to give it another chance. Now I'm a big fan of roasted cauliflower AND newly steamed cauliflower too. I never imagined that such a simple thing as a steamed cauliflower salad could be so delicious.
And being the vegetable freak that I am, I ate the whole thing to myself. That's a whole lot of cauliflower! Leave me home alone for a few hours and look what happens! It all started as a light lunch to share later, but then I nibbled and nibbled and then polished the rest off as an afternoon snack. Thank goodness I can feel so good about addict-like clean eating behavior. It's not like I scarfed down a chocolate cake or anything. Yeah to guilt-free veggie gluttony — eat as much as you like! As a super-food in its own right, it's packed with dietary fiber, folate and vitamin C!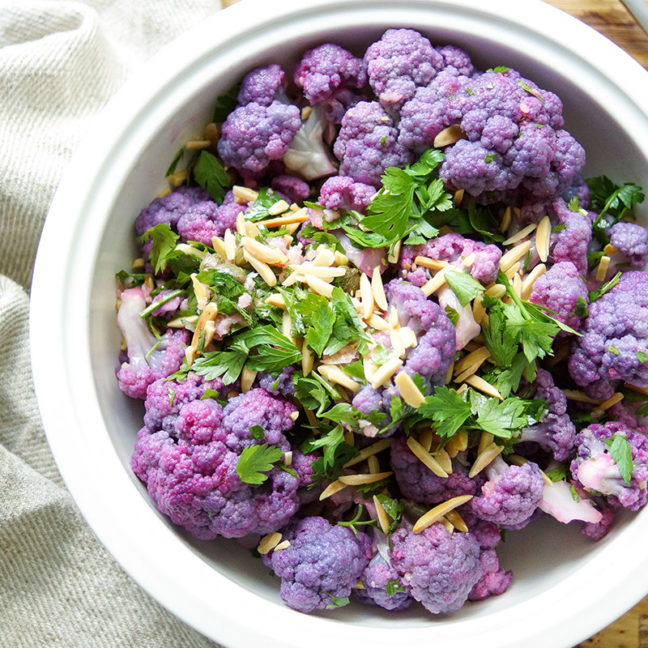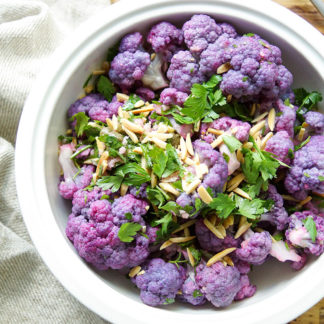 Purple Cauliflower Salad
A quick and simple recipe for an unpredictably delicious cauliflower salad. Makes a tasty and healthy side dish whether for lunch, dinner or your next BBQ!
Ingredients
3

cloves

,garlic

minced

3

tablespoons

freshly squeezed lemon juice

5

tablespoons

extra-virgin olive oil

2

tablespoons

capers (in brine),

drained

sea salt and freshly ground pepper,

to taste

50

g

almond slivers,

lightly toasted

600-700

g

cauliflower,

cut into florets

generous handful parsley,

chopped (about 4 tablespoons)
Method
In a small bowl, mix together the garlic, lemon juice, olive oil, and capers. Season with salt and pepper, to taste and set aside.

Fill the bottom of a large saucepan with 5-6 cm of water. Set up the steamer basket and put in the cauliflower florets. Cover with a tight fitting lid and steam over medium-high heat. Steam for about 5-7 minutes until, the cauliflower is tender but still has a crunch. Transfer the cauliflower to a serving bowl.

Meanwhile, using a dry skillet, lightly toast the slivered almonds until golden brown. Remove from the pan and set aside.

Add the dressing and fresh parsley to the cauliflower and gently toss to combine. Sprinkle with the toasted almonds. Serve slightly warm at room temperature and enjoy!
Notes
I like the citrusy lemon flavor with the cauliflower so use 3 tablespoons (1 medium lemon), if you want a more subtle tasting lemon dressing, then use 2 tablespoons, taste and add more to suit your taste. That's actually how I did it. 😉
Feel free to add a little fresh dill if you have it on hand, it's also nice with cauliflower.
I'm willing to bet that this purple cauliflower salad recipe would also be delicious with roasted cauliflower. Roasting it releases the natural sugars, giving it a delicious caramelized flavor. Yum!
Did you try this recipe?
Then tag @ellerepublic on Instagram and hashtag it #ellerepublic
How did you like it?
Please let me know how this Cauliflower Salad recipe turned out for you! I would love to hear how you liked it. Simply rate it with the stars above ⭐or leave me a comment and rate it below.
Did you make any changes to this recipe?
If you have tips for other readers, let me know! It helps me and other readers so much. Sharing is Caring :-).