Here's a recipe inspired by the cleansing and healing Ayurvedic dish called kitchari (a one pot meal of lentils and rice with spices). Yes, I said inspired. In reality what I have created here is something a little more a Lebanese lentil rice pilaf. There's garlic and onion here… extra flavor people! But I am pretty sure a traditional kitchari doesn't contain garlic or onions since in the Ayurvedic world, they are considering stimulating. And sweet potato is also probably not the standard, although some kitchari recipes include vegetables. And well, mung dal (split yellow lentils) and basmati is also where I deviated. Yeah, so basically the only thing I was consistent on is creating a healthy and delicious recipe with lentils, rice and spices. 🙂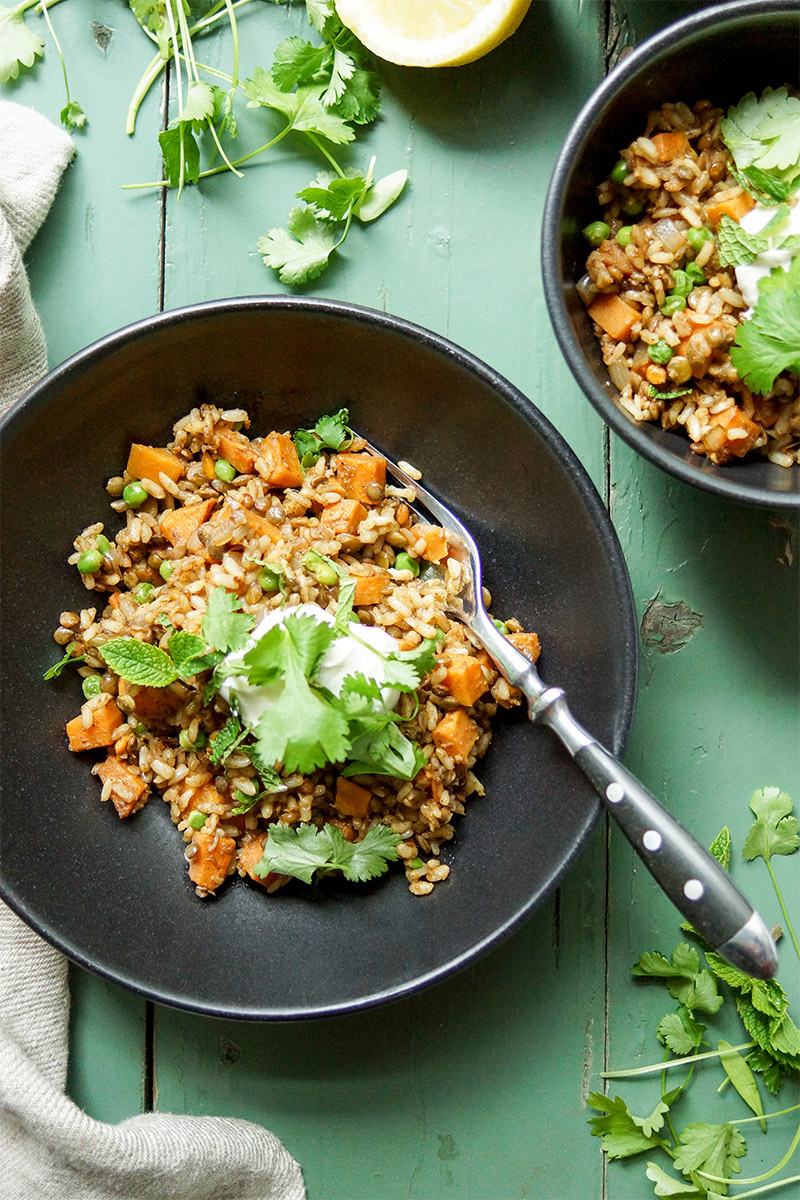 Brown rice and lentils are easily prepared ahead of time
What I particularly love about this recipe is that the rice and lentil mixture is easily prepared ahead of time. As we all know, whole grain rice can take some time to cook, so why not make it ahead? This would mean all you have to do is add the pre-cooked rice and lentils to the pilaf shortly before it's finished cooking. This you can do this the classic way, using a pot, or you can make life EVEN EASIER and buy a rice cooker. Brilliant idea! Easing the preparation of whole grains might just inspire you to cook them more often. And when I say whole grains, I mean more than just rice. Yes, despite the name "rice cooker", they actually go beyond cooking rice. You can cook all kind of whole grains with them!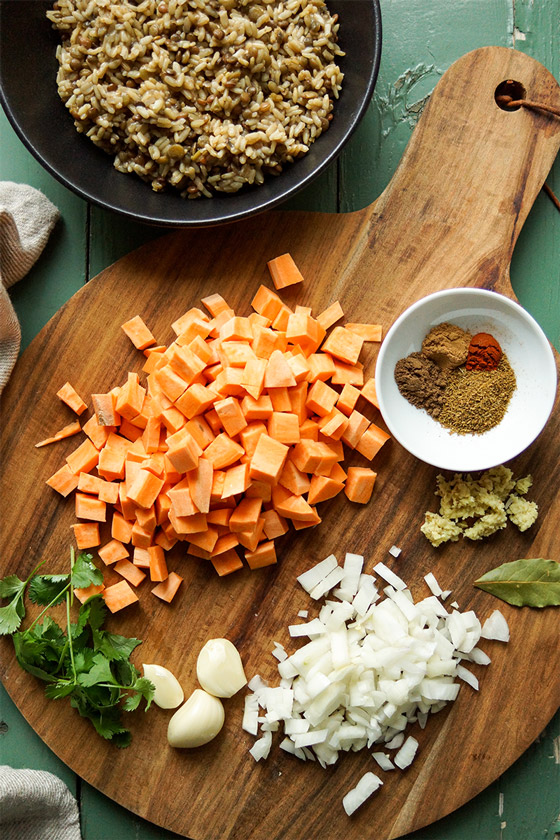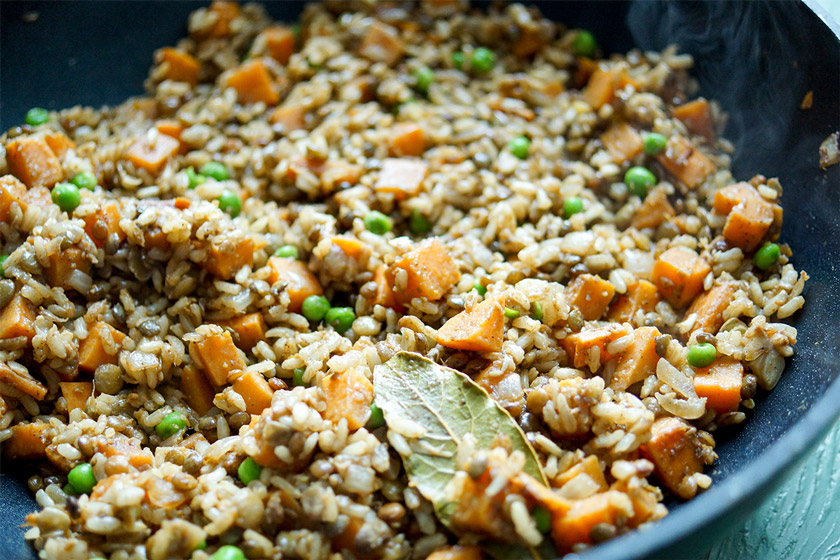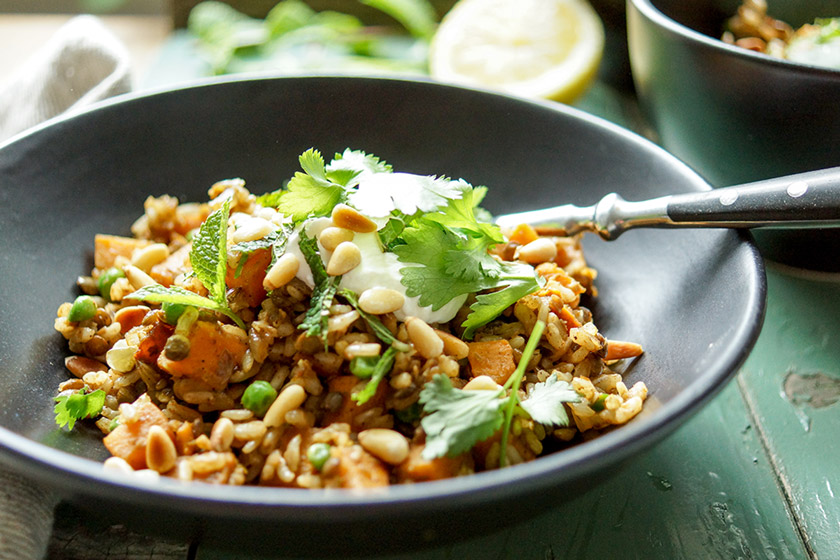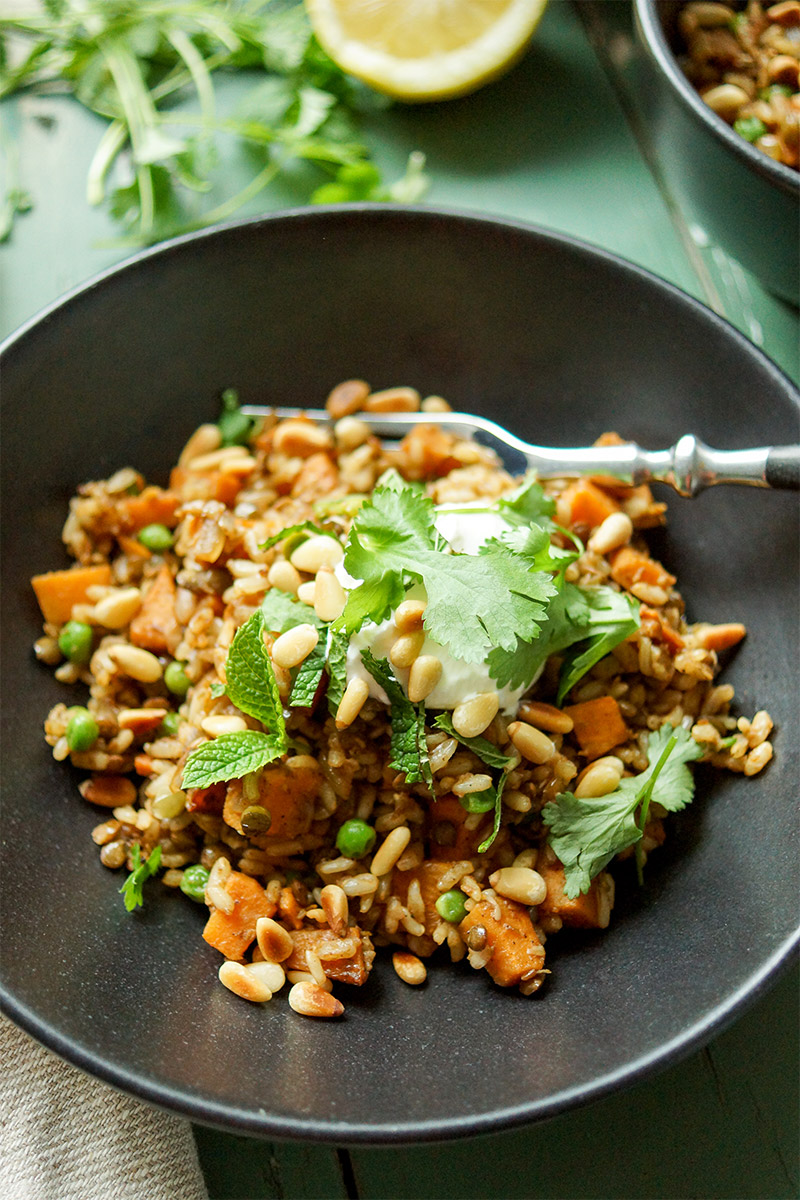 A Middle Eastern spiced lentil rice pilaf with whole grain benefits
There are a number of good reasons to add whole grains like brown rice to your diet. First of all, brown rice is rich in the mineral manganese which is important element for the body's metabolism, plus it protects against free radical damage, and is important for collagen production. Secondly, it's also a good source of selenium which is a powerful antioxidant that supports immune function and DNA repair. And also important is all that fiber that promotes weight loss. Yep, those are some pretty good reasons to add more brown rice to our diets!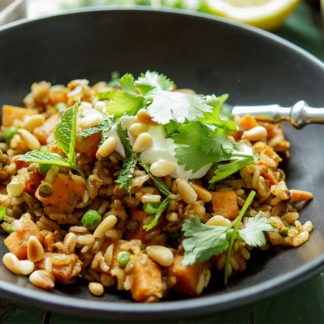 Lentil Rice Pilaf with Sweet Potato
A healthy recipe for a Middle Eastern spiced whole grain brown rice and lentil pilaf with sweet potatoes and peas. Go ahead and cook the rice and lentil mixture ahead of time to reduce the overall cooking time. Vegetarian and gluten-free.
Ingredients
For the lentil rice pilaf:
1

cup

brown rice mixed with lentils

(200 g) (long grain brown rice 70 %, brown and green lentils 30%)

2

cups

chicken broth,

preferably organic or homemade, use vegetable broth if vegetarian

1 1/2

tablespoons

extra-virgin olive oil

2

teaspoons

freshly grated ginger

3

garlic cloves,

minced

2

teaspoons

ground cumin

1/2

teaspoon

ground cinnamon

1/4

teaspoon

ground allspice

pinch

of cayenne pepper

1

bay leaf

2

small yellow onions,

finely diced

1

medium sweet potato,

peeled, cut into 1 cm pieces (ca 250 g)

1/4

cup

water

(60 ml)

1/4

cup

frozen peas

(30 g)

squeeze of fresh lemon juice,

plus more for serving
To garnish:
2

or more tablespoons Greek yoghurt

2

tablespoons

freshly coriander leaves and/or mint leaves

2

tablespoons

pine nuts,

lightly toasted (optional)
Method
Bring broth to a boil in a saucepan. Add lentils and rice mixture; return to a boil. Cover, reduce heat, and simmer 35-40 minutes or until rice is tender and liquid is almost absorbed. Remove from heat; let stand 5 minutes.

Meanwhile, heat the oil in a wok or large skillet over medium heat; saute the ginger, garlic, spices and bay leaf, stirring occasionally, for 1 minute or until fragrant.

Add onions, stirring occasionally, until softened, about 5 minutes

Add the sweet potatoes and water to skillet; cover tightly; simmer, stirring every 5 minutes, for about 15 minutes or until tender. Add the peas and cooked lentil and rice mixture. Stir to combine and cook for about 5 minutes or until warm throughout. Season with salt and pepper, to taste.

Serve the lentil rice pilaf into bowls. Drizzle with lemon and top with a spoonful of yoghurt. Garnish with fresh herbs and pine nuts (if using). Serve with an extra wedge of lemon and enjoy!
Notes
I used a pre-packaged mix of organic whole grain rice and lentils. You could also create your own version of this by using 140 g whole grain rice and 60 g of brown or green lentils (or a mix).
The rice and lentils mixture takes about 40 minutes to cook, however this step can be done ahead of time to simply the process and also save some time. I cooked mine in the morning and then prepared this dish in the afternoon.
If you want to put in the extra effort, this dish is also nice with crispy fried onions as a garnish. To fry the onions, heat approximately 1 tablespoon olive oil in heavy large skillet over medium-high heat. Add very thinly cut onion rings (from one large yellow onion) and sauté until soft and beginning to blacken, about 20 minutes.
Did you try this recipe?
Then tag @ellerepublic on Instagram and hashtag it #ellerepublic
How did you like it?
Please let me know how this
Lentil Rice Pilaf with Sweet Potato recipe turned out for you! I would love to hear how you liked it. Simply rate it with the stars above ⭐or leave me a comment and rate it below.
Did you make any changes to this recipe?
If you have tips for other readers, let me know! It helps me and other readers so much. Sharing is Caring :-).
This post contains affiliate links. If you decide to make a purchase through my link, Amazon will pay me a commission for it. This doesn't cost you anything additional and the price remains the same. More about advertisements on Elle Republic.