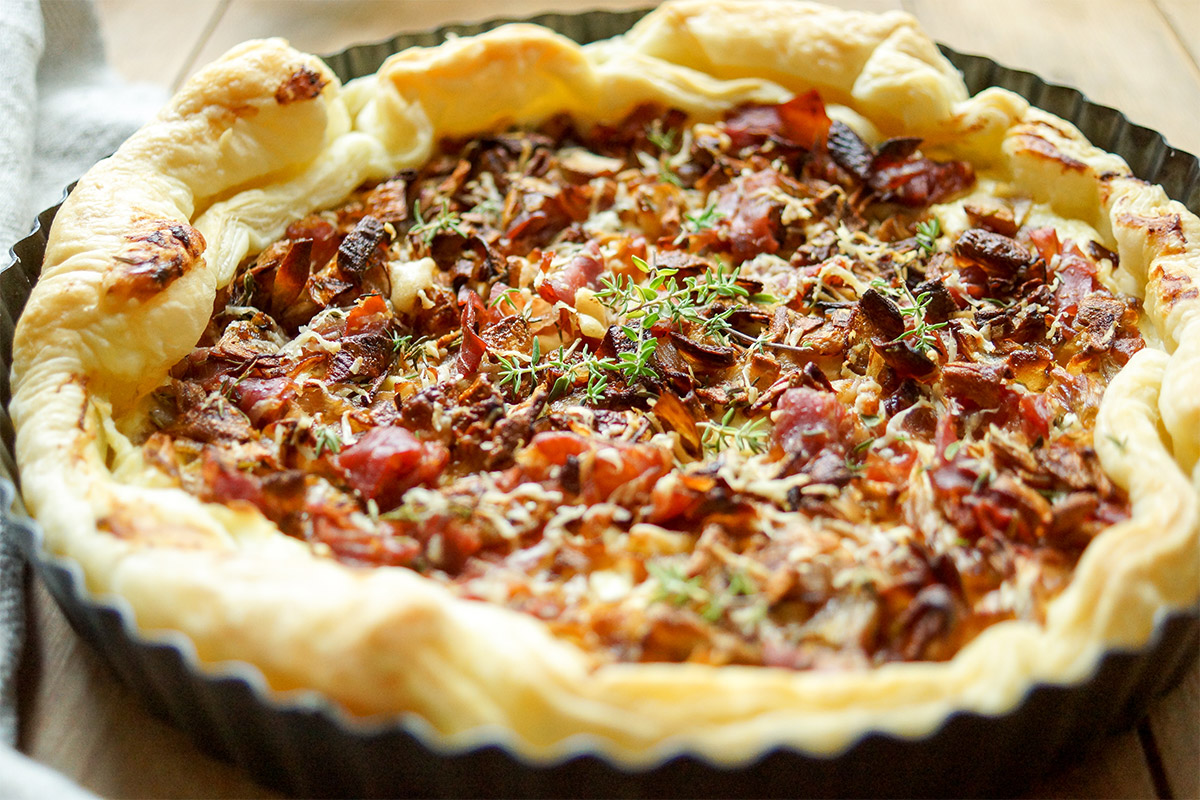 This caramelised shallot tart is not only super easy to make but is incredibly delicious. I mean really who doesn't love caramelised shallots, or onions for that matter? Add a little salty prosciutto di Parma, some fresh garden thyme and layer it on a puff pastry tart slathered with ricotta cheese, bake it until it's golden and well… I'd say you have something a little bit heavenly. Sinful and heavenly. Okay, I always associate puff pastry with being sinful. Just like real French butter croissants. Sinfully delicious. I love them. Give me one bite and I just want more. Well, I guess that is what you would call the opposite to a sweet tooth. A savory tooth.
But really this caramelised shallot tart recipe was for my favorite Schwabe. He's been asking me for ages to make a caramelised onion tart. He didn't care what kind, whether with olives, tuna, or bacon. Okay, I probably wouldn't have won him over with a caramelised onion tart with mushrooms and blue cheese. Hmm, how good does that sound? I choose a simple version with shallots, cause that is what is guaranteed to be in my pantry.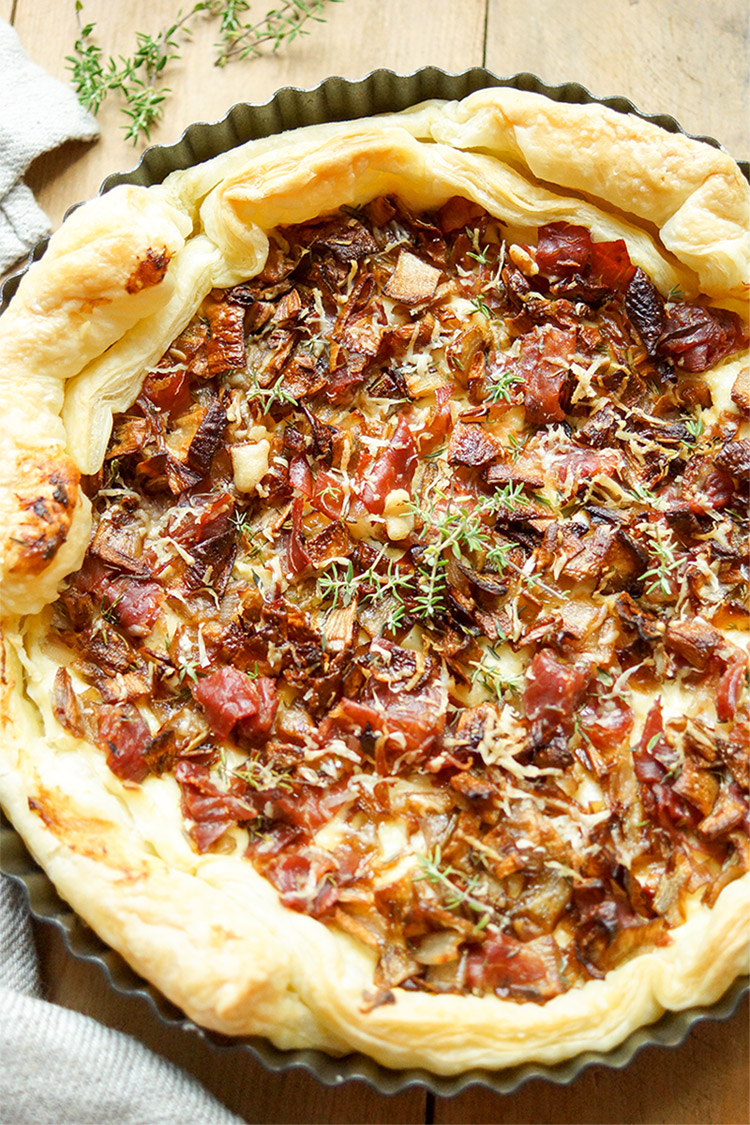 Whether you use shallots or onions — they need to caramelise
Shallots are a staple in my kitchen. I'm not quite sure why I prefer them over onions. Maybe because I love all things French. Okay, truth be told, they aren't actually French. They originated from Asia, and were brought to Europe by the crusaders. But today, France is the largest producer and they remain a stable in the French kitchen. To me, they are like the chic little cousin of the regular yellow onion. They have a touch of red to them and surprisingly come all sorts of sizes — from small to large. I have seen massive ones in the markets in France (as in the picture below). So, when I say 8 shallots for this recipe, I am talking about the supermarket variety, the ones we most often see here in Germany, and about 200 g. And by the way, in case you are wondering, this isn't a super "onion-y" taste to this dish. The long cooking time caramelises the shallots by bringing out the natural sugars. This sort of magic transforms the shallots into something onion haters can love.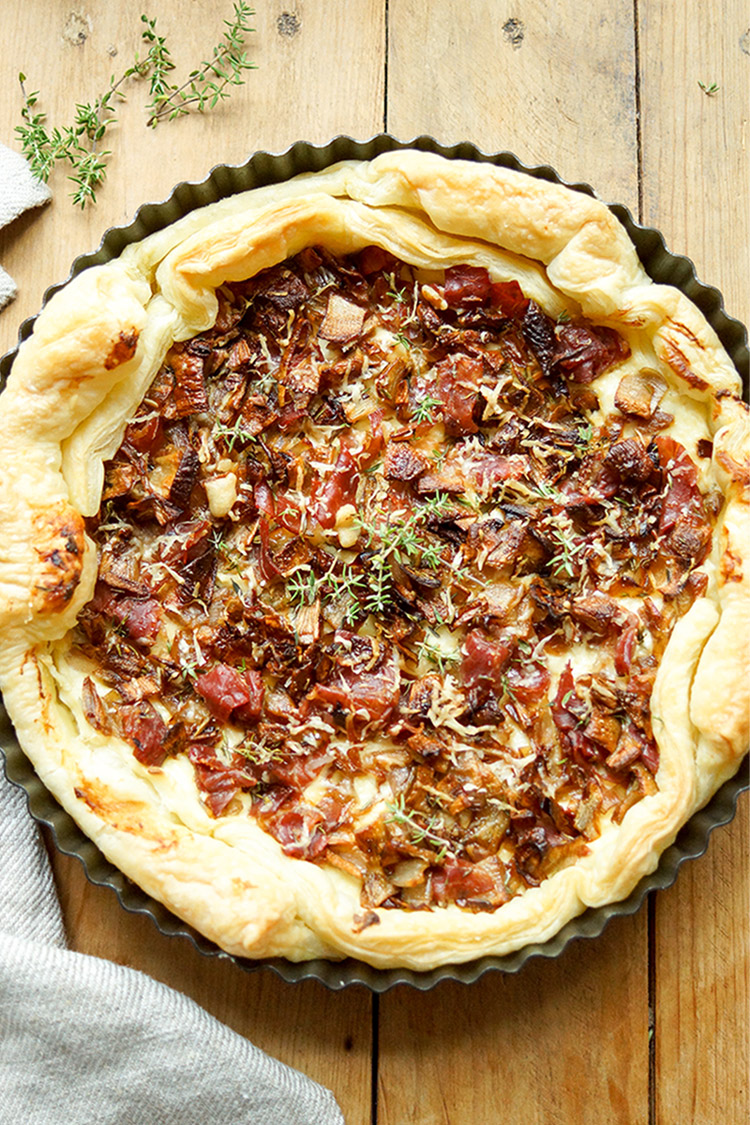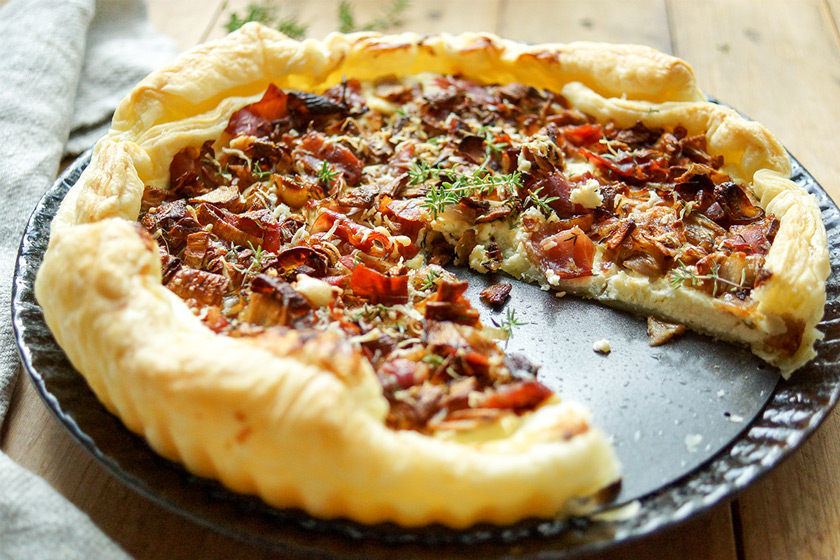 A caramelised shallot tart is super easy to prepare and totally adaptable
This is a super simple and easy recipe to prepare. There is just some slow frying to do, a little mixing, assembling the tart and off in the oven it goes. I used a store-bought puff pastry sheet for this recipe, because it keeps things so easy. If you have a favorite tart base recipe you could also use that. You can use shallots or onions, or even a mix. For a vegetarian version, you can try adding olives or capers instead of prosciutto. Or use onions, increase the amount and add a little more grated parmesan on top. Totally flexible. For accompaniments, I recommend keeping it simple, like serving it up with a mixed or green salad.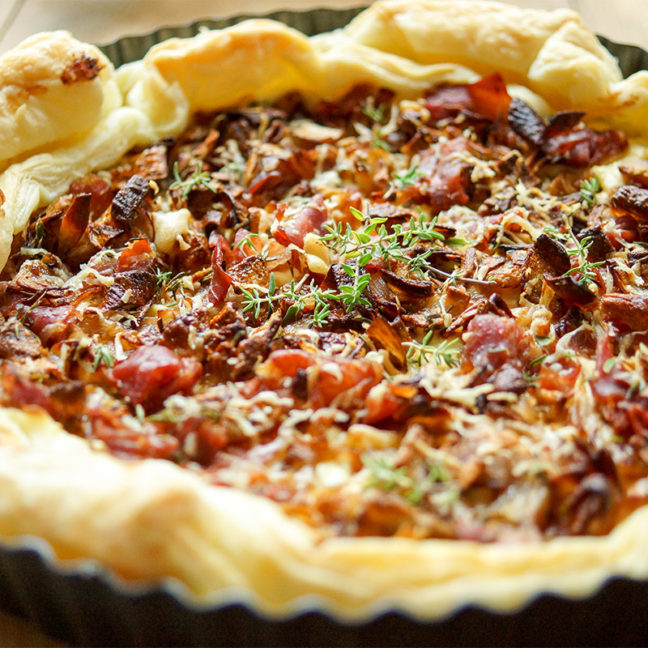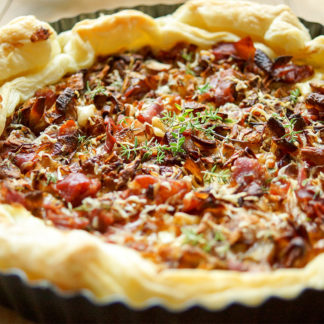 Caramelised Shallot Tart
A simple and easy recipe for a caramelised shallot tart with prosciutto. Serve warm with a side salad for lunch or a tasty addition to Sunday brunch. Easily adapted to suit vegetarians.
Cook Time
1
hour
5
minutes
Total Time
1
hour
15
minutes
Ingredients
1

tablespoon

extra-virgin olive oil

about 8 shallots

cut in half lengthwise and thickly sliced (200 g peeled weight)

2

teaspoons

freshly chopped thyme leaves,

plus more to garnish

sea salt

4

slices

prosciutto,

coarsely chopped (ca.50-60 g)

1

x 250 g container

ricotta cheese

1

egg yolk

(from a large egg)

30

g

parmesan cheese,

plus more to garnish

freshly ground pepper,

to taste

1

roll fresh puff pastry

(approx. 25 x 38 cm / 275 g)
Method
Heat the oil in a large non-stick skillet over medium-high heat, add the shallots and cook, stirring occasionally, until they start to brown, about 6-8 minutes. Turn heat to medium-low and add 1 teaspoon thyme and a pinch of salt. Continue to cook until onions are soft and deep golden brown, about 20 more minutes. After 18 minutes, stir in the chopped prosciutto.

While the shallots cook, preheat oven to 350°F / 175°C and grease a 24-cm tart pan with removable bottom.

Line the tart pan with the puff pastry. Since the puff pastry is rectangular, I cut a couple of centimeters off each end, use the large piece to line the tart pan and then place the extra strips of puff pastry along the sides of the pan to create more crust. Nothing fancy here. Then prick the base of the tart shell a few times with a fork (this is to prevent the pastry from forming big bubbles while baking).

In a medium bowl, combine the ricotta, egg yolk, grated parmesan, 1/2 teaspoon sea salt, and the remaining 1 teaspoon of thyme. Season with a little pepper and stir well to combine.

Spread the ricotta mixture evenly on the bottom of tart shell. Arrange the onion mixture evenly on top of the ricotta and sprinkle with grated parmesan (about 1 tablespoon). Transfer to the preheated oven and bake until edges of the puff pastry are golden brown, 30 to 40 minutes. Serve warm and enjoy!
Did you try this recipe?
Then tag @ellerepublic on Instagram and hashtag it #ellerepublic
How did you like it?
Please let me know how this Caramelised Shallot Tart with Prosciutto recipe turned out for you! I would love to hear how you liked it. Simply rate it with the stars above ⭐or leave me a comment and rate it below.
Did you make any changes to this recipe?
If you have tips for other readers, let me know! It helps me and other readers so much. Sharing is Caring :-).
This post contains affiliate links. If you decide to make a purchase through my link, Amazon will pay me a commission for it. This doesn't cost you anything additional and the price remains the same. More about advertisements on Elle Republic.