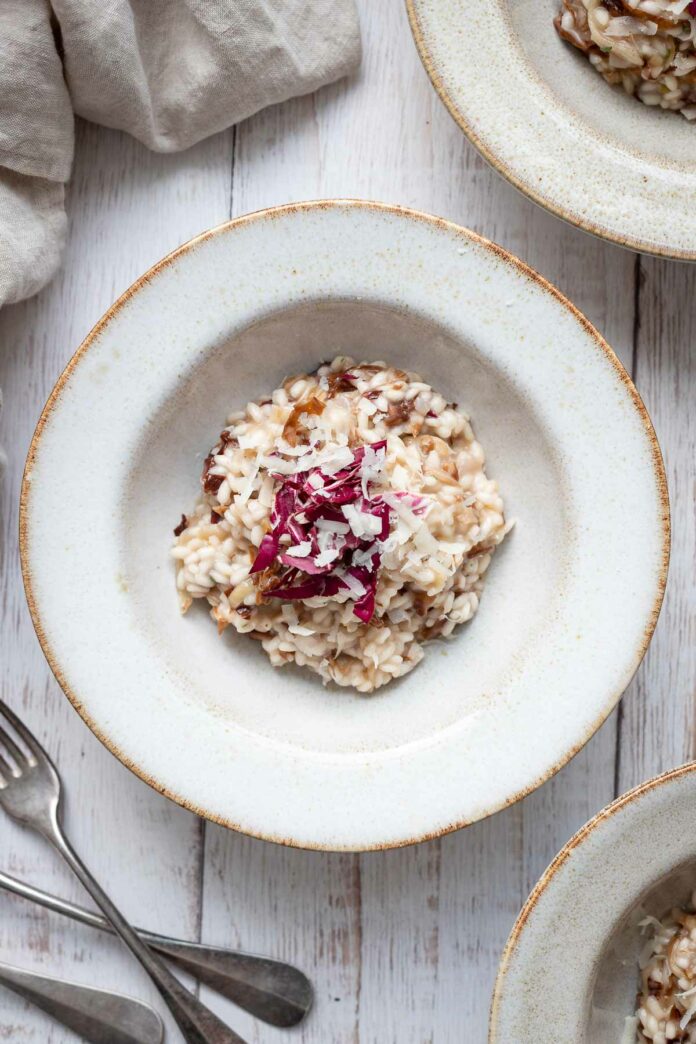 Radicchio Risotto with is a typical North Italian Venetian dish. This version is made by cooking shredded radicchio into the rice, along with red onion, wine, cheese, and fresh oregano. Radicchio di Treviso is the best choice for the risotto recipe, as it is less bitter than other types. It's slightly sweet but still bitter taste is a perfect compliment to a creamy risotto that is finished with butter and Parmigiano Reggiano.
Radicchio – bittersweet and beautiful
Radicchio belongs to the chicory family, a group of leafy vegetables that are known for their spicy bitterness. Depending on the type they can be enjoyed just as well cooked as in a salad.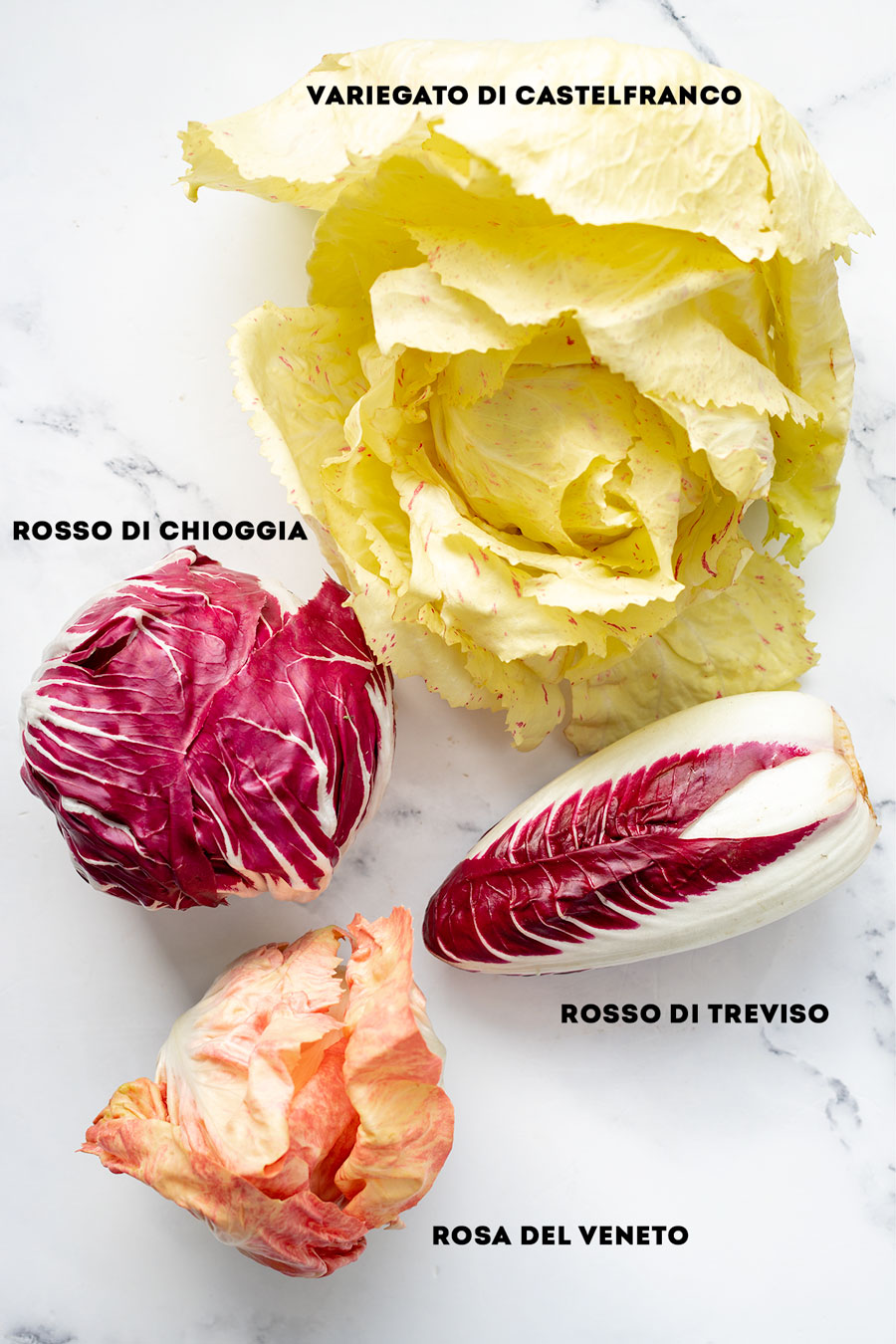 Rosso di Chioggia:
They are the most familiar radicchios; the ones we are most likely to come across in the supermarket. They have a familiar red-cabbage appearance and are named for the city in Italy from which they originate. Crunchy and bitter, the beautiful leaves of Chioggia radicchio are wonderful eaten raw in a salad, cooked or grilled. When cooked, their bitter bite mellows and sweetens a little — though you will still get that iconic bitter kick.
Rosso di Treviso Precoce:
You'll recognise this type of radicchio by it's shape that roughly resembles a football. Of all the red varieties of radicchio, it is among the least bitter. The leaves retain the familiar bitter characteristics, but the rib have a pleasant sweetness.
Variegato di Castelfranco:
These Italian gourmet heirloom beauties have open, almost tulip-shaped, buttery-yellow leaves with red flecks that resemble a head of lettuce. The leaves are thin, yet crisp. The flavor is sweet and mild, but still has some of that typical radicchio bitterness. It too can be eaten raw or cooked and is often sautéed in a pan with pancetta or prepared in Italian meat dishes.
Rosa del Veneto
Yet another beauty with it's soft pink leaves. It only turns pink in colder temperatures and since it is so special you'll probably only find it the farmers markets in winter. They are perhaps the most bitter variety of radicchio and are best enjoyed raw since their pink color fades when cooked.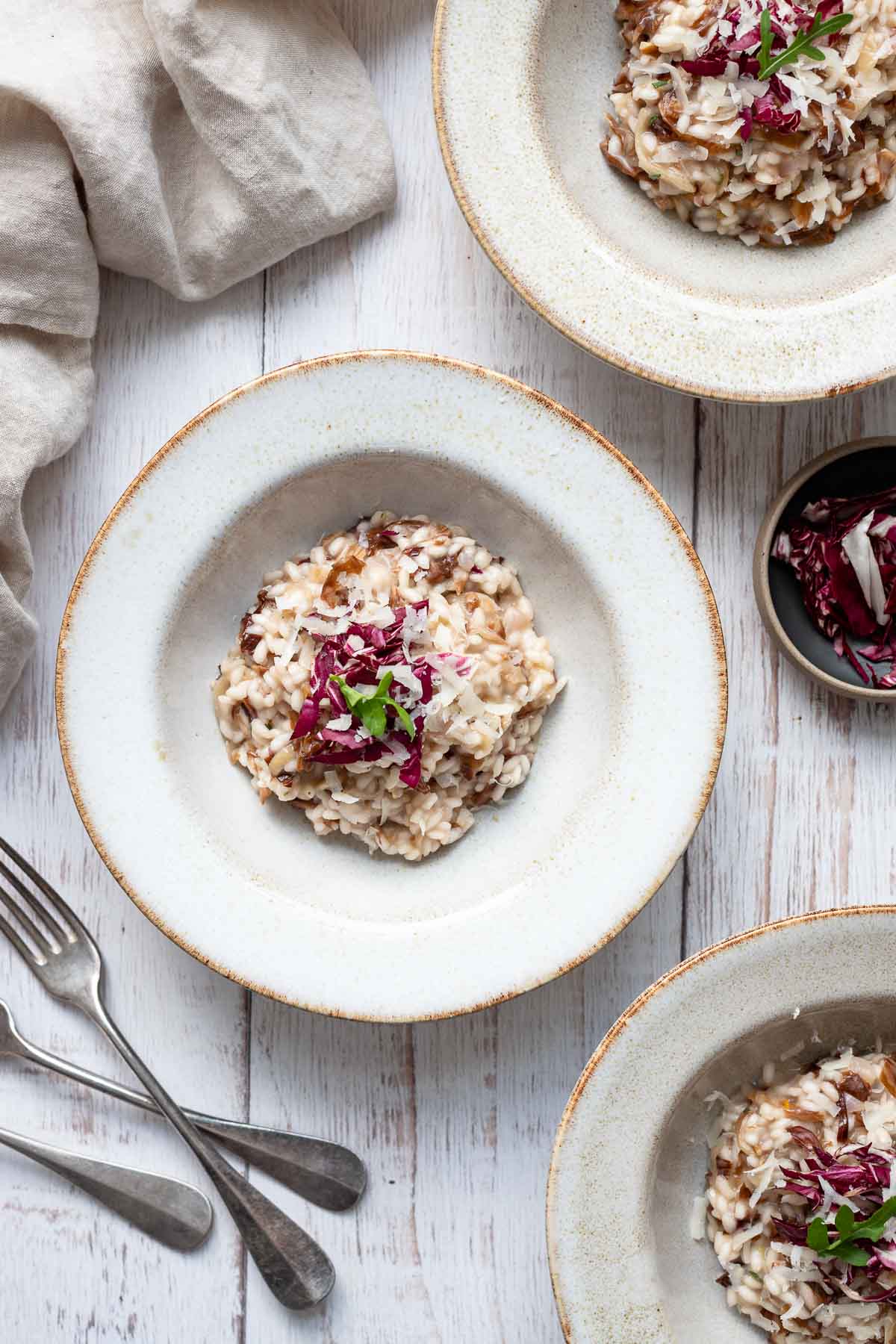 The bitter benefits of radicchio
The typical bitter compounds produce such as radicchio make it especially beneficial to our health as they help aid digestion and nutrient absorption, boost the immune system, and support detoxifying the body. In addition, the bitterness stimulates saliva, gastric secretion and bile production. All of which, contain digestive enzymes that help better break down (and absorb) the foods we eat. And for these reasons, we can all profit from the application of bitter substances as traditional Chinese medicine and naturopathic healing practices have been using bitter herbs and plants since ancient times for the treatment of various diseases.
How to serve this Radicchio Risotto
In Italy, this risotto with radicchio recipe would be considered a starter, however I like to enjoy this as a main. Feel free to enjoy it topped with with a little shredded raw radicchio or arugula, or alternatively, it can be garnished with toasted walnuts, or with a crumbling of chorizo, crispy bacon, pancetta or prosciutto. For a more filling main, serve it alongside roasted chicken and a simple green salad.
Looking for more risotto recipe inspiration?
Then try one of these favourites: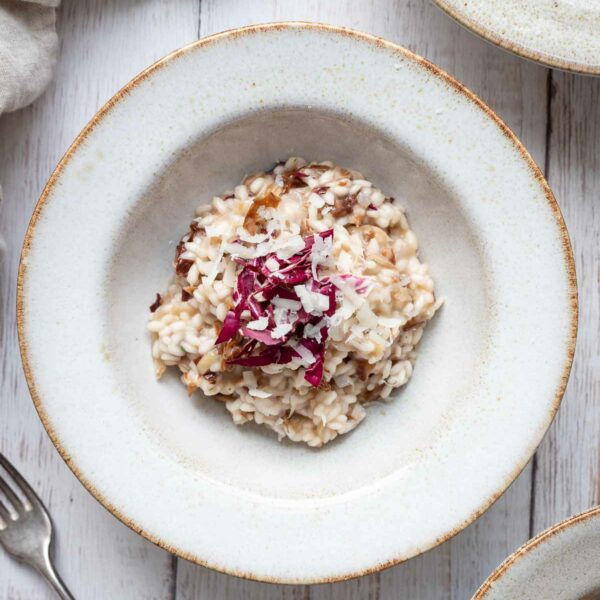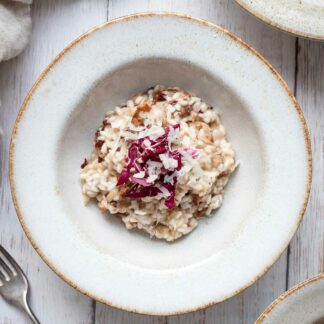 Radicchio Risotto
Radicchio risotto is a simple, classic dish from the Veneto region of Italy. Creamy rice, butter and parmesan help to balances it's bittersweet bite.
Ingredients
1

tablespoon

olive oil or butter

1

medium red onion,

finely chopped

1 1/2

cups

risotto rice

(300 g)

1/2

cup

white wine

(125 ml)

4

cups

chicken broth,

brought to a bare simmer (1 litre)

1

small head radicchio,

cored and very thinly sliced (250-300 g)

35

g

Parmesan,

freshly grated

1

handful fresh oregano,

leaves picked and chopped (1 tablespoon)

Sea salt and freshly ground pepper,

to taste

2

tablespoons

butter,

to finish (30 g)
Method
In a heavy bottomed saucepan heat the oil over medium heat and gently fry the onion until soft (about 4-5 minutes). Add the rice and stir well until coated in oil; fry for a minute or so.

Season with a little salt then add in the white wine and cook, stirring, until absorbed, then add a ladle of hot broth (1/4 cup / 60 ml). Cook, stirring constantly, and keeping at a simmer throughout, until absorbed before adding the next ladle full.

Continue simmering and adding broth, one ladle at a time, stirring constantly and letting each addition be absorbed before adding next, until the rice is still firm on the inside but beginning to soften (20 minutes).

Stir in the sliced radicchio (reserving some for garnish) and more broth and cook, so the leaves start to wilt and lose their colour. When the rice is al dente, add the last ladle full the broth, as well as the butter, parmesan and oregano. Season well with salt and pepper. Stir and leave for a minute or before spooning onto plates. Garnish with a little fresh radicchio and additional cheese. Enjoy!
Notes
If you prefer a more subtle bitterness, the best radicchio to use for this risotto recipe is the long type, called radicchio di Treviso. However the short, round balls of radicchio work well too as their bitter mellows somewhat as it cooks.
I also serve this with a balsamic creme for anyone who prefers a little sweetness to balance out the bitterness. I like to make a mix of sweet and spicy dressing with 2 tablespoons balsamico creme, 1/2 small red chilli, finely chopped, 1 garlic clove, minced and 1 teaspoon finely grated zest from an organic orange.
Fresh oregano can be replaced by 1 teaspoon dry oregano.
For a relaxing atmosphere in the kitchen I recommend my personal Elle Republic: Chilled Out Kitchen Tunes Playlist on Spotify.
Did you try this recipe?
Then tag @ellerepublic on Instagram and hashtag it #ellerepublic
How did you like it?
Please let me know how this Radicchio Risotto recipe turned out for you! I would love to hear how you liked it. Simply rate it with the stars above ⭐ or leave me a comment and rate it below.
Did you make any changes to this recipe?
If you have tips for other readers, let me know! It helps me and other readers so much. Sharing is Caring :-).
This post contains affiliate links. If you decide to make a purchase through my link, Amazon will pay me a commission for it. This doesn't cost you anything additional and the price remains the same. More about advertisements on Elle Republic.