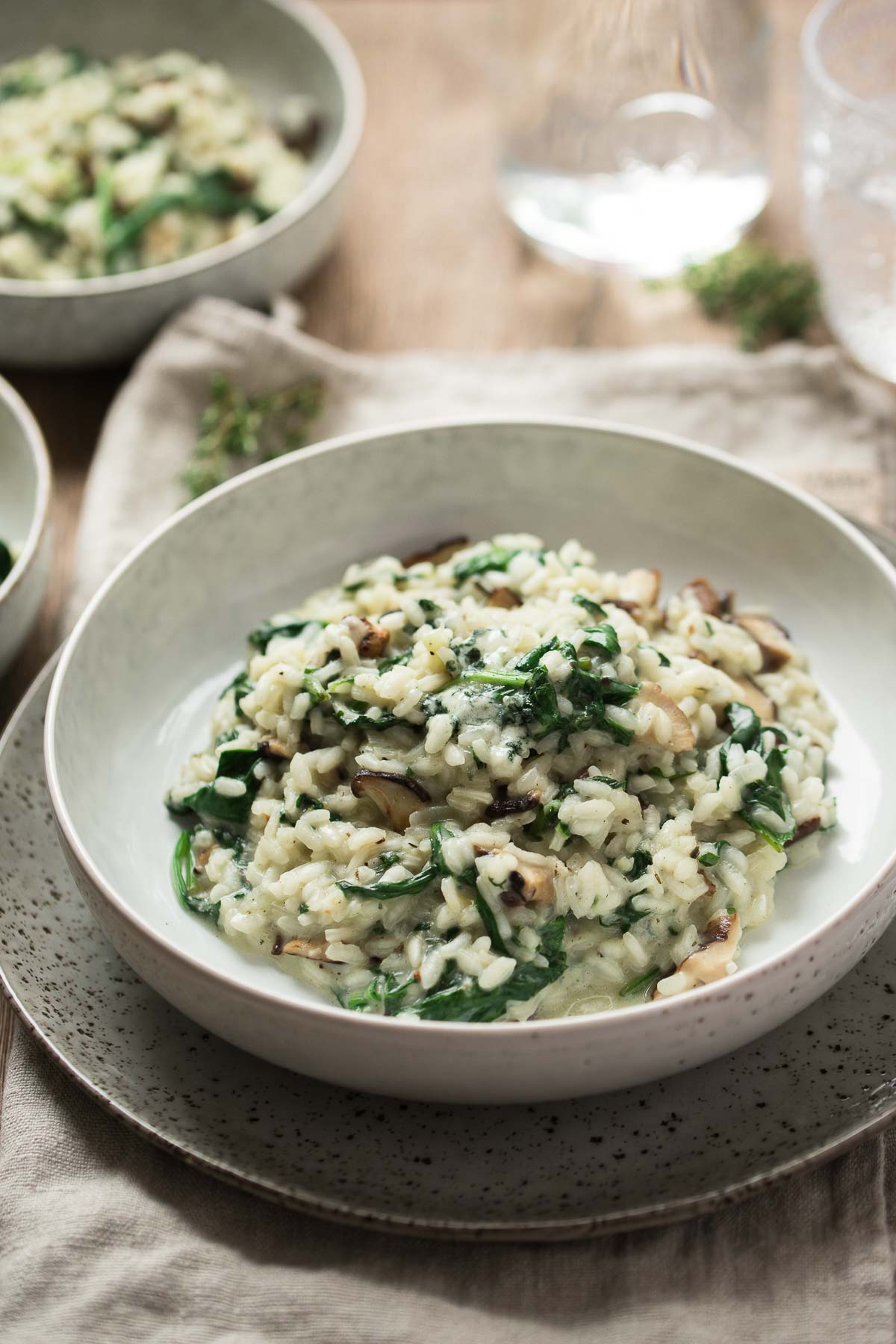 This shiitake mushroom risotto with blue cheese and spinach is Italian comfort food at its ABSOLUTE best! It's got fresh shiitake mushrooms sautéed until golden-brown and delicate wilted spinach all together in a pan of warm, creamy, blue cheese and parmesan speckled risotto. There's just enough of cheese to make it creamy and ooh-so tasty — we're not talking a loaded up cheese risotto here, it's risotto with cheese. There's a difference.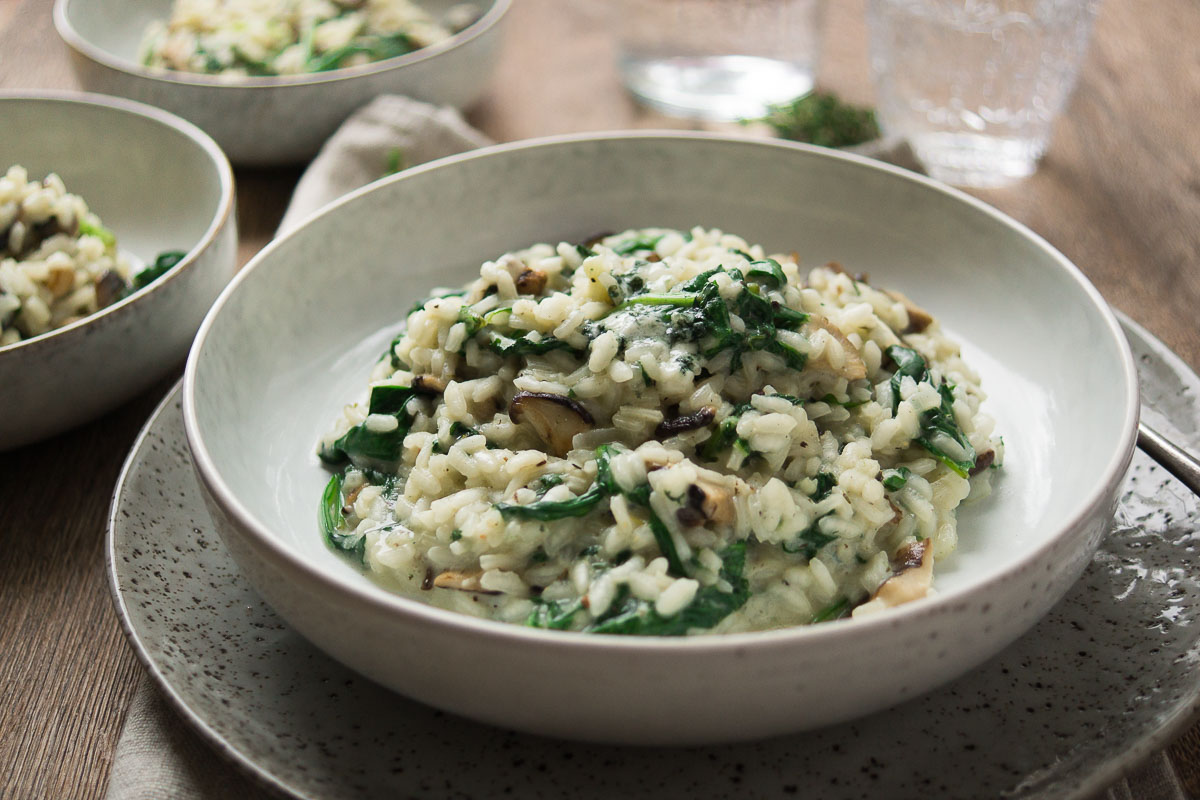 "Yes" to blue cheese risotto!
And if you have ever been skeptical about putting blue cheese in your risotto, try putting those thoughts aside. My favorite Schwabe despises blue cheese and he loved this. He actually didn't notice the blue cheese. Surprise! It was kind of like one of those winning moments when kids gobble my best-ever Bolognese sauce that is packed with hidden vegetables that they would never eat is they knew about it. Yep. Don't let your thoughts interfere with enjoying something that's actually really yummy.
Skeptical thought #2: Risotto is sooooo much work. Nope! Risotto is an actually a very simple dish to make. It doesn't require any special skills and it comes together in 35 minutes from start to finish. Give or take. Best thing is, once you know how to make a basic risotto, you can vary it in so many ways. And it's a great way to use up vegetables in the fridge. Think Risotto alla primavera – carrots, peas, celery – anything goes. Or dive right in and try this shiitake mushroom blue cheese risotto with spinach.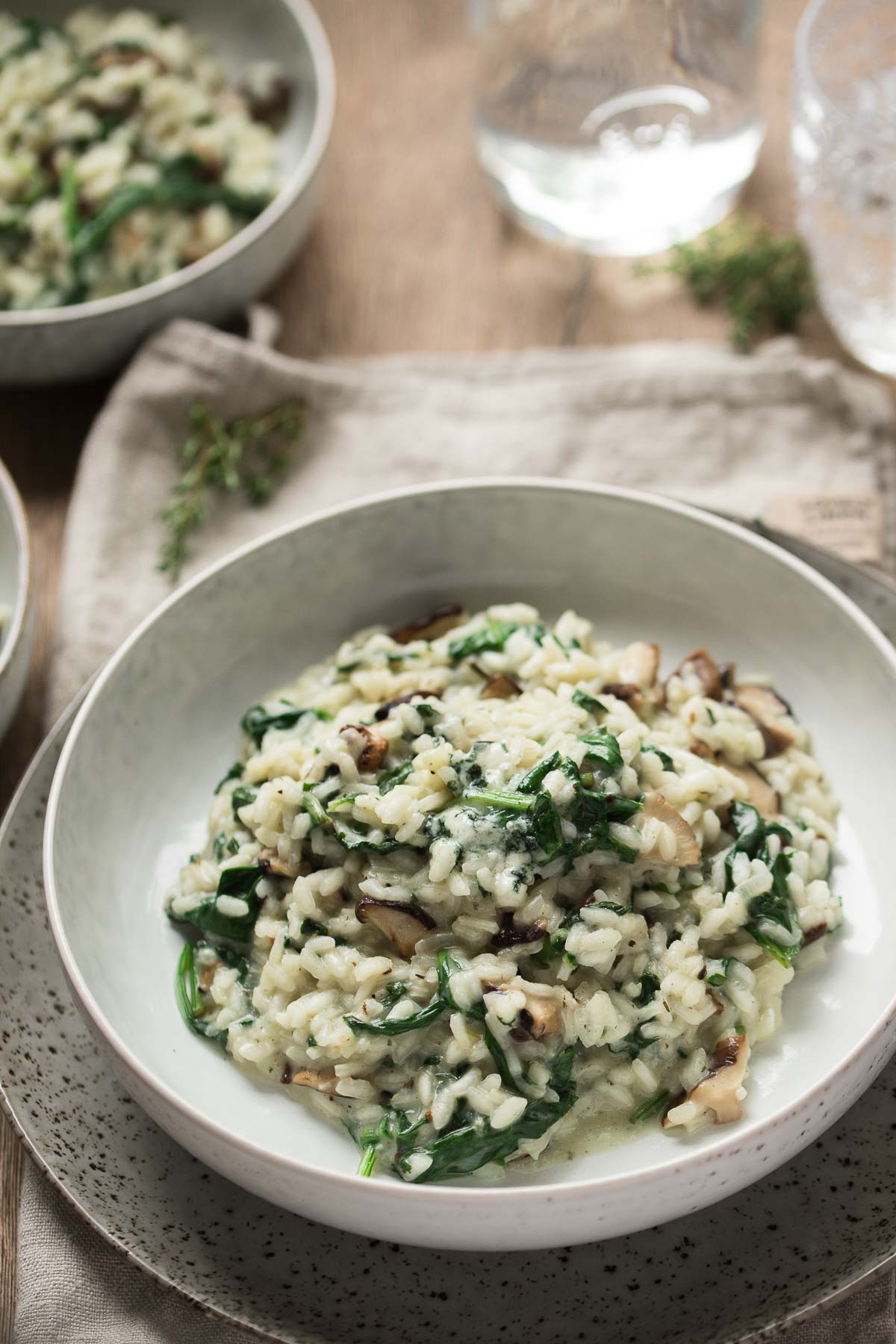 Here are some tips to help you make a perfect risotto every time:
Choose the right rice. You can't make risotto with just any rice; you need a rice that is high in starch like Arborio or Carnaroli. And truth be told, I actually use short grain brown rice from time to time. It takes longer of course, but makes a fabulous risotto.
Never rinse the rice. Rinsing it takes off the rice's starch, and starch is what gives it a creamy texture.
Be organised and have everything ready to go before you begin cooking.
Saute the shallots or onion in the pan, then add the rice and toast it for 1-2 mins.
The stock must be warm and added one ladle full (about a cup full) at a time.
Be patient and keep stirring. The stirring action is what helps the rice release starch so the liquid thickens and the risotto is very creamy. Which why we don't need soo much butter or cheese.
The final step – Mantecatura. This si the essential step of adding the butter and cheese are vigorously stirred it into the risotto. This step binds the ingredients together, giving it that desirable, delicious creaminess.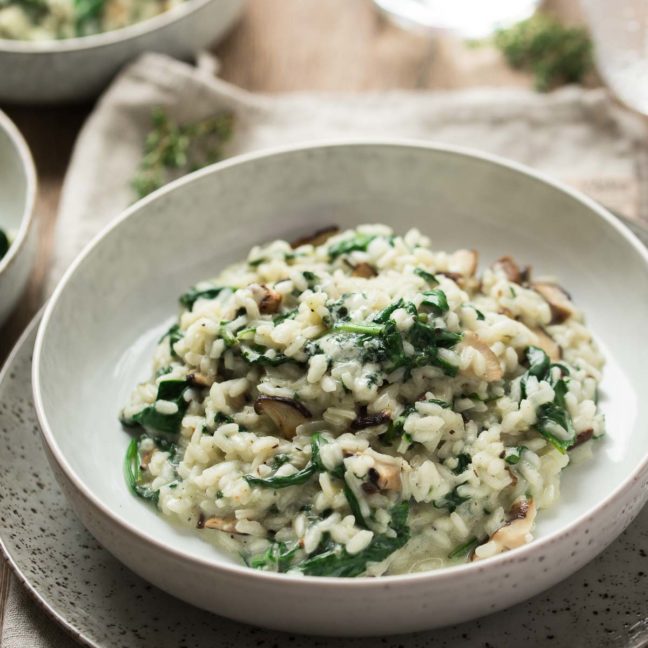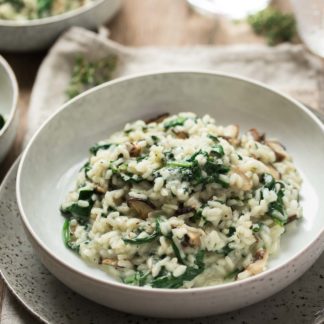 Shiitake Mushroom Blue Cheese Risotto
This is a super simple risotto recipe made with shiitake mushrooms, spinach and blue cheese. So delicious, it's Italian comfort food at it's best!
Ingredients
1

tablespoon

extra-virgin olive oil

2

shallots,

finely chopped

2

cloves

garlic,

minced

1

tablespoon

fresh thyme,

chopped

1 1/2

cups

arborio rice

(300 g)

½

cup

dry white wine

(125 ml)

5

cups

vegetable broth,

heated (1,25 L)

1

tablespoon

butter

200

g

fresh shiitake mushrooms,

stems trimmed and sliced

100

g

blue cheese

(I like Roquefort, but Gorgonzola is also a nice choice)

20

g

freshly grated parmesan

a few generous handfuls of baby spinach

Juice of ½ lemon

(optional)

sea salt and freshly ground pepper,

to taste
Method
In a large non-stick pot (or wok) heat the olive oil over medium to medium-high heat, add the shallots, garlic and thyme. Cook until shallots softened, 3-4 minutes.

Add the rice and continue to cook, stirring to combine, for about 1-2 minutes. Add the white wine and cook until the white wine is absorbed. Then add the broth one ladle full or cup at a time, stirring often, until it is absorbed each time before adding the next cup.

Meanwhile, add one tablespoon of butter to a large heavy-bottomed skillet set over medium-high heat. When melted, add the mushrooms and cook, stirring often, until browned, about 4-5 minutes. Season to taste with salt and pepper, then transfer to a plate and set aside.

Cook the rice until it is al dente and then stir in the spinach and mushrooms. Finally crumble in the blue cheese and add the parmesan, stir through to melt.

Taste and if desired add the lemon juice (this is completely optional and a matter of personal taste). Check the seasoning and add salt and pepper, to taste.

Serve immediately and garnish with a little extra blue cheese crumbled over the top and enjoy!
Notes
I use fresh shiitake mushrooms for this risotto with blue cheese recipe. But you could also use cremini mushrooms, porcini mushrooms, or a mix of your favorite.
This recipe also works well for two, as the leftovers taste great. Just heat up in a skillet for a quick and tasty lunch.
Did you try this recipe?
Then tag @ellerepublic on Instagram and hashtag it #ellerepublic
How did you like it?
Please let me know how this Shiitake Mushroom Blue Cheese Risotto recipe turned out for you! I would love to hear how you liked it. Simply rate it with the stars above ⭐or leave me a comment and rate it below.
Did you make any changes to this recipe?
If you have tips for other readers, let me know! It helps me and other readers so much. Sharing is Caring :-).
This post contains affiliate links. If you decide to make a purchase through my link, Amazon will pay me a commission for it. This doesn't cost you anything additional and the price remains the same. More about advertisements on Elle Republic.