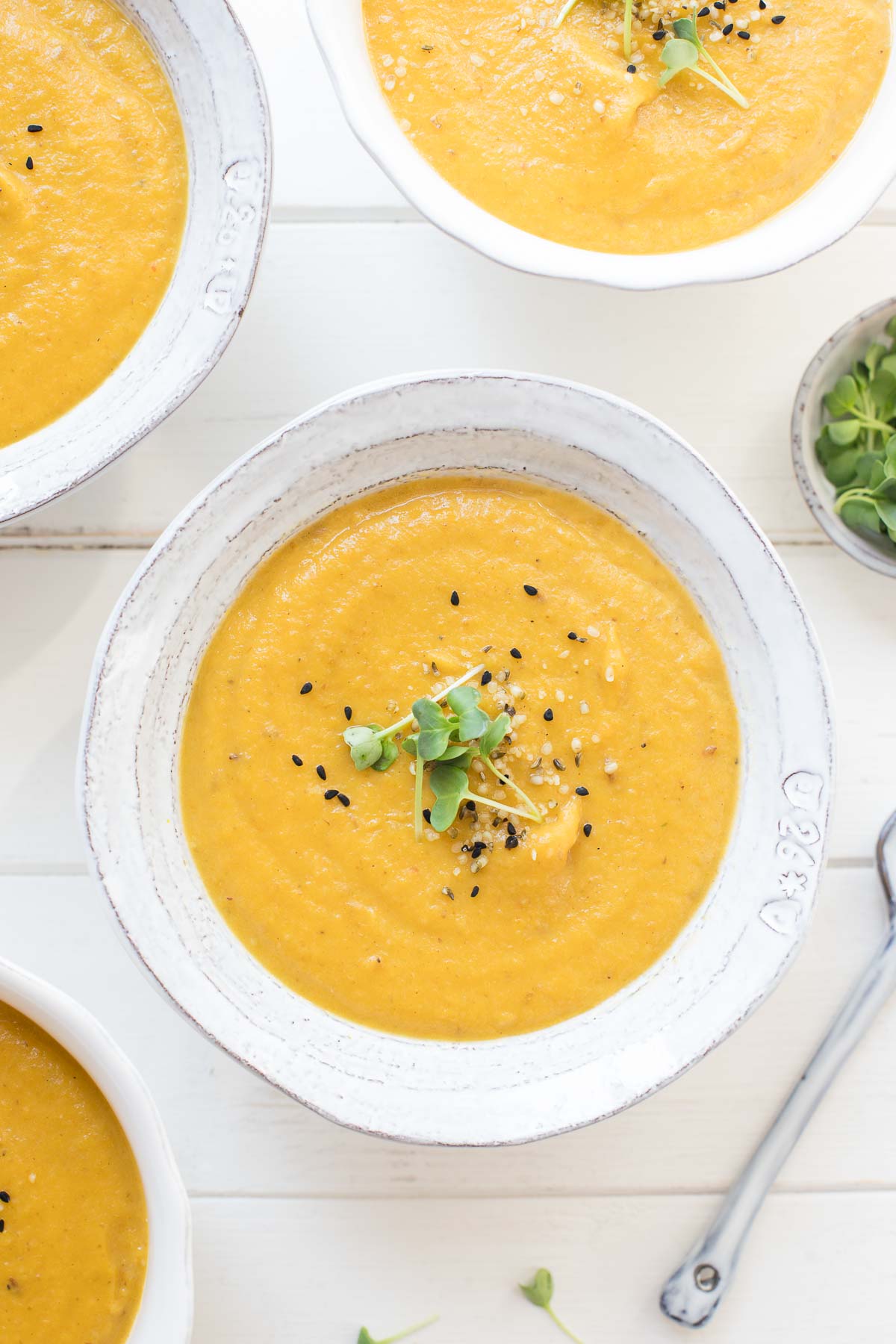 This is the BEST way to eat carrots!! A humble carrot makes an amazing creamy carrot soup. In this case a carrot soup with coconut milk. One that is also made from roasted vegetables, mostly carrots of course, but also a couple others veggies for depth of flavour. Depth of flavour, which by the way, also comes from the delicious caramelization that takes place in the oven. Together with a pinch of chili flakes, cumin and cinnamon – such amazing flavour. All together resulting in a creamy, savoury and sweet, carrot soup.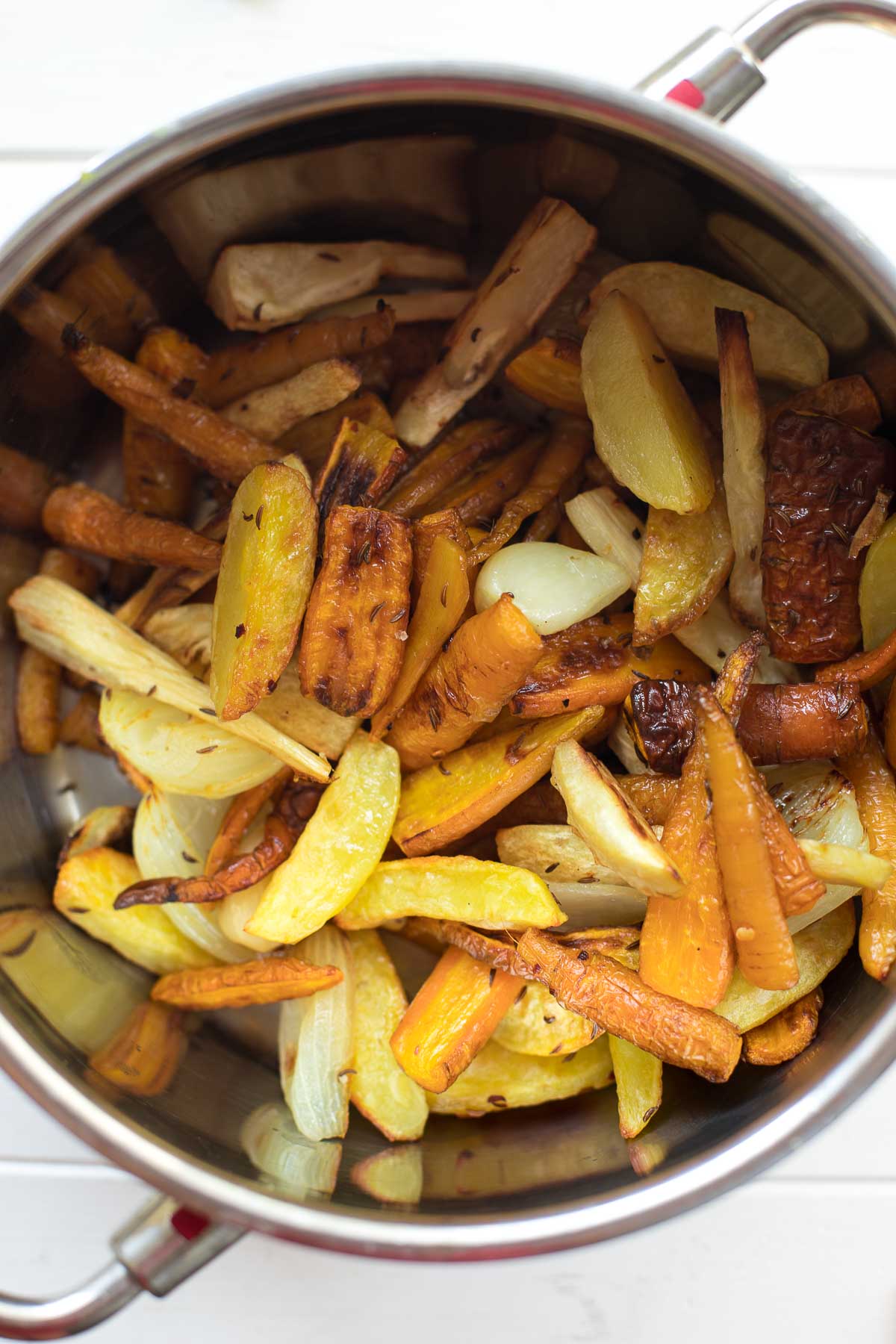 This carrot soup recipe does have a wee bit more in it than just the usual suspects; carrots, onion and garlic. There are also winter staples like parsnip and potatoes. All roasted in the oven (with a sprinkle of cumin and chili flakes) give these vegetables an amazing caramelized flavour! Which on its own is the winning way to make a soup taste great. But there is also a couple secret ingredients that take it to the next level. One being coconut milk, the other cinnamon. Yes! Cinnamon. Carrots and cinnamon are a DREAM together! Trust me. It really takes the humble carrot soup to another level.

Keys to Flavourful Roasted Carrot Soup with Coconut Milk
This creamy roasted carrot soup is unassuming, yet has an outstanding amount of flavour! And while it is incredibly easy to prepare, its flavour is anything but basic. The trick to its rich, deep flavour is the roasted vegetables. Once the vegetables are roasted, you cook with the broth and coconut milk, plus a little cinnamon to let the flavours further deepen. Then you puree everything until you have a creamy delicious soup. That's it. Simple. And did I mention it's vegan? Yes. Perfect for vegan, vegetarian, gluten-free and low-carb diets…basically for everyone!

How to serve this carrot soup
This carrot soup makes a lovely lunch on its own. You can add any number of toppings. Whether roasted chickpeas, leftover roasted veggies (yum!), roasted chickpeas, homemade croutons, hemp seeds, fresh herbs…whatever you like! I think it would be double-delicious served alongside a grilled cheese sandwich. Yes, that's the Canadian in me. Growing up, we always ate grilled cheese sandwiches with soup. But more often than not, a tomato soup. Getting some ideas now? Then try my orange and tomato soup. It's delish.
Recommended Tools to Make this Roasted Carrot Soup Recipe
I have a high-powered blender which can be pretty pricey. But it transforms soups and smoothies to something silky-smooth. So creamy!
You can also blend the soup directly in the pot by using an immersion blender. I usually do this as it's so easy. Also for clean-up.
Is a food processor more your style? I have this one, as it's affordable and serves all my purposes.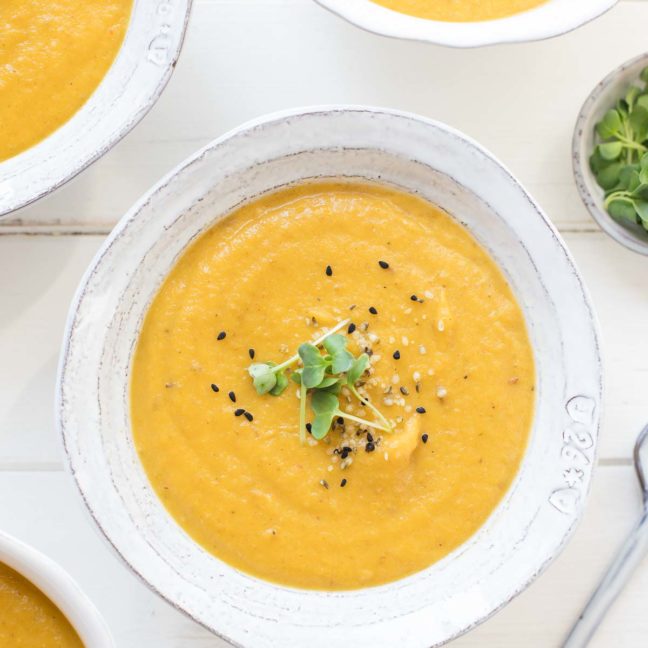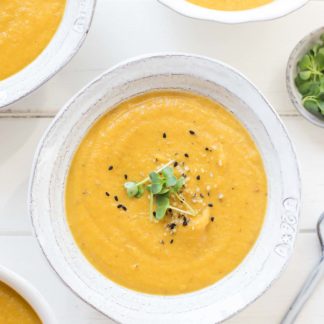 Roasted Carrot Soup with Coconut Milk
A simple and easy carrot soup recipe that is full of deep flavours, thanks to roasted vegetables and spices like cumin, chili flakes and cinnamon. Coconut adds a creamy flavour without the dairy. A terrific choice for vegans. It's perfectly filling as a main meal soup for 4, or serve it with some crusty bread for 6.
Total Time
1
hour
10
minutes
Ingredients
500

g

organic carrots,

scrubbed, halved lengthwise and cut into 2-3 pieces

1

medium parsnip,

peeled (ca 200 g)

4

small potatoes,

peeled (ca 220 g)

3

small yellow onions,

peeled and cut in half (150 g)

4

tablespoons

extra-virgin olive oil

1

teaspoon

cumin seeds

generous pinch chili flakes

(1/8 teaspoon) or more depending on taste

sea salt,

to taste

5

cloves

garlic,

peeled

1/2

teaspoon

cinnamon

(Ceylon)

750

ml

water or vegetable broth,

plus up 250 ml more (depending on desired consistency)

1

x 200 ml can

organic coconut milk
Method
Preheat oven to 425°F / 220°C degrees and line two baking sheets with parchment paper.

Cut the parsnip and potatoes in pieces that are roughly the same size as the carrots. Divide the carrots, parsnip, potato and onion among the two baking sheets. Toss each tray of vegetables with 2 tablespoons olive oil. Sprinkle each with 1/2 teaspoon cumin seeds and a pinch of chili flakes. Season with salt.

Transfer the trays to the oven and roast for 20 minutes, then switch positions of the trays, adding the garlic to the bottom tray. Roast for 15 minutes more, or until the vegetables are tender and lightly browned.

Transfer the roasted vegetables to a large pot; add cinnamon, broth/water and coconut milk. Bring to a boil, over high heat. Reduce heat to low and simmer for 10 minutes. Turn off heat and let stand for 10 minutes, then using an immersion blender puree until smooth. Adding more broth or water until reaches desired consistency.

Alternatively, use a blender, and blend in batches, opening lid to let any steam escape. Reheat soup gently if needed.

Serve garnished with fresh herbs, sprouts, or croutons. (I like a sprinkle of hemp seeds). Serve and enjoy!
Notes
For roasting the vegetables, I use my go-to olive oil from Farchioni which although it is extra-virgin is it very heat resistant so does not burn like some more delicate oils. It helps the vegetables cook up with the perfect crispiness, and also imparts its own unique flavour. Alternatively, ghee is another favourite of mine for roasting. Or try avocado oil.
Also, I like to use half broth, half water when I make homemade soups, unless I am using a homemade broth. For thinning out the soup, I always use water. Chicken broth can also be used for this carrot soup recipe.
Did you try this recipe?
Then tag @ellerepublic on Instagram and hashtag it #ellerepublic
How did you like it?
Please let me know how this Roasted Carrot Soup with Coconut Milk recipe turned out for you! I would love to hear how you liked it. Simply rate it with the stars above ⭐or leave me a comment and rate it below.
Did you make any changes to this recipe?
If you have tips for other readers, let me know! It helps me and other readers so much. Sharing is Caring :-).
This post contains affiliate links. If you decide to make a purchase through my link, Amazon will pay me a commission for it. This doesn't cost you anything additional and the price remains the same. More about advertisements on Elle Republic.