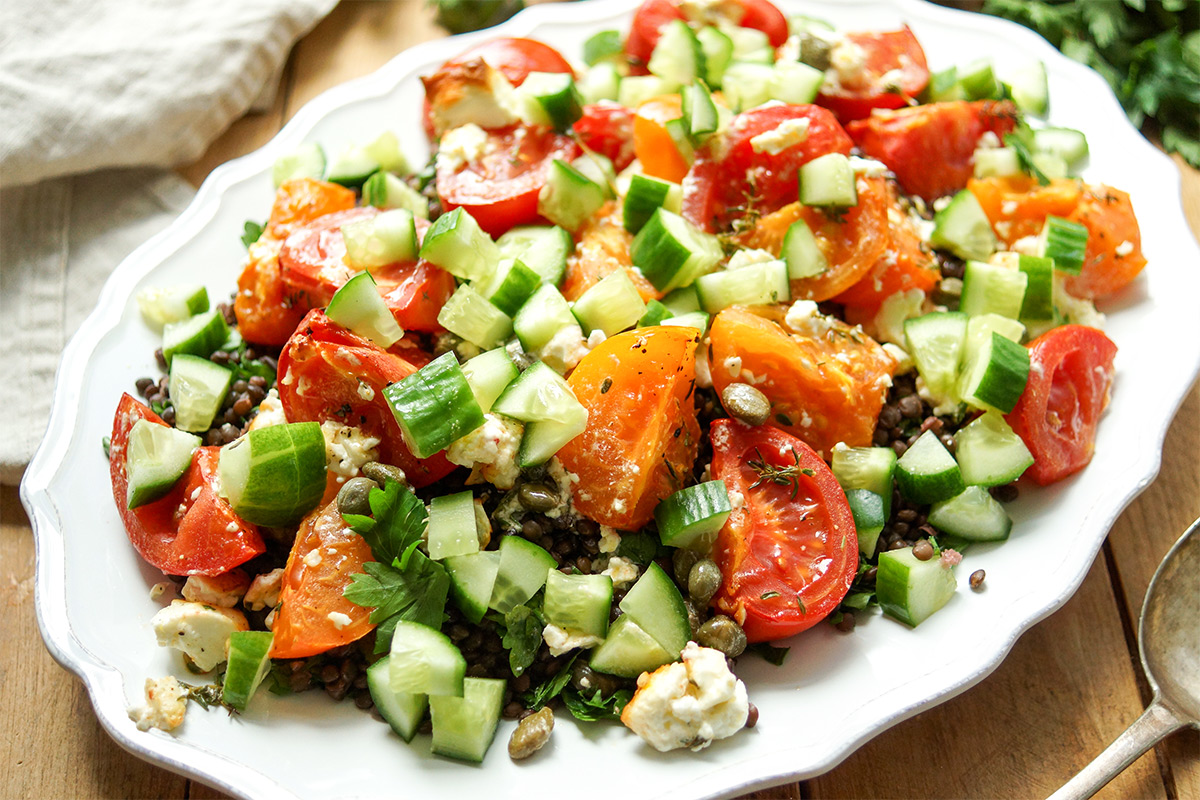 If I am not spending an evening grooving on a chickpea salad, then it will likely be one with lentils… or grains. Okay. I'm simply just a salad person. I groove on any kind of salad. So how should today be any different than any other day? And this one is inspired by something I love when enjoying Sunday brunch: roasted feta and tomatoes. So why not a roasted feta and tomato lentil salad? Of course, brilliant Watson!
Roasted tomatoes and feta — so easy, so tasty
So back to my Sunday brunch version. It's simple. Summer tomatoes, chopped capers (or olives), minced garlic, dried oregano, a block of the best possible feta available and a good drizzle of olive oil. Bake in the oven at 200°C until the tomatoes are tender and the feta is golden at the edges. Top with chopped flat-leaf parsley and enjoy with a crisp baguette. Seriously simple, seriously delicious. And not just to be enjoyed at brunch. So where do you find the best possible feta? Greece. So take this as your NEED TO fly to Greece NOW excuse.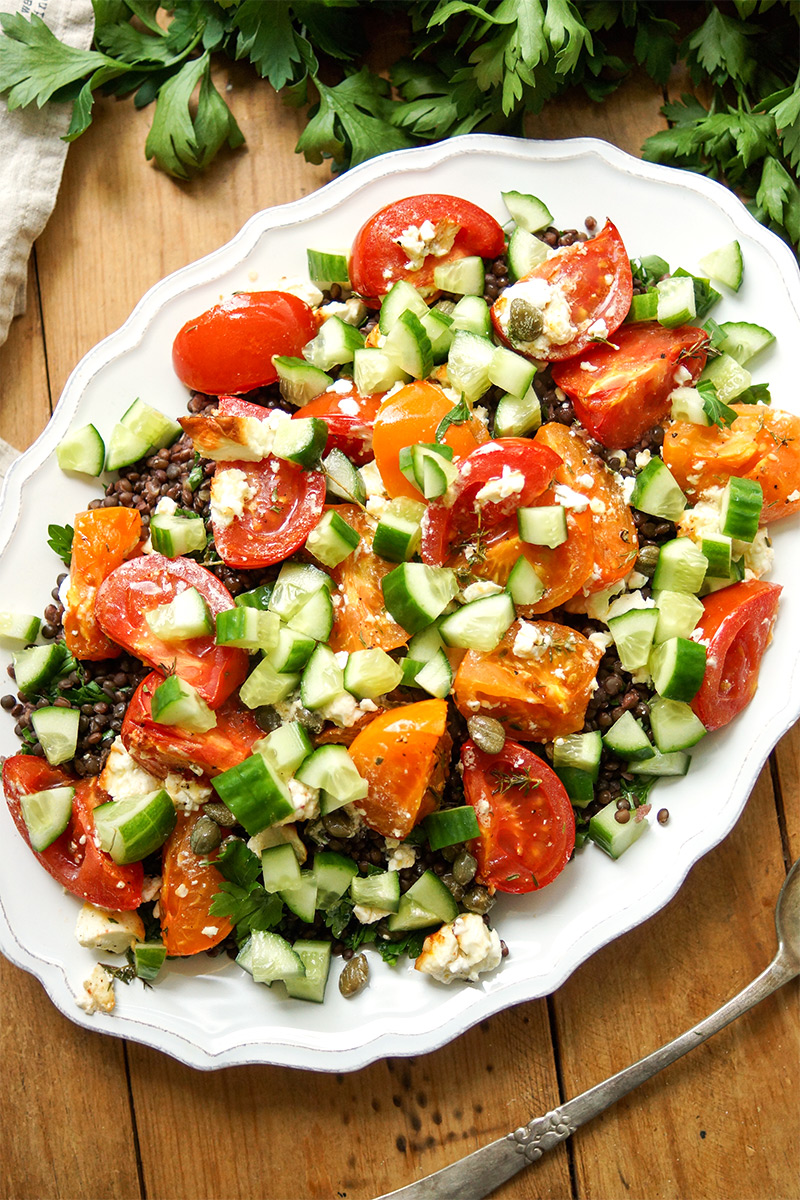 No matter where you are, fresh ingredients are key to a great salad
But back to reality, I know I won't be flying to Greece this summer. France has become to be a family favorite for us. Provence to exact. The regions differ each time, but one thing's for sure, Aix en Provence is a stop we never miss. They have the most amazing farmers market – EVERY DAY! So again this summer we will be enjoying France's gorgeous fresh produce, amazing cheese (in this case Chevre) and plenty of wine. And probably some variation of this roasted feta and tomato lentil salad, likely with French Puy lentils. They are terrific in salads too!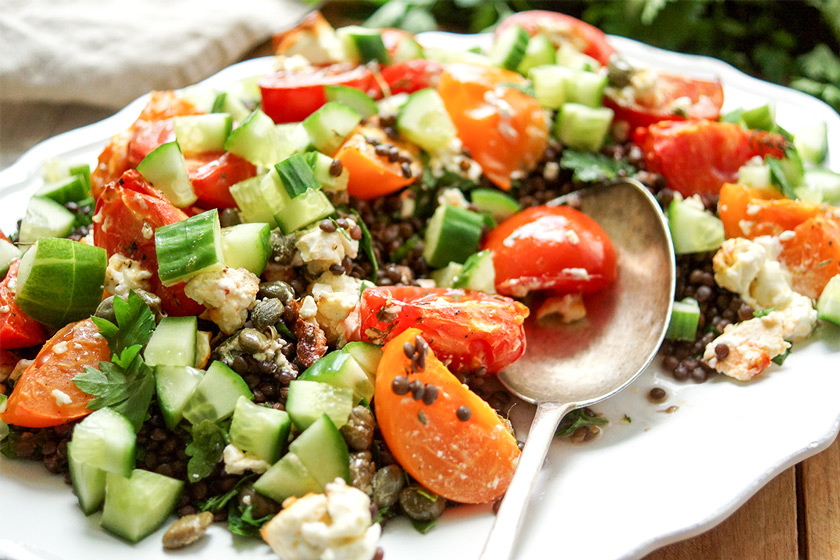 Roasted feta and tomato lentil salad — serve it warm or at room temperature
Fresh herbs and lemon are key to brightening up this simple lentil salad recipe. Even served warm, it tastes great on a summer day. But of course, it is summer after all, so I like to top it with cool summer cucumber. Completely optional, so feel free to skip the cucumber if you like… OR… what I also love is to add a little sweet red onion to the mix. Serve with some rustic bread for a light lunch or with as a side with something fresh off the grill.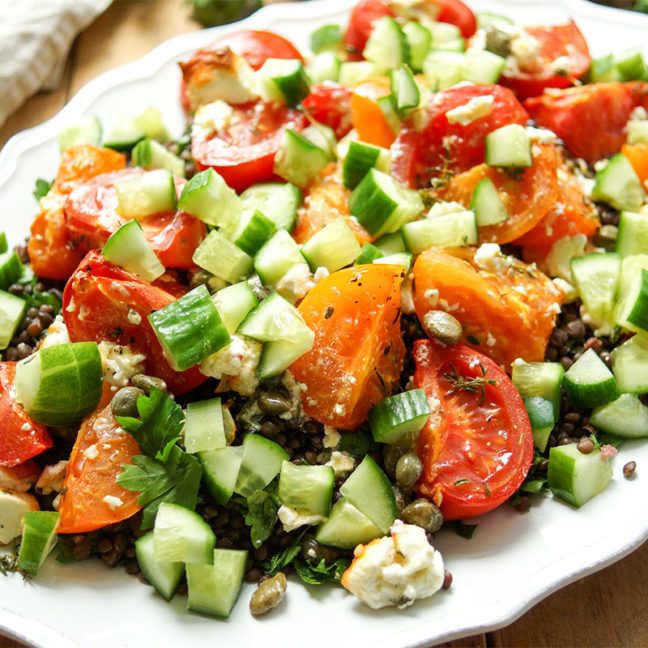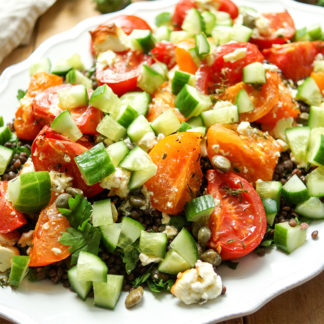 Roasted Feta and Tomato Lentil Salad
Herbs and lemon brighten up this simple recipe for roasted feta and tomato lentil salad. Enjoy warm or at room temperature. Even chilled leftovers taste great!
Ingredients
1

cup

beluga lentils

(200 g)

4

vine-ripened tomatoes,

cut in sixths (quartered if small) (about 450 g)

100

g

feta cheese,

crumbled

1

teaspoon

capers (in brine),

drained

1/2

teaspoon

fresh thyme leaves

a generous drizzle of extra-virgin olive oil,

about 3 tablespoons

juice of 1 1/2 medium lemons,

reserving half the lemon to dress the salad before serving

1

small bunch flat-leaf parsley,

chopped

3

tablespoons

freshly chopped mint leaves

1

mini cucumber,

or 1 /2 English cucumber, seeded, diced

drizzle olive oil,

to serve

sea salt and freshly ground pepper,

to taste
Method
Place lentils in a large saucepan, cover with plenty of water and bring to the boil (generally, lentils should be cooked at a 1:3 ratio; lentils to water). Simmer over medium heat for 30 minutes. Drain excess water and transfer to a bowl to cool slightly.

When the lentils are halfway though cooking, broil the tomatoes and feta.

Place the tomatoes in an ovenproof baking dish along with the capers and thyme. Scatter with the crumbled the feta and drizzle with olive oil. Season with freshly ground pepper and transfer the dish to the middle rack of the oven and broil on low heat.

NOTE: I have an electric oven with the setting "GRILL" and heat level 1-3. I use heat level 1 for this recipe. If your oven doesn't have this option then place on the bottom third of the oven.

Broil until the tomatoes and feta begin to soften and brown slightly; about 15 to 20 minutes depending on your oven's broiler and how close it is to the heat.

Now prepare the rest of the salad. Add the juice of 1 lemon, along with the chopped parsley and mint to the bowl with the lentils, season with salt and pepper and toss to combine.

Transfer the lentil-herb mixture to a serving plate, top with the roasted tomatoes, feta, and contents of the casserole dish. Sprinkle the diced cucumbers over the salad and drizzle the juice from the remaining 1/2 a lemon over top along with a small drizzle of olive oil. Adjust seasoning as desired. Serve and enjoy!
Notes
The fresh mint is key to this recipe, so I recommend it not be skipped.
I choose mini cucumbers to add some summer freshness to this recipe, this can also be replaced with slices of sweet red onion and some more fresh herbs or other greens.
A medium lemon has between 2-3 tablespoons of juice, so if you use a large lemon you will need less lemon juice. However, feel free to adjust the amount of lemon juice to fit your personal taste.
Did you try this recipe?
Then tag @ellerepublic on Instagram and hashtag it #ellerepublic
How did you like it?
Please let me know how this Roasted Feta and Tomato Lentil Salad recipe turned out for you! I would love to hear how you liked it. Simply rate it with the stars above ⭐or leave me a comment and rate it below.
Did you make any changes to this recipe?
If you have tips for other readers, let me know! It helps me and other readers so much. Sharing is Caring :-).
This post contains affiliate links. If you decide to make a purchase through my link, Amazon will pay me a commission for it. This doesn't cost you anything additional and the price remains the same. More about advertisements on Elle Republic.