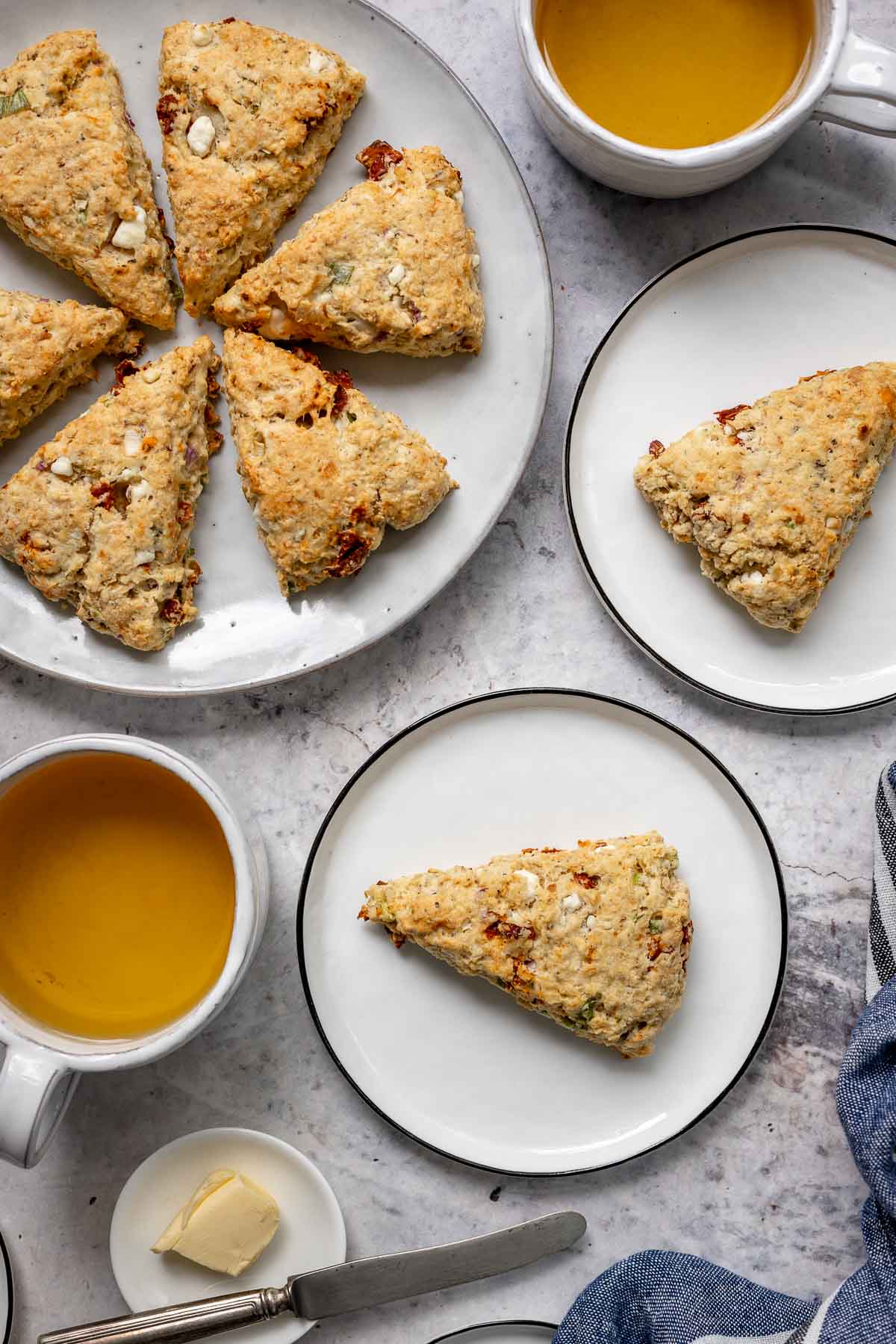 This recipe for savory scones with feta, sun-dried tomatoes and herbs is makes for a great snack or something to savor with soup for a comforting meal.
Savoury scones: enjoy them any time of day
Growing up in Canada, I am well familiar with scones which are served at breakfast, brunch, lunch and dinner. Whether sweet, savoury or simple, scones make for a great snack after a hike in the mountains, when sitting in a cafe with a coffee, or any other time when you are looking to refuel with something delicious. You can enjoy them warm and spread them with a little butter, at room temperature with both butter and jam, or simply enjoy them as they are.
Scones versus biscuits
Scones are very similar to baking powder biscuits, but are a little more crumbly (but not dry, which is often a fine line). The main difference however is that scones have an ingredient that biscuits don't have and that is: egg. Biscuits whether plain or with herbs, are also a family favourite in Canada, whether served with jam for an afternoon treat, or along side a hearty stew or gravy in the evening. Both are relatively easy to make, while scones being my favourite as it is easy to swap in and our fillings, or transform them into a sweet treat.

Scones made with spelt flour and oats
I stay true to my favourite base recipe for scones, which includes fine-cut oats and spelt flour, rather than regular wheat flour. The oats give it some extra goodness and added structure that you don't get from a straight flour mix. I've also used mixed fine oats that contain linseed, sesame seeds, and sunflower seeds — and really love this.
The best scones depend on the ingredients and how you prepare them:
Use good quality ingredients is my number one rule.
Don't soften your butter. Cold butter makes scones rise higher. Either cut the butter into small cubes or freeze it and use a box grater to grate it into the dry ingredients.
Measuring your flour with a scale is the best way to go, this avoids getting packed flour in a measuring cup which could make the difference between dry and just moist enough scones.
Add just enough milk (plant-based in this case) to make the dough stick together. The dough should still be crumbly with some floury bits when it has enough.
Avoid over-mixing the dough. Too much stirring will toughen scones if they are made with regular flour and in this case, they will break down the sensitive gluten structure of the spelt.
Form the dough together and on a clean surface shape into a disk and cut into circles or triangles. It's less about perfection here. We don't want to overwork the dough.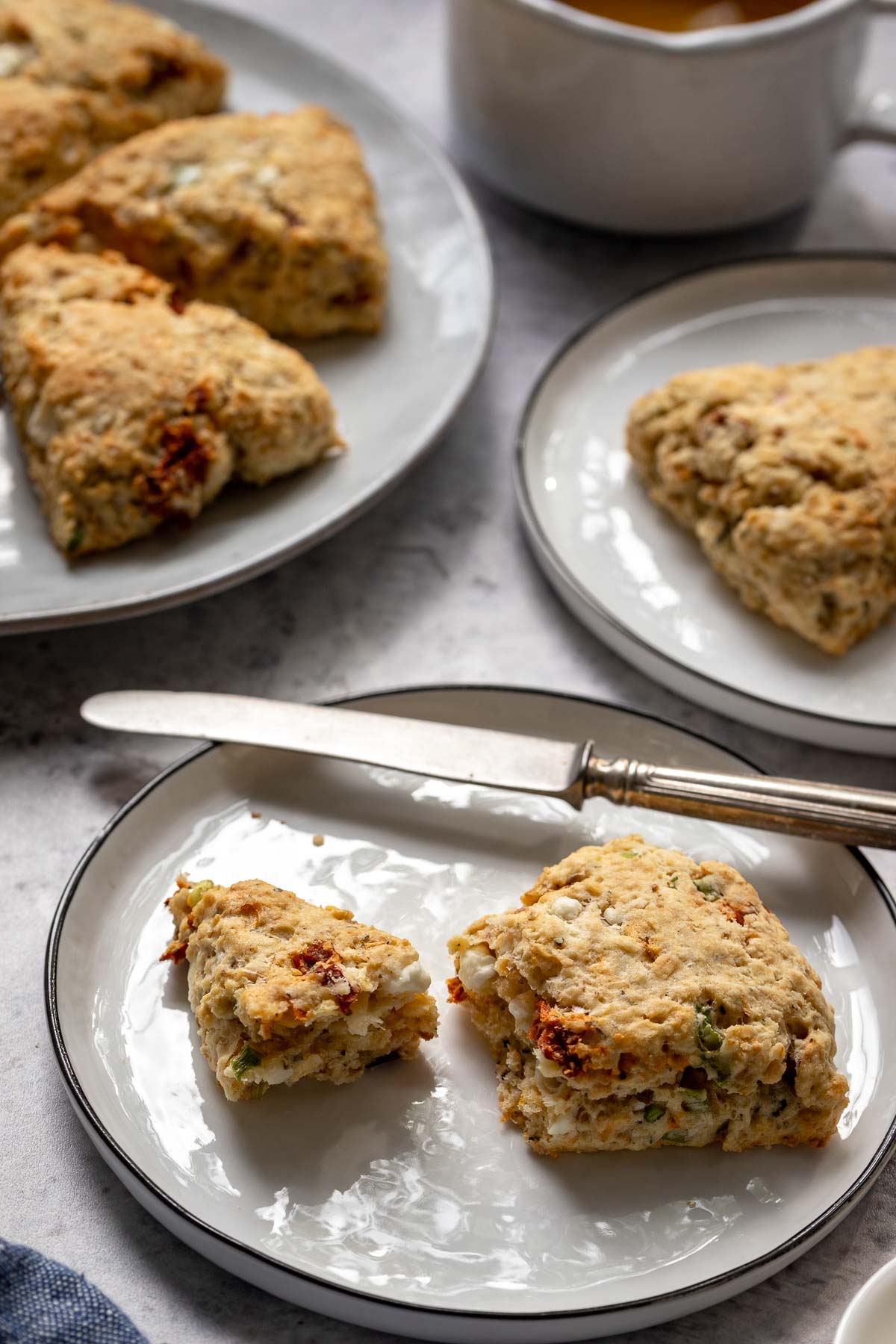 Looking for other scone recipe inspiration?
Then try my recipe for Blueberry Scones. Or how about these savory Cheddar Cheese Scones.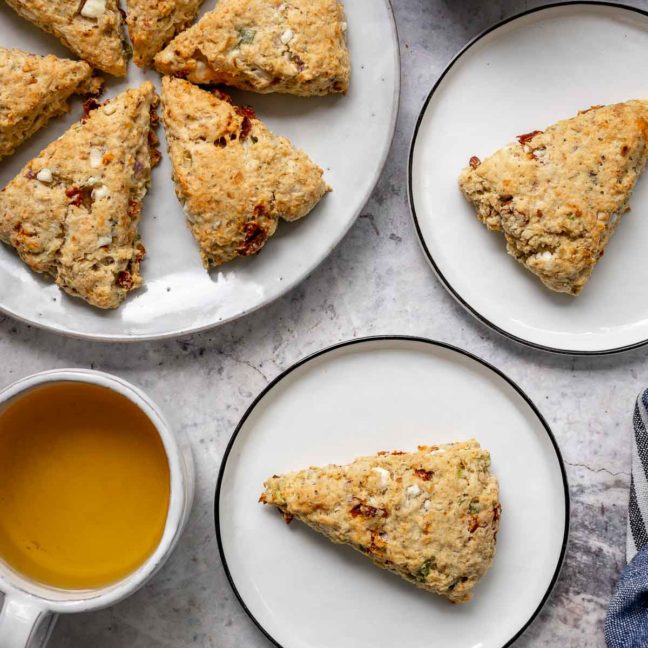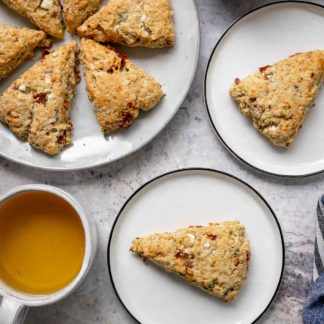 Savory Scones with Feta, Sun-Dried Tomatoes and Herbs
These savory scones made with spelt flour and oats are filled with Mediterranean inspired flavours have give you bursts of flavour with every bite. Perfect anytime snack or accompaniment with soup.
Ingredients
1 1/2

cups

spelt flour,

type 630 (180 g)

1 1/4

cups

fine cut oats

(125 g)

1

tablespoon

baking powder

1/2

teaspoon

sea salt

1

pinch

freshly ground black pepper

1

pinch

red pepper flakes

1

teaspoon

dried basil

(alternatively 1 tablespoon fresh)

1

teaspoon

dried dill

(alternatively 1 tablespoon fresh)

1

teaspoon

lemon zest

(about 1 small organic lemon)

113

g

unsalted butter,

frozen and grated with a box grater (see notes)

85

g

feta cheese,

crumbled

2

green onions,

finely chopped

1

garlic clove,

finely minced

40

g

roughly chopped sun-dried tomatoes

(5-6 halves)

1

large egg

1/3

cup

milk of choice

(I use unsweetened soy milk) (80 ml)

1

teaspoon

apple cider vinegar

(unfiltered)
Method
Preheat your oven to 450°F /230°C degrees and line a baking sheet with parchment paper.

In a large bowl, whisk together the flour, oats, baking powder, salt, pepper, red pepper flakes and dried herbs. (Note: If using fresh herbs add them along with the rest of the fresh ingredients).

Work the grated butter into the flour mixture until crumbs are formed (I use my hands to do this but a pastry cutter can also be used). Stir in the green onion, garlic, sun-dried tomato and crumbled feta cheese.

In a medium bowl, lightly beat the egg. Add the, milk and apple cider vinegar, whisk together to combine.

Add the milk mixture to the dry ingredients. Stir until JUST combined. Do not over mix!

Place the dough on a clean surface (or directly on the prepared baking sheet) and using your hands, work the dough into a round disc that measures about 20 cm across and about 2,5cm high. With a sharp knife, cut the disc into 8 equal triangles.

Place them onto the prepared baking sheet and bake in the preheated oven for 12 to 14 minutes, until scones are well risen and golden on the bottom.

Transfer to a wire rack to cool. Serve warm or cold with butter, if desired. Enjoy!
Notes
The oats can also be replaced with an equal amount of Bio Zarte Basis Müsli (Bauck).
To get a really golden scone, feel free to brush with an egg wash before placing in the oven.
For a relaxing atmosphere in the kitchen I recommend my personal Elle Republic: Chilled Out Kitchen Tunes Playlist on Spotify.
Did you try this recipe?
Then tag @ellerepublic on Instagram and hashtag it #ellerepublic
How did you like it?
Please let me know how this Savory Scones with Feta, Sun-Dried Tomatoes and Herbs recipe turned out for you! I would love to hear how you liked it. Simply rate it with the stars above ⭐ or leave me a comment and rate it below.
Did you make any changes to this recipe?
If you have tips for other readers, let me know! It helps me and other readers so much. Sharing is Caring :-).
This post contains affiliate links. If you decide to make a purchase through my link, Amazon will pay me a commission for it. This doesn't cost you anything additional and the price remains the same. More about advertisements on Elle Republic.