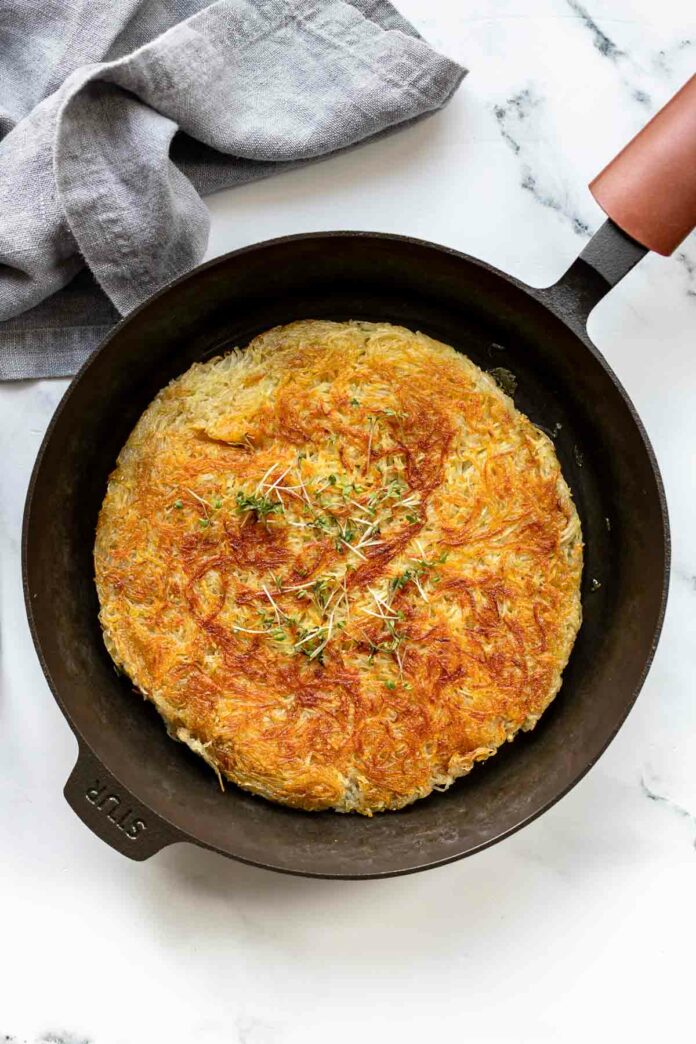 Swiss Potato Rösti is another one of those simple Swiss dishes that simply tastes great. Much like the north American version of hash browns or potato cakes, this famous dish is made from frying grated, salted potatoes until crispy. There are countless versions, some with onion, others without, some made from raw potatoes, and others from boiled potatoes which are cooled overnight and then grated and fried. My preference is the version made from raw potatoes, however below I have tips on making both.
The difference between Swiss Rösti and Latkes
There are many variations on this simple pancake-style potato dish. Latkes are made with three main elements: potato, onion, and a binder. Whereas, Rösti is does not have any binders such as egg or flour. It's more like a giant, pancake-like potato fritter with a crispy outside and a soft interior. And as with some do with latkes, it's common to serve the potatoes with toppings, such as a fried egg, bacon, melted cheese, or something fresh like a handful of arugula and cherry tomatoes. You can also serve it as a side dish with breakfast or dinner with "Zürigeschnetzeltes," sliced veal (or poultry) in a cream sauce.
How to make Potato Rösti?
Choosing the right potato
And this trick here is to choose the one that fits the method. According to my Swiss friends, they like to use floury varieties or all-purpose potatoes for rösti made from raw potatoes, which are grated and then the moisture squeezed out before frying. Waxy are best when boiling the potatoes ahead of time. I think depends on personal preference. I prefer to use an all-purpose potato or waxy variety.
Boiling the potatoes the day before
Ideally, it is recommended to boil the potatoes the day before so that they are fully cooled before grating. Once the potatoes are fully cooled, they should be place on the refrigerator overnight. Alternatively, you do this in the morning which will still allow enough time for the potatoes to cool in the fridge. This is important so that they can grate properly (rather than turning into a purée), since the structure of the starch changes. As the potatoes cool, they develop resistant starch which is also a good prebiotic.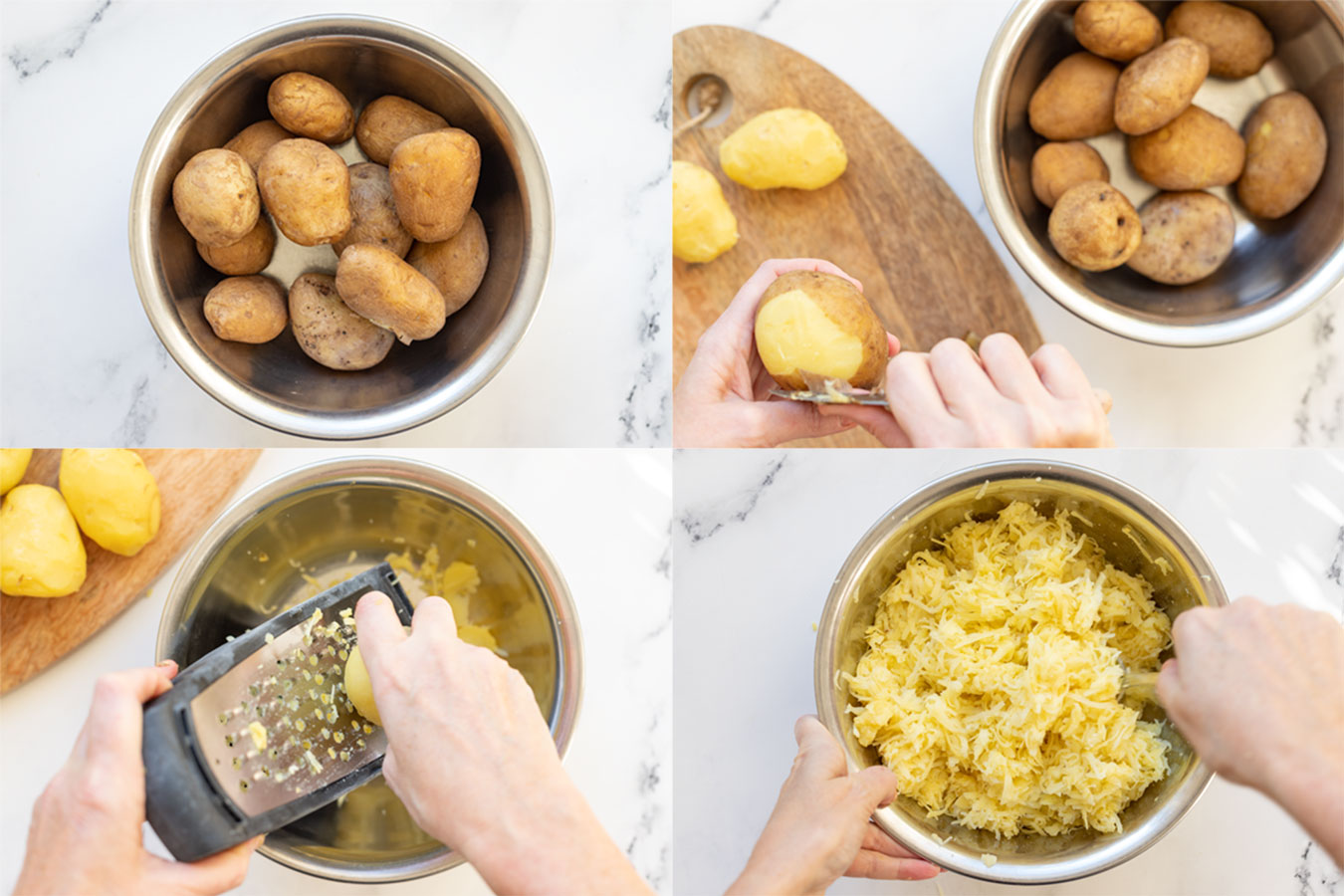 Grate the potatoes
Peel the potatoes and grate them into a large bowl. Before frying the rösti, season the potatoes with salt. To grate the potatoes, you can use the large holes of a box grater or a food processor with the grating attachment (this is great for getting long strands).
Using raw potatoes
When using raw potatoes, it is important that once they are grated, that the excess moisture is squeezed out of them. You can do so by wrapping them in a clean tea towel and then twist and squeeze out the moisture. This helps create a crispier potato (otherwise the excess moisture has to steam out in the pan).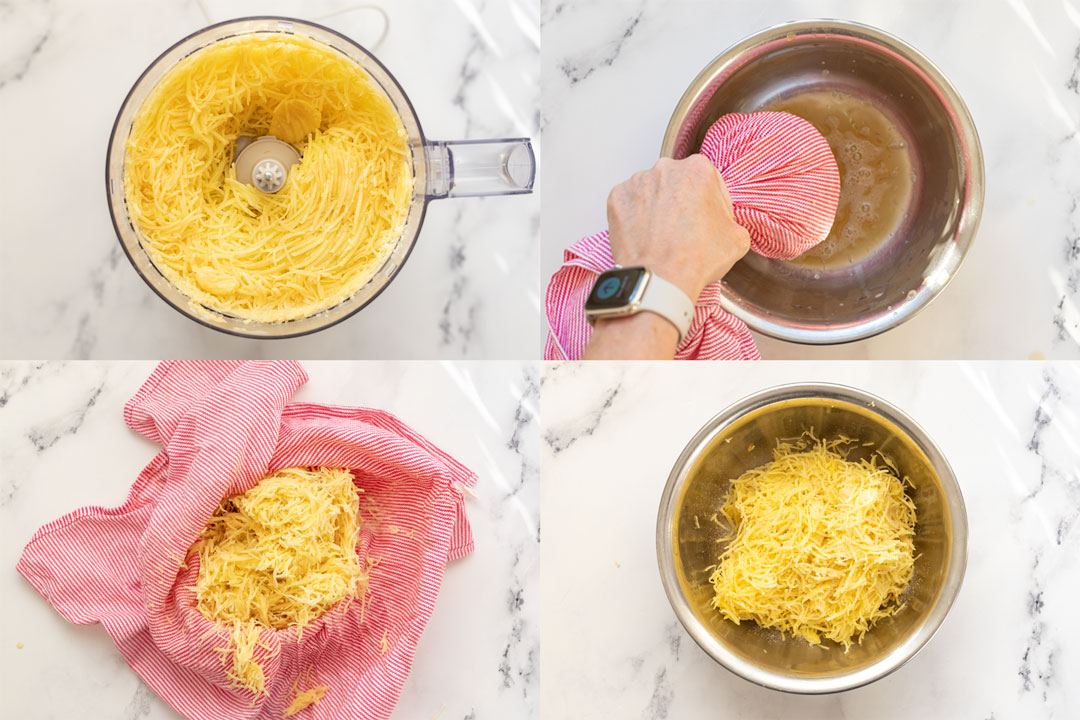 Heat the fat in a skillet
Using a medium-sized well-seasoned cast iron skillet or heavy-based non-stick skillet add enough fat so that the bottom of the skillet is lightly coated and swirl the pan around so that the sides are also coated. You can use butter, ghee or oil. My preference for this type of recipe is clarified butter (ghee) or olive oil. In fact, I like to use my go-to extra-virgin olive oil (Olio Extra Vergine Grezzo) which is also a perfectly suitable oil for frying.
For parboiled potatoes: heat the fat at relatively high-heat before adding the potatoes, i.e. level 8 (from a scale of 10), for the first 3 minutes, then reduce heat to level 6.
For raw potatoes: heat the fat at medium to medium-low heat (level 4), and gently cook so that the raw potatoes cook while they brown.

Add the grated potatoes
Add the grated potato to the pan, and lightly press down with a spatula so it forms a circle covering the base of the skillet.
Patiently let it brown
For a good Swiss potato rösti, you need patience for it to become golden-brown before flipping it.
For parboiled potatoes: Let it cook for 10-12 minutes before flipping it. If desired, you can add a little extra fat along the edges of the skillet to get it more crispy. Use a spatula to gently lift up the edge and check if the base is golden.
For raw potatoes: I like to cover the pan with aluminium foil for 10 minutes so that the potatoes can better cook as they gently brown. Then, the potatoes are cooked another 5 minutes uncovered, before flipping and continuing with the other side.
Flip and brown the other side
When the underside is golden, place a large round wooden board with a handle over the skillet then quickly turn to flip. Alternatively, use a large plate (without a ridge) and place it over the pan like a lid, then flip over the skillet so that rest drops on the plate. Add more fat to the pan, and gently slide the rösti back into the pan to further brown (about 10 minutes).
Serve and enjoy!
Slide the rosti onto a serving plate or cutting board. Cut into wedges and serve as is OR add your favourite toppings.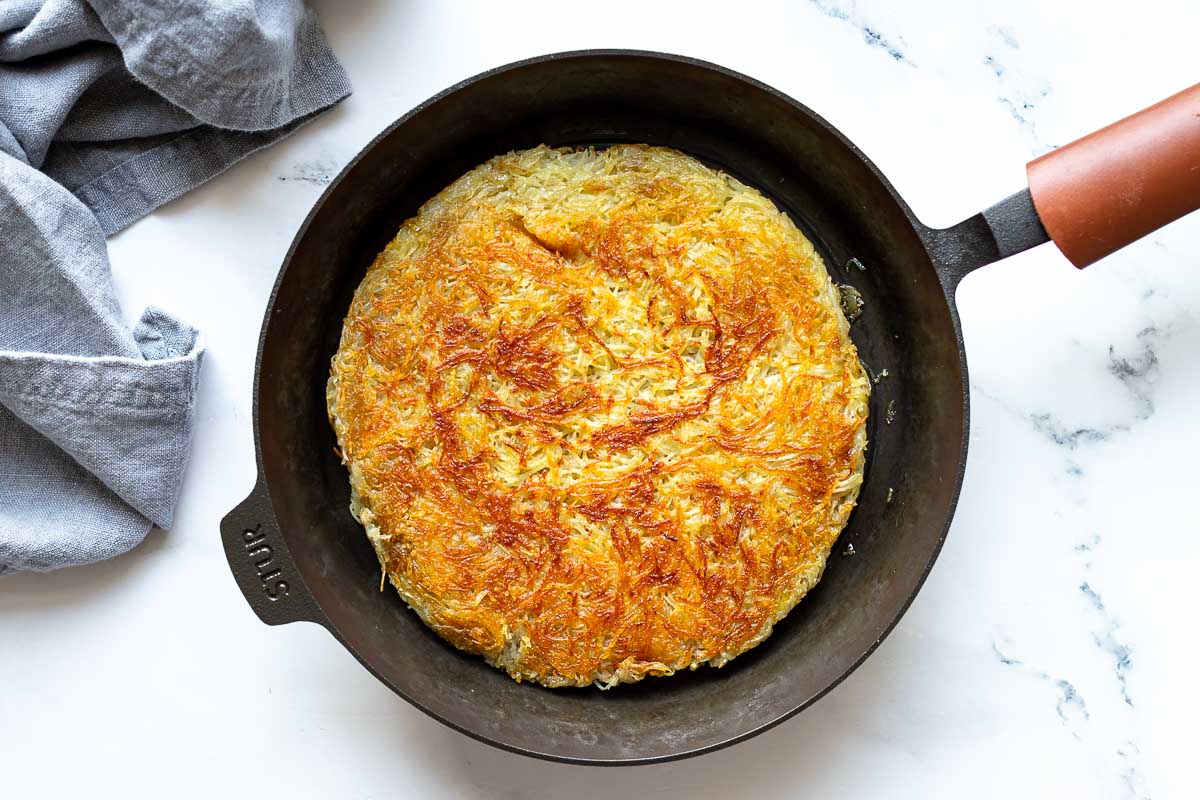 What to serve with Swiss Rösti
As with potato pancakes, latkes and the like, you can serve the Swiss version with the same types of toppings and enjoy it anytime of day.
It's great served as is with salt and pepper, or try one of these other topping variations:
Sour cream, chives and red onions
Smoked salmon, dill and lemon wedges
Microgreen, shrimp and a little crème fraîche
A fried egg, bacon and slices of avocado
Handful full of young arugula leaves and halved cherry tomatoes
A dollop of crème fraîche and a mixture of fresh herbs
Melted cheese and a mixed green salad on the side
Or serve as a side dish with anything that goes well with potatoes.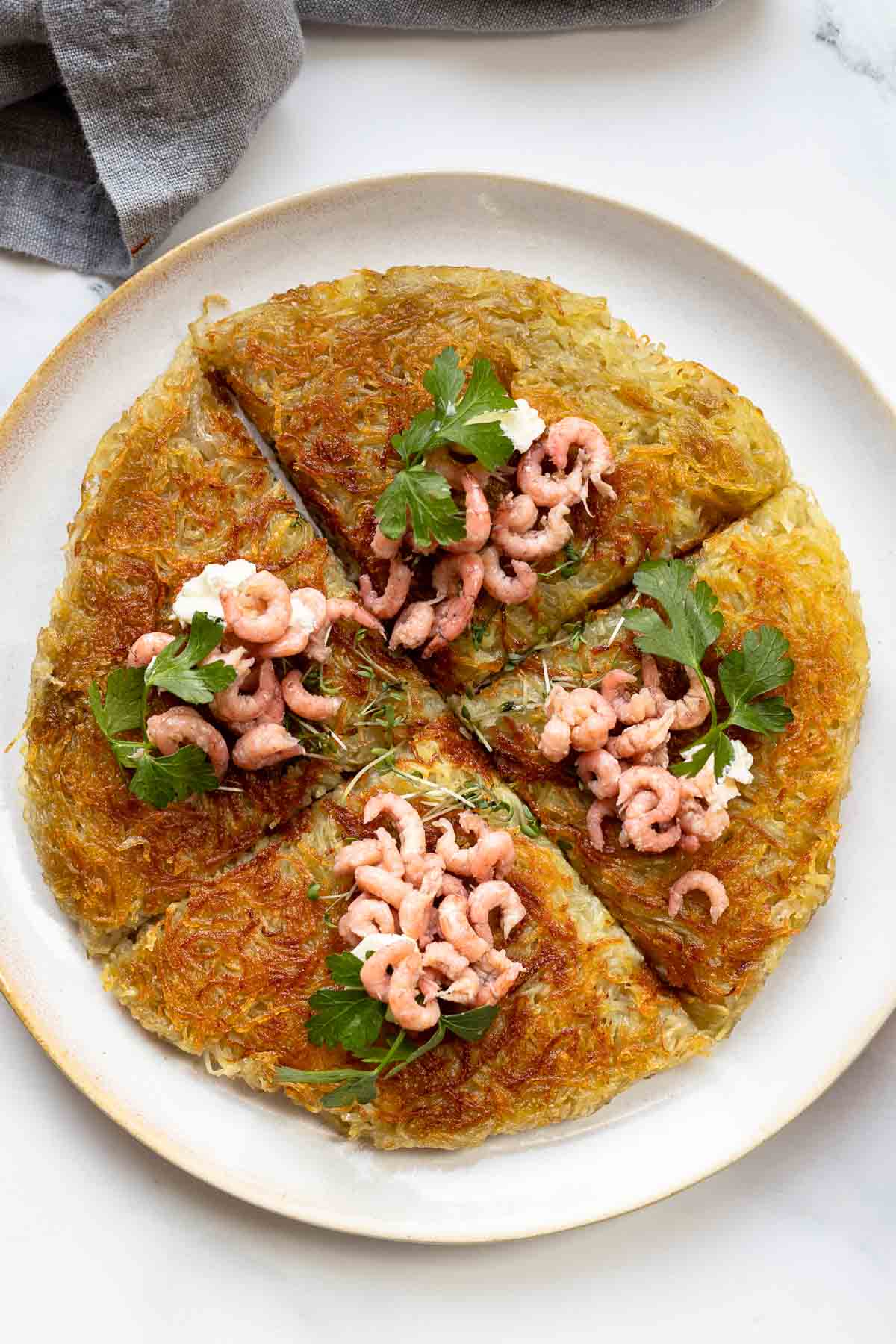 If you like this recipe you may also like: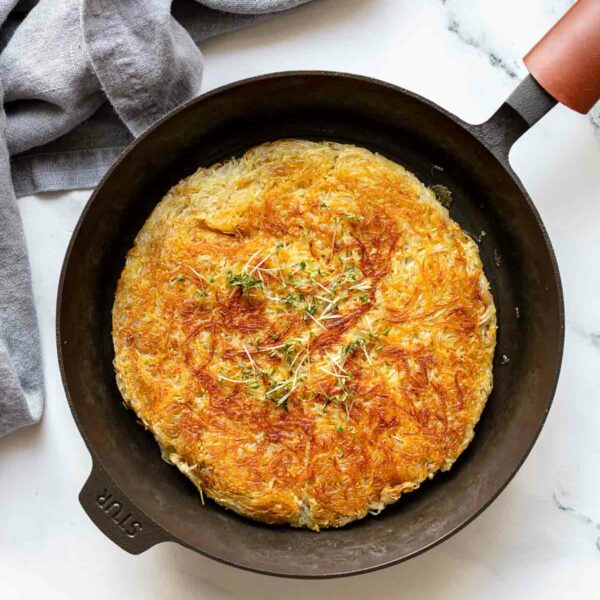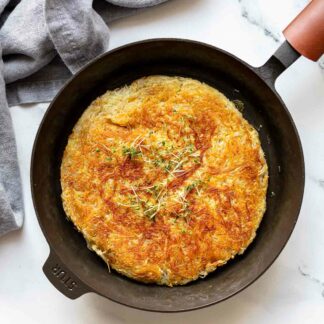 Swiss Rösti (Swiss Potato Cake)
Swiss Rösti recipe made with raw potatoes and fried in a skillet for the ultimate potato pancake.
Ingredients
800

g

potatoes

(all-purpose or waxy)

3/4

teaspoon

sea salt,

or to taste

freshly ground black pepper,

to taste

3

tablespoons

clarified butter (ghee),

separated
Method
Peel the potatoes and coarsely grate them using the large holes of a box grater or using a food processor with grating attachment. Place the shredded potatoes into a clean dish towel. Wrap tightly and wring out and squeeze out the excess water, making sure to remove as much as possible (this avoids steaming and helps create a crispier potato). Alternatively, working in batches and squeeze the potatoes with your hands to release liquid.

Place the shredded potatoes in a large bowl and toss with the salt and a couple good grinds of pepper.

Heat half the ghee in a heavy-based non-stick skillet (Ø 24 cm) over medium to medium-low heat (level 4 from 10), tipping the pan so that the sides are also coated. Then add the grated potato, use a spatula to shape it into a flat cake, pressing down as lightly as possible.

Tent the skillet with foil; cook for 10 minutes, rotating frequently to to avoid hot spots and ensure even browning. Remove the foil; increase heat slightly (level 6) and cook until bottom is golden brown (about 5 minutes). If desired, rub a pad of clarified butter around the sides of the skillet so it melts in. Use a silicone spatula to gently lift the underside to check doneness.

Run the spatula around sides and underneath rösti. Invert a large plate over skillet. Using oven mitts, carefully flip the rösti onto the plate.

Add the remaining 1,5 tablespoons fat to the pan and, when hot, slide the potato cake back into the pan so the other side can brown. Reduce heat to medium to medium-low heat (level 4) and again tent with foil; cook for 5 minutes, rotating frequently. Then uncover and cook until browned on bottom and potatoes are cooked through (about 10 minutes longer).

Gently run spatula around sides and underneath rösti and slide onto a serving plate. Season with more salt, if desired.

Serve with your desired toppings and enjoy!
Notes
I like to use clarified butter (ghee) instead of butter or oil as it adds extra flavor. However feel free to use your preferred choice, or combine with duck fat or bacon fat. Each will influence the flavor of the rösti.
If preparing the day before: add the potatoes (skin-on) to a large pot of cold salted water. Bring to a boil and cook for about 15-20 minutes (depending on size) until just tender, but not soft. Drain and set aside to cool then place in the fridge until you are ready to make the Rösti.
For a relaxing atmosphere in the kitchen I recommend my personal Elle Republic: Chilled Out Kitchen Tunes Playlist on Spotify.
Did you try this recipe?
Then tag @ellerepublic on Instagram and hashtag it #ellerepublic
How did you like it?
Please let me know how this Swiss Rösti (Swiss Potato Cake) recipe turned out for you! I would love to hear how you liked it. Simply rate it with the stars above ⭐ or leave me a comment and rate it below.
Did you make any changes to this recipe?
If you have tips for other readers, let me know! It helps me and other readers so much. Sharing is Caring :-).