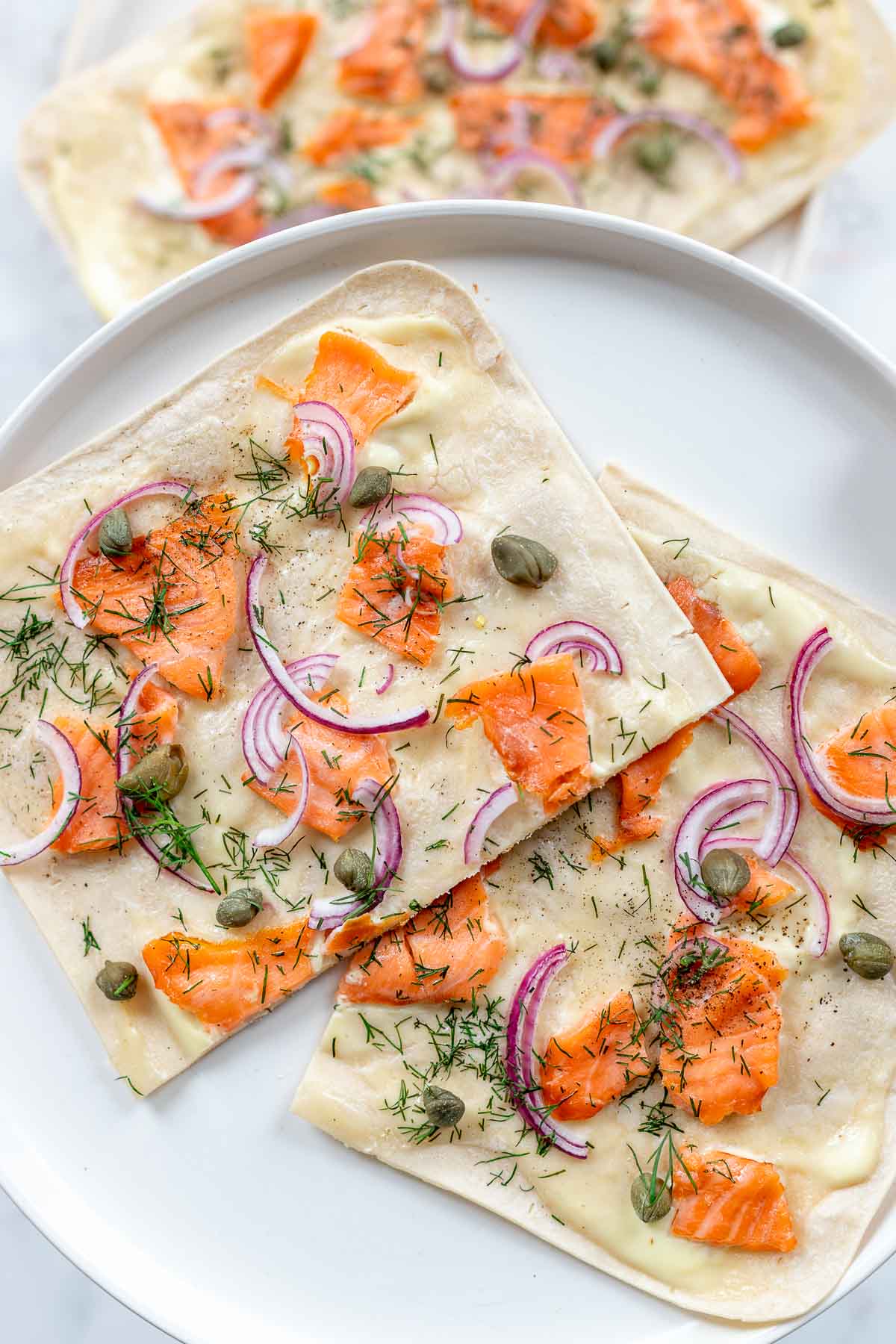 Tarte flambée with salmon is my truly all-time favourite way to enjoy classic Flammkuchen. It's incredibly simple to make but at the same time packed with flavour. Five simple ingredients are key here. A base of crème fraîche, topped with smoked salmon, sweet red onion, capers and fresh dill. Plus a good grind of black pepper. Simple. Pure. Deliciousness. And as with homemade pizza, new favourite way to prepare it is GRILLED! Yes, grilled. It guarantees a crisp crust while retaining the freshness and flavour of the toppings. So GOOD!
Flammkuchen – the beloved German-French pizza
Fans of this Alsace speciality all know that Flammkuchen or better yet, Tarte Flambée, is as uncomplicated as it gets when wanting to create a meal that's a guaranteed crowd-pleaser. Versatile is the word here. These simple flat breads are incredibly quick to prepare and can be savoury or sweet, classic or modern, vegan, vegetarian and even gluten-free.
Flammkuchen is most often baked in the oven, but you can also prepare it on a grill. For a standard BBQ you'll might want to use a pizza stone, but if you lucky enough to already own a glass ceramic grill, you can prepare the Tarte flambée directly on this indoor/outdoor electric grill.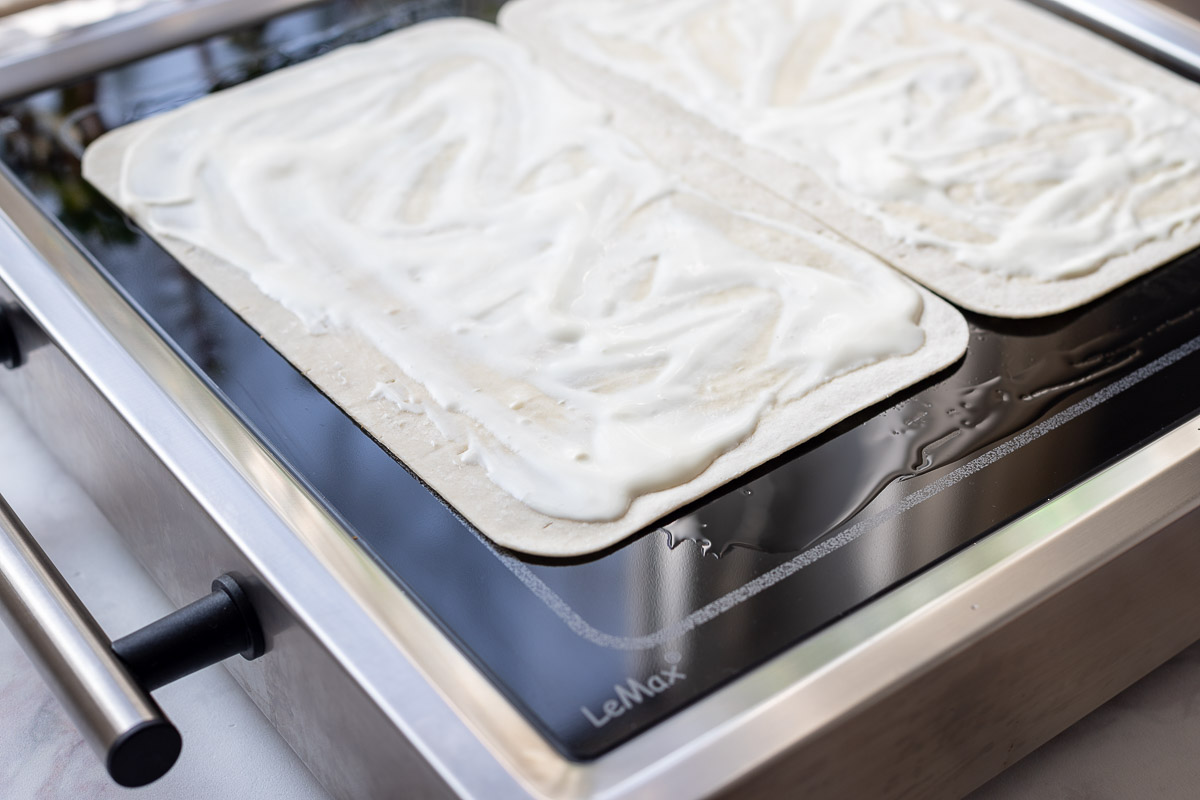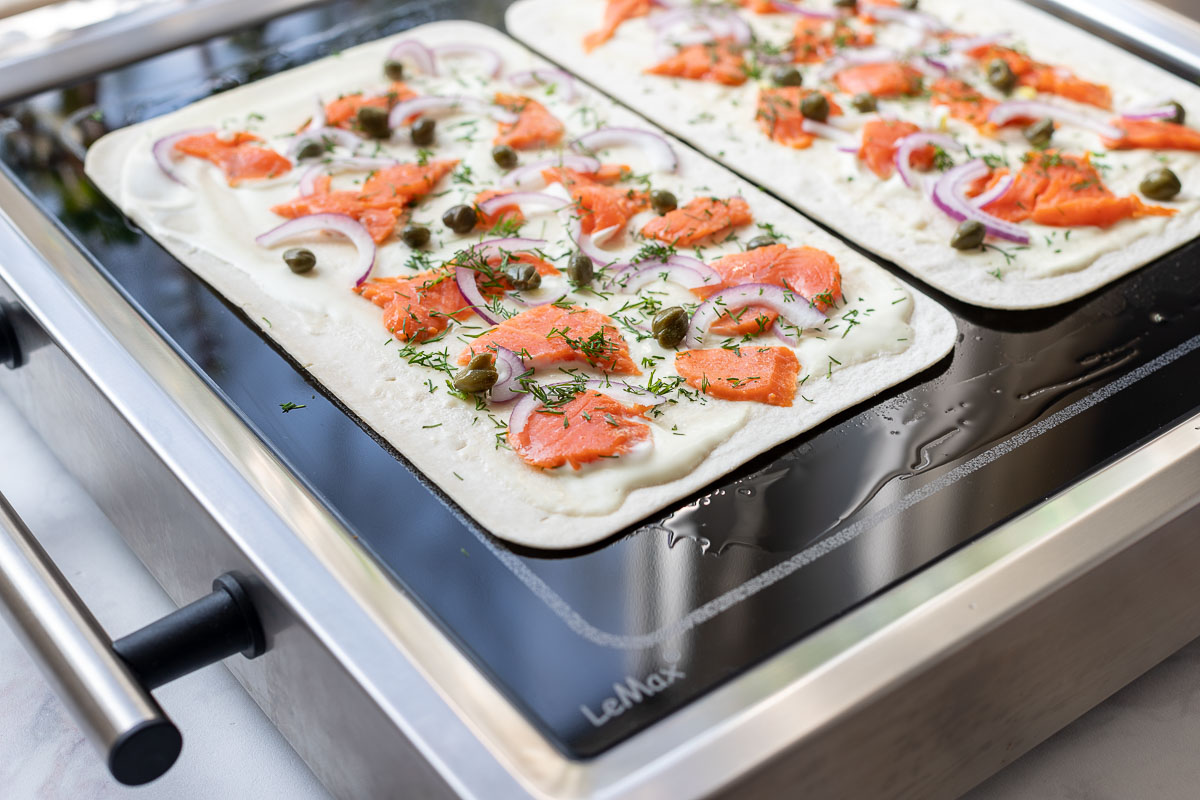 Grilling Flammkuchen on the ELAG LeMax
You might have already seen that I have put the LeMax to the test for grilling pizza (check out my video) with the general consensus — if you love crisp, thin crust pizza — this is the way to go! And testing its glass ceramic surface with grilled Flammkuchen is too a favourite way for my family to enjoy this delicious flat bread dish.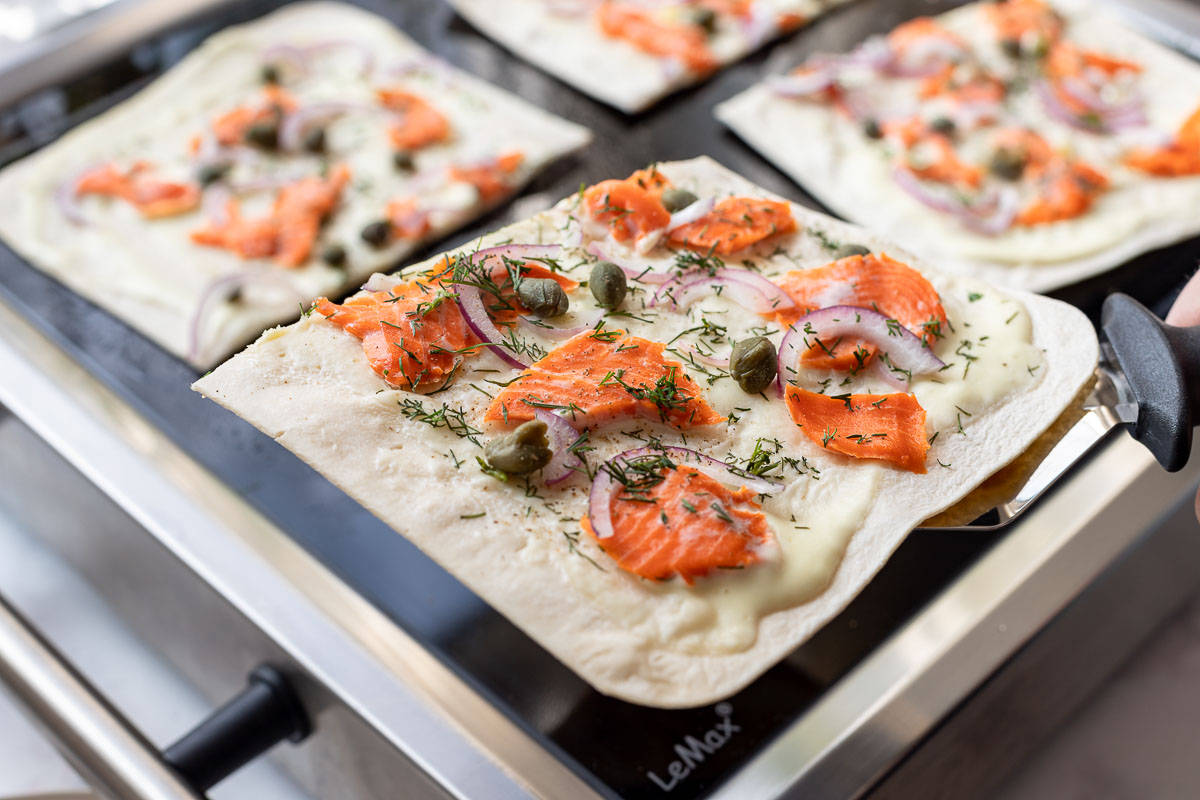 Tips for grilling on the LeMax
The method is easy. And in this case especially easy. Weeknight or home office lunch easy. Meaning, I chose to use a fresh pre-packaged Flammkuchen base. Simply because I really like it and secondly, I really like quick, delicious, anytime meals. Of course, you could prepare a homemade dough. My only tip would be to create a smaller base, so that you can grill two at a time, and to make sure you roll the dough at as thinly as possible. Reason being, is that there is no need here to flip the base before adding the toppings. A thin crust crisps up perfectly. And one last tip…if you prefer to go the classic original Elsässer Flammkuchen route, then you will want to cook the smoked bacon before using it as a topping, as we are not working with overhead oven heat here.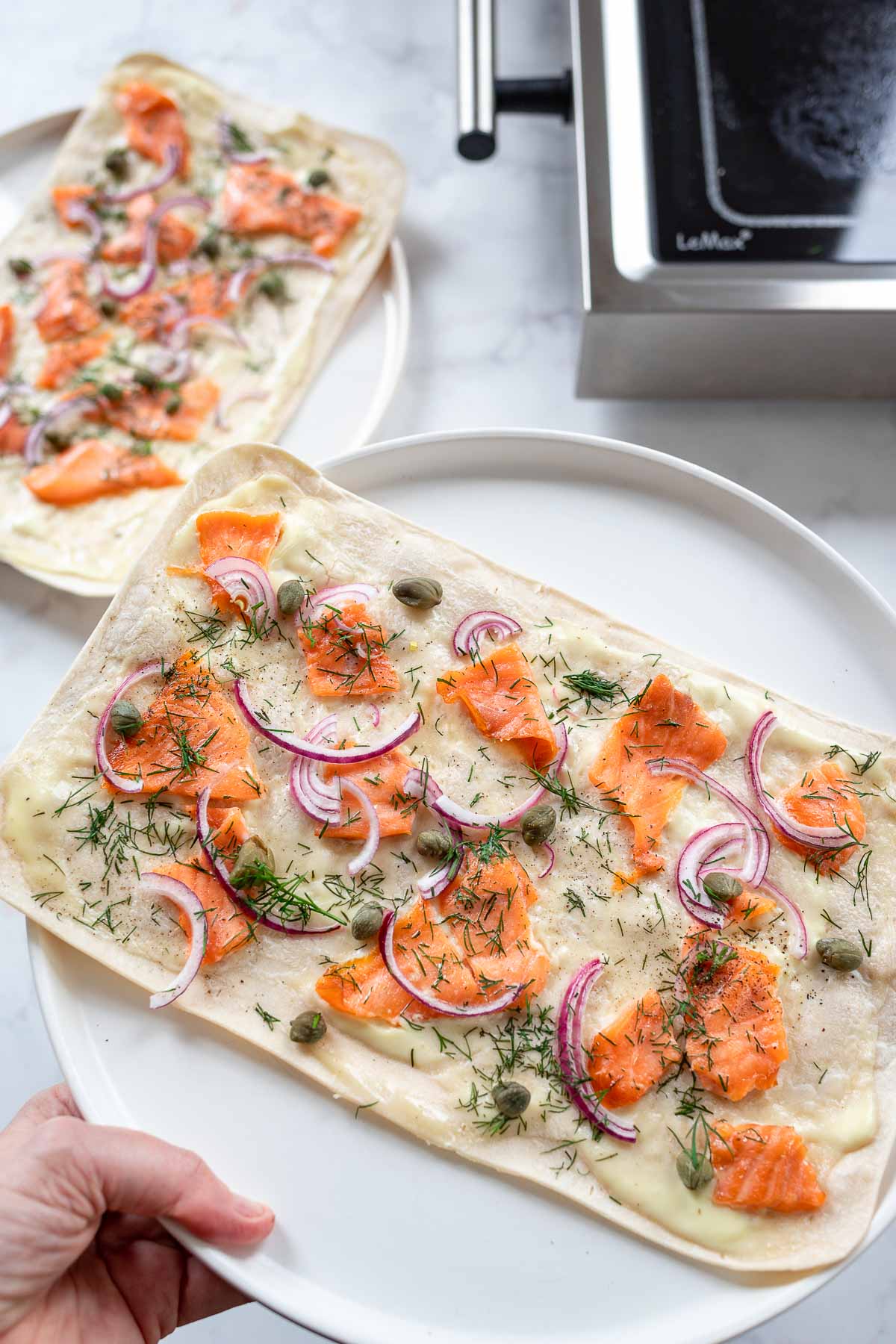 Grilled Tarte Flambée with salmon in two simple steps
The first step is to spread the Flammkuchen base with crème fraîche while the grill is preheating. Once the LeMax is hot, you can brush it with heat resistant oil, then place two of the prepared bases on the grill. Reduce the heat slightly, and then continue with "dressing" your Tarte flambée with the toppings. I like to grill mine on level 6 for 3 minutes, and then turn up the heat to level 7 to crisp up the bottom. You'll notice that the crust will firm up, the bottom with become golden brown, and the smoked salmon with be partially cooked. This is perfect.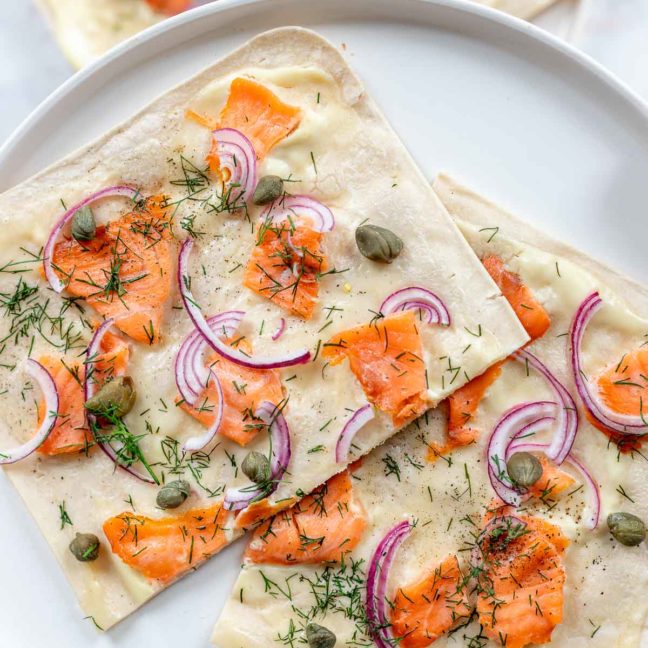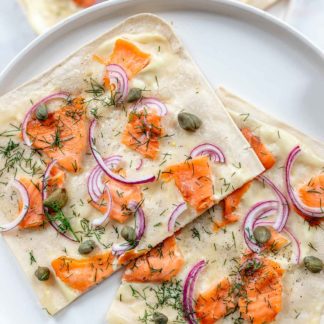 Tarte Flambée with Salmon (Flammkuchen)
A simple and delicious grilled Flammkuchen with salmon recipe made with smoked salmon, capers, red onion and dill. The perfect quick, anytime type of dish.
Ingredients
1

package Frische Flammkuchenböden

340 g (Kühlregal; z.B. von Tante Fanny, 4 Stk. zu je 18 x 28 cm)

200

g

crème fraîche

200

g

smoked salmon,

cut into pieces

1

small red onion,

halved and thinly sliced

1

tablespoon

capers (in brine),

drained (or more)


1/2

small bunch dill,

chopped

Freshly ground pepper,

to taste
Method
Preheat the LeMax grill on level 9 for about 5 minutes, then lightly brush the cooking surface with heat resistant oil.

Meanwhile, prepare the toppings, so that you can easily and quickly add them to the Flammkuchen as it is cooking and spread each Flammkuchen base with crème fraîche (1,5-2 tablespoons).

Place two of the Flammkuchen bases on the grill surface, reduce heat to level 6 and spread with salmon, onion, capers and dill. Season with freshly ground pepper.

Cook for 3 minutes, then increase the heat slightly, to level 7 and grill for another 2 minutes until the base is golden brown and crispy.

Remove from the grill, serve and enjoy!
Notes
If you are preparing this recipe using the oven, then preheat the oven to 250°C bake on the bottom rack for 7-9 minutes, until crispy.
For a relaxing atmosphere in the kitchen I recommend my personal Elle Republic: Chilled Out Kitchen Tunes Playlist on Spotify.
Did you try this recipe?
Then tag @ellerepublic on Instagram and hashtag it #ellerepublic
How did you like it?
Please let me know how this Tarte Flambée with Salmon (Flammkuchen) recipe turned out for you! I would love to hear how you liked it. Simply rate it with the stars above ⭐ or leave me a comment and rate it below.
Did you make any changes to this recipe?
If you have tips for other readers, let me know! It helps me and other readers so much. Sharing is Caring :-).
This post contains affiliate links. If you decide to make a purchase through my link, Amazon will pay me a commission for it. This doesn't cost you anything additional and the price remains the same. More about advertisements on Elle Republic.
Many thanks to ELAG Products GmbH for sponsoring this Grilled Tarte Flambée with Salmon (Flammkuchen) recipe.