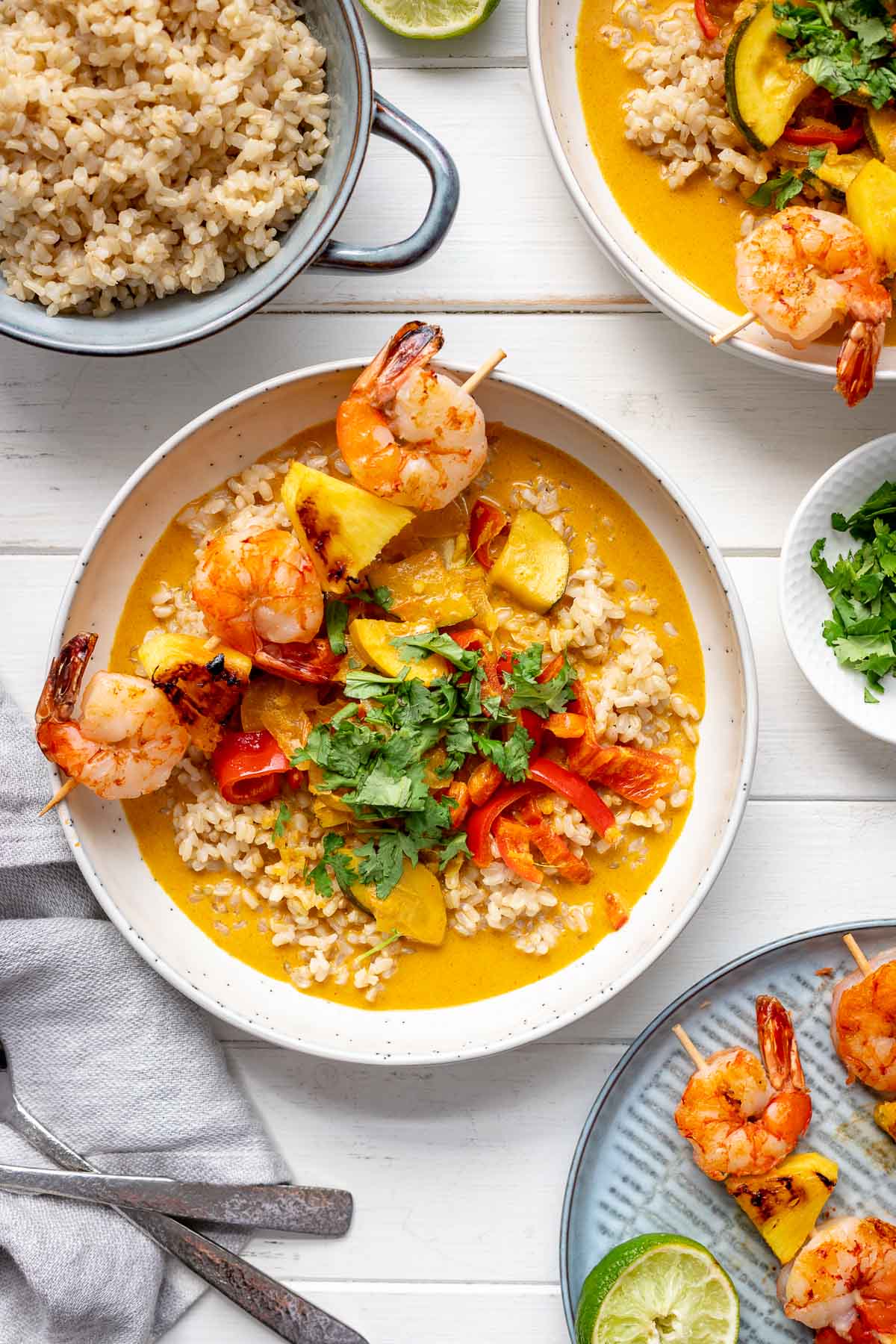 Thai Red Curry — delicious, bold Thai flavours and a creamy red curry sauce that is so good you can put anything in it and it will be amazing! This is a simple red curry with vegetables is taken to the next level served with grilled pineapple and black tiger prawns skewers. They cook up so quickly, are full of flavor and compliment this dish perfectly.
This is the easiest and most flavorful homemade Thai red curry you will ever make in just 35 minutes! The sauce is to die for.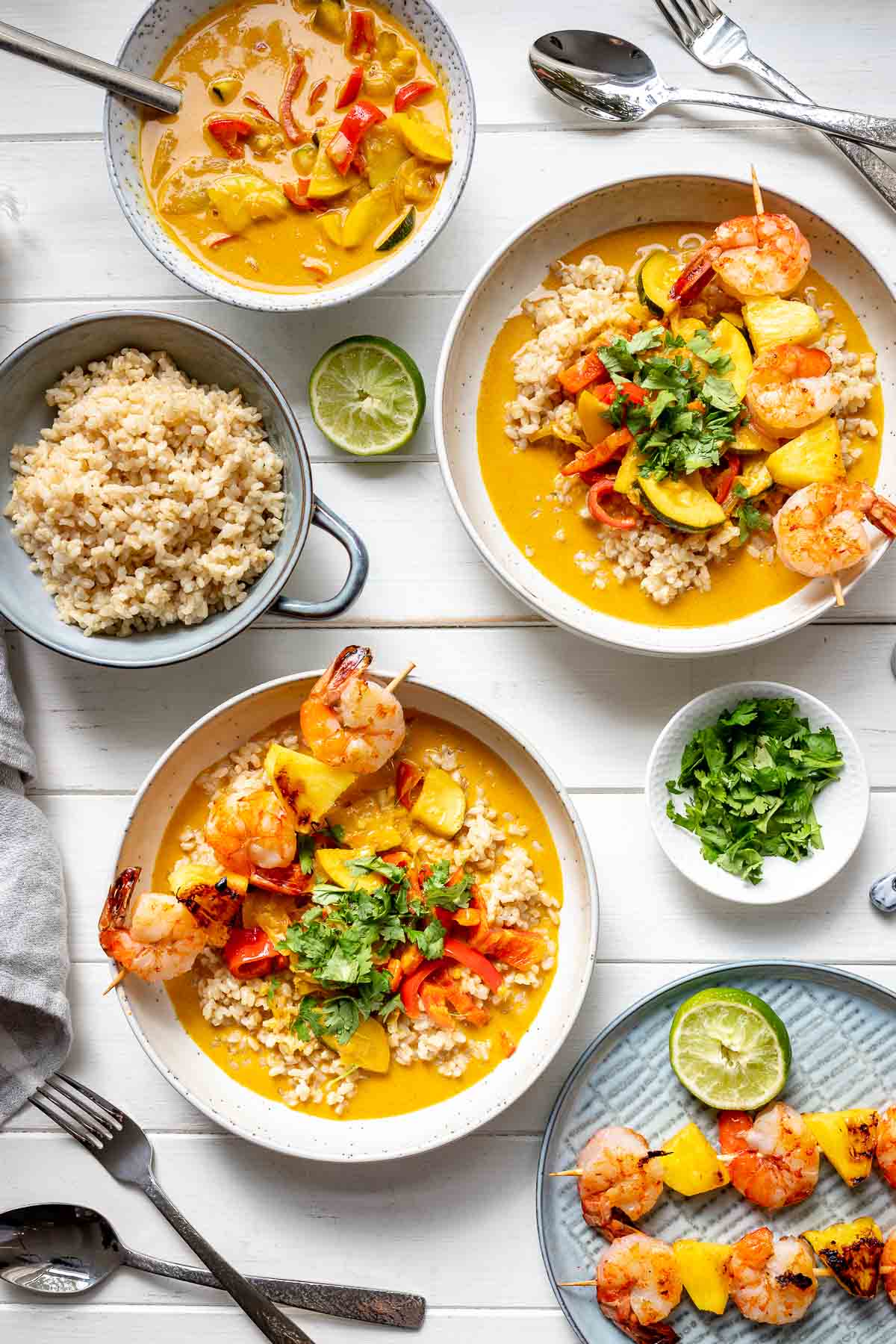 Tips for making this Thai red curry
First of all, have your ingredients prepped before you start cooking. This dish is quick to make, so things move quickly. Especially if using induction, as it evenly heats cookware almost instantly once it is placed on the "cooking zone". I'd say the response time easily matches that of a gas burner. If you prepare all your ingredients beforehand, you can focus on cooking and save more time in the end.
The secret is in the aromatics, like onion, ginger and garlic — use plenty of them.
Rely on a good quality store-bought red curry paste (or you can make your own). My go-to red curry paste is from Alnatura.
Choose an organic full-fat coconut milk for its creamy richness.
Stirring in just a little bit of Thai fish sauce (or rice vinegar) and unrefined muscovado raw cane sugar adds tons of complexity to the flavor which shouldn't be skipped.
I like zucchini, yellow squash and red pepper for this version, but feel free to change up the vegetables. You could try broccoli, cauliflower, or mushrooms. Or add some fall elements like diced Hokkaido or butternut squash or even sweet potato (these of course require a longer cooking time).
Prawns and pineapple are a fantastic combo, but you could also use mango or switch out the prawns for chicken or a firm-fleshed fish or even tofu.
Tips for grilling the pineapple-prawn skewers
I use a cast iron grill plate on my stovetop. This is especially practical with my my new ELAG 4-Zone Induction Cooktop as it has a fusion zone which makes it easy to heat the entire surface of the grill plate, and if I am doing batch cooking or cooking for a crowd I can use my biggest deep stewing pan and cook over two "cooking zones" as well. Super practical.
When using a cast iron grill plate, be sure to heat cast iron slowly and gradually increase the temperature before starting to grill the pineapple-prawn skewers. This will ensure even heat distribution when searing them and results in tastier, tender, juicy prawns! Note, that they will initially stick to the pan (that's okay!) but once the exterior has seared they'll release from the pan naturally. Once you can move them around easily, flip them all over onto the opposite side. Depending on how jumbo your prawns are this takes about 2 minutes per side.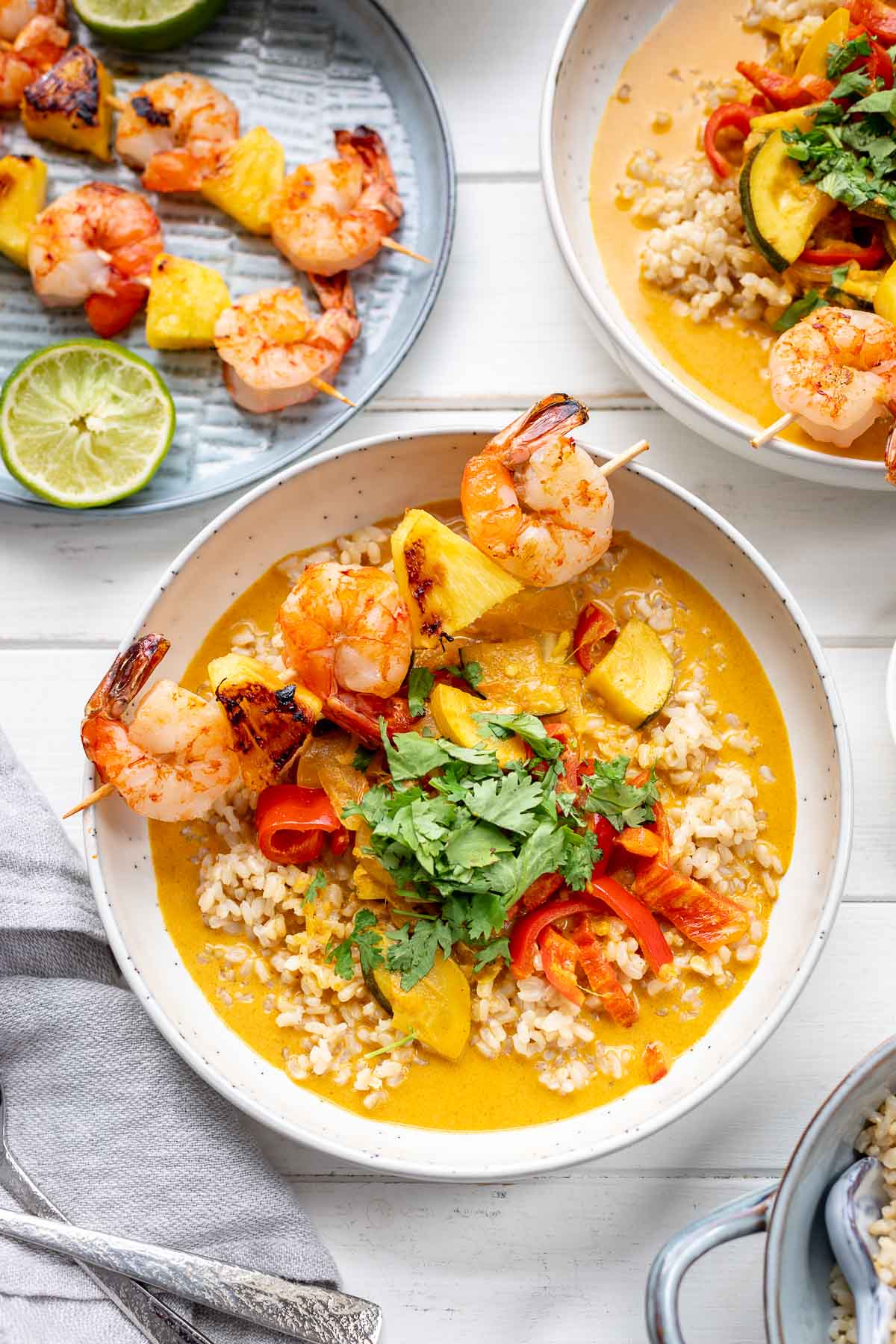 Induction cooktops: more than just for grilling
Speaking of induction, I have to say that at first I was a little intimidated by switching to a new cooktop. Especially one with new technology. But it's been an absolute pleasure. It has precise temperature control and there are so many cool features that just aren't offered with a standard stovetop. Like a timer function. And how the timer works is that it actually shuts off power to the cooking, not something that just beeps like a kitchen timer. This is fantastic when I prepare my morning coffee and hop in the shower. It also has a "booster" setting which will use more power initially to bring the pan up to boil. I especially like this for getting the soy milk for my coffee heated quickly! And there's the "keep warm" function. Something that I use often when trying to get everyone gathered to the table. So I have to say, with every day as I experiment with using these new features, I get more and more exciting about all the possibilities.
Happy cooking! I hope you enjoy this Thai red curry with grilled pineapple-prawn skewers as much as we do!
Looking for other Thai recipe inspiration?
Try one of these delicious recipes: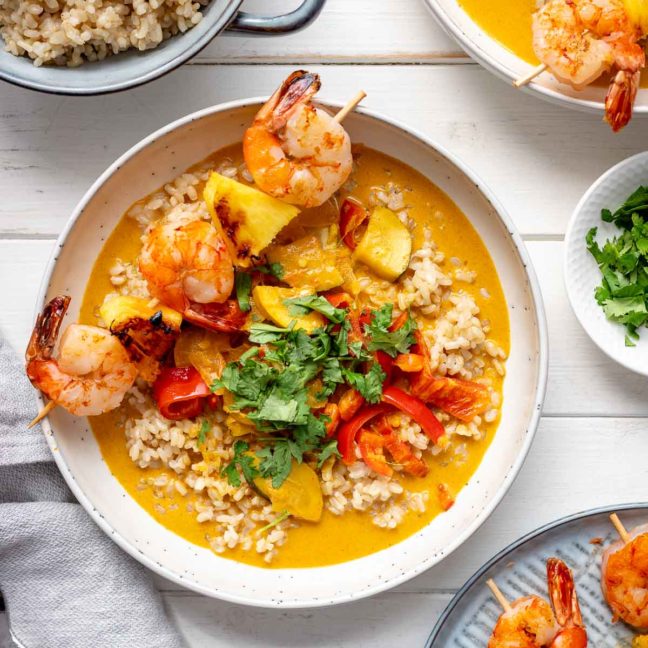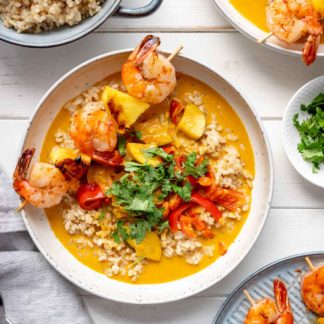 Thai Red Curry with Grilled Pineapple-Prawn-Skewers
A simple and flavour-packed Thai red curry that's ready in less than 35 minutes! Served with grilled pineapple-prawn skewers this makes a delicious mid-week meal.
Ingredients
For the Thai red curry:
1

tablespoon

extra-virgin olive oil or coconut oil

1

small yellow onion,

thinly sliced

1

tablespoon

freshly peeled and grated ginger

1

large clove garlic,

minced

1

zucchini,

cut in half lengthwise and thinly sliced

1

large pointed red pepper,

thinly sliced

1

x 400 ml can

organic coconut milk

2

tablespoons

Thai red curry paste

(or more)

1

tablespoon

brown sugar

(muscovado raw cane or palm sugar)

2

tablespoons

freshly squeezed lime juice

1

tablespoon

Thai fish sauce

chopped fresh cilantro,

to garnish
For the prawn skewers:
heat resistant oil for brushing the grill plate

12

black tiger prawns,

deveined and peeled

sliced pineapple or mango pieces

olive oil

sea salt and freshly ground pepper
To serve:
Steamed rice, rice noodles or grain of choice
Method
To prepare the prawn skewers: thread the shrimp onto a skewers, alternating with the pineapple. Brush with a little olive oil and season with salt and pepper. Set aside.

Heat the olive oil in a large non-stick skillet (or wok) over medium to medium-high heat. Add the onion and sauté until softened. Add the ginger and garlic and cook, stirring constantly until fragrant, about 30 seconds.

Add the zucchini and red pepper and continue cooking until softened, about 4-5 minutes longer.

Stir in the red curry paste and stir-fry for another minute. Add the coconut milk, sugar, fish sauce and lime juice and stir until well combined.

Meanwhile, gradually heat the grill plate (or grill pan) over medium heat. Increase the heat medium-high, and lightly brush the grill with oil. Place the skewers on the grill and cook for 2 minutes, then turn and cook for an additional 2-3 minutes, until cooked through.

Serve the curry over steamed rice and sprinkle with cilantro. Garnish with the pineapple-prawn skewers and enjoy!
Notes
I like to serve this dish with brown short grain rice, which takes about 40-45 minutes to cook, so this needs prepared before you start cooking the curry.
If you are serving this with jasmine or Thai rice, also be sure to prepare the rice first, since it will take more time.
If serving with rice noodles, you can start preparing them while the curry is simmering so that it will be done around the same time.
For a relaxing atmosphere in the kitchen I recommend my personal Elle Republic: Chilled Out Kitchen Tunes Playlist auf Spotify.
Did you try this recipe?
Then tag @ellerepublic on Instagram and hashtag it #ellerepublic
How did you like it?
Please let me know how this Thai Red Curry with Grilled Pineapple-Prawn-Skewers recipe turned out for you! I would love to hear how you liked it. Simply rate it with the stars above ⭐ or leave me a comment and rate it below.
Did you make any changes to this recipe?
If you have tips for other readers, let me know! It helps me and other readers so much. Sharing is Caring :-).
Advertisement
Many thanks to ELAG Products GmbH for sponsoring this Thai Red Curry with Grilled Pineapple-Prawn-Skewers recipe.
This post contains affiliate links. If you decide to make a purchase through my link, Amazon will pay me a commission for it. This doesn't cost you anything additional and the price remains the same. More about advertisements on Elle Republic.