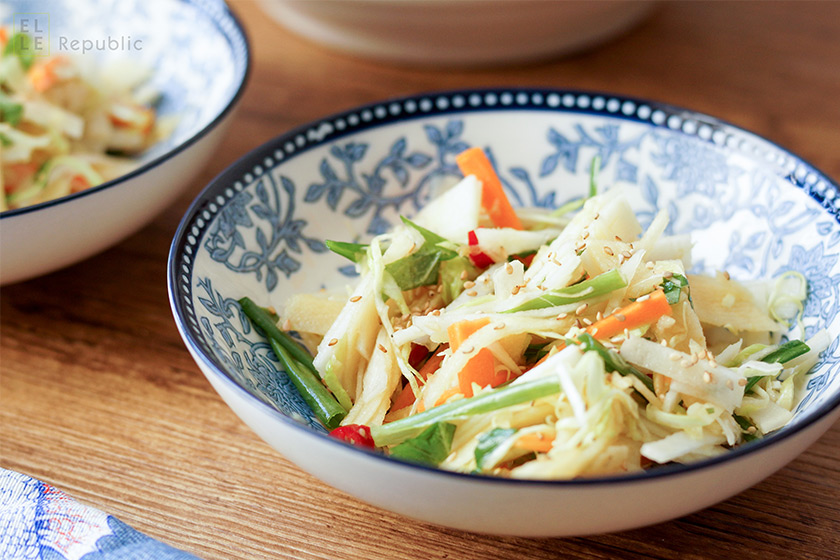 This crunchy kohlrabi salad is the perfect way to introduce Germany's darling to your table – although gnarly looking, it's a very tasty vegetable. It can be stir-fried, steamed or boiled, but I swear raw is the way to go!
Flavor and texture-wise, kohlrabi has an apple-like crunch, slightly resembles a radish in texture and has a similar taste to broccoli stem, but is juicier and sweeter – and there may just be a hint of a summer turnip in the mix here too. Served raw, its crunchy sweetness makes it perfect for snacking on its own or dipping as a welcome compliment to the garlicky hummus!
This super healthy summer kohlrabi coleslaw salad is paired with tangy apple, pointed cabbage, carrots and green onion and tossed together in an Asian-inspired dressing.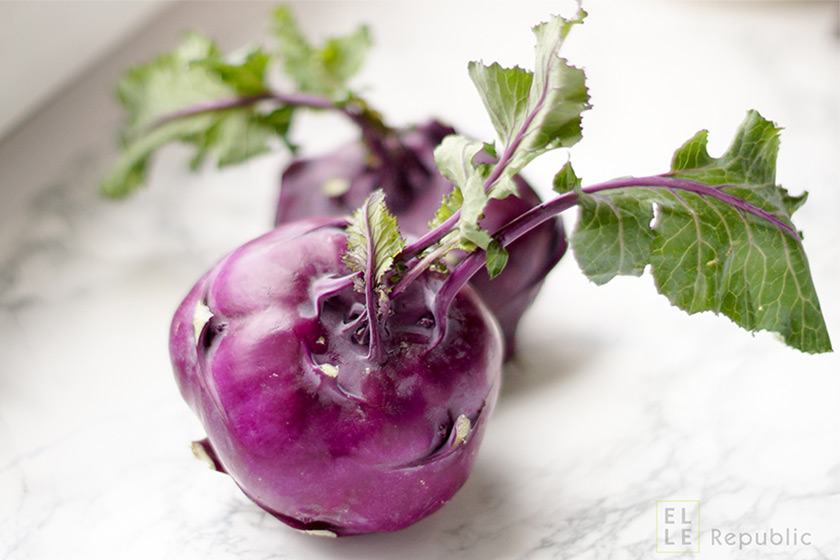 Part of what makes this salad so very healthy is that kohlrabi is packed with lots of fibre — important for a healthy digestive system — and it has a high nutrient-to-calorie ratio. The higher the nutrients are per calorie, the healthier the food, making it extra great for anyone trying to watch their weight. Why is this? Well, if your diet doesn't provide the nutrients you need, then your body will continue to crave more and more food as it tries to get the nutrition you are really craving. So getting the optimal nutrients in the first place with help you feel satisfied and help stop a potentially vicious cycle of cravings.
For this kohlrabi coleslaw recipe, the mandolin is going to be your best friend. It really speeds things up. If you have a "fancy" mandoline you can use it to cut the vegetables directly into matchsticks. I'm thinking I should upgrade. Even with a mandoline there is some prep work involved here. I also use a mandoline to quickly shred the cabbage.
NOTE: For the dressing I use coconut palm sugar. It's unrefined, organic and simply the best. Palm sugar has a more-rounded flavor than cane sugar, and has distinct caramel and butterscotch tones. Muscavado can also be used as a substitute. It's a minimally refined brown cane sugar with a molasses flavor and closest in flavor to palm sugar.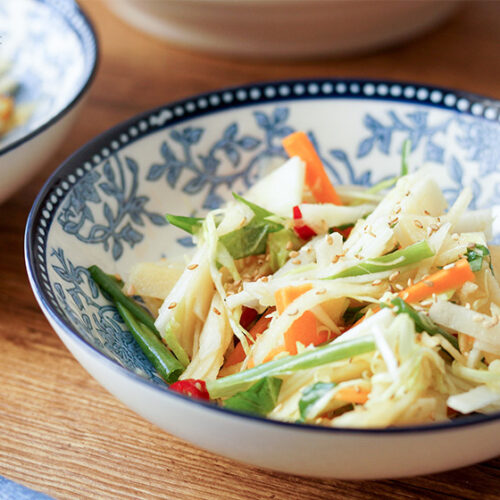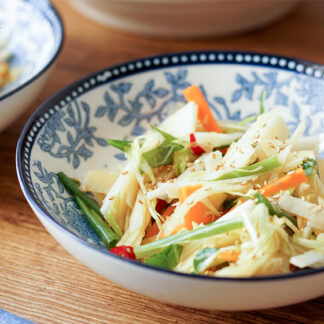 Thai-Style Kohlrabi Coleslaw
This super healthy summer kohlrabi coleslaw salad is paired with tangy apple, pointed cabbage, carrots and green onion and tossed together in an Asian-inspired dressing.
Ingredients
For the salad:
1

handful shredded pointed cabbage,

about half a small cabbage

1

carrot,

thinly sliced and cut into matchsticks (or shredded - this is quicker)

4

green onions,

green part only, cut into thin strips about 2-3 cm long

2

small kohlrabi,

peeled and thinly sliced using a mandoline, and then cut into matchsticks

1

Braeburn apple,

peeled, then thinly sliced on all four sides using a mandoline, core discarded, and then cut into matchsticks

toasted sesame seeds,

as garnish
For the dressing:
fresh squeezed juice of 1 lemon

(about 4 tablespoons)

2

tablespoon

extra-virgin olive oil

1

teaspoon

sesame oil

1

tablespoon

soya sauce

1/2

teaspoon

palm sugar

(alternatively use organic raw cane sugar Mascobado)

1

tablespoon

grated fresh ginger

1

clove

garlic,

minced

1

fresh red chili,

seeded and finely chopped

2

tablespoons

chopped fresh mint
Method
Mix the cabbage, carrot, green onion, kohlrabi and apple together in a large bowl.

In a small bowl, whisk together the dressing ingredients.

Pour the dressing over the salad and toss lightly until coated. Garnish with toasted sesame seeds and serve. Enjoy!
Did you try this recipe?
Then tag @ellerepublic on Instagram and hashtag it #ellerepublic
How did you like it?
Please let me know how this buckwheat bread recipe turned out for you! I would love to hear how you liked it. Simply rate it with the stars above ⭐or leave me a comment and rate it below.
Did you make any changes to this recipe?
If you have tips for other readers, let me know! It helps me and other readers so much. Sharing is Caring :-).