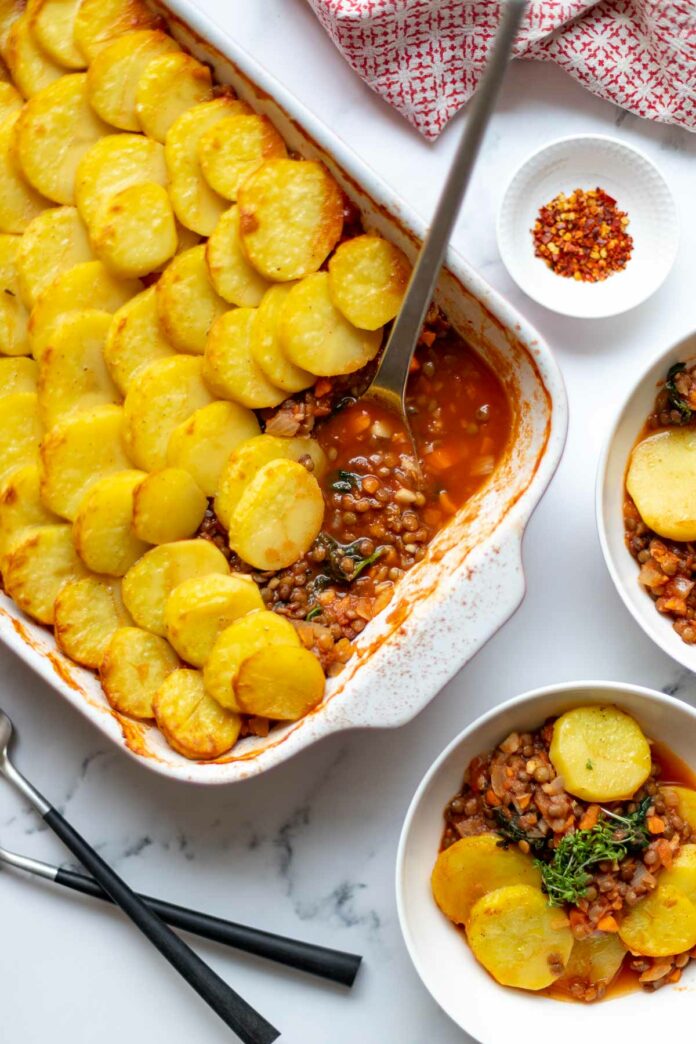 A Vegan Shepherd's Pie with a crispy potato topping is my favourite way to prepare a plant-based version of classic Shepherd's Pie (Cottage Pie). This vegan take on the popular classic casserole is made with lentils and savory vegetables, and topped with potatoes, then baked to perfection.
What is Shepherd's Pie (Cottage Pie)?
Shepherd's Pie comes to us from Britain and Ireland, and is traditionally made with lamb or mutton. And where I grew up, in Canada, this family favourite was made with ground beef and sometimes referred to as a Cottage Pie. No matter where you are, everything else remains the same. Meaning, a classic shepherd's pie is basically a casserole with a layer of cooked meat and vegetables (often carrots and peas), which is topped with mashed potatoes, and baked in the oven. A true favourite for the whole family, much like spaghetti bolognese, lasagne and chicken soup.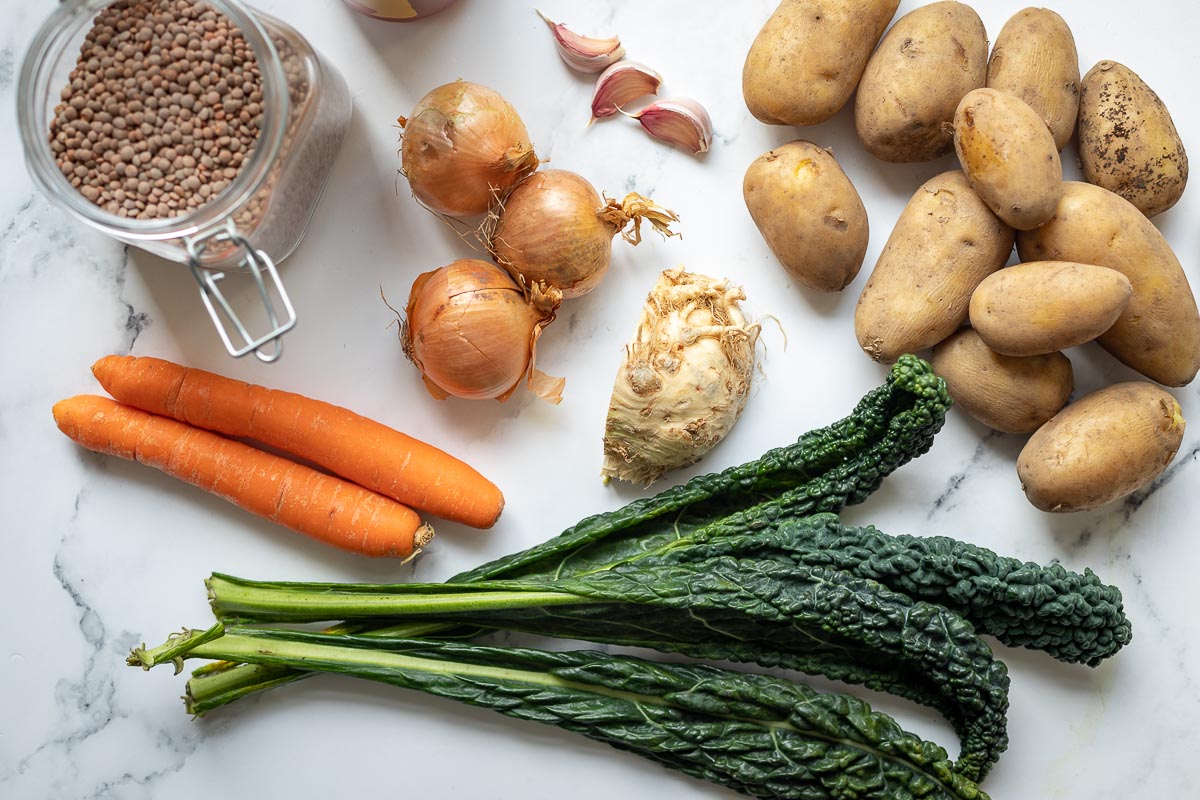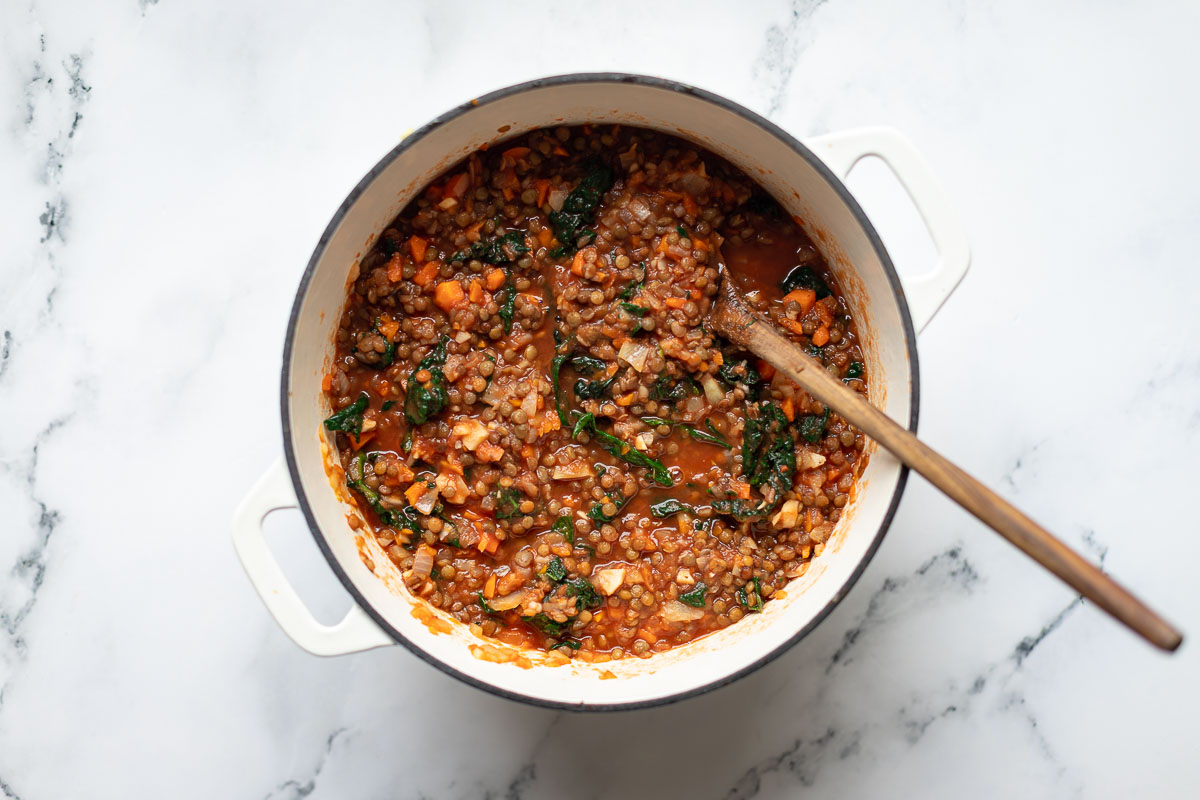 A vegan Shepard's pie
This recipe is a vegan take on the classic original. And since nothing says comfort food more than a shepherd's pie, so I'm very excited to share this plant-based version! And best thing, is I think it's just as good as the original. So flavorful! For this version, I choose to make a sliced potato topping rather than mashed potatoes. Mainly because it is less work, a little lighter on the calories, and I like the way it crisps up in the oven. Plus, since the potatoes are cooked ahead of time, their is the added benefit that some of the potatoes digestible starch is transformed into resistant starch. This means, that the starchy carbs are not fully digested but act as an energy source for our gut bacteria (a prebiotic fibre that helps balance the gut microbiome). All of which contribute to a delicious and extra healthy shepherd's pie!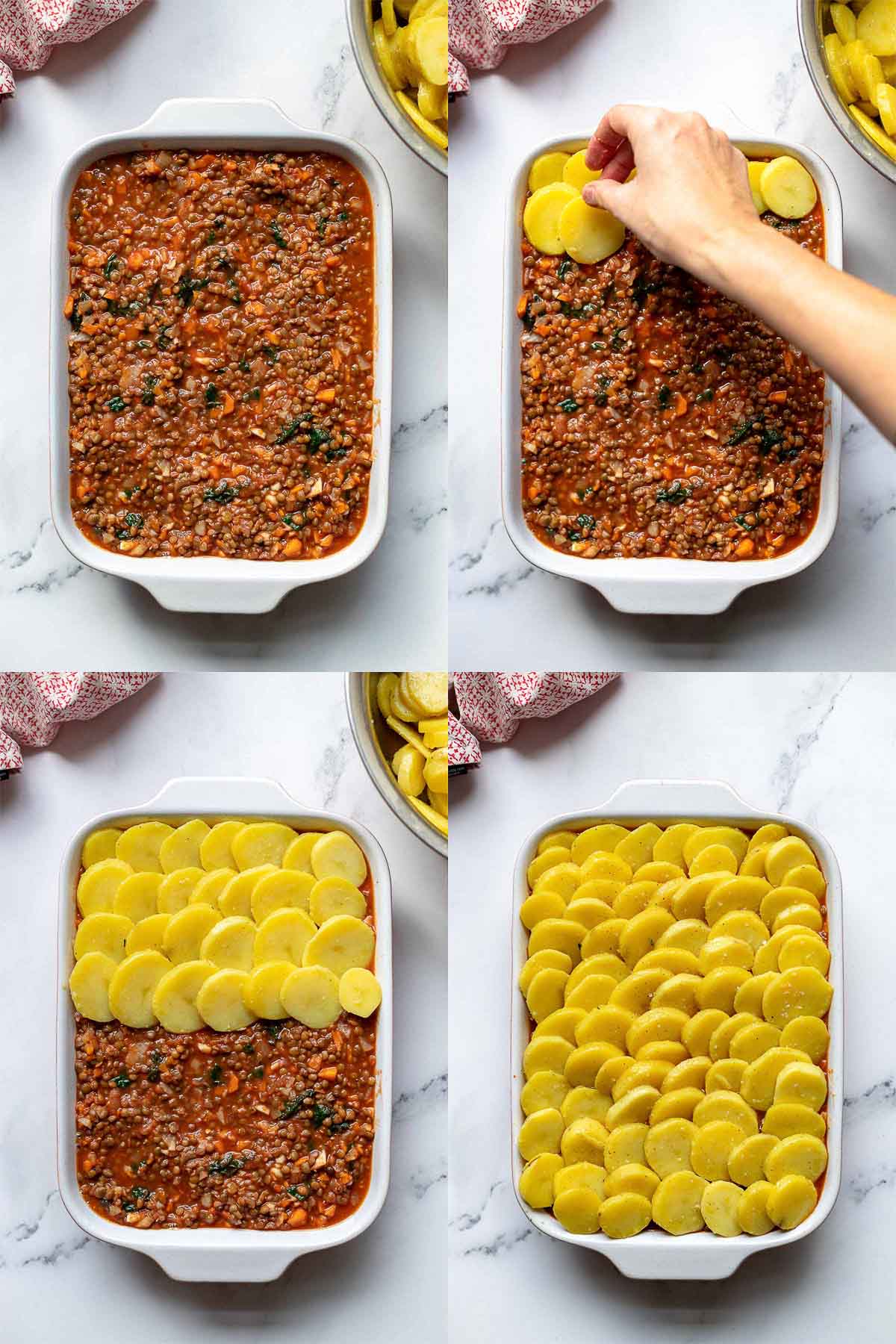 Ingredients for this simple cottage pie
So let's take a look at what's needed for this recipe:
For the filling:
Classic aromatics: onion, garlic, celery, and carrots.
Umami flavor boosters: Tomato passata, vegetable broth and vegan Worcestershire sauce (which gives it so much flavor!).
Plant-based protein: gourmet brown lentils (Berglinsen). They are light, red-brown in color and a little smaller than regular brown lentils. Plus they are firmer and more aromatic, with a slightly finer taste.
The extras: a pinch of chili flakes for extra warmth and a handful of kale leaves for extra nutrients and goodness.
For the topping:
This vegan shepherd's pie is topped with layer of pre-cooked potato slices which are tossed in olive oil and seasoned with salt and pepper.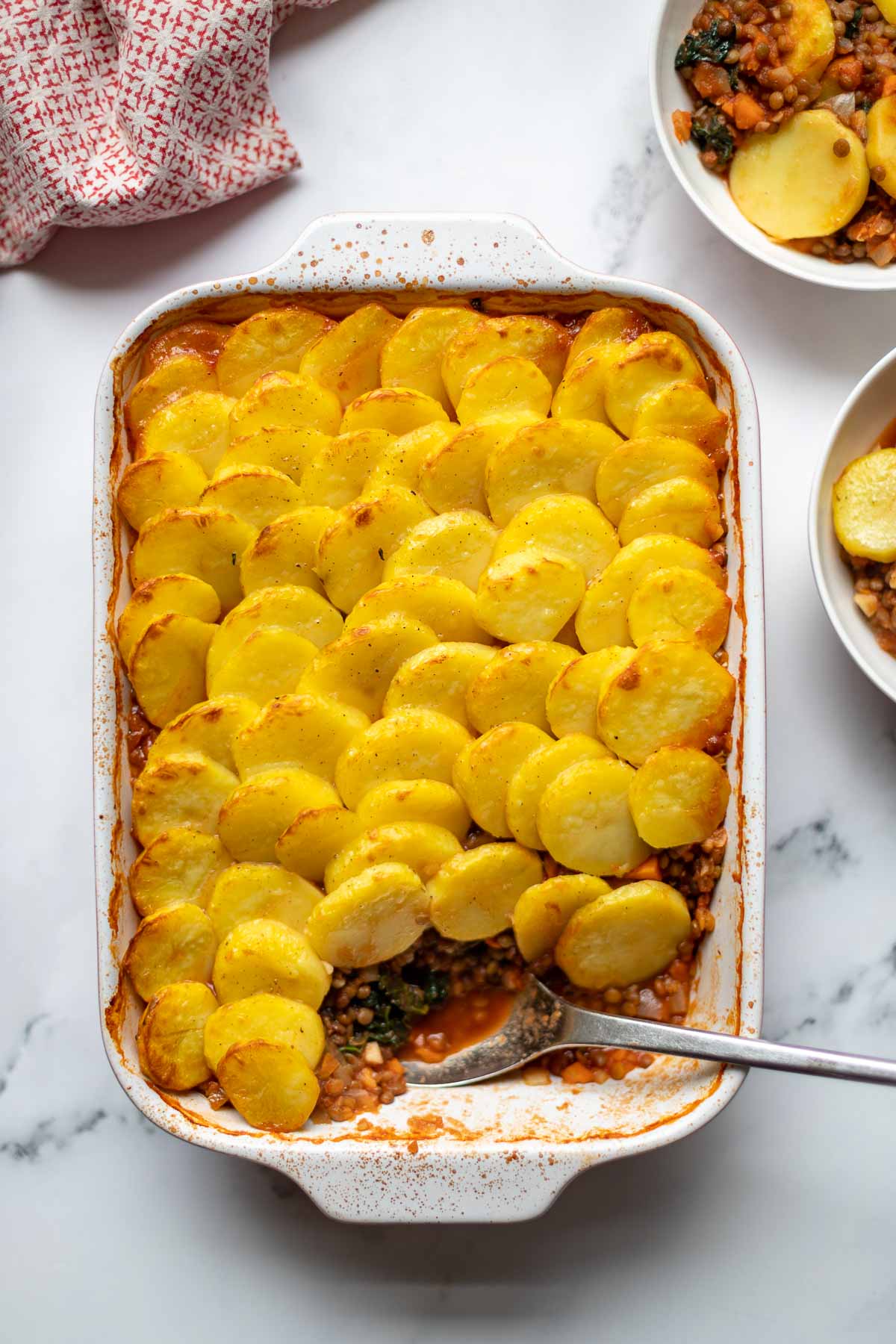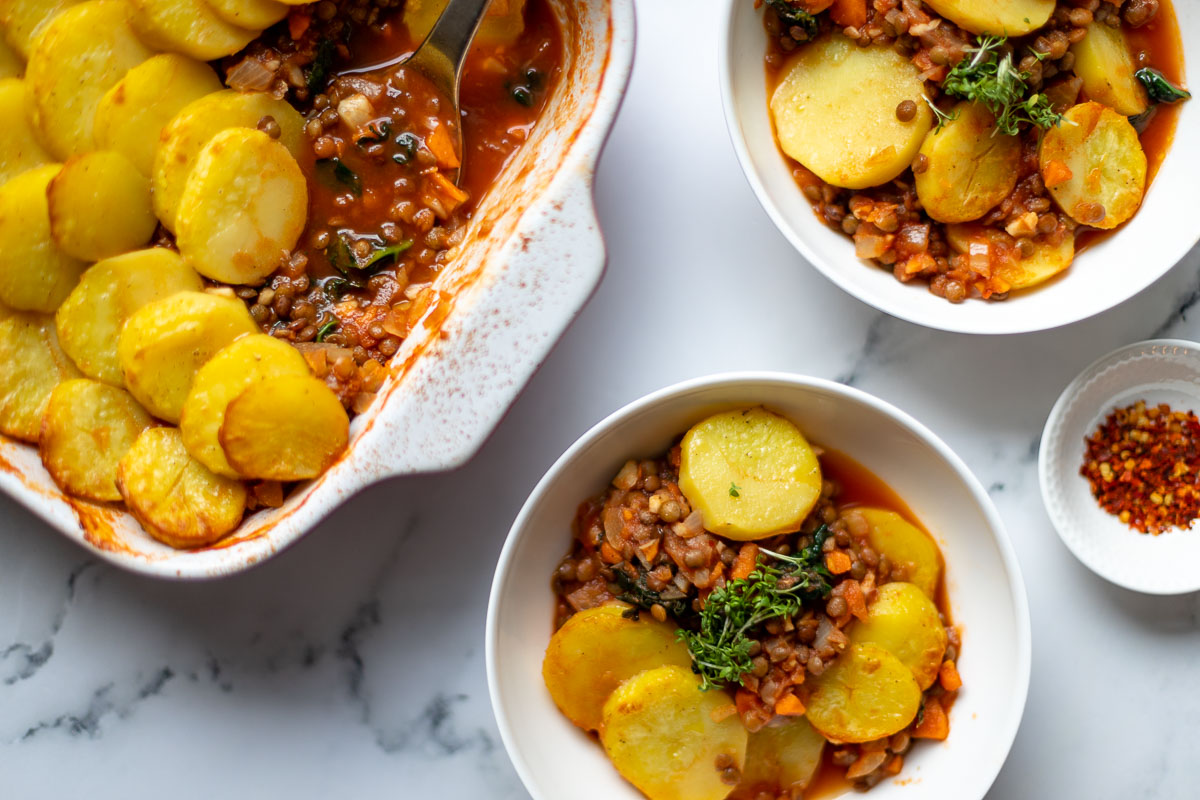 What I think this is the best vegan shepherd's pie
Not only is this recipe simple to make, but it also has make ahead potential. You cook easily cook the lentils the day before along with the potatoes. Or you could simply prepare the entire dish and then store it covered in fridge for a quick busy weeknight "pop it in the oven" type of meal. And leftovers taste great the next day for round two!
And since it's so hearty and filling, it makes for a great main meal dish around the holidays, or anytime during the the fall or winter!
It's:
Hearty and filling
Savory and flavor-packed
Loaded with plant-based goodness
Warm and comforting
& deliciously satisfying
How to adapt this recipe:
Fan of mashed potato? Then feel free to make a topping of buttery, delicious homemade mashed potatoes rather than sliced potatoes. While you're at it, how about trying a mash made with a mix of potatoes and sweet potatoes, or a mix with celery root or parsnips.
Add your favourite veggies. Frozen peas are a classic for this dish. No need to thaw them ahead of time. Frozen corn could also be an option.
Make a thicker gravy by adding a little flour to the mix (1-2 tablespoon).
Add some fresh herbs like thyme and rosemary.
Switch out lentils for a meatless vegan option, or reduce the amount of lentils and add some sautéed mixed mushrooms to the filling.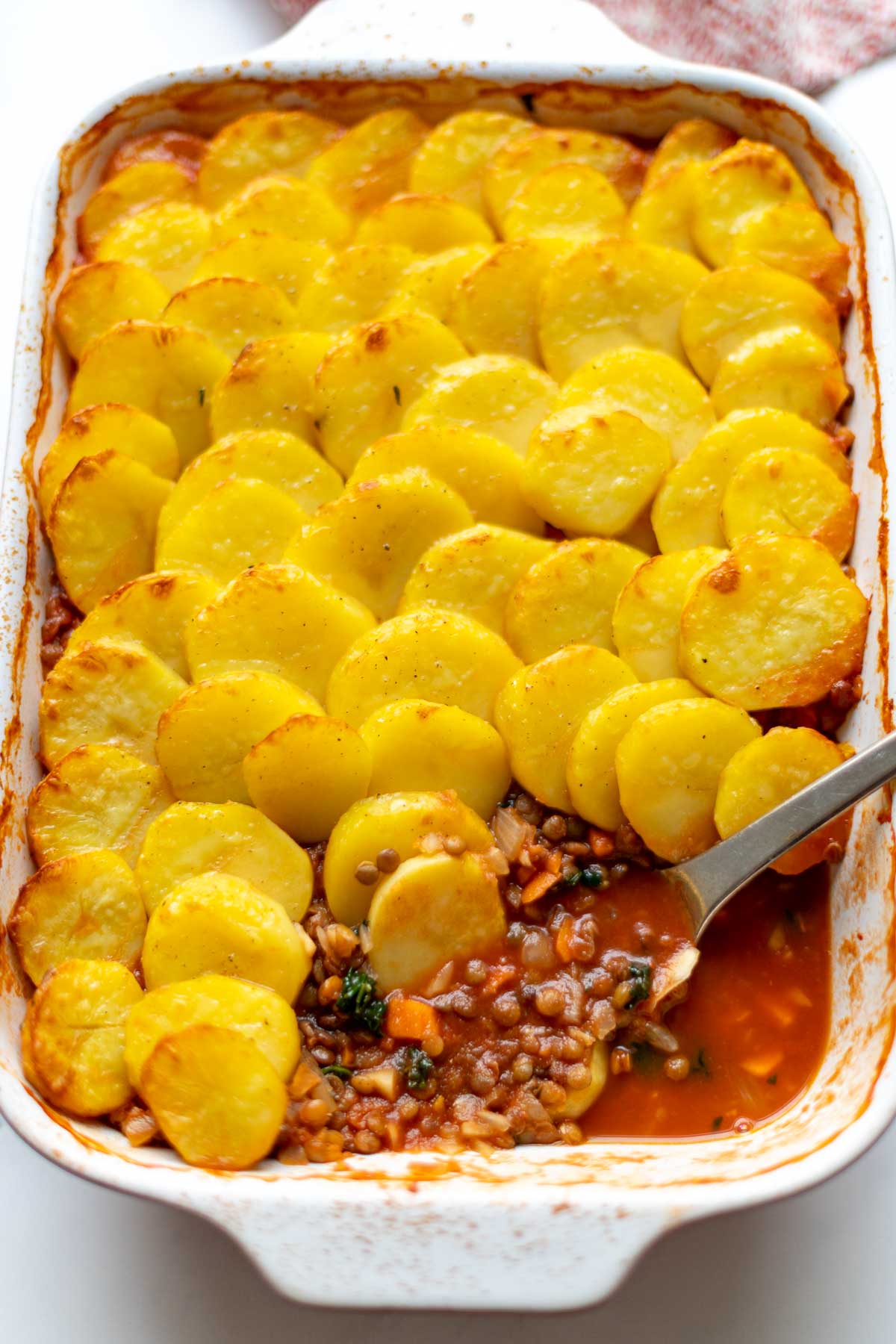 Looking for other one-pot meal recipe ideas?
Try one of these delicious recipes:
Vegetable Pot Pie with Sweet Potato & Lentils
Turkey and Potato Pot Pie (Turkey à la King)
Autumn Chicken and Mushroom Stew
Sweet Potato and Black Bean Stew
Butternut Squash Stew with Chickpeas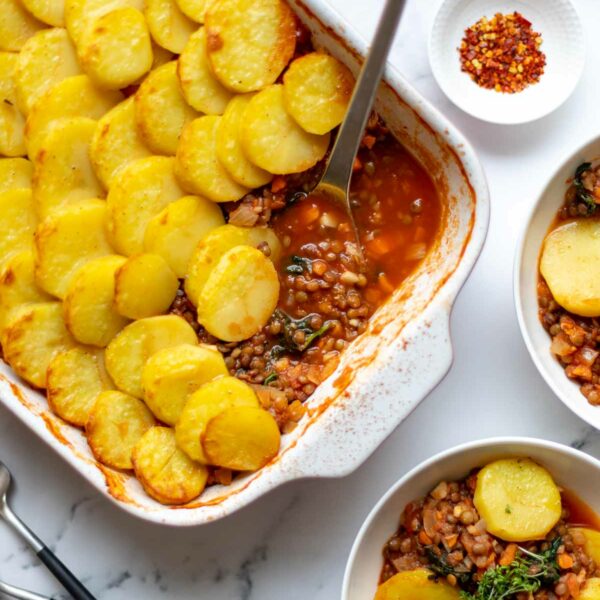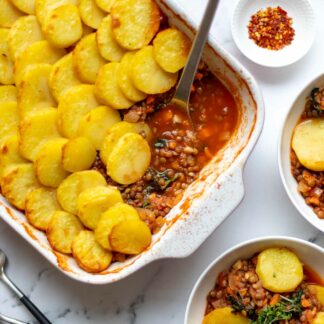 Vegan Shepherd's Pie with Crispy Potato Topping
A simple vegan Shepherd's Pie recipe made with lentils and vegetables in a flavourful tomato-based sauce. Topped with potatoes and baked to perfection.
Total Time
1
hour
20
minutes
Ingredients
For the topping:
900

g

potatoes,

boiled the day before

2

tablespoons

extra-olive olive oil

Sea salt and pepper,

to taste
For the filling:
250

g

dry brown lentils

(gourmet "Berglinsen")

2

tablespoons

extra-oliv olive oil

3

small yellow onions,

diced

70

g

celery root,

finely chopped

2

medium carrots,

peeled end finely diced

3

garlic cloves,

minced

700

g

jar tomato passata

2/3

cup

vegetable broth

(160 ml)

2-3

tablespoons

Worcestershire sauce

(vegan, z.b. Sanchon)

Sea salt and freshly ground black pepper,

to taste

pinch of

chili flakes

4

Tuscan kale leaves (or curly kale),

stemmed and chopped
Method
Boil the potatoes the day before until they cooked through but still firm when pierced with a knife (a little undercooked is fine). Drain and set the unpeeled potatoes aside to cool and rest until ready to use.

Cook lentils according to package instructions, until al dente (approximately 30 minutes). Strain any excess liquid if necessary and set aside.

Meanwhile, prepare the filling: In a Dutch oven or large pot, heat 2 tablespoons oil over medium heat. Add the onion, carrot, and celery to the pot and cook for 7-8 minutes, stirring regularly, until onion has softened.

Reduce the heat to medium-low. Add garlic, and cook for 1 minute.

Add the tomato passata, broth, and cooked lentils, stirring to combine. Add the Worcestershire sauce a tablespoon at a time, to taste (I use 2,5 tablespoons). Season with salt and pepper. Remove from the heat and set aside.

Put the kale leaves in a large heatproof bowl and cover with boiling water from a kettle. Leave for 1-2 minutes, drain well, and refresh with cold water. Drain again. Working handfuls at a time, squeeze out the excess moisture, then roughly pat dry with kitchen paper. Stir the kale into lentil mixture.

Preheat the oven to 400°F / 200°C.

Peel the pre-cooked potatoes and cut into thin slices. Add to a bowl and drizzle with olive oil, season with salt pepper, and using your hands, gently toss to coat.

Pour the lentil mixture into a 9 x 13 inch baking dish (23 x 33 cm) and spread evenly.

Layer the potatoes on top, tucking any extra pieces in between the others. Transfer to the preheated oven and bake for 20 minutes, then turn the grill onto high and brown the top for 5-7 minutes (or until golden).

Serve and enjoy!
Notes
You can use a food processor to quickly chop the vegetables. Start with onions, pulsing a few times (not too much or they will get watery). Add the onions to the pot, then process the carrot and celery, pulsing a few times, until chopped.
Leftovers keep really well. Just reheat in the oven and enjoy as a quick dinner the next day!
For a relaxing atmosphere in the kitchen I recommend my personal Elle Republic: Chilled Out Kitchen Tunes or Lounge Kitchen Tunes Playlist on Spotify.
Did you try this recipe?
Then tag @ellerepublic on Instagram and hashtag it #ellerepublic
How did you like it?
Please let me know how this Vegan Shepherd's Pie with Crispy Potato Topping recipe turned out for you! I would love to hear how you liked it. Simply rate it with the stars above ⭐ or leave me a comment and rate it below.
Did you make any changes to this recipe?
If you have tips for other readers, let me know! It helps me and other readers so much. Sharing is Caring :-).
This post contains affiliate links. If you decide to make a purchase through my link, Amazon will pay me a commission for it. This doesn't cost you anything additional and the price remains the same. More about advertisements on Elle Republic.