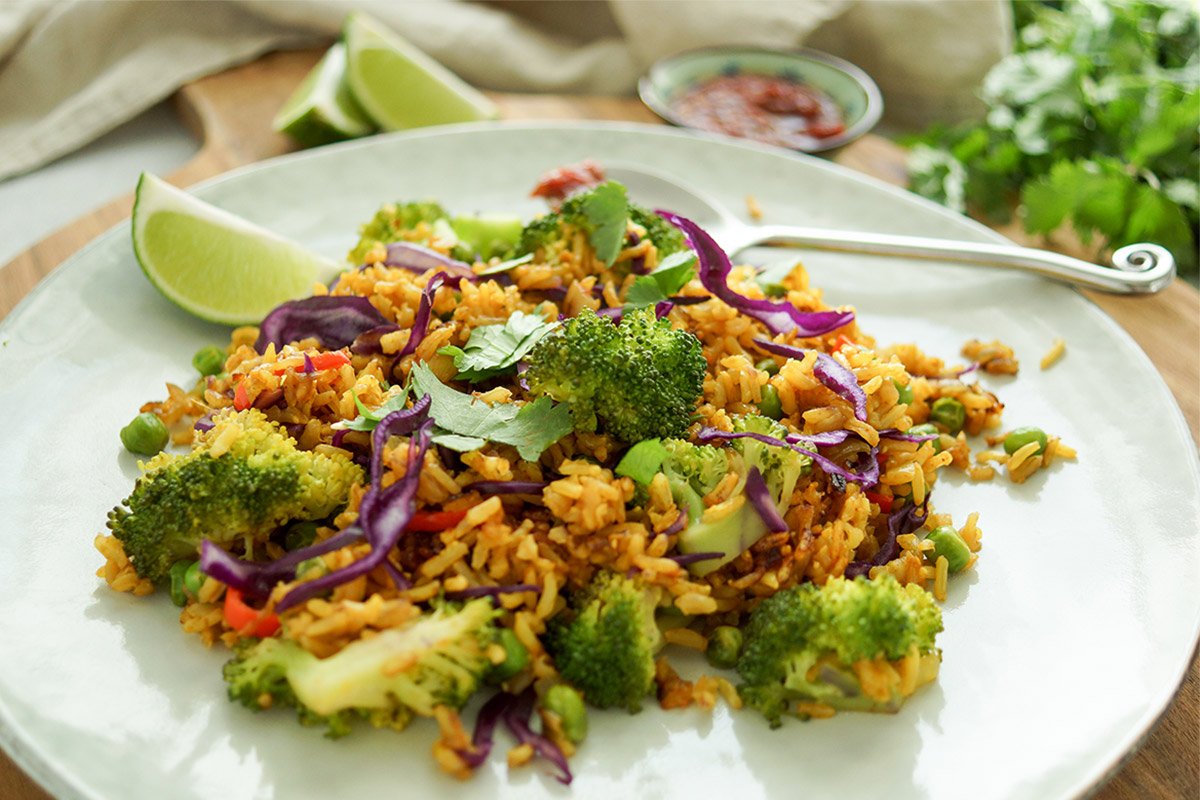 Here's a rice dish that is anything than boring!. It's a non-traditional version of an Indonesian fried rice also called Nasi Goreng (Nasi = Rice, Goreng = Fried). Yes, I made this vegetable fried rice my way, so there is definitely some Elle Factor here.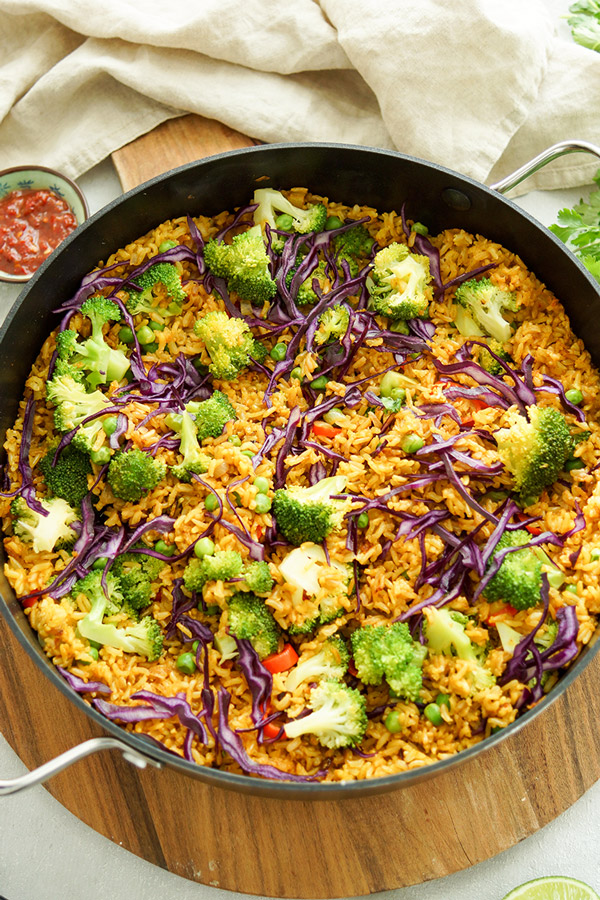 Nasi goreng is typically flavored with a sweet soy sauce called "kecap manis", shallots, garlic, tamarind and hot chilies, and is served with either shredded egg "crepe" or a fried egg, chicken and shrimp. My version is not exactly traditional. It's actually inspired from a old friend of Indonesian decent who taught me way back in high school how to make a quick and easy "fast food" version of Nasi Goreng without all the fancy ingredients. My version of course takes it to the next level, plus keeps things vegetarian. Instead of using "kecap manis", I add a little soy sauce and natural mascobado raw cane sugar, to create a teriyaki like flavor, and then add spices like curry and turmeric, plus some garlic and ginger and a little umami factor with tomato paste.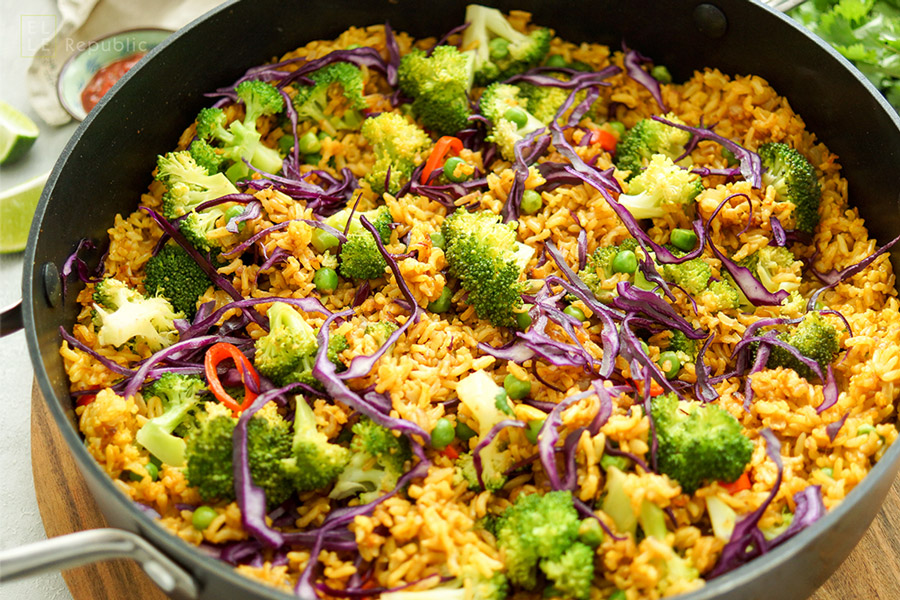 The key here to taking it to the next level is the sambal oelek chili paste. I add this at the end as an individual choice. I like spicy, some like it less so. So I'll let you decide. Or go ahead and add 1 teaspoon to the dish while cooking and let everyone add a little more if they like. A squeeze of lime is always a welcome addition but not necessary. And as for veggies, pick your favorites. Carrots work well, as do peppers. I like broccoli and cabbage. Either red or Chinese. Plus peas. 🙂 As for topping it with an egg, sure go ahead if you like. The base is the stir-fried rice, everything else is flexible.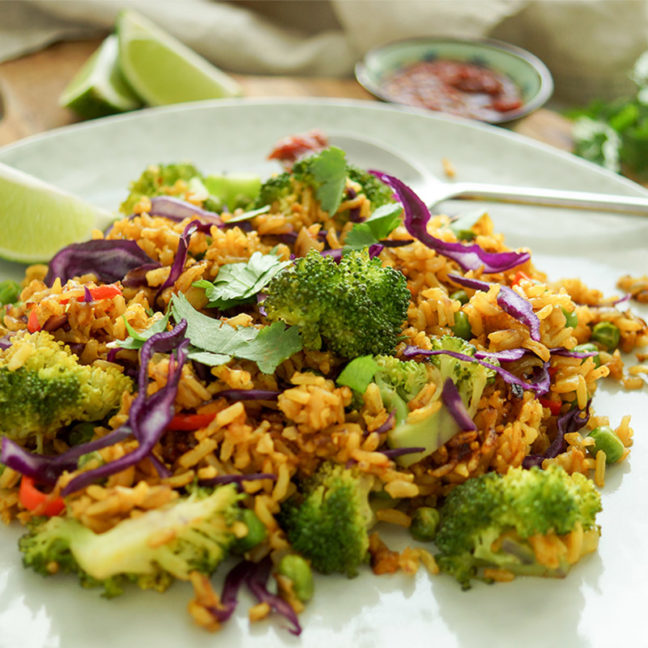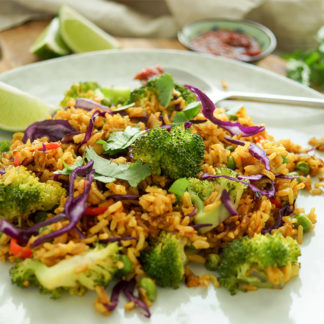 Vegetable Fried Rice (Nasi Goreng)
A super delicious, healthy recipe for Vegetable Fried Rice (Nasi Goreng) that is packed with veggies and loads of flavor. It's easy to adapt for any diet and is naturally gluten-free. It's also a great way to use up left-over rice.
Ingredients
300

g

whole grain basmati rice,

(cooked ahead of time and cooled completely)

2

tablespoons

extra-virgin olive oil

3

shallots,

chopped

2-3

large garlic cloves,

minced

1

tablespoon

freshly grated ginger

2

teaspoons

curry powder

(mild)

1/4

teaspoon

turmeric powder

2

teaspoons

tomato paste

3

tablespoons

soy sauce

1

tablespoon

soft brown sugar

1

fresh red chili,

thinly sliced

1

head of broccoli,

cut into small florets

1-2

handfuls frozen peas
Optional add-ins:
1

handful

shredded red cabbage tossed in before serving or 2 handfuls shredded Chinese cabbage

(which can be added along with the other vegetables)
For serving:
Sambal Oelek chili paste

lime wedges

soya sauce

fresh cilantro

(optional)
Method
Heat the oil in a large deep skillet or wok over medium heat. Add the shallots, garlic and ginger and cook for 3-5 minutes, until shallots have softened.

Add the curry, turmeric and tomato paste. Cook for 1 minute, stirring, then add the pre-cooked rice. Cook, strirring well to incoporate the spices, for about 10 minutes, until lightly browned.

Add the soya sauce and brown sugar stir well to combine.

Add the fresh chili, broccoli and peas, cover and cook over medium heat for 5 or more minutes, until the vegetables reach the desired consistency. Mix in the shredded red cabbage, if using.

Spoon into bowls. Serve with Sambal Olek (chilli paste) plus a wedge of lime. Enjoy!
Notes
The rice should be cooked 2-3 hours before it is fried, so that it has time to become cold. Why? Well, cold rice won't stick together when it hits the wok. Which I think makes it takes way better. If you don't have pre-cooked rice then simply cook your rice and then spread it out onto a large plate or tray to allow it to cool completely before proceeding with the recipe.
Traditionally, the recipe is topped with fried egg or omelet. If you like, top it with a fried free-range organic egg. Or to keep it vegan while adding a little extra protein, top with cashews or add firm tofu to the recipe when frying the pre-cooked rice.
The use of Sambal Oelek is key to a flavorful vegetable fried rice. Instead of adding this directly to the rice dish, I let everyone add as much as they want once the dish is complete. This way you can enhance the flavor with just a little Sambal Oelek or a lot if you are a fan of spicy. I recommend adding just a little to start with and continue adding more until you reach the desired spice level.
Did you try this recipe?
Then tag @ellerepublic on Instagram and hashtag it #ellerepublic
How did you like it?
Please let me know how this Vegetable Fried Rice (Nasi Goreng) recipe turned out for you! I would love to hear how you liked it. Simply rate it with the stars above ⭐or leave me a comment and rate it below.
Did you make any changes to this recipe?
If you have tips for other readers, let me know! It helps me and other readers so much. Sharing is Caring :-).
This post contains affiliate links. If you decide to make a purchase through my link, Amazon will pay me a commission for it. This doesn't cost you anything additional and the price remains the same. More about advertisements on Elle Republic.