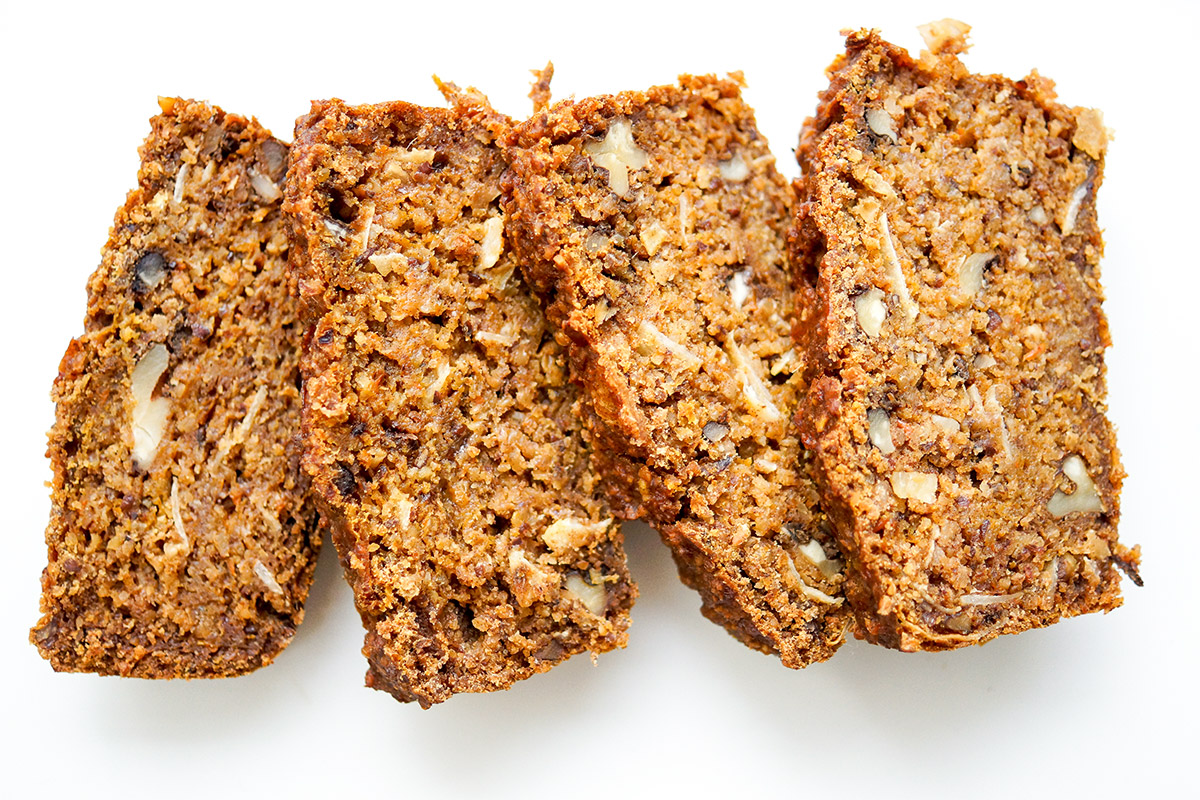 Friends! Meet my new favorite bread. A walnut date loaf made with shredded hokkaido pumpkin. It's a super bread of sorts. Super easy, super healthy and super delicious. Plus it's gluten-free and vegan! Yep, this pumpkin bread has so many good things going on. It's tender, moist, subtly spiced and something I think you are really going to love.
Flax is the miracle to keeping this vegan, with a little help from Medjool dates, which is a great binder for baked goods when they're both vegan and gluten-free. And they add a subtle sweetness which is just the tiniest bit detectable in the overall flavor. It's just enough to balance everything out. Ground up oats and almonds make the base, a little ceylon cinnamon and ginger add depth and finely chopped walnuts and unsweetened coconut chips add that extra oomph that makes it so special. Yep, I should have called it my morning glory bread. Every morning with it is simply glorious. That's how good this bread is!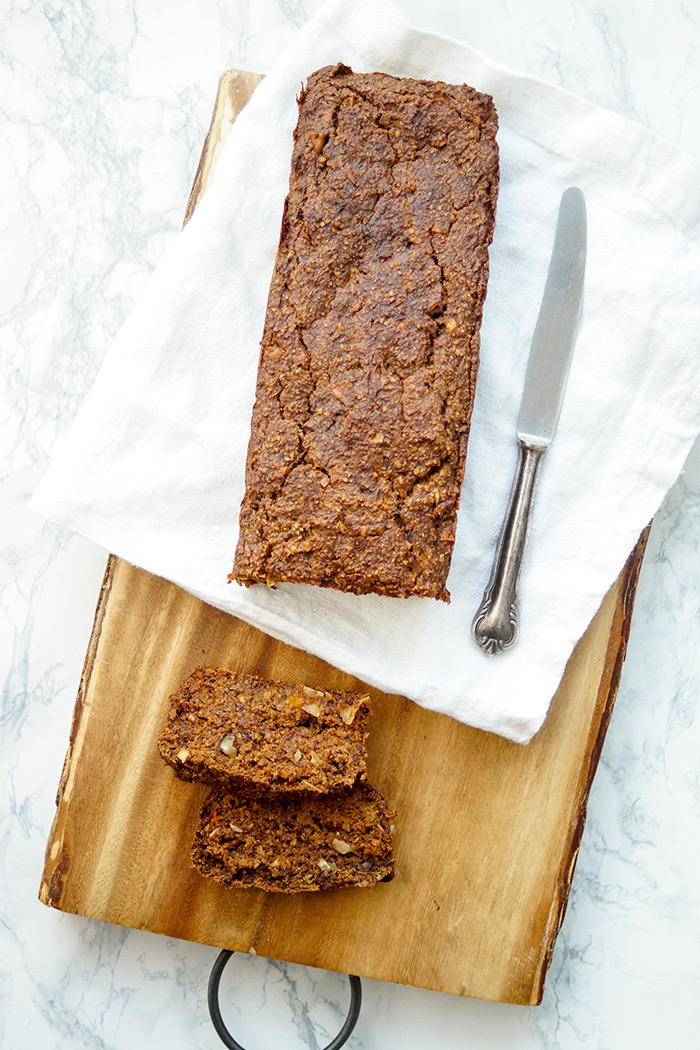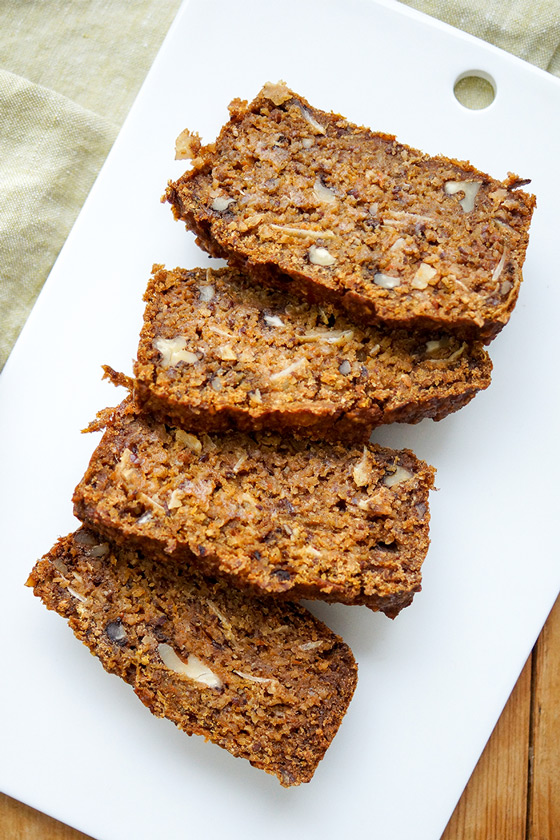 A walnut date loaf (or rather Hokkaido pumpkin bread) that makes a delicious and healthy breakfast bread
Okay, I guess I could have described this an easy, healthy pumpkin bread recipe. But it's so much more than that. In my world pumpkin bread sounds less than exciting. Unless it's made with Hokkaido which is by far my favorite type of pumpkin. It has an amazing chestnut-like flavor and is so easy prepare for so many types of recipes. Simply because it doesn't need to be peeled. Bonus points. And it doesn't turn to mush. Which is also why I love roasting it. So grating it and adding it to bread, works like a dream. And the beauty is, that if you don't like pumpkin, then you can substitute grated carrot in its place. Yep, a carrot walnut bread it pretty tasty too. And no one will ever guess that it's vegan and gluten-free!

Making your own oat flour is easy!
I remember my frustration of thinking, how can they not sell oat flour here in Germany. Then it dawned on me. Make my own. Really, it is possible to make your own oat flour. All you need is a high-powered blender and about 5 seconds of your time. It's that quick. Just give it a couple whirls in your blender and voila, you have oat flour. Well, as good as oat flour needs to be for this recipe. And actually if you don't have ground almonds on hand, you can do the same. Careful though, if you grind them too long, they'll release their oils and you'll be on your way to making your own almond butter.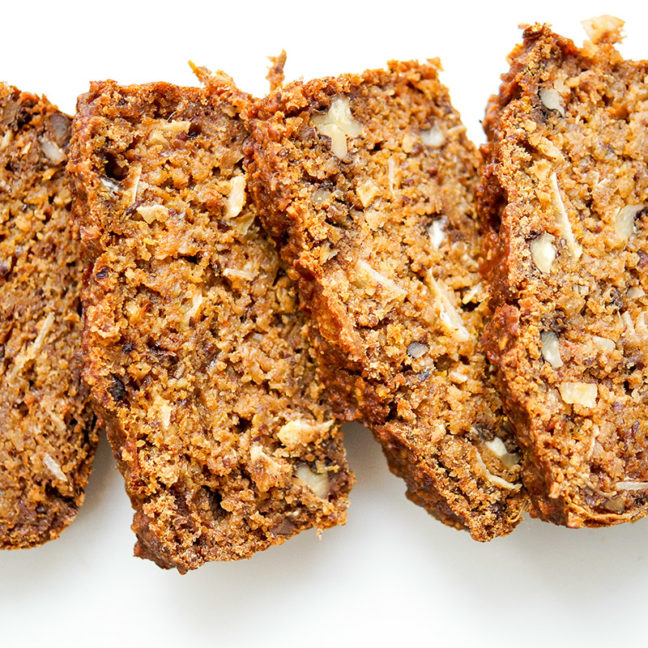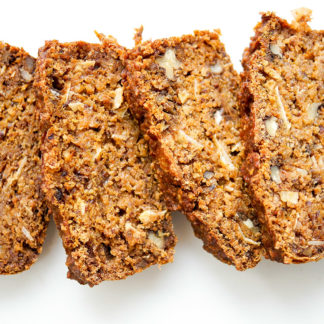 Walnut Date Loaf with Hokkaido (Vegan + Gluten-free)
Bursting with flavor, this walnut date loaf with Hokkaido pumpkin is made with simple, pure and wholesome ingredients and its naturally vegan and gluten-free. Transform this pumpkin bread into a carrot bread by simply subbing out the hokkaido for grated carrots. Recipe yields 1 loaf.
Cook Time
1
hour
10
minutes
Total Time
1
hour
25
minutes
Ingredients
1

cup

unsweetened almond milk

(250 ml)

50

g

coconut oil

10

Medjool dates,

pitted (200 g)

1 1/2

cups

fine cut oats,

ground (150 g) (certified gluten-free if needed)

1/2

cup

almond meal

(50 g)

2

tablespoons

ground flaxseeds

1

teaspoon

ceylon cinnamon

1/2

teaspoon

ground ginger

1

teaspoon

phosphate-free baking powder

(phosphate-free)

1

teaspoon

baking soda

1/2

teaspoon

sea salt

1 3/4

cups

grated Hokkaido pumpkin

(140 g grated weight), about 1/2 a 600 g pumpkin

1/2

cup

finely chopped walnuts

(50 g)

1/3

cup

unsweetened coconut chips

(20 g)
Method
Preheat the oven to 325°F / 165°C and grease and line a loaf pan with parchment paper. (I use a 30,5 x 13,5 x 8,5 cm ceramic loaf pan)

Using a small saucepan, warm the almond milk and coconut oil on low just until the coconut oil is melted. Turn off the heat and add the dates. Let stand for 15 minutes until the dates soften.

Meanwhile, grind the oats into a flour using a high-speed blender (about 20 seconds). Transfer to a large bowl, add the almond meal, ground flax seeds, cinnamon, ginger, baking powder, baking soda and salt. Whisk together until well combined.

Transfer the soaked dates/almond milk mixture to a blender and purée until smooth.

Pour the puréed date mixture into the bowl with the dry ingredients. Using a spatula, be sure to scrape out as much of the mixture as possible.

Now stir everything together until a thick dough forms.

Fold in the grated pumpkin, walnuts and coconut.

Transfer the mixture to the prepared loaf pan, using the spatula to smooth the top.

Bake for 65-70 minutes, or until a toothpick comes out clean.

Let stand 5 minutes, then remove and place on cooling rack to cool completely before slicing.

Store in a bread box or wrapped tightly up to 4 days.
Notes
For this recipe I use an Emile Henry 30,5 x 13,5 x 8,5 cm ceramic loaf pan.
On occasion I have added the oats to the other dry ingredients and completely forgotten to grind them into a flour. Not is all lost, just add all the dry ingredients to the blender to grind to a fine consistency.
This walnut date loaf can also be made with grated carrots instead of Hokkaido pumpkin.
Hast Du dieses Rezept ausprobiert?
Markiere @ellerepublic auf Instagram und benutze den Hashtag #ellerepublic
Wie hat es geschmeckt?
Ich würde mich freuen wenn Ihr mir erzählt, wie Euch das Rezept für Walnut Date Loaf with Hokkaido (Vegan + GF) geschmeckt hat. Am einfachsten bewertet Ihr das Rezept unten mit Sternen ⭐ oder Ihr schreibt mir einen Kommentar. Vor allem wenn Ihr noch weitere Tipps für alle Leser habt.
Habt Ihr etwas am Rezept verändert?
Ich freue mich immer über Tipps und Anregungen von Euch. Hinterlasst einen Kommentar, damit alle sehen können, auf was für Ideen Ihr gekommen seid. Sharing is Caring :-).
Dieser Beitrag enthält Affiliate Links. Falls du auf den Link klickst und ein Produkt bei Amazon kaufst, erhalte ich eine kleine Provision. Der Preis des Artikels bleibt für dich natürlich unverändert. Weitere Hinweise zu Werbung & Werbelinks im Blog.