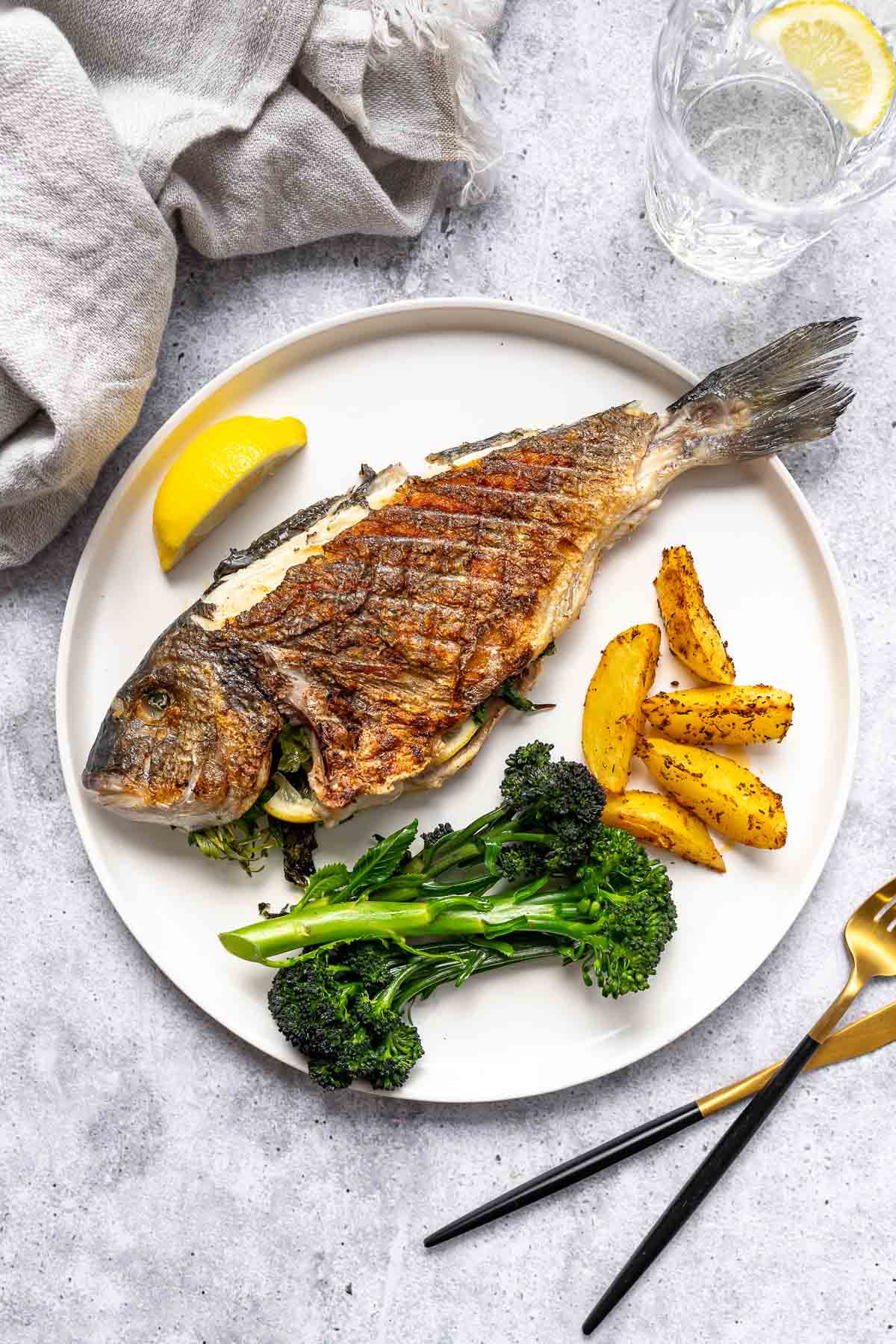 Preparing a whole grilled sea bream may sound intimidating but with a little know-how it's actually very easy. Whole fish like sea bream is a fantastic choice for the simplest of grilling preparations – all you need is olive oil, salt, and pepper. The taste is so simple and pure that you can serve it just as it is.
But why slap a whole fish on the grill? Because it simply tastes better. Cooking a whole fish with the bones, skin and all keeps the fish moist and seals in the flavor, plus the direct heat does wonders for the skin, crisping it up, making it also something of a delicacy to be savoured.
And you don't need a BBQ or a grill basket to grill a whole fish right on your stovetop! With this recipe, I'll show you just how easy it is to prepare a whole fish using a grill plate. And don't forget to check out the video too!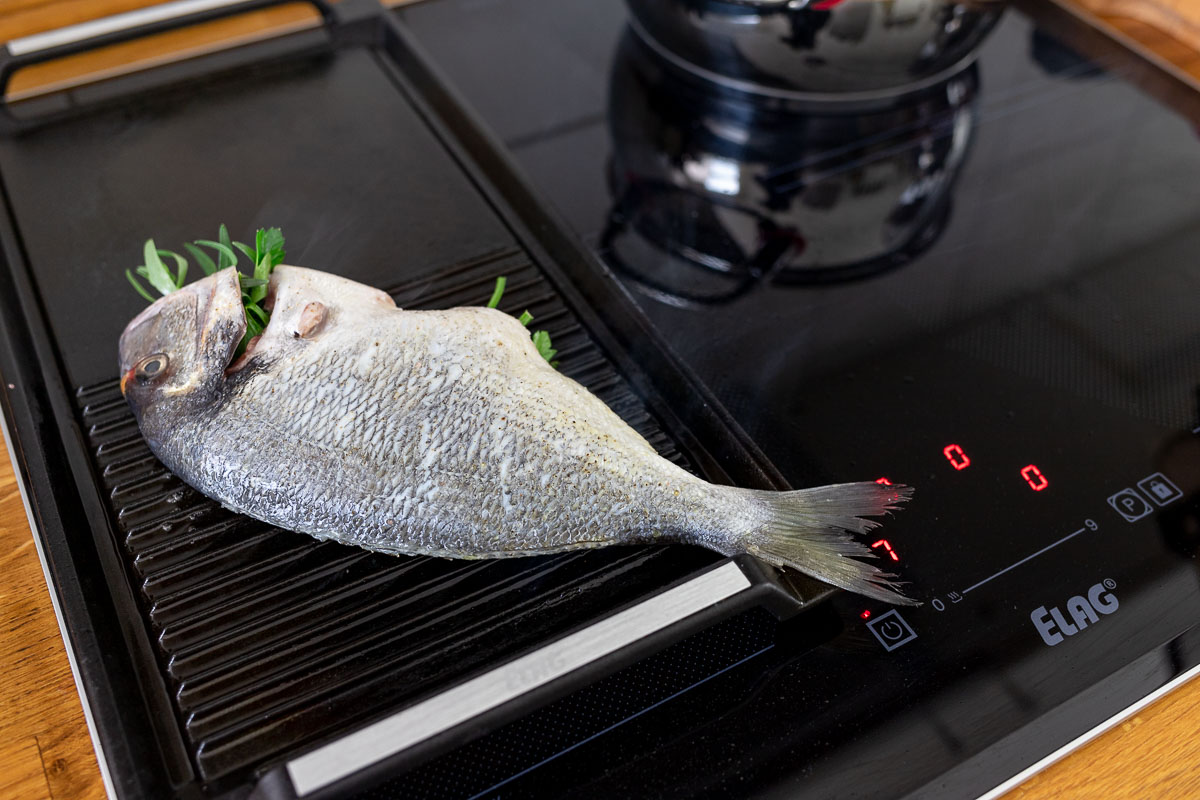 Grilling indoors made easy with ELAG
You may have already seen my video on how to grill the perfect steak on your stove top using a grill plate. Well, actually, whole fish isn't that much different. I have been testing my new ELAG 4-zone induction stovetop along with the ELAG grill plate and am discovering more and more methods for cooking things that I thought were only reserved for outdoor grilling…or the oven. And fish was no exception, so let me share with you my experience and tips for making the best ever grilled sea bream.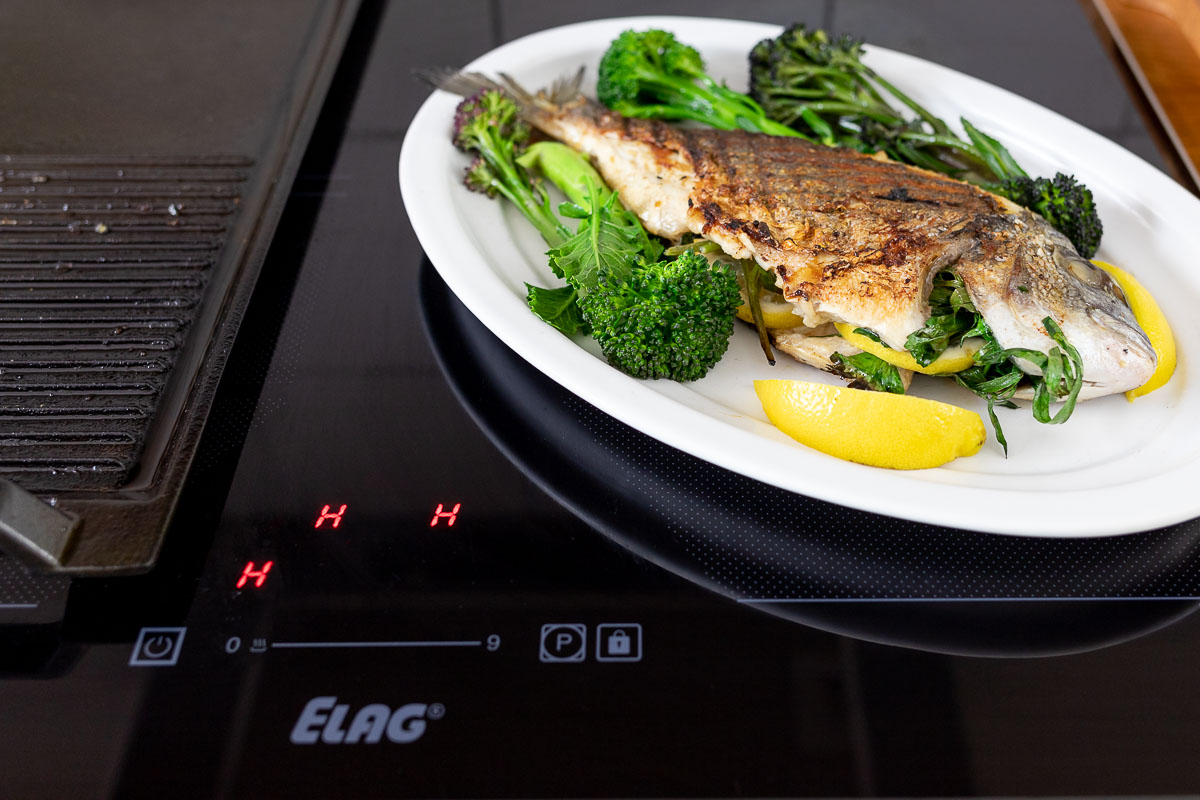 A cast iron grill plate gives great results
First of all you want steady controlled heat, which is why cast iron is the way to go. And when it comes to stovetops, my new induction stovetop offers the perfect distribution of heat since it has square cooking areas, which can also be fused together for an even larger cooking zone. This opens up so many more possibilities: square, rectangular, odd-sized and oversized pans can finally be put to proper use. And when you are grilling fish on your stove, rectangular is the way to go! The fish can lie flat and cook evenly, just as it would on a barbecue.

Grilling whole fish like sea bream using a grill plate — important tips
First of all, a question in most everyone's mind is how do you stop the fish from sticking to the grill if you aren't using foil or a grill basket. Well, the answer is actually easy. Here are some more tips:
Make sure you brush the grill plate with a little oil
Use the freshest fish possible
Lightly rub the skin of the fish with oil before seasoning it
Move the fish as little as possible and only flip once
The most important thing if you want to cook a whole fish from the grill is to let the fish cook undisturbed until the skin crisps up. And this makes the most amazing crisp skin that can be eaten as well. Arguably the best part!
Sea bream flavor
If you are a fan of sea bass, you should be a fan of the sea bream as well. It has a very wonderfully delicate, clean and fresh flavor, and satisfyingly meaty texture that can handle a variety of different cooking methods. But arguably, my favorite is on the grill!
How to buy fresh fish
When buying sea bream, it should have clear eyes, a firm, shiny and even colored flesh and most definitely, smell like the ocean and not at all fishy. Your fish monger will be able to remove the fins, descale and gut your fish for you. If they don't offer, just ask them to do this for you.

What to serve with grilled whole fish
Some of my favorite things to serve with this grilled sea bream include:
Naturally, a nice salad, tossed in my go-to French dressing.
Or some sort of steamed or oven-roasted vegetables or a mix of both
Perhaps some good crusty bread
And of course a nice crisp glass of dry white wine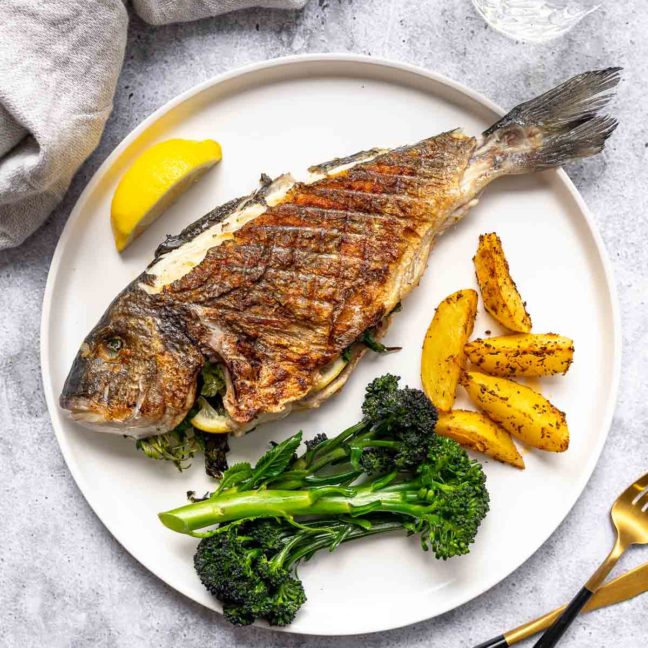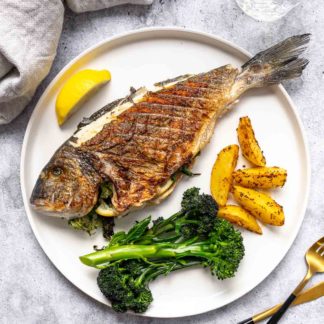 Whole Fish from the Grill — Grilled Sea Bream
How to grill whole fish? It's easier than you think and tastier than imaginable. And can be done indoors, on your stovetop in a few easy steps. Serves 1-2 persons, depending on side dishes and appetite.

Ingredients
1

whole sea bream (500 g),

scaled and gutted

Olive oil,

for drizzling

Salt and freshly ground pepper

1

teaspoon

butter

A couple fresh flat-leaf parsley sprigs

A couple fresh tarragon sprigs

Lemon slices
Method
Remove the fish from the fridge about 10–15 minutes before cooking. Rinse and pat the fish dry with a paper towel.

Preheat your grill plate (or grill pan) to medium-high heat and lightly brush with high-heat cooking oil. It is hot enough, when it starts to lightly smoke.

Meanwhile, with a sharp knife, lightly score the fish two or three times on each side by making diagonal cuts just into the flesh. Drizzle both sides of the fish with olive oil and season with salt and pepper. Tuck the parsley and tarragon sprigs in cavity of the fish, along with the butter and 2 slices of lemon.

Place the fish on the grill plate and cook until seared a deep golden brown on the bottom, about 5 minutes. Important: resist the urge to move the fish as it cooks until the skin has browned and crisped otherwise it will stick!

Rotate the fish 90 degrees to create cross-hatch grill marks. Continue to cook for 3-4 more minutes, until the skin is thoroughly browned.

Gently flip the fish to cook on the other side. Cook for 5 minutes, until it easily releases from the grill. Rotate the fish 90 degrees to create cross-hatch grill marks and cook 3-4 minutes until skin is thoroughly browned.

To check doneness, you can look in the belly of the fish near the spine. If the flesh is cooked and the juices are bubbling, the fish is done. If the fish is still pink, then reduce the heat of the grill and cook another 2-3 minutes. (alternatively, you can check doneness if it flakes at the thickest part when probed).

Transfer the fish to a serving plate. Remove from the grill and serve with the potatoes and steamed vegetables for a wonderfully tasty and healthy dinner. Enjoy!
Notes
Feel free to use your favorite mix of herbs for this recipe. And if you like garlic, go ahead and add some slices too!
Alternatively, if you are grilling the fish, prepare a bed of hot coals. Make sure the grill is cleaned with a wire brush and lightly oiled. Lay the fish directly on the grill and cook for 7 to 8 minutes. Carefully turn fish and cook for another 7 to 8 minutes.
For a relaxing atmosphere in the kitchen I recommend my personal Elle Republic: Chilled Out Kitchen Tunes Playlist auf Spotify.
Did you try this recipe?
Then tag @ellerepublic on Instagram and hashtag it #ellerepublic
How did you like it?
Please let me know how this Whole Fish from the Grill — Grilled Sea Bream recipe turned out for you! I would love to hear how you liked it. Simply rate it with the stars above ⭐ or leave me a comment and rate it below.
Did you make any changes to this recipe?
If you have tips for other readers, let me know! It helps me and other readers so much. Sharing is Caring :-).
Advertisement
Many thanks to ELAG Products GmbH for sponsoring this Grilled Steak Salad with Balsamic Glaze recipe.
This post contains affiliate links. If you decide to make a purchase through my link, Amazon will pay me a commission for it. This doesn't cost you anything additional and the price remains the same. More about advertisements on Elle Republic.